FIND AN OBITUARY
Service information is posted on our website only with approval from the family.
If you are seeking information not listed below, please contact us.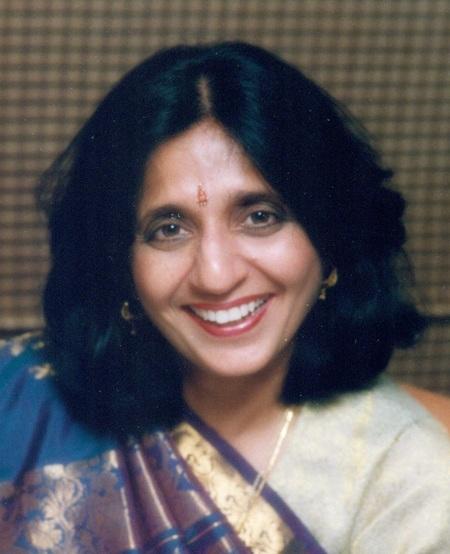 Saroj Rana
12/21/1949 — 04/24/2011
From Richland, WA, US | Born in Delhi, India
Saroj Rana
Saroj Rana, beloved wife, mother, grandmother, and friend, passed away peacefully on Sunday April 24, 2011, at the young age of 61 at her home in Richland. She is survived by her loving husband of 36 years, Raj Rana, her parents, Vidya Sagar and Raj Kumari, her two children, Richie and Sabrina, her son-in-law Omar Vaishnavi, her daughter-in-law Karen Rana, and her two infant grandchildren, Kaiden Vaishnavi and Annika Rana. While born and raised in India, Saroj lived the majority of her adult life in the Tri-Cities since 1976. She was a proud American and touched the lives of numerous members of our community.
She was the consummate host: she loved to cook elaborate Indian feasts and entertain guests at her home.She loved to travel, especially to New York City to see her daughter and to Los Angeles to see her son. Despite being diagnosed with advanced cancer, she was able to go on a Mediterranean cruise, an extended European tour, plus attend many weddings. Along with holding strong spiritual beliefs, she was a devout Hindu.
The family would like to especially thank all the physicians, nurses, physical therapists, and other staff at the Tri-City Cancer Center, Tri-City Hospice, Therapy Solutions, Kadlec Medical Center, Tri-City Laboratories, Virginia Mason Medical Center in Seattle, and Kennewick General Hospital who all provided loving and excellent care to Saroj over the past 8 years.
In lieu of flowers, the family requests that donations be made in her name to the Tri-Cities Cancer Center Foundation, 7350 W. Deschutes Ave., Bldg. A Kennewick, WA 99336
UwU
Richie, Sabrina, and Raj–I am so sorry you have lost your mom, wife, and grandma. You kids brought her so much joy, you know; she was awfully proud of you. I am sure she delighted in her new grandbabies as well. Life will not be the same without her, and you will miss her every day; but, you have many good memories to keep.
TK
Raj,
Please accept our most sincere condolences on the passing of your lovely and personable wife Saroj. Although we only shared a single night's dinner together as couples, we thoroughly enjoyed her and your company. May God be with you during this most difficult time, He most certainly already is with Saroj.
Gregg & Linda Joss
My deepest condolences to you and your family for the loss of your wife. Take comfort that while it is very tough for those left behind, she is now at peace. Take care.
May the peace that comes from the memories of love shared, comfort you now and in the days ahead. You have my sincerest condolences, Raj.
Raj,
My deepest sympathies for the loss of your wife.
Raj, May God be with you and give you peace during this time of pain. I am truly sorry for your loss. I only met Saroj a few times and then briefly but, I cherish those times as I know that you cherished her and her companionship. My heart goes out to you as well as my prayers that God comfort you and your family in this time of loss. I am confident that Saroj is now at peace with HIM and even though that may not help you now in your time of loss, may it give you great peace to know that she is waiting for you in Heaven. God Bless Raj and please let me know if there is anything that I can do or..if you just need to talk.
Raj, I am so sorry for your loss. It has been a long struggle for you and Saroj. It was a pleasure meeting her and I know she will be missed by all.
Both Saroj and you hasve been in my prayers for a long time. I know what it is to lose a wife. Be assured that God will comfort and console you and your family. IO will continute to pray for you and the family.
Our condolences Raj. You and your family are in our prayers.
Gerry and Kathy Freddo
I met Saroj in July 2010 first time at SNUG meeting and learn a lot about your family. I am saddened by the news. God may bless all the peace to departed soul. Raj, please accept my condolences and God may offer you and your family members strength to bear this loss. If I can be of any help please do not hesitate to contact me.
Our thoughts and deepest sympathy go out to you and your family Raj, in your time of sorrow.
Raj,
Karen and I know this must be a very difficult time for you and you're family. We just wanted to let you know that we are thinking about you guys. I only had the pleasure to meet your wife a few times but know she was a wonderful wife and mother and will be missed dearly.
Lance
Our prayers are with you and your family
Raj cared for Saroj and she for him in such a tender way. We have been blessed by their presence in our lives as our neighbors of 27 years. She lived well with courage.
We both myself and Harpreet are sadden by the news and will always remember Saroj and the time we spent with Saroj during our visit in July 2010 at Manchester, NH. God may bless all the peace to departed soul. Raj, please accept our condolences and God may offer you and your family members strength to bear this loss.
We send our love and sympathy in the passing of Saroj. She was a beautiful, caring and compassionate person.
Sincerely,
Rod and Margaret
Raj, We were so saddened by the news of Saroj's passing. Our thoughts and prayers are with you and your family. We will miss the smiling face and joyful continence we remember when we think of Saroj.
Dear Raj Rana and Family:
We are very sorry to know about dear Saroj's soul's departure for heavenly abode. Our thoughts and prayers are with you. We pray to God to rest her soul in peace and give you the courage to bear the irreparable loss and separation pain of her soul from the loved ones. We have fond memories of being associated with her. She was a great person. May God bless her soul!
With condolences,
Talok Singh & Surinder Kaur Hundal and Family.
Raj,
Our very deepest condolences. Our thoughts and prayers are with you and your family during this most difficult time. May G-d give you strength and as time passes, may Saroj's memory be a comfort and a blessing to you.
Sincerely,
Maury Pressburger and Family
My thoughts are with the entire family. I will always remember the great joy of seeing Saroj and Raj dancing together when she accompanied him to our conferences. She will certainly be missed by all.
Raj,
I am so sorry for your loss. I will be praying for comfort, peace and recovery in your life!
Raj, You and you family are in my thoughts and prayers.
Raj, you are in our prayers, God will give you peace and support.
Obaid and Linda Bhatty