FIND AN OBITUARY
Service information is posted on our website only with approval from the family.
If you are seeking information not listed below, please contact us.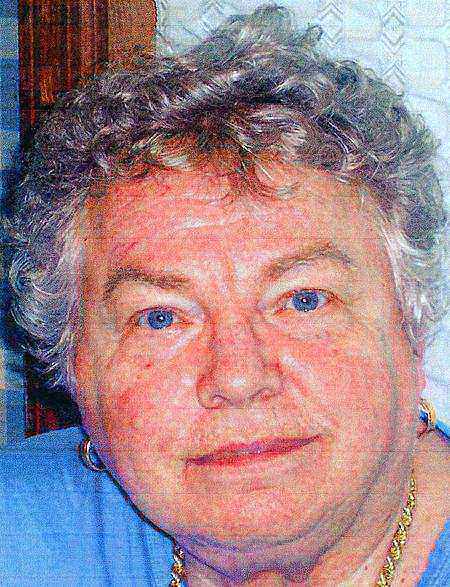 Nancy Marie Samaritano
09/13/1939 — 10/20/2011
From Richland, WA, US | Born in Corning, NY
Nancy Marie Samaritano
Nancy Samaritano, 72
Nancy Marie Samaritano of Richland, Washington died at Kadlec Hospital on October 20th, 2011, at the age of 72, after a long series of illnesses.
Nancy was born in Corning, New York on September 13, 1939 to Grace and Michael Hickey. In 1957, she graduated from Northside High School, so named because it was on the north side of the Chemung River.
On November 9, 1963 Nancy married John Samaritano and they lived in Schenectady, NY and Clifton Park, NY for 17 years, where they raised two sons. While in Clifton Park, she was an active hostess and supporter of the Fresh Air Fund, which enabled inner city youths from New York City a chance to spend part of their summer with a host family in the beautiful northern part of New York State. Nancy was also an active supporter of the Schenectady Light Opera Company, and played a critical role in her two sons's participation in various youth hockey travel teams which played around the Northeast. Nancy was the key means of transportation on many a weekend, early morning and late nights.
While raising two children, Nancy was a Medical Laboratory Technician at hospitals in the Schenectady area. She decided to attend university and became a freshman student at the age of 39. She graduated in 1985 with a Bachelors of Science in Biology from Washington State University, and completed her education in 1990 with a Master of Science in Veterinary Science from Washington State University.
In 1980, Nancy moved with her family to Richland. She originally lived on Spring Street for ten years. Then she and her husband, John, decided to design a beautiful custom built home in Hills West on Adair Drive.
Nancy had many interests over the years. Some of them included collecting Native American woven baskets, collecting antique brilliant cut glass from her hometown of Corning, NY, and her son's youth sports as well as other sports. But her real passion remained cooking. Nancy was very proud of her capabilities as well as her collection of cookbooks, and her ancient file box filled with handwritten recipes. While she enjoyed many years of cooking and entertaining, her health issues over the last ten years limited her to enjoying cooking shows and she compensated by becoming an amateur cooking show critic. Nancy was fond of animals and always maintained a presence of various cats in the Clifton Park and Richland houses. Her love of cats led her first to three different Siamese cats and in later years to her two big red Maine Coon Cats, Mario and Marco. Over the years she had various trekkers and hunters who would bring home chipmunks, birds and even snakes.
Over the years, Nancy participated in parish choirs and loved to sing. She loved classical music, musicals, and was generally fond of good harmony. In Richland, Nancy was a longtime parishioner at Christ the King Catholic Church. In 2008, Nancy became an Oblate of Mt. Angel Abbey in Benedictine, Oregon.
Nancy is survived by her husband of 48 years, John; her sons Evan and Michael; Michael's wife, Uschi, and her three grandchildren, Thomas, Caitlin and Grace. Nancy is also survived by her big brother Jack and dear friend and sister, Marge. Nancy was preceded by her elder brother Allen.
Memorial services will be held at Christ the King Catholic Church on Friday October 28 at 11:00 AM.
Thanks to everyone for your kind words, thoughts and prayers.
Aunt Nancy will be greatly missed. She was very faithful in updating the family by calling to let us know the latest information. I believe my love for cats began with Nancy! She and John were gracious enough to take care of our Himalayan, Braxton, while we were going through a military move.
Nancy was a great support to Val in the many phone conversations she had with him while I was battling breast cancer. Her medical knowledge was so helpful.
She entered the presence of the Lord on her mother'sGranky's birthday.There is now a family reunion in Heaven!
John, Nancy was blessed to have you as her loving, dedicated husband for 48 years. Michael and Evan, your Mom always talked about you with love and pride. Uschi was the daughter she never had and her grandchildren were very dear to her.
Our prayers and love are sent to you with sadness in our hearts.
With our love,
Val and Kathy Jensen
Nancy was a great friend and good listener. I will greatly miss her. Our thoughts and prayers are with you, John and family.
– Nancy Craig
Dear John, Michael and Evan,
So sorry to hear about Aunt Nancy. I have lost touch with all of you over the years, and I am so sorry for that. Please know that I am thinking about all of you and praying for peace and comfort from our Heavenly Father.
Aunt Nancy was one of my biggest supporters in life's ups and downs. Loved her dearly. We had many laughs over the years in our phone conversations – enjoyed talking to her – she truly let you know her feelings – we had a lot of fun with that – as we are much alike ! Will miss her. John, Michael and Evan, how lucky we were to have her in our lives !!
Karen and family
Thinking of you during this difficult time, but smiling at a life well lived and shared.
Dear John, Michael and Evan,
Nancy was a wonderful friend to both my folks and to Sue, Chris and I when we were at WSU. I wish you peace and comfort in this time of sadness.
Our acquaintance with Nancy began when she hired us to take care of her home and Mario the cat while she and John traveled. Nancy was ever gracious and friendly, later inviting us as friends to share holidays and special times. She opened her home to many, and was an excellent hostess in every way. Joanne and I appreciate her outgoing ways. We will miss her very much.
Dear John, I was so sorry to hear about Nancy's death. I remember when I first met her at CBC…we were two moderately old ladies in a sea of kids that knew nothing except that the both of us were old enough to be their mothers and let us know it at every opportunity! We shared many a good time at the HUB and just talking. I remember coming to your house for dinner and she invited me back to show me how to make sausage and pasta…it was a mess, but we had fun. Take care and know that our thoughts and prayers are with you! Judy and Dick Cox