FIND AN OBITUARY
Service information is posted on our website only with approval from the family.
If you are seeking information not listed below, please contact us.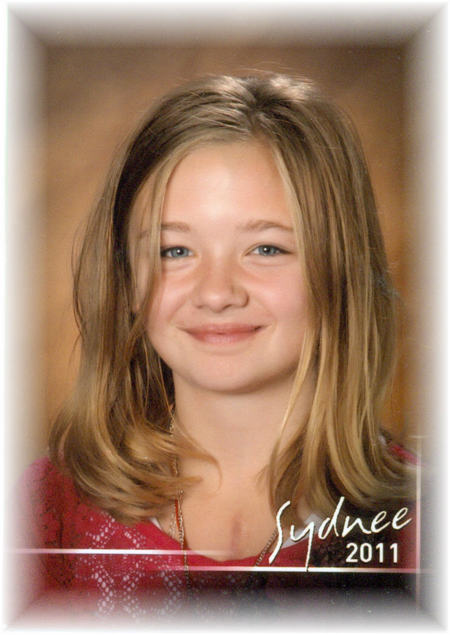 Sydnee Ruth Neiman
08/19/2002 — 12/08/2011
From West, Richland, WA, US | Born in Longview, Washington
Sydnee Ruth Neiman
Sydnee Ruth Neiman, 9, of West Richland, passed away December 8, 2011. She was born August 19, 2002 in Longview, Washington and had lived in the Tri-Cities for seven years. She was born with a rare heart disease. Usually children born with it are slower and tired most of the time, but not Sydnee. Her heart was strong, allowing her to survive four open heart surgeries.
She was always busy with many friends and activities. She would be outside with her friends sledding or building snowmen in the winter or swimming in her pool and jumping on her trampoline in the summer. She loved to ride her bike, scooter and skates. If she wasn't outside with her friends, she was inside with them playing her Wii, watching funny youtube videos, or playing with her Pokemon cards a huge collection thanks to her cousins Derik, Aaron, Jacob and Jared. She loved to listen to music currently Justin Bieber, doing art projects with Mary Joe or sewing with Grandma Neiman and cousin Jessica. In her spare time she read books, always telling mom and dad what chapter she was on. In 2010 she received a Make-a-Wish trip and traveled to Disney World with her parents, grandparents, and brother Erik. She went on vacations to Yellowstone, Grand Tetons and Glacier National Parks, Disneyland and SeaWorld.
Sydnee is registered at St. Joseph's Catholic Church in Kalama and a member of Christ the King Catholic Church in Richland. She was proud of collecting for the Jump Rope for Heart campaign at Tapteal School in support of the American Heart Association. She was a member of Girl Scouts. When she had too many stuffed animals she would send some to the Ronald McDonald House for other children to enjoy.
She is survived by her mother and father, Judy and Paul Neiman of West Richland; grandparents Robin and Jerry Sager of Kalama and Lori and Chris Sabo of Kelso; great-grandparents Bill and Ruth Shelby, Ron and Cheryl Stadtfeld, Fred and Maxine Neiman, and Sally Sager, all of Kalama, brothers Tyler Hylton of Vancouver, Erik Sager of Kalama, Matt Jen Jackson of Kennewick; sister Amy Neiman of Kennewick; sissy McKenzie Sager of Longview; nephew Travis Neiman; nieces Katelynn Jackson and Zoey Neiman; special uncles Eric Janie Sabo of Castle Rock, Joe Sager of Longview, Tim Mary Ann Shelby of Tehachapi, CA, and Dennis Teresa Harris of Kalama; numerous other aunts, uncles and cousins throughout the Shelby, Sabo, Sager and Neiman families.
A memorial service will be held at 1:00 Saturday, December 17, 2011 at Christ the King Catholic Church in Richland.
Donations may be made at any GESA Credit Union in the name of Sydnee Neiman.
Please know that the Christians gathered to the Lord's name at Kennedy and Bombing Range Rd., W. Richland, are remembering your family in prayer at this time.
Sydnee was a breath of fresh air. We always loved her infectious smile and very generous heart. Sorry for your loss and may God be with you and your families during these tough times.