FIND AN OBITUARY
Service information is posted on our website only with approval from the family.
If you are seeking information not listed below, please contact us.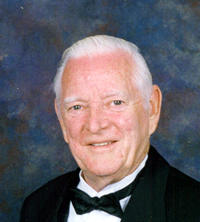 Gerald Jerome Gallagher
04/10/1928 — 02/27/2012
From Richland, WA, US | Born in Cleveland, OH
Gerald Jerome Gallagher
Gerald Jerome Gallagher
Gerald Jerome Gallagher passed away peacefully at the age of 83 on February 27, 2012, in Kennewick, WA from complications of Alzheimer's. Born April 10, 1928, in Cleveland Ohio, to John T. Gallagher and Eleanor J. Kearns.
Jerry joined the United States Navy before graduating from high school. He served at the end of World War II on the aircraft carrier USS Bennington CV 20 receiving the World War II Victory Medal and American Area Campaign Medal. He also served on the destroyer escort USS Sellstrom DE 255 and the battleship USS Mississippi AG 128. Jerry left the Navy with an Honorable Discharge and the Good Conduct Medal. He completed his schooling after military service. He then worked for Lockheed installing heavy caliber machine guns on the front of fighter aircraft where he met his first wife Betty. Then he worked for Los Angeles Department of Water and Power in steam electric generation operations. He retired in Control Room Operations Management of an electric generation facility.
Jerry loved to go camping, hunting, and fishing in the High Sierras. After retirement he loved to go on cruise ships with family and friends, and meet new people around the world visiting different ports of call. He was always planning his next trip.
Jerry was the consummate all-discipline engineer and master craftsman. He could fix, restore, rebuild, and modify anything you put in front of him. When he would walk outside in the front yard and notice a neighbor with their vehicle hood up, he would walk down and ask how he can help. He loved to build from scratch, humidors for friends and neighbors as well as articulate doll houses for his granddaughters. He rebuilt automobile engines and transmissions. He also built complete camper interiors from scratch inside of camper and van shells.
Jerry had two children with his first wife Betty, who he was married to for 32 years until her passing from cancer. He was married to his second wife Mary for 18 years until she passed from cancer.
Jerry is survived by sons Michael and Patrick, grandchildren Daniel, Kaitlin, and Jeffrey, and great grandchildren Wyatt and Dean, as well as relatives by marriage.
He was preceded in death by his mother and father, step-father Luther T. Gill, and wives Betty L. Dean and Mary T. Miller.
Memorial services with military honors will be held at Oakwood Memorial Park Cemetery in Chatsworth, Los Angeles, California, date to be determined.
Mike, Pat, Please accept our heartfelt condolences on the loss of your Dad. Hope everything else is going well. Take Care.
Prayers heading your direction during this difficult time…
Mike,
This was a beautiful obituary and tribute to your sweet father. He sounded like an amazing man and left a wonderful legacy. May you and your family find comfort in your loving memories of your father, grandfather, and great grandfather. Know that you are thought of and in my prayers.
Luanne Anderson
Mike, you and your family are in my prayers. Warm wishes to all of you during this difficult time.
Dearest Mike and family,
Please accept my deepest condolences and most sincere wishes for you all to be at peace.
I only know Mike, and the shining example he is of having fun alongside dedication, loving life with a sense of humor, and I'm sure Gerald had a great amount to do with that and will be sorely missed.
May you enjoy God's blessing and comfort today and always.
In love and light,
Melanie
God bless you and your family during this time of loss.
Mike and Pat,
Please accept my heartfelt condolences.
Mary
Uncle Jerry is in heaven now with Aunt Betty. I will forever remember them in their home in the valley with my two cool older cousins coming in and out of the house. There was Patty for Pat and Mary for Mike. That's been a long time now, but what fond memories. I love you Mike, Pat, Dan, Kaitlin, Jeff, Dominic, Wyatt and Dean. I can't wait to see my cousins tomorrow. Cathy