FIND AN OBITUARY
Service information is posted on our website only with approval from the family.
If you are seeking information not listed below, please contact us.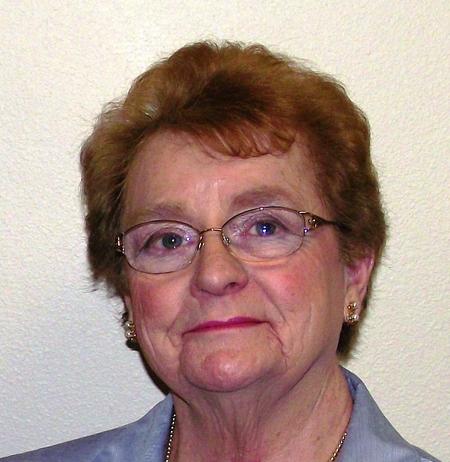 Ione Bisping Kelley
10/13/1936 — 02/15/2012
From Richland, WA, US | Born in Wausua, WI
Ione Bisping Kelley
IONE BISPING KELLEY By the grace of our redeeming God, Ione Bisping Kelley arrived at her heavenly home on February 15, 2012, following a courageous battle with cancer. Ione was born in Wausau, WI October 13, 1936 to George and Ella Schmolze.
Ione married her beloved husband Lee Bisping in 1957. They were blessed with three daughters. They moved to the Pacific Northwest in 1963 where she was a homemaker. Following Lee's passing in 2007 due to cancer, Ione became a volunteer for the American Cancer Society where she visited patients at Kadlec Hospital. God blessed Ione with a new love, Allen Kelley. They were joined in holy matrimony in February 2011.
Ione was a faithful Christian and a long-time member of Redeemer Lutheran Church. She will be deeply missed, but family and friends are comforted knowing she is now with her Lord and Savior.
She was preceded in death by her parents, first husband, and siblings Joe, Lois, and Butchie.
Ione is survived by her husband Allen and his family; her daughters Lynn Bisping, Lori Bisping, and Denise Rogers, son-in-law, Mark Rogers, grandsons Matt and Mitch Rogers; siblings Alan, Glen, Orin, Belva, Sue, and Diane.
Services will be held Tuesday, February 21, 2012 with a 10:00 a.m. graveside service at Sunset Memorial Gardens followed by a memorial service at 11:00 a.m. at Redeemer Lutheran Church, 520 Thayer Drive, Richland, WA.
Memorial remembrances may be made to Redeemer Lutheran Church.
Lori, I'm so sorry to learn of your mother's passing. I hope that your faith in Christ and his promise of eternal life will comfort you and your family.
In case you don't remember me, we used to work together in RTL for Bill Endres way back in the late 80's.
Denise,Lynn,Lori, and family.
As this difficult day begins for you all, try to think of how your mom is free of pain & suffering & is with her dear savior. Talk about the great memories she left with you, I think this is healing when we loose someone as great as your mom & my sister.
We all had so many laughs & tears that week with the sisters. I will be thinking of all of you today with love.
Love you'll, aunt Sue
I AM VERY SORRY TO READ OF IONE PASSING. SHE WAS A LOVELY LADY AND A MOST KIND LANDLADY. I KNOW SHE IS SMILING FROM HEAVEN.
Denise, Lynn, Lori.
We are so very sorry to learn of the loss of your mom. She was truly a courageous lady, and our dear friend. We met Ione and Lee RV'ing and had such good times together. Memories are Treasures of the Heart, and know you have many, as do we. Knowing she is at peace and free of pain is a comfort. We plan to drive down tuesday to honor her. See you then.
The Johnson's,
Vicki and Mike.
I have been keeping in touch with the "Caring Bridge" site. Your Mom was a wonderful long time friend. I have many fond memories from way back when you and Thad were little ones. Those were great times. Love, Mary and Thad
Denise, Lynn & Lori: Your Mom and Dad were special friends of ours, and we were saddened to learn of Ione's passing. Her faith was strong and her love for you was also strong. She's safe in her Savior's arms. It was our pleasure to be considered friends of your family.
Gene & Doreen
Dear Denise, Lynn, Lori and family,
How quickly time and our lives pass. I remember your mom and dad's wedding and also when all of you were born. I was staying at Grandma & Grandpa Schlund's when your mom & dad brought all of you there for a visit. Big sister Denise and the twins! How exciting. . . .you were very small and this was in August . . .Your mom always kept in touch with my folks so the rest of us knew what was happening in your family. I wish we would have made a trip to see you.
I am so sorry that both of your parents had to suffer with cancer. The challenge of cancer to me will never be understood. More people now than ever deal with cancer and yet we still wait for the ultimate "cure". Maybe we are relying on research too much without faith in God . . .
May our Lord and Savior continue to bless all of you and keep you in his constant care always.
Love, Leila & family, my mom Verna, and brother's Mark & Steve
Dear Family, -We have been praying for you and for Ione for many months now and will keep on asking our Lord to bless you and to keep you. Ione was such a blessing to us and to others. She was like a light shinning in the darkness for me during the times of my husband's, Jim, illnesses. She was a very special and lovely lady. We all are comforted now that her pain is over and that she is with our Lord. We will keep praying for you and you will be in our thoughts. Jim and Nancy