FIND AN OBITUARY
Service information is posted on our website only with approval from the family.
If you are seeking information not listed below, please contact us.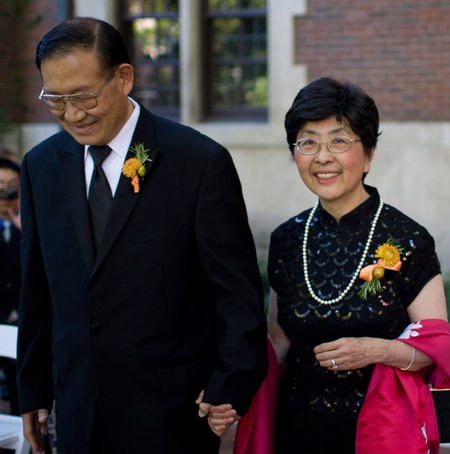 Lu–Chuang Mary Lee
12/03/1948 — 02/17/2012
From Richland, WA, US | Born in Taiwan
Lu–Chuang Mary Lee
LU-CHUANG MARY LEE was born on December 3, 1948, as Lu-chuang Huang, the eldest daughter of Pi-ting Huang and I-Fang Chang. Born in Taiwan, she grew to be a strong, stubborn and strikingly beautiful woman who cared deeply for her younger sister, Lieu-Chuan, and her younger brothers, Yi-Chuan and Fu-Chuan.
During her time at university, her bright and outgoing nature attracted the attention of an unusually tall and handsome student named Guoshuh Lee. She would eventually fall in love with him, and follow him to America. Taking the names Mary and John, the two would marry and give birth to three tall and outgoing sons.
As a mother, Mary was strict, demanding, and passionate. She sought to provide her sons with the best opportunities possible - working hard to ensure they had well rounded educations. Professionally, Mary took on several roles, working for many years as a computer programmer at the Dow Chemical company. She would later find her calling as an educator, taking pride in her work as a online instructor and Chinese language tutor.
Despite an almost twenty year battle with cancer, she lived her life on her own terms - with bravery, pride, and enthusiasm. On February 17th, 2012, Mary passed away comfortably in her new home of Richland, Washington. She is survived by her husband, Guoshuh John Lee, and her three sons: Chiwei John Lee, Joseph Chigwan Lee, and James Chihong Lee.
Visitation will be from 1:00pm to 3:00pm at Memories at Sunset Event Center with a funeral service to follow at 3:00pm on Saturday, February 25, 2012.
John, I am sorry for your loss of the great love of your life. I wish that I had the opportunity to get to know Mary. It has been a blessing working with you. My family is praying for yours in this difficult time. God Bless. Dan
I had the pleasure of working with Mary at Dow a few years before she retired. She was kind and fun to work with. She talked very highly of her family, and her boys were the world to her. My condolences to Mary's family.
I had the pleasure of working with Mary for many years at Dow. One of the most dedicated people I know that showed passion with her work and with her family. She will be missed.
Mary always had a smile and cheerful word at work. I enjoyed talking to her many times and thought she was a kind and upright lady. I will pray for her.
I worked with Mary at Dow right before she retired. She turned over her database work to me. She was very kind and patient training me. I had met her years before. She talked very highly of her family. Her boys were the world to her. My condolences to Mary's family.
I met Mary in February 2010 in a Cancer Center therapy group. At our exercise therapy class "graduation" our trainer encouraged us to eat healthy foods, so instead of cookies, Mary brought a big apple for each member of the class to celebrate our graduation. She was thoughtful and kind and always had a good word and a smile for everyone each time we met. She had great courage in spite of her health problems, and I admire her and I will miss her. My prayers are that the family will find comfort and peace in your memories of Mary.
John, Chiwei, Joseph & James, I am so very sad to hear that Mary passed away. I worked with Mary in the DBA group at Dow. She was a wonderful person and a great friend. She taught me so much. I will miss her greatly, but will never forget her.
We here at Washington Square, want to express our condolences to John, their children, and Mary's family. We will sincerely miss her smile, and kind heart. John, please let us know if you need anything.
Last year while attending a cancer exercise program, I kept hearing several women who knew Mary, ask about her. She went back East. Later, while attending a watercolor class at the Cancer Center, I struck up a conversation with Mary. Unbeknownest to me, this was the Mary who was lovingly talked about! I told her I knew who she was as she looked at me with a confused look and said she could not remember me. We had a good laugh when I told her HOW I knew who she was. It has been a privilege to know Mary and she has been an inspiration to me as well as others around her. It was also endearing how her husband lovingly held her arms as he led her to classes at the Cancer Center and always had a smile when he came to pick her up. They both always had smiles even going through their rough journey. Amazing! Please know that I have been and will continue to pray for comfort, calm,and peace to this delightful family. Mary will be missed but not forgotten as she is in our hearts!
May your memories sustain you and bring you joy and comfort. I had the opportunity to work with Mary for a few years when I first started at Dow. She was passionate about her work. Deepest sympathy on your loss.
Sorry to hear of Mary's passing — I worked with her at Dow Chemical around 1990.
Mary was a joy to work with and just to be around. She fought her disease bravely for many years. We all enjoyed spending time with her at Project Linus and at the Cancer Center. Our prayers are with Mary's family during this difficult time.
I got to now Mary in October 2010 at the cancer Well Fit. We excised together as I got to know her I was surprize how much she knew the bus routes. Sometimes she would leave early from the excise class to go to the cancer center for classes on the bus. When I found out I drove her to the cancer center after class some of the other ladies did also. Got to know her during those six weeks, one day she came with a pear like fruit gave one to the trainer and in her bag she had one for me. That was so special and good. Was looking forward to seeing her again in the next six week class but she had to go back home for more test. Did meet up with her again at the cancer center for classes there, she was a very special lady and I will miss her. I was glad I got to know her for a short time I did. My prayers are with the family for peace and comfort as they lay Mary to rest today.