FIND AN OBITUARY
Service information is posted on our website only with approval from the family.
If you are seeking information not listed below, please contact us.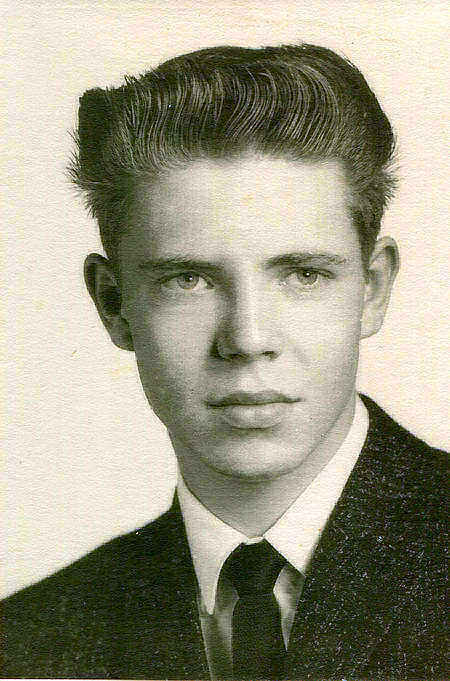 William Frederick Bern
02/13/1943 — 03/09/2012
From West, Richland, WA, US | Born in Aitkin, Minnesota
William Frederick Bern
WILLIAM FREDERICK BERN 1943-2012
Bill was born to Lenore Ellen and Donald "Swede" William Bern on February 13, 1943, in Aitkin, Minnesota. He died March 9, after a blessedly brief struggle with esophageal cancer, surrounded by love and support from family and close friends. Among those attending him were: Shirley Schmidt Bern, former wife and the "love of his life"; James VandeVoorde, comrade in hunting, fishing and Alaska adventures; Christopher and Steven Brohaugh, cousins; John Lambert, Dennis Laybourn and Terry Christensen, trusted lifelong companions; Angela Marie Bern Castagnola, adored daughter; Dawn Eulalie Bern, beloved sister; and Jamie Worley Hills, cherished family friend.
Bill was a child of the Manhattan Project at Hanford, where plutonium was manufactured that was used in the bomb dropped on Nagasaki, Japan, effectively ending World War II. Because there was not yet housing for family near the Project, his first year of life was spent in Spokane with his mother while Donald worked as an Iron worker on the B-Reactor. After the reactor was complete, "Swede" took his family on the road, following construction throughout the West. In 1949, work brought them back to live in Camp Hanford where Bill attended John Ball Elementary School. He continued on through the Richland schools, graduating a "Bomber" from Columbia High School in 1961. He attended Columbia Basin College, where he received a degree in Computer Programming. He also served 6 years in the Army Reserves.
His career in construction began as the Computer Operations Manager on Dworshak Dam in Orofino, Idaho. At 23, Bill married his high school sweetheart, Darlene Huesties Bern, and their daughter, Angela, was born in 1966. They built an A-frame cabin near the North fork of the Clearwater River. Their days in Orofino were an active, magical time which was enjoyed by the whole family and many friends.
However, Bill was never happy being indoors for very long. Looking for a way to get out of an office environment, he took a "duel-hat" position that combined his skills in computer operations with training as an Industrial Safety Engineer for Peter Kewitt in Lewiston, Idaho. After mastering the new job, he returned to Richland, where he worked as Safety Engineer on WPPS 1. Still not satisfied, he followed in his father's footsteps and finally found his niche as an Iron worker at Hanford, eventually rising to the position of General Foreman before retiring in 2005.
Throughout his life, Bill was an avid hunter and fisherman. He was known for his love of his hunting dogs and the outdoors. A careful and skilled craftsman in any endeavor, he took pride in all that he did. He was known as a hard worker; somebody who could be counted on at the work-site and beyond. He was very much respected for his intelligence and was renowned for his keen sense of humor.
Bill was a reader, with eclectic tastes, and his memory for details was amazing; conversation with him was a delight. He was also known to play a game of cards or cribbage now and then: Some say he cheated, but there was never any convincing evidence he claimed; and his opponents always came back for another match.
He was happily married to Shirley Schmidt Bern from 1983 to 2000. He continued to share his life with her after their separation and loved her until the day he died.
Bill Bern was proud of his Swedish heritage and being part of the Union Brotherhood. He was a generous and loving son, brother, father, and friend. People found that he always had the time to visit, and they felt welcome and easy in his home. He had blue, blue eyes and an unforgettable smile. When asked for help on a thorny personal issue, he listened, advised, and ended with "Be good to yourself, the rest will follow".
Bill is preceded in death by his father, Donald, and survived by his mother, Lenore; sister, Dawn; daughter, Angela; grandson, Maxwell; and a large extended family in Minnesota and Wisconsin, all of whom love him dearly.
Services will be held Sunday, April 22, at Sunset Memorial Gardens in Richland, with an informal gathering at the burial site in the Garden of Remembrance at 11:30AM; and a Celebration of Life at 12:00 noon in the Event Center. The Family invites you to either or both. If you cannot attend, or in addition to attending, you are welcome to sign and/or share a memory at the online guest book, www.einansfuneralhome.com.
My thoughts and prayers are with you Angela, Dawn and Lenore. Don't worry about his fishing…Dennis has scouted out the best spots for him.
Lenore and Dawn:
I am so sorry for your loss. Thinking and praying for you at this difficult time. Sending love your way.
Sorry Ant Nora to hear about your son I told your Neice Carol Ann Meyer my mom
I remember Bill well from our high school days and would sometimes see him in the later years. He was a rascal that one, but a pretty sweet one mostly. My thoughts, prayers and condolences go out to the family of Bill. God bless you all and God speed Bill's journey Home. May the family find solace in that Bill is in a better place and no longer suffering. I know you will miss him and may God help you to heal.
Love and Prayers,
Judy Willox, 1961 classmate
I can't recall a childhood summer that doesn't include fond memories of camping trips and BBQs with Bill, Shirley, and Bill's beloved bird dogs. Bill was the closest thing to a brother my father had and I've always thought of him as such; they were so similar in many ways: sparkling blue eyes up to mischief, quick wit, pearly grin result of mischief, and their shared love of the outdoors, to name a few. Events at Bill and Shirley's home were always family-friendly affairs. Lots of food & drink, kids & dogs, laughter & camaraderie, friends, fish tales & fireworks. I will be forever grateful for Bill's friendship with my dad and the happy memories it created for our families throughout the years. May God continue to bless you, Bill, and watch over those that miss the heck out of you.
I will cherish our last days together for the rest of my life. Remembering your beautiful smile brings tears to my eyes. Rest peacefully my friend.
I'm glad my brother Chris and I had a chance to visit with Bill just before he passed on.
So many great memories of childhood fun and mischief. Great adventures with fishing, BB-
guns, slingshots, firecrackers, frog legs, fish fries etc. at the farm in Aitkin, Green Lake in Willmar and home in St. Paul Minnesota. He had a great sense of humor and was smart as a whip! At age 14 we were sent to the Stromswold farm in Larimore, North Dakota. We worked hard, pulled more than a few dumb stunts and were asked to pack our bags a few times. All was forgiven by the next day. More great times were had visiting with Bill, Dawn, Nora, Darlene, Angela and Shirley over the years in Idaho and Washington.
What a great guy! I'll always love and cherish my memories of Bill over the years.
Dawn and Family I am so sorry for your loss. I mostly know Bill from Ray's memories of when they were young. What times they had! Now they are both in a "better place" and missed by so many.
Memories! Bill's folks living with us during the IIWW to prepare to move West,all us cousins raising cane over the years-66 plus!- with each other and anyone within range,getting together Summers in Minnesota,Washington and Montana over the years,our Mothers laughing their heads off,searching for and finding Donald, Bill and I,37 years ago in Spokane.Memories.I miss him!
My prayers of condolences to all the families. Knowing Bill during high school was interesting to say the least…loved his sense of humor. I would be there Sunday but I am working…I will be there in spirit.
Greg and I are very sorry to hear that Bill passed away. I didn't see my cousins Dawn and Bill very often, because we lived in MN. But I certainly remember how Bill would tease me when he came to MN to visit. I pretended to be angry and annoyed, but actually loved his "Oh, isn't she cute?" All your MN relatives will be with you in spirit tomorrow as you celebrate Bill's XXL life!! May God's love and peace surround you all.
Am sorry to hear about the passing of Bill. My memories include the trading of car parts with him. Am hoping that the family will be strong in upcoming days. My prayers will be with you.
My favorite memories of Bill were in the late seventies when Dawn and I lived together. We would come to Richland and have hilarious times with the family. Bill had a wonderfully caustic sense of humor as did Dawn and Mom. Whenever I think back to those times I smile inside. That's the Bill I remember with fondness and love.
Dear Ones,
Ahhhhhhhhhhhh, so many fond memories! I remember our annual train trips to St. Paul, MN to visit the grandparents. Bill and Rick…Dawn and Gay…Lenore and Vera. What a joy it became each summer to TAKE OVER the train from engine to kaboose. And, the 'vista car', so close to Heaven you could almost touch the clouds. Somehow I just cannot believe that our beautiful, delightful bros/sons, Bill and Rick, are gone so soon. Your Bill was so much fun! He was never still, so full of life and mischief. We're so glad… just so darned blessed to have shared our lives with your family and Bill. At this time of loss and grief…may our hearts smile with memories of the joy that Bill brought to our lives, the love that he shared freely with us all, and the radiant sparkle in his blue, blue eyes. Rest well and peacefully, our dear Bill. And may the entire Bern's family know that we are with you today, as always. Our love surrounds you,
Gay and Vera Edwards
Bill was truly one of my very best friends for the last 50+ years. So many memories of our great and adventureous times together. I will greatly miss him, but will never forget him.
Rest in peace, Bill Bern! I have several reasons to be thankful that Bill became part of my life. First, because of his marriage to my sister, Darlene, my beloved niece, Angela Bern Castagnola was born. She became the child of my heart & is still a major part of my life! And now, we all have her son, Maxwell, to love.
Also, because of Bill & Darlene's marriage, I began a life-long, treasured friendship with both Lenore & Dawn Bern. We have traveled the world together.
My thoughts & prayers are with all his family & friends.