FIND AN OBITUARY
Service information is posted on our website only with approval from the family.
If you are seeking information not listed below, please contact us.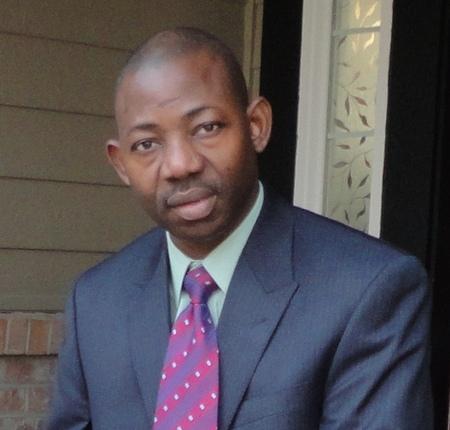 Franklin Abiodun Abbey Ogunmokun
12/01/1968 — 04/28/2012
From Richland, WA, Benton | Born in Nigeria
Franklin Abiodun Abbey Ogunmokun
Franklin Abiodun Abbey Ogunmokun was born 43 years ago in Nigeria to Frederick and Elizabeth Ogunmokun. Abbey passed away on April 28, 2012 in Richland, Washington State. He met the love of his life Sade Olaleye and got married on August 23, 2003. The marriage was blessed with two children, Moradeyo and Adebowale.
Abbey was baptized as one of Jehovah's Witnesses on April 23, 1988. He dedicated his life to sharing his knowledge of the bible with people around him.
Abbey was a caring and hospitable person who always looked for opportunities to assist others. He will be remembered as a loving friend, brother, husband, and father. He will surely be missed.
Though I didn't know Abbey well, I will always remember him fondly for the way he always made it a point to greet me and shake my hand when he saw me at the meetings.
He will be missed. I will always be encouraged by my memories of Abbey.
…..goodnight my friend "bros abbey"
he was woderful and he shall be fondly remembered,we shall see him agin jehovah willing.
May jahovah be with the family of abbey, till we see again in God`s kingdom.
Its really hard for me to believe that you left us because we were just talking and laughing together just then.May Jehovah console and support your wife,kids and family.
Sis Sade, sorry about your loss. May Jehovah give you the fortitude to carry. This is indeed painful,my love to Debo and Deyo
Abbey,we are yet to accept the news that your gone. Your love, charming smile,gentleness and friendship are memories too difficult to erase. We take solace in the resurrection promise. Ibeh & Bisi, Lagos, Nigeria
To think that we spoke few weeks ago and had a good laugh together. Now I can only but imagine how you look and ur voice. They are all a thing of the past. I never put you down to die this young my dear brother.He will call and they will answer and they shall live by his command. For He will have a longing for the work of His own Hand. How true these words will prove to be for me in the near future when I shall behold your wonderful face once more.May Jehovah grant your beloved wife and lovely kids the strength to bear this LOSS. Until then may Jehovah keep you in his loving memory
Sade, Deyo & Debo our thoughts are constantly with you but there is comfort in that Jehovah will care for you in every way Isa 41:13.
All our love Niyi, Sophie & Co xxx
MAY HIS GENTLE SOUL REST IN THE BLOSSOM OF OUR LORD JESUS CHRIST.
Its such a painful loss to me but I share same sentiments with martha found at John 11:24,25.He was such a wonderful man who has genuine love for others.it was quite unfortunate,may Jehovah sustain sade and her kids.
Bros Abbey,
You touched our hearts and lives. It's hard to imagine how things will be like around here without you. Our hearts ache so much, but we're holding on for Sade and the two beautiful kids. You led a wonderful life and showed us how to care for others. I will miss you.
My Man, Abbey: Words can not possibly explain the big gap that remain after you were called into God's bosom. Your family and friends will be consoled by the fact that you left behind endearing memories for all to cherish forever. Our family remain grateful to have known and shared those wonderful and exciting moments. Adieu
Abbey sure made an impact on us all! What an extraordinary example of kindness for us to follow! I will never forget his distinct voice in greeting me every time he saw me…Sister Kim, How are you? he would say. I can't wait for the resurrection, very soon, when I see him and I can say…Brother Abbey, How are you? Good to see you again! Our dear brother Abbey supported our pioneers each week out in the ministry! He made a good name with Jehovah!
Abbey touched the lives of everyone around him. Our congregation will miss him dearly as a fine brother, and I will miss him dearly as a friend. He never gave up on me, never judged, and was always someone I could count on for encouragement. Can't wait to see you you again soon Abbey. I'll be there in line waiting to welcome him back, and introduce him to my sister who I'll also welcome back in the resurrection. Sending you all my love & prayers.
It still sounds like a dream.So it isn't a dream.How I wish it was.Hmmm,such a good-hearted man!How we long for the new system now more intensely so we can see him again & catch up on old gist!May Jehovah be with Sade & the children,& strengthen us all to cope with the loss…
My dear Abbey, your are my brother that i hate to part with, your are an inspiration and a loving friend. You open the door of your tender cares and you feed us with love and warmth. Oh my dear Abbey, i never know it will end this way but I'll tell you what-My family will never forget the impart you and your wife made in our lives! Though it appears you have gone but i know it's just for a while. I shall wait anxiously for the time when we shall meet to part no more! May Jehovah be with the family you left behind!
Though very painful, but, we are hopeful. Shade, may Jehovah continue to be with you and your kids, His strength is extremely reliable.
I can recall my last phone chat with Abbey on April 05, 2012 just a few hours to our Memorial observance. We discussed so many things that friends, husbands and fathers discussed about life, families and our spiritual heritage. I will surely miss him especially his sense of humour and his devotion to his family. It was a great pleasure knowing him and we cant wait to hear him respond to the resurrection call to rise and live forever.
"YOU mountains of Gil•bo´a, let no dew, let no rain be upon YOU, nor let there be fields of holy contributions;
Because there the shield of mighty ones was befouled……" 2Sam 1: 21
Well loved.
uncle abbey i still cant believe that yu've left us,yu called us 2weeks b4 your untimely death and we laughed,talked and calling me OLORI OWA still rings in my head.You came on holiday to UK and yu came to visit us in SCOTLAND with your family,u are always looking after people making sure they are fine ,we promised to come over next year during our holiday but uncle yu never wait to see us.You are a very caring,kind and easygoing man n i know yu have lived well for Jehovah and he will surely remember yu.Honestly uncle your demise and also d death of my dad make the ressurection hope real as i look forward to welcoming u in the new order of things where death will be swallowed forever,sis sade i know is not easy cos no one know how yu feel but u are in our thoughts,may Jehovah console yu,deyo and debo at this very difficult time,be assured of our love .
Though i never knew him.hes my brother in the lord and makes my dear cousin happy.i pray Jah consoles her and menber of the family.meet u in paradise
Biodun called me a few hours before his death to show concern about my health and arrangement being made to attend to it. He promised to call back on Monday to follow up. He died some hours later. Such was his feelings and care for other people. We are still trying to come to terms with his death. Is it his gentle and harmless look, or his commitment to the welfare of others or his exemplary service to Jehovah. He has left an indelible mark. He will be missed by too many people. Jehovah will console the family. Segun Adebayo and Esther Yemisi Adenipekun
This is shocking to me as an individual. I still find it difficult to believe such news, because we chatted on facebook on 26th April, 2012, only to wakeup to such news. May your soul rest in the dwelling place of the Lord. May your SOUL rest in PEACE. I write this with tears in my eyes and with heavy heart. Will miss u dearly.
This is too shocking to be true; we chatted about 2 weeks back. Too shocking and sad but God knows best. A nice gentleman is gone. May God grant him eternal rest and take good care of his family .
This time in your life will be most painful. Death makes us feel like we should stop living. But as servants of Jehovah we know this is only temporary. Jehovah will have a yearning for the works of his hand. He will call, very soon, and egbon Abbey as I fondly call him will answer.
Aunty Sade Jehovah is your strength.
Abiodun,
We did not get to know each other very well but I was looking forward to this summer. I know just meeting you that one time that Sade picked a winner. You will truly and forever be missed by us all.
My heart and love will always be with you Sade and the kids. Love you darling.
You left too soon…
May Jehovah give your wife the power Physically and Spiritually beyond what's normal to bear this huge loss and also the wisdom to train your adorable kids.
We still find it difficult to believe this. Biodun, you will always be remembered as an easy-going, nice and humble gentleman. Our hearts are with Shade, Moradeyo and Adebowale, for God in His infinite mercy to comfort and engrace them.
Biodun, continue to rest in the bossom of Our Creator. Good night!!! You will be missed.
Ab, as i do call you, i cant believe this news but God understand, working with me while you where in Nigeria was quite fascinating,you were such a fun person to be with, the last time we chatted i remember clearly…..Ab, you are such a wonderful person…
May your soul Rest in Peace…..
Omo Owa,
Omo Ekun,
Omo Pupa ni Adare wunni,
Omo Ekun Lasho meji ope kan lala.
Omo Owa Ajaka onida rara odida adawon gere gere wo odo.
Asese jade akan a o mo ibi to nlo.
Ekute ile gbon gbon…. Ologini feso mun.
Omo aduro gbofa bi ogiri ogiri ota piti ofa.
Orun ire……o
Abbey, I would miss u a lot. You were a wonderful friend indeed, caring and unassuming. I love u, but Jesus loves u most. All other friends would miss u too. I pray we meet in Heaven where we would not depart no more. Good night Ore friend.
This is a very painful news..Sill find it hard to believe
May Jehovah grant his family the fortitude to bear this great loss. We all look forward to the resurrection when we will welcome our dear brother back to life again..
Biodun's death is a shared lasting loss. We have been friends for decades – since the 1970s.
Sade, Moradeyo, Debo, take heart. Biodun lived well. He lived to Jehovah. His life, though short, was very meaningful.I know that he touched lives in Richland, from our conversations. What counts is not the short life, but the good life packed into those years. Remember that our Biddy served Jehovah to the end. We shall see him in the ressurection of the dead!