FIND AN OBITUARY
Service information is posted on our website only with approval from the family.
If you are seeking information not listed below, please contact us.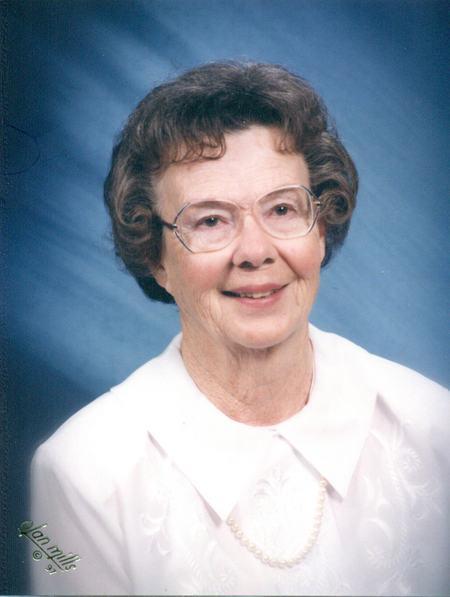 Gertrude Trudy Belle Morrish/Huckleberry
02/24/1922 — 04/24/2012
From Richland, WA, USA | Born in Oberlin, KS
Gertrude Trudy Belle Morrish/Huckleberry
Gertrude Trudy Belle Morrish/Huckleberry
Gertrude Trudy Belle Morrish/Huckleberry was born February 24, 1922 to Guy B. & Norma E. Morrish in Oberlin, Kansas. Gertrude passed on to the Lord at the age of 90 on April 24, 2012 at Eagle Assisted Living in Richland, Washington. Trudy graduated from Decatur Community High School in 1940 and graduated from Fort Hays, Kansas State College in 1944 with a Bachelor of Arts degree in Zoology. She then took Medical Lab Technician training at Barns Hospital, St. Louis, MO, and became registered in 1945. Trudy worked as a Lab Tec at Pueblo Lab, Pueblo, CO, where she met Robert W. Huckleberry and the two were married on April 21, 1947 in her home town of Oberlin, Kansas. They moved from Pueblo to Longview, WA that year where she worked in the lab at Cowlitz General Hospital. In 1953 they moved to Richland, WA with two children, Marilyn and Paul, where she worked in a lab in the Medical Arts Building until she quit to go to work with her husband as bookkeeper/salesperson for Richland Paint and Floor Covering which later became known as Huck's Floor Covering. In her early years in Richland they had their third child, Kathryn.
Playing the flute was one of Trudy's passions. She learned to play at an early age and played the flute most of her life. She played flute in the Fort Hays Symphony Orchestra, and later in the 1960's to the 1980's in the Mid Columbia Symphony Orchestra. Photography was another of her passions. She was a member of the Tri-City Camera Club for many years, and she won many awards for her photos, one of which was published in a magazine. We do remember that you did have to have a great deal of patience when being involved with her photography as there was no room for less than striving for perfection. For many years she enjoyed playing golf on the old Sham-Na-Pum Golf Course and later at Horn Rapids Golf Course. She loved playing with and the comradery of the ladies she golfed with. She grew up in the church and spent her entire life in pursuit of the Lord.
Trudy is survived by her children, Marilyn Huckleberry Tom, Paul Huckleberry Linda, and Kathy Huckleberry Mike. Her grandchildren, Adam Huckleberry, Amie Huckleberry, Aeren Huckleberry, Dan Wolf Barbi, and Melissa Bell. Her great grandchildren, Jarett Wolf, Olivia and Sophia Bell. Trudy was preceded in death by husband Robert W. Huckleberry, her parents Guy B. Morrish and Norma E. Morrish, and her brother Sidney Franklin Morrish.
The family would like to thank the staff of Eagle Assisted Living for the wonderful and loving care they provided our mother for the last two years of her life. Thank you Andrea LPN, Brandee, Delia, Enedina, Fatima, Irma, Kate, Kellee, Monica, Nancy, and all the rest working and caring for others there. We would also like to thank Hospice Tri-Cities Chaplaincy for all the care they have bestowed upon our mother.
A celebration of her life, with music and desserts, will be held on Sunday May 6th, 2012, 2:00pm @ SouthSide Church, 517 Jadwin Ave, Richland, WA. In lieu of flowers, donations may be made in Trudy's name to Mid Columbia Symphony or to Hospice Tri-Cities Chaplaincy.
What a gracious lady,we shall remember the good times spent together at Lions functions and Hucks "rubber chicken" with love
Anne HuntleySaunders Charles PCC and Huck served together on Lions functions
Dear Huckleberry family,
I was acquainted through Lions with both Bob & Trudy. Even though she never became a Lion, Trudy was so very supportive of Bob's Lion activities and what Lions did. She was a wonderful lady and very kind to all of us 'newbie'spouses of District Governors since she'd been there and done that twice!!!It was a privilege to have known her.
Dear Huckleberry family,
Trudy was a true blessing to all who she came in contact with. We enjoyed many conversations about photography over the years and she was always an encouragement to me. Her love of photography was always evident in our conversations. Will miss her greatly and her warm smile. JC
Grace and I think often of Bob & Trudy Huckleberry. Bob and I served Lions on MD19's Council of Governors. Trudy was a very special person. We miss them both.
PCC Rod Barnes
P.O.Box 918
Coupeville, WA 98239
What a lovely person she was! She supported the community in many ways, but especially so with Bob in Lions Clubs International. She was a blessing to so many of us, over the years. Gone, but definitely not forgotten. God bless. Past International Director Lion Roger & Past District Governor Rosemary Richert
Very sorry to hear of your loss. Paul, it was good to see you again, sorry it was in these circumstances.