FIND AN OBITUARY
Service information is posted on our website only with approval from the family.
If you are seeking information not listed below, please contact us.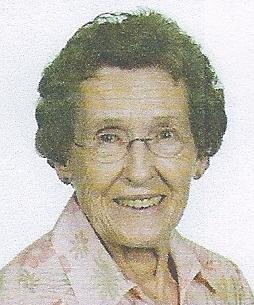 Isadorie "Izzy" S. Burrus
05/16/1925 — 04/17/2012
From West, Richland, WA, USA | Born in Glencross, SD
Isadorie "Izzy" S. Burrus
EINAN'S FUNERAL HOME
Isadorie Schumacher Burrus May 16, 1925 - April 16, 2012
Isadorie was born to Martin and Barbara Schumacher in Glencross, South Dakota on May 16, 1925. The family moved from Glencross, So. Dakota to Prosser, WA in 1937. She graduated from Prosser High School and was immediately employed at the Hanford Project.
At the time of her retirement, Izzy, as she was affectionately known, was the longest employee of the Project having moved up through the various stages ending with her retirement from Battelle. Izzy was a caring and loving person - chauffeured two close friends for many years to various appointments, games and lunches. She loved the game of Hockey and was always active, loved to work in her yard and made the best pies, especially apple pie.
Isadorie was predeceased by her parents; husband Robert Burrus; brothers Wilbert, Eugene and infant Adam Schumacher and sister, Virginia Schumacher Zeni.
Surviving are her sisters: Marcella Burkhart, Barbara Bayha Carl; brothers Juluis Marville, Robert Kathy and Blaise Schumacher. Izzy was a generous, loving Aunt to many nieces and nephews.
Services will be held Monday, April 23 at Christ The King Catholic Church at 10:00 a.m. with a reception following the Mass in the church's Gathering Place. Remembrances to Christ The King or your favorite charity.
Aunt Izzy was a beautiful woman. She always had a huge smile and the biggest hugs for us.
My best memories will be of her and Grandma sharing their home and loving us all unconditionally. You truly inspired me. Thank You and You will be missed.
Love,
Donna niece by marriage
Spending time at Aunt Izzy's was so special. She gave you responsibilities on the farm and around the house. Even as a kid, she made you feel valued and "grown-up". Feeding the cats always at least 20, brushing the horses they were SO BIG, bottle feeding baby calves, bringing in the hay Uncle Bob on the tractor, running our horses up and down the long driveway on Lower River Road, the poodles and calico cats, family reunions with great food, Uncle Jack stretched out on the extra long couch after dinner, playing Kanuga and Black Jack with pennies, the willow tree in the side yard, the pond, Angus cattleremember Big Daddy, she always drove the most comfortable cars, learning how to plant annuals and bulbs she always had a beautiful yard,she could type faster than anybody I ever knew,the matriarch of our family after Grandma's passing…some of my best childhood memories. Aunt Izzy, you were always there for us. We love you!
Could not of asked for a better aunt, will miss you very much
Aunt Izzy was the true defination of a Lady. She was always smiling and so very sweet. I will miss her.
Izzy was a very special person to me! We had alot of good times when we went out to eat. One of my favorite memories was when we would go out for crab and Izzy would meticulously clean her crab, and put it in a little round circle, and we would eat the crab in a messy way! Enjoyed Izzy very much. I will miss her and her beautiful smile. My prayers are with her!
Love,
Dolores Suhadolnik
I had the honor and priviledge of working with Izzy for several years at Battelle. She was not only a very competent and professional secretary, but more importantly just a nice person. While her fame was for her apple pies, her home grown horse radish was the prised gift that she gave me each year. One could cry just looking at the jar. I shall always remember our years of working together. She will be missed by many.