FIND AN OBITUARY
Service information is posted on our website only with approval from the family.
If you are seeking information not listed below, please contact us.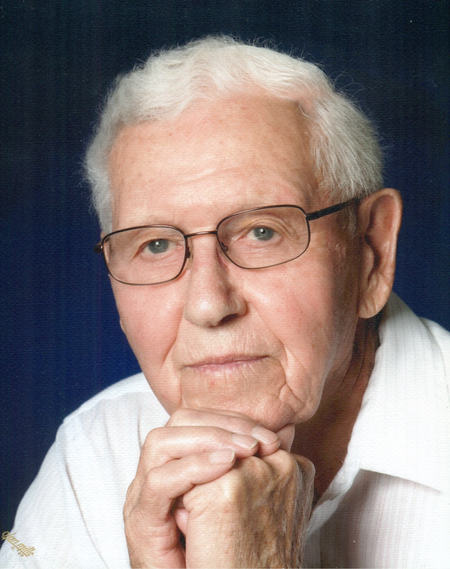 Adam Hopfinger
02/22/1921 — 05/30/2012
From Richland, WA, USA | Born in Hosmer, SD
Adam Hopfinger
After 91 years of a living a simple, happy life, Adam Hopfinger passed away peacefully on the morning of May 30, 2012. With his daughters at his side, he drifted off to heaven to be with our Lord, joining his loving wife, Johanna, who went before him in 2009.
Adam was born on February 22, 1921 to Francis and Tony Hopfinger of Hosmer, South Dakota. With his brothers and sisters, Lena, John, Mary and Frank the family lived and played on the land where they farmed for a living. In later years more children, Marcella, Paul, Henry and Tony came to the Hopfinger family adding more to the richness of the farming life in South Dakota.
Adam married Johanna Gisi in 1943. They chose to work together on a farm of their own in Roscoe, South Dakota. For three years they worked hard to make a living. Johanna drove the truck and Adam worked the fields to harvest crops and they were successful. Next they decided to try city life, moving to Aberdeen, South Dakota. Here they adopted their first child, Marsha. By 1958 Adam had his family established in Richland, WA so he and Johanna adopted their second daughter, Karen, bringing her home when she was 2 days old.
For a little over 30 years Adam worked for various companies at Hanford. One thing was always true, he was grateful to be employed and grateful to the companies who gave him a chance. Having a job and being loyal to the company were strong values Adam Hopfinger held true.
In his retirement years, Adam liked to putter in the yard. He had a weekly pruning schedule. You could set your watch and calendar by the time and day he mowed each week. Plants had their own day for being fertilized and the weeds had to be taken care of daily. Even in the last few months he would only stay in his chair for a couple hours and then he would get up to walk through the yard.
As a Dad, Adam wanted us to learn some basics. One is that there is no substitute for education. He wanted us in school doing our best. Adam wanted us to be satisfied with what we had and to treat our things with care so they would last. He didn't like waste and he was a good model for making things work, even if he had to tinker with them to get them to last. Saving money and giving what you can to the church were high on his list of doing what is right. He wanted us to learn to depend on ourselves so that others would not have to step in for us. Adam Hopfinger was a good man, solid to the core. His motto was "Nothing Fancy".
Survivors include daughter Karen Mosset and granddaughter Emily Mosset; daughter Marsha Sork and family Eric and Keri Sork with Tanner, Austin, Carson and McKenna Sork; Cathy Sork and Steve Gehlhausen; brother Frank Hopfinger; Sister-in-Law Marguerite Hopfinger; half-siblings Marcella Johnson, Paul Hopfinger, Henry Hopfinger, Tony Hopfinger and many nieces and nephews.
A recitation of the Holy Rosary service will be held on Tuesday, June 5, 2012 at 7:00 PM in Einan's Funeral Home, 915 By-Pass Highway, Richland, WA. Visitation will be held Tuesday from 5:00-8:00 PM at Einan's Funeral Home. A funeral Mass of Christian burial will take place on Wednesday, June 6 at 11:00 AM at Christ the King Catholic Church and will include a luncheon afterwards at the church, with a graveside service to follow at 2:00 PM in Sunset Memorial Gardens, 915 By-pass Highway in Richland.
So sorry to hear of Adam's passing; my prayers for you and your families.
Loretta J. Gisi
To the family of Adam….
So sorry to read of Adam's Hoppy, as my Dad called him passing in the paper today. Adam and Johanna were such good friends of my parents, Jack and Lucille Cloud. I remember many times of them being at my parent's home visiting and of the trips they would all take together in their retirement years, along with Bob and Elsie Jepsen. My thoughts and prayers are with you all during this time.
Dick Cloud
The world is now 1 great guy short. Sorry for your loss.
Marsha, Karen & Family, We are so sorry for the loss of your father. I am so glad we were able to visit all of you last year.
Love & Prayers
Rick & Joyce
I still remember when your dad, mom and you girls came to stay at our farm south of Bowdle. There were many miles between us, I still remember your family coming to visit us. That made my mom so happy to have her brother come for a visit. I know that he will be missed by you all. Keep the good memories in your heart where they will never die. My prayers will be with you all. Jan Schumacher
email address is rjschumacher@valleytel.net
This world would be a much better place with more folks like Adam. He lived a long, healthy, steadfast life, touching so many people in positive ways. I will remember his patience, his sense of humor, his puttering around the house, his love of good sporting events and the devotion that he had for his family and faith.
It is would be an understatement to say he that he was just a good man. His well-lived life really meant something!
My thoughts and prayers are with you as you grieve the death of your dear father and grandfather. May the beautiful memories of Adam soon replace your tears with joy.
My Sympathy,
Paulette Gisi Levisen
One of your many cousins
Marsha and Karen, your dad was like a second father to me when I was young. I spent countless hours turning cartwheels and somersaults in your back yard and running through sprinklers he set up for us on a hot summer day. One of my favorite memories are of staying up late on school nights watching the Olympics on TV with him. It was so fun, because he was just as interested in each event as I was, and he offered great commentary about the sports and the competitors' performance. I will always remember you father's warm, welcoming smile and the twinkle in his eye. He was a wonderful man.
I am so sorry for your loss. Its such a difficult time. I will keep you in my thoughs and prayers.
Cindy
Mary & Milton Gross' daughter
To the Hopfinger family, I am so sorry for your loss. My dad, Robert Jepsen, was a good friend of your dad's. I heard countless stories about the trips they took together and their friendship. I didn't see the notice about Adam's passing until today. I know my dad and your dad are enjoying time together once again. I lost my dad Jan 9, 2011. I still miss him every day but it does get easier. I'm so glad my dad had a great friend like Adam. He was a great one. Marsha Jepsen Lee
i am so pleased to read all the lovely responses to the notice of our father and grandad to emily passing. it warms my heart that he has soo many dear friends and relatives that shared there remembrances of him.
thanks to you all
karen emily and marsha