FIND AN OBITUARY
Service information is posted on our website only with approval from the family.
If you are seeking information not listed below, please contact us.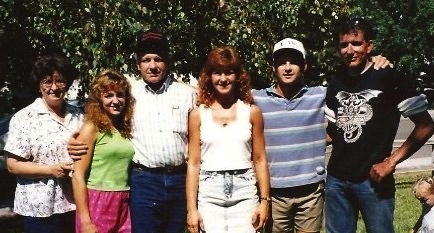 Barbara Ann Darden
01/27/1941 — 05/31/2012
From Prosser, WA, USA | Born in Junction City, AR
Barbara Ann Darden
Barbara Ann Darden, "BarbaraAnn" to her southern kin was born Jan. 27th, 1941 in Junction City, Ark. to Irvin and Pearl Aline Thompson. She loved her "small town with few, unpaved streets, going barefoot and building frog houses in the wet sand". Life there included an extensive family & her Grandmother, "BigMama" whom she dearly loved.
She moved to the Tri-Cities with her parents and brother, Robert, when she was 7. She loved when her Grandma would visit and take her back on the train; "listening to the glasses tinkling in the dining car as the train sped her back home". Barbara attended Columbia High School, learning to sew and follow a recipe out of a cookbook, two of her greatest pleasures. She met and married Jeff Darden in 1959 and had 4 children in 4 years. It was a whirlwind for her and she handled it with grace, laughter and common sense. She believed her "4 beautiful children" to be her greatest accomplishment. Barbara and Jeff built W. Richland Plumbing & Irrigation into a thriving business and enjoyed traveling, together, and with family. Family were their closest friends.
Barbara was a wonderful mom, greeting each morning with "Rise & Shine", showing them strength, patience and marveling when they emulated her ability to adapt and learn new things. She loved it when the grandkids started arriving. She was the matriarch of her family, hosting holiday get togethers with her delicious cooking.Sadly, her husband Jeff passed away in 2005. After her children were grown she traveled with her cousin back to Junction City almost every year; she loved visiting and southern cooking; fried fish, chicken & cornbread. Barbara acquired Pulmonary Fibrosis 6 yrs ago and enjoyed each day the Lord gave her, leaning on Him for strength, exemplifying grace, and maintaining her positive, southern attitude. She passed away peacefully, at home, listening to her favorite scriptures on May 31st.
She will be dearly missed by her 4 children, 10 grandchildren & 4 g.grandkids. Barbara was preceded in death by her husband Jeff, mother Aline, father Irvin & brother Robert. She is survived by her children; sons Dan Darden and Jerome Grace Darden; daughters Diane Cory Mceachern and Julie Mike Surmeyer; grandkids Brandon, Jaymie, Jory, Tera, Christy, Samantha, Jesse, John, Elizabeth, Jacob; g. grandkids Hazel, Ava, Dexter Danger, Mia Amor, In-laws: Brother Jim Judy Darden, Sister Mella Jane Gilley, Niece Janice Rick Slater; Nephews Don Rinda Darden, Martin Tammy Gilley, Jeffrey Karen Gilley, Randy and Jody Darden. Graveside services will be Sunday, June 10th, 10am with reception to follow at Einan's/Sunset Memorial in Richland. In lieu of flowers, please donate generously to Kennewick Hospice, who provided immense comfort, friendship and spiritual strength to Barbara.
A lot of the statements in Mom's obituary were direct quotes from her as she filled out a "Mother's journal" over the past few years, given to her by daughter Diane. I had a wonderful time learning new things about my mom that she wouldn't have thought to discuss unless directly asked. I sure do miss her.
MOM YOU WILL LIVE ON IN OUR HEARTS FOREVER!
just wanted all of you to know how special your mom was. I can see her up in heaven with my mom and aunt myrtle right now. my mom trying to do something your not suppose to, barbara saying ok lets do it with that laugh and aunt myrtle saying"now barbara and clara" they were diffently cute together! GOOD memories!! love you
Barbara Ann, I will miss you so much! We had such wonderful phone visits. You're graceful and calm ways are an inspiration to me. My only regret is not coming out there to see you. Rest well dear one. Your cousin in Arkansas, Gloria.