FIND AN OBITUARY
Service information is posted on our website only with approval from the family.
If you are seeking information not listed below, please contact us.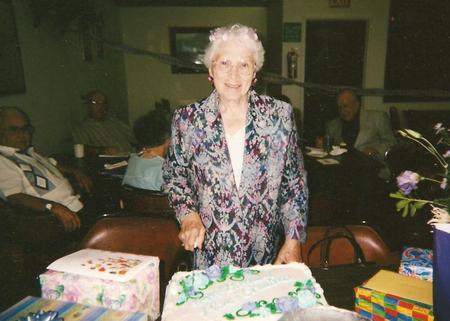 Dolores Azelda Nicholson-Green
08/12/1920 — 05/04/2012
From Kennewick, WA | Born in Miles City, MT
Dolores Azelda Nicholson-Green
Dolores Nicholson-Green left this life on Friday, May 4, at the age of 91, surrounded by loved ones, to join her daughters Carin Wilson and Corliss Cox. She was born August 12th, 1920 in Miles City, Montana. At birth she weighed one pound eight ounces and a shoe box was used as a basinet. She was the middle child of 3 children born to Axel and Alvina Anderson. The family moved to Pasco in the spring of 1922.
Dolores married Francis B. Nicholson on July 19, 1938. They had three daughters, Carin, Norine and Corliss. In 1947 they moved to Richland where they lived their entire married life together until Francis passed away shortly before their 51st wedding anniversary in 1989.
She worked as the head cook for the Richland School District and retired in 1982.
Dolores was blessed with two loves in her life when she met Llewellyn Scotty Green at the Pasco High School Old Timers luncheon in 1994. They married in 1995 and lived in Pasco together until 2005 when Scotty passed away.
Dolores moved to Hawthorne Court Retirement Center in 2006 where she lived happily until her death.
She was a devoted member of Christ the King Catholic Church in Richland for many years.
She was very loyal to her family and will be greatly missed by all her family and friends.
Dolores is survived by her daughter, Norine Bell, brother, Don Anderson, sister, Phylis Frey, 7 grandchildren, 14 great grandchildren, and 6 great great grandchildren, She was also preceded in death by daughters, Carin Wilson, Corliss Cox and grandson Scott Baugh.
A funeral will be held in Memories at Sunset Event Center on Saturday, May 19th, 2012 at 2:00 pm and a graveside service in Sunset Memorial Gardens at 3:00 pm. Following services, the family invites you to join them in celebrating Dolores's life at the Event Center for refreshments. There will be a Rosary on Friday, May 18th at Einan's Funeral Home at 6:00 pm, with viewing from 5:00 pm until 7:00 pm.
Donations may be given to Tri Cities Chaplaincy Hospice or American Lung Association
Grandma, We will miss you so much and I will forever have the memories of family celebrations that we all shared together. You were loyal to your family and loved us very much, that you made sure we all knew and I thank you for that! Until we are all together again, love you!!
Grandma, you will forever be in our heart. I know you will be watching over all of your loving family every day which puts a big smile on my face: We will dearly miss you and your hugs and kisses.
Grams, until we meet again, I LOVE YOU!
Renae, Gale and family
Norine,
Just want you to know I'm thinking of you today while you're dealing with the loss of your mother.
Norine, please accept our sympathy and know we all share in your loss. Try to move ahead and not live in the past as I know TIME heals all wounds. We will keep you in our thoughts and prayers.
Dolores Kenworthy
So sorry to hear of your moms passing, We're not able to make the funeral, but just know our thoughts and prayers go out to you. We have other commitments on that day but just remember the good times and never try to live in the past. Time heals all, as I can attest to that. We loved Dolores as much as if she were our own mom. Take care and call me anytime.
Dolores & Jim
Grandma,
I miss you dearly. I feel so greatful that you had a long full life and were loved by so many. I am comforted by the fact that you are now with mom. I know you have already given her a big hug from me. Dana Stephenson & Family
Sorry to hear Aunt Dolores passed, We loved her. Russell Green, Rena Green Baker, Shirley Green Brosh & Loretta Green Donaldson
Norine, Dana and Denise,
Delores was so incredibly loyal to her family and the Lord. My heart is full for you all and I wish you fond memories. She is with Corliss, Carin, France, Scotty and my Momso many more to count now and that gives me so much joy. Love and hugs to you all.
We feel it was a privlege to know Mrs Green. We will miss her.
When you think of me, do not cry for I have wings with which to fly. I will miss you G – ma, your blood runs through mine and I understand my characteristics from you. Rich, Sharon & family
You will be missed. My thoughts and prayers are with you and your family. Love you all.