FIND AN OBITUARY
Service information is posted on our website only with approval from the family.
If you are seeking information not listed below, please contact us.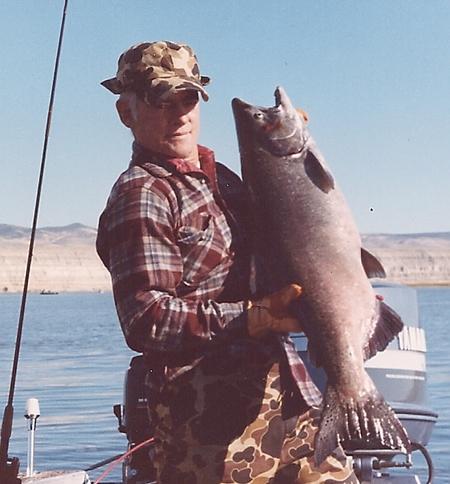 Lee Justus
02/07/1939 — 05/13/2012
From Richland, WA, US | Born in Home Creek, VA
Lee Justus
Lee Justus, 73, loving husband, father, and grandfather broke through the shackles of this earthly life and went to meet his Maker early on the morning of May 13, 2012, at his home. Surely a celebration of welcome and joy is his as he once again meets those who have proceeded him through this veil. Those he had to leave behind are already missing him, as he was a man that in many ways, was larger than life. He will be remembered for many things. Everyone will miss his cooking. An icon when it came to the old time ways of Southern cooking, others tried to emulate him, but the taste of his food was so elusive, it couldn't be duplicated, just enjoyed.
Lee was born on February 7, 1939, in Home Creek Grundy, VA. He was a man-of-all-trades and had many careers and talents. He retired from the U.S Army, 82nd Airborne Division, after 21 years in 1975. He was highly decorated, receiving the Distinguished Service Cross, the Distinguished Flying Cross, Silver Star, two purple hearts, Combat Infantryman's Badge, Air Medal, Good Conduct Medal, Bronze Star, Army Commendation Medal, Republic of Vietnam Campaign Medal, Republic of Vietnam Gallantry Cross, Vietnam Service Medal, Master Parachutist Badge, Driver and Mechanic Badge, and National Defense Service Medal. He was shot down in two separate helicopter crashes. He never applied for any disability pay or wanted any special recognition.
Lee obtained a Master's Degree in college. After the Army, he and his best Army buddy, Ed Coniconde, traveled West, worked at Yellowstone, moved to Spokane, WA where Lee worked at the Veterans Hospital and in construction while completing Airplane Mechanics training. He moved to Richland, WA in 1978 where he was employed as a Radiation Protection Technician. After leaving there, he opened a successful business, Seven Rivers Fishing Guide Service, and later customized a hand cream, Seven Rivers Industrial Strength Hand Cream, which was sold throughout the United States and in several major stores. Tiring of that, he became licensed as a General Contractor, Custom Mobile Home Repairs, where he worked until 2003 when he was forced to close it down due to being hit, as a pedestrian, by a semi truck and trailer. He spent the rest of his life at home surrounded by his family and dogs, especially close to his pomeranian shadow, Foxy.
Lee is survived by his wife of twenty-nine years, Diane Nelson Justus, daughter, Sara Anne Justus, granddaughter Lily Anne Elizabeth, and Steven Duane Carroll. Son, Thomas Lee Justus, daughters Bonnie Jean and Laura Jane, brother-in-laws, Mark Alan Dorothy Nelson, Courtney Dean Lonna Nelson, Rodney Earl Audrey Nelson, numerous nephews, nieces, great nieces and nephews and his dog pals Foxy, Spots, Mike Hunt, and Diamond.
Lee was preceded in death by his mother, Jane and father, Parker Justus, brothers and sisters Clifford, Otilla, Frankie, and Jerline Justus, daughter Luanne Sue Halverson, mother-in-law Hartense Elvira Reeder Newbrand, father-in-law Mark Hendricks Nelson, brother-in-law Boyd Reeder Nelson, best fishing and hunting buddy, Edward Coniconde, and numerous special hunting dogs.
Viewing will be Friday, May 18, between 6 to 8 pm at the Jadwin LDS Chapel at 1321 Jadwin Avenue, Richland, WA, Funeral service will be Saturday, May 19, at 2 pm at the Jadwin LDS Chapel and everyone is invited to a special graveside celebration, Sara's tribute to her father, with shared stories of his life and a little bit of rock and roll, led by Ed Dailey, followed by military honors at 3:30 at Sunset Memorial Gardens Einan's located at 915 By-Pass Highway, Richland.
Friends have set up a Lee Justus Memorial Fund to help with medical and funeral costs at Bank of America in Richland, account #138101356729.
Stacy, Cole, Logan and I would like to offer our most sincere condolences for your loss. We are sorry we were not able to be there for your family but we miss you very much.
we are sorry and I wish Naomi I got to meet you.
A loving father and a patriot. RIP, good sir.
Hope you are finally at peace. This world is a smaller place now that you're not here. Will always keep thinking of you
Lee was always like a father to me. I hope he knew how much I loved him. He will be sorely missed.