FIND AN OBITUARY
Service information is posted on our website only with approval from the family.
If you are seeking information not listed below, please contact us.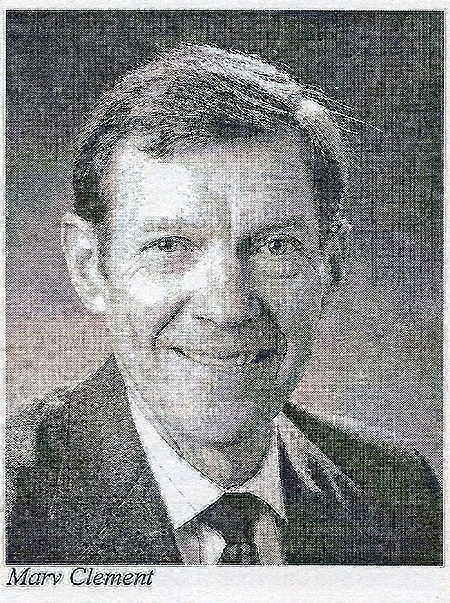 Marvin Oscar Clement
03/05/1939 — 05/03/2012
From Richland, WA, USA | Born in Burke County, ND
Marvin Oscar Clement
MARV CLEMENT Marv Clement, beloved husband, father, and friend, passed away May 3, 2012 in the company of his wife Marcia, daughters Cynthia and Crystal, and son Curt. Marv was born on March 5, 1939 in Burke County, North Dakota to parents Axel and Ruth Clement. His family included a sister, June Rigby, and two brothers, David, and Eurvon, deceased. Marv, first of his family to graduate college, went to Washington State University, where he quickly became a steadfast Cougar fan, earning a B.S. in Chemical Engineering. Later, he earned his MBA at the University of Washington. Marv worked first at Shell Chemical's Economics and Planning Department in the Ammonia Division and also for the Boeing Company and for General Electric. In 1969 Marv joined Battelle-Pacific Northwest Laboratories. He retired in 2002 as Program Manager for Technology Development from Battelle-Pacific Northwest National Laboratory. And, while he would be embarrassed by the revelation, his work received many awards, including an international award for Lifetime Achievement in Technology Transfer and a Department of Energy Lifetime Award for Achievement. Marv is survived by his wife of almost 50 years, Marcia, and "Cougar kids," Cynthia, Curt, and Crystal. His 'mantra' was always to "Do things right!" an attribute he championed in his work and play. Marv relished his involvement in fishing including many trips with Curt and friends, fly tying as well as teaching and working at Sportsman's Warehouse, tennis, basketball, coaching baseball, jogging, gardening, and he loved to play board games and work puzzles with his kids. He was a member of the Richland Lutheran Church, the Richland Rod and Gun Club, and Columbia Basin Fly-casters charter member and past president. The family thanks the staff at Kadlec Hospital for their kind and caring service during Marv's last days. He leaves a family forever grateful for his integrity, high morals, kindness, generosity, and sense of humor. Marv was their biggest supporter and was always quick to lend a helping hand. He led by example and his strong sense of work ethic will continue to live on through his three children. There will be a burial ceremony at Sunset Memorial Gardens, 915 By-Pass Highway in Richland, WA, 99352 at 3:00 pm on Friday, May 11. A celebration of Marv's life will occur at a reception to follow at Richland Lutheran Church, 901 Van Giesen St in Richland, WA, 99354 at 4:00 pm. Cougar apparel is welcome…Marv would approve. In lieu of flowers, please feel free to donate to Richland Lutheran Church, WSU, or the charity of your choice in honor of Marv's life. And while he will be sorely missed, his days here have left an indelible mark on many.
Marcia – So sorry to hear of your loss. I of course knew Marv when we were both kids at church. May God give you and your family peace and comfort at this time. Your long-ago neighbor on Morgan Road.
While working at Los Alamos in tech development and tech transfer, my greatest joys came when I could partner with Marv. His ethics, character, and passion for always doing it right no matter the barriers stood him above all others in our field. And Marv was always a gentleman and kind and respectful to others. His loss will be felt by all who knew him. Good passage over the bar, my friend. God bless.
Marcia,
I've often thought Marv's and my careers were a bit in parrallel. Too bad he got his Chem Eng degree in that other school. Would like to have spent more time after high school, but "paths divert". Our prayers and thoughts are with the family.
I have fond memories of Marv's sense of humor as well as those of his wife and children. I smile when I think of the 3-way reunion in heaven with those 3 old guys who were such good friends – Bob and John waiting to greet Marv at the "gate." Fondly remembering the Clement family.
Marv was greeted in heaven by Dad and John I am sure, but I bet they had all their Husky gear in place for that. LOL. My thoughts and prayers are with the Clement family. Marv was a special friend of my Dad's and through that to me. He touched all of our lives and will be missed.
Marcia and Family,
Many years of friendship and fishing; memories of a good man. My condolence at your loss.
Marcia and family,
You have been in our thoughts and prayers since we heard the sad news about Marv. Our sincere condolences to you.
Ralph and Launa
My memories of Marv revovle around church and running along the river training for Bloomsday with he and my Dad. There were always words of encouragement, a big smile, and a hug. There was probabaly a Cougar vs. Husky remark as well! It saddens me that Marv is gone, but warms my heart to know that he, Dad, and John are together again.
Our thoughts and prayers with the Clement family. Marv set the bar high both in work and play – many memories of him stressing the job get done right, rather than get done quick.
It's tough to hear when an active person's body won't keep up. I know Marv hated not being as mobile as he wanted – he certainly was taken too soon, but I like to think he's now free to jog, play tennis. and lure fish again.
Coach Leach stresses precision and being better prepared than your opponent. Work hard every day to get better. Marv would approve – and I know he'll be watching from the best seat in the house.
GO COUGS
Marcia & family,
My memories of Marv remain vivid from the time we worked together on a PNNL project in the 1980's and from our frequent interactions over a much longer period. His many accomplishments constitute a significant legacy that may provide some consolation in this time of sorrow.
I enjoyed the friendship at Waller and 1616 Fisk. Marv was a great guy. Look forward to seeing Marv in Heaven. Bill & Joan
To the Clement family:
Marv was an inspiration to me. We used to jog together at lunch time and his sense of humor and shear joy–always smiling and positive– will stick with me forever. I last saw Marv in June 2005 in the hallway at Sacred Heart hospital. Marv was there caring for Marcia during her valve replacement and I was in for bypass surgery. Marv was full of encourgement and spent time shuttling from Marcia's room to mine cheering us both to recovery. Marv had never met my family but he befriended them on the spot. My wife still remarks about how Marv was so positive and friendy. I will cherish memories of the good times we had. Godspeed to Marv and my condolences to Marcia, Cynthia, Crystal and Curt.
Marv was a very warm and kind man and always went out of his way to be helpful. Besides being a valuable asset to my commercialization efforts at the Pacific Northwest National Laboratory, Marv and his lovely wife have been part of the "Hunt Street" neighboors that we have treasured since moving our family to Hunt Street when my grandmother's home became available in 1990. My wife and I regret that we were not available to attend the services. Our sincere condolences to the family.