FIND AN OBITUARY
Service information is posted on our website only with approval from the family.
If you are seeking information not listed below, please contact us.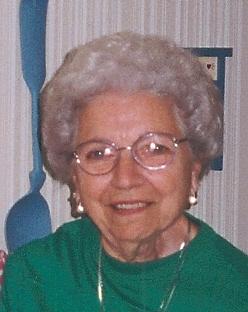 Monnie Jean Thomas Osowski
05/24/1923 — 05/04/2012
From Richland, WA, Benton | Born in Wildhorse, OK
Monnie Jean Thomas Osowski
Monnie Jean Thomas Osowski, 88, died peacefully in her sleep on May 4, 2012, in Richland, WA. She was born at home on May 24, 1923, in Wildhorse, Oklahoma, to Vesta and Roy Thomas. She was the oldest of four children and spent her childhood at Wildhorse, which was a Sun Oil camp in the countryside of Osage County, Oklahoma. It was a company town much like early Richland and the community of families was very close and stayed in lifelong contact. She graduated from Wildhorse High School in 1941, attended Business College, and then went to work at the Pryor Ordnance Works. While there, she and two friends became aware of job opportunities in support of the war effort in "Washington". Thinking they were heading to Washington, D.C., they eagerly signed up for the free train trip provide they stayed six months. They soon found out they were headed to the "other" Washington, of which they knew very little, but decided to go and check it out. Monnie was one of the many folks that came to Hanford in the 1940s in support of the Manhattan Project and never left. Initially, she worked for the Atomic Energy Commission and moonlighted in the mess hall in the evenings. There she met her future husband, Leo, and they were married at Central United Protestant Church in 1947. Monnie subsequently transitioned from administrative work to work as a Laboratory Technician in various radio-chemistry labs in the 300 Area. She worked for over 40 years for various contractors; G.E., Battelle, and finally Westinghouse HEDL. Her husband passed away in 1967 and Monnie remained busy with work, raising her daughter, club activities, and friends and family in Oklahoma and Arkansas. She also kept in close contact with Leo's family in Wisconsin and enjoyed many trips to that part of the country. She was a lifelong sports fan, having played basketball in high school, and enjoyed sports of any kind. She attended many OU Oklahoma not Oregon home games with her brother and family who were season ticket holders. She was an original season ticket holder with the Tri-City Americans hockey team and attended their games into her eighties. She loved watching hockey from her seat on the "50-yard line". She as an avid bowler for decades, and played bridge for over 50 years with many of the same ladies. In later life, she played "at" golf. She formed deep and lasting friendships with the many people involved in these activities. She lost a brother in the South Pacific in WW II and this spurred an interest in veteran's causes. She was active in American Legion Auxiliary and associated veteran's organizations for many years and served as the 1985-1986 American Legion Auxiliary Department of Washington President. Monnie led a purposeful life. She treasured her family and friends, her Schnauzers, a good laugh, and last but not least, her country. She carried herself with dignity and grace. She was preceded in death by her parents and her three siblings, Kenneth, Lyda, and Jim. She is survived by her daughter Deanna of Richland; step-daughter Jeanette of Stevens Point, WI; beloved sister-in-law Betty Thomas of Cleveland, OK; and numerous nieces and nephews of which she was very fond. She also leaves a large extended in-law family in Wisconsin that she cherished, as well as her close friend Virginia Miller, whom she met when she first moved to Richland. Special thanks to all the staff at Guardian Angel Homes for the kind and loving care they provided Monnie the past few years. You know who you are. Thanks also to Dr. Joseph Salinas for his thorough and compassionate medical care. And final thanks to Dr. Steve Matheson, DDS, for his excellent dental care over the years. She had the most beautiful set of natural teeth any 88 year old could hope for. A memorial service will be held on Thursday, May 17, 2012, at 11:00 a.m. at Memories at Sunset Event Center at 915 By-pass Highway in Richland. In lieu of flowers, please consider a donation to the Kadlec Neurological Resource Center or the local chapter of the American Legion Auxiliary.
Deanna, So sorry to read about your mom. You are in my thoughts and prayers. Take care. Love, Judy
Mom Louise Williamsand Monnie worked together for years in the 300 area labs. She was such a lady, but she also knew how to have a good time. I miss playing dominoes with her. I'm so sorry she is gone.
Deanna, I was saddened to hear of your mother's passing. We were friends and co-workers for 50 years and I have many fond memories or her. My thoughts are with you.
Lucille Butcher
Dear Deanna: I played bridge with Monnie for a LONG time and enjoyed her so much. I was sorry to learn today of her death. She was a really nice person not something you can truly say about a lot of people and will be greatly missed. Carolyn Williams
I am so sorry to hear of your loss. Monnie was a very special lady. She lived a full life. You are in our prayers and thoughts daily.
We were sad to see the you mother had passed. Our prayers are with you at this time. We will also miss seeing you at Guardian Angel.
Dear Deanna, We are thinking of you in your sorrow with the loss of Aunt Monnie. What a gal! Hang on tight to memories they "live" with you forever. We are fortunate enough to have memories of our last visit with her in her beautiful welcoming home. We cannot think of her without a smile on our faces. We are thinking of you at this sad time and hope that you can feel the peace of knowing she is in a wonderful place with Uncle Leo. You did a wonderful job as a daughter caring for her and we hope that you can find comfort in that. We are thinking of you with our love and condolences, Jeanne and Pat
What a beautiful tribute to an amazing woman.