FIND AN OBITUARY
Service information is posted on our website only with approval from the family.
If you are seeking information not listed below, please contact us.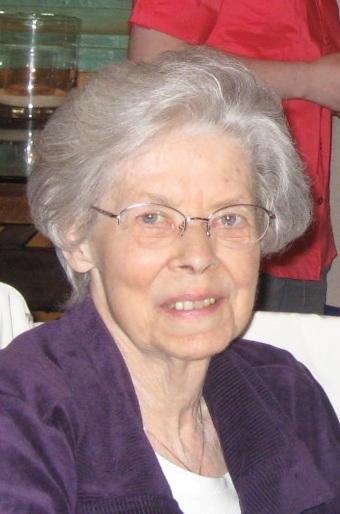 Louise E Meyer
07/21/1927 — 10/28/2012
From Kennewick, WA, US | Born in Altoona, PA
Louise E Meyer
Louise E. Meyer Louise was called home to be with Jesus on October 28, 2012. She happily joined those who were waiting for her, particularly to be reunited with her husband, Jack. She passed away at her home after a hard fought illness, having been able to enjoy many special moments with her children, grandchildren and friends. Louise was born on July 21, 1927 to Levi S. Buchanan and Mary K. Housel Buchanan in Altoona, Pa. Louise was the middle child of 3 girls Audrey and Sarah who all grew up in Altoona and shared many happy memories together. Louise learned her lifelong hobbies of sewing and baking cookies from her mother. Louise was baptized as an infant and attended the Presbyterian Church in Altoona. When Louise was 12 years old she met the love of her life, Jack Tait Meyer. Jack served in the Navy during WWII on the aircraft carrier, USS Hornet while Louise waited for him and continued attending high school. Louise and Jack married on July 31, 1945, just after Louise turned 18 years old and graduated from high school, when Jack was home on a brief leave as the war came to an end. Shortly after marrying, Jack and Louise moved to Chicago, Ill., so Jack could attend school and begin his career as an Electrical Engineer. In 1951, Jack and Louise moved from Chicago to Richland, WA, where they joined her older sister Audrey and Audrey's husband Jared Davis working at the Hanford site for General Electric. Louise loved to tell stories of the cute prefab they lived in and the wonderful job she enjoyed in the Photo Lab, helping to make badges. In 1955, Jack was transferred to Idaho Falls, Idaho to work at the Nuclear Reservation. Jack and Louise built their dream home in Idaho Falls and in 1957, their first daughter, Jackie was born. In 1959, their second daughter, Kathy was born and the same year, Jack was transferred to the Atomic International testing site in Southern California. Jack and Louise lived in Simi Valley, CA from 1959 to 1978. Their third daughter, Camille was born in 1962 and their son, Brett was born in 1964. The Meyer family of 6 enjoyed many wonderful years in Simi, attending the United Methodist Church. Louise spent her first several years in Simi, taking pride in raising her children and being a homemaker. When her youngest child was in elementary school, Louise went to work at Sinaloa Jr. High as a secretary. In 1978, Jack accepted a transfer back to Richland, WA, to work at Rockwell International. Jack and Louise had hoped to retire in Eastern WA, so they were excited to make this move. Louise quickly became employed at Battelle where she remained employed full time until her 65th birthday. Louise then continued to work part time at Battelle until she was 75 years old. She said she enjoyed staying on so she could be the party planner, bringing cakes and cookies for fellow employees' birthdays and going away parties. After her second retirement at the age of 75, Louise stayed very active, bowling, taking walks with her dear friend Darlene, traveling with the Rambling Rovers and sewing with the wonderful ladies of the Kadlec Medical Center Auxiliary. In the last several years of her life, Louise had to cut back on some of her activities but still enjoyed sewing with the Auxiliary, sewing presents for others, going to Cardiac Rehab, making her fabulous chocolate chip cookies to give to others, watching her beloved Seattle Mariners on TV and enjoying barbeques, birthdays and holidays with her children and their families, all who reside in the Tri Cities. Louise was a member of Central United Protestant Church, Richland, WA and later, Westside Church, Richland, WA. Louise is now spending her eternal life with those who went before her, especially her husband Jack who passed away in 1987. She also joins her parents, sister Audrey and brother-in-law Jared. She will be especially missed by her sister Sarah Bollinger of Michigan. Louise is also survived by her daughter and son-in law, Jackie and Bob Davidson and their children Ben wife Heather and only granddaughter, Kelsie, daughter and son-in-law, Kathy and Billy Whitt and their sons, David and Derek wife Ashleigh, daughter Camille and son Brett and daughter-in-law Mandy and their sons, Tait and Jared. Louise is also survived by 3 adorable great granddaughters, her nieces and nephews, sister in law Barbara Hall, of Florida and many wonderful friends. The family would also like to thank her Drs., Salinas, Arif and Jamali and their staff and her Hospice team at the Tri-Cities Chaplaincy, especially Maria. Louise was a wonderful wife, mother, sister, grandmother and friend. She will be dearly missed.
Louise will be buried next to Jack at Sunset Memorial Gardens in Richland. A celebration of her life will be held at Westside Church, 615 Wright Ave., Richland on Friday, November 2, 2012 at 2:00 pm with a reception immediately following. There will be a visitation at Einan's Funeral Home, in Richland on Thursday, Nov. 1 from 5-8.
Donations can be made to the Juvenile Diabetes Research Foundation, the American Heart Association, or the Kadlec Medical Center Auxiliary Sewing program.
I will miss my dear, sweet friend. Miss our bowling, movie matinees, visits and the laughter. I no longer drive after dark nor at rush hour traffic, it is hazardous to my health! I hear Louise laughing about that, probably would say that I was the hazard. She will always be near and dear to me. I send my sincere condolences to Kathy, Camille and the family. She was so proud of all of them. I hope Louise will pave the way for me as I just suddenly realized that I to, am old. God bless her family that she loved so much.
Jackie, Kathy, Camille and Brett,
I am so sorry for your loss, your mother was an amazing woman. She never missed a holiday or birthday.It was nice to be able to talk to her these last couple of months. My thoughts and prayers are with you all, she will be missed.
Love,
Julie
My sincere sympathy to Louise's family….she was a great lady! I enjoyed working with her on the ARM program. She was also my seamstress and made the most beautiful drapes for my F-House. She will be missed.
Brett, Mandy and Family,
I just want all of you to know how much I think of your mom. Mostly, the visits at the hospital sewing room when she talked about Tait and Jared, the Mariners and of course, the Bombers.
You could easily tell she lived her life through her kids and grandkids and was a very proud mom and grandma.
Please know you are in our thoughts and prayers.
Jim, Stacy, Alex and Lauren Hall
We will miss Louise's humor, smile and joy of life. Louise had such a wonderful gift of making those she was friends with feel that they were the most special person in the world. We enjoyed our time and conversatons with Louise. Bill, Kayln and I will miss her dearly.
Bob, Jackie, Ben, Heather and Kelsie, and family. Louise was such a wonderful woman. We just loved her. When I remember her, I will always picture her with a big smile on her face. She was so proud of all of you. You did an amazing job caring for her. We love you, Bruce and Judy
We wanted to share our deepest sympathy with you. We understand your lost and hope that you will be comforted at this time. Mom had such found memories of your mother, Sarah and Audrey. They were a very close knit family. Our mom just passed away a month ago on Sept. 30. Heaven will be quite the reunion as we all join together again.
You will be in our prayers,
The Lois Olewine Shoenberger Family,
Janet, Howard, Lee and Nancy
I rememer Louise from PNNL. She was a role model though not sure I aspire to work there until I'm 75! I also remember her from being the mom of Camille, one of my music students that I had the pleasure of teaching at Hanford High School. Louise was always upbeat and chatty. I'm thankful for the opportunity to have known this wonderful lady.
Jackie and Brett and your entire family: Denise and I were saddened to hear of the passing of Louise. She was such a great lady and a big part of the 324 Building family. Our thoughts and prayers are with you – Jim and Denise Buelt
Dearest Jackie and your entire family,
We are extremely saddened that your Mom has passed from this life. We know how much you love Her and can only imagine how much you will miss her.
She had that spark in her eyes which gave us a feeling of being warmly and happily welcomed every time we saw her at a family gathering. She passed that on to you and we will always be reminded of her through the times we spend together.
Perhaps she can have some divine influence with the Mariners next season since she now has the best seat in the house.
We Love You and Your Beautiful Family.
God Bless You,
Kathleen and Ron King