FIND AN OBITUARY
Service information is posted on our website only with approval from the family.
If you are seeking information not listed below, please contact us.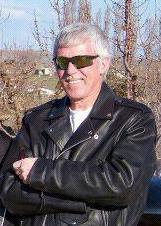 William Bill Webster Porter, III
11/28/1947 — 11/08/2012
From Richland, WA, US | Born in Richland WA
William Bill Webster Porter, III
William Bill Webster Porter III, 64, was born in Richland, WA Nov. 28, 1947. Bill unexpectedly passed away Nov. 8, 2012 at 9:30 am at Kadlec Hospital due to medical complications.
Bill lived in Richland his whole life and graduated from Richland High in 1966. He worked for the Richland School district for 38 yrs and retired in Sept. 2010. He also worked for Carol Wheeler at C Wheelers Gun shop for 20+ yrs.
Bill received his Black Belt from Chon-Ji Martial arts school Nov 26, 2011. He was a life member of the NRA and a member and an RO at The Tri-Cities Shooting Association.
Bill's greatest passions in life were his children, hunting, fishing, martial arts and motorcycles.
He was preceded by his parents, William W. Porter Jr. and mother Eleanor Tapp Porter.
Bill is survived by his family, wife Tammy Porter; his two children, Angela Porter and William Porter IV.
Bill is well loved by all that knew him and he will be missed dearly.
We will be having a Celebration of life for Bill at the Cathedral of Joy • 1153 Gage Blvd, Richland, WA 99352, Saturday, Nov.17, 2012 from 4 to 6pm. This is a potluck event. The family will be posting photos of his life on a wall and if you have any photos you would like to share please bring them and any stories and memories you would like to share with family and friends.
Donations for the family can made at any Gesa under William "Bill" Porter, Account # 701229.
Bill: You were like a brother to me. Before Bob was killled, and after, and dad was gone, you were there to help me get thru it. I wish I were there to help you but this is the next best thing. Will always remember the fun and happy times together. Love Nancy
I will always remember "Thumper" Bill Porter. Always thought it was his real name, no idea where it came from, probably The movie Bambi. A proud Sothender, and we were proud to claim him.
Bill was a dear friend that always made us laugh and put a smile on our face and in our hearts. He will be dearly missed. Obviously Heaven was in need of an Angel with a great sense of humor.
Since I first met Bill in grade school, I've counted him as one of my friends. As we lived only a block away from each other until we graduated from Col-Hi, we did a lot together. Unfortunately, I didn't stay in touch with him after high school, having seen him only a few times since then. He was always fun to be around and was always respectful. He will be missed. See you when the Lord calls me home.
You have been in my Prayers for a long time, but you never know how your Prayers will be answered. God thought this was best. I know you are at Peace, you are healed and out of pain. Give your Mother and Father a hug for me. We will see you again. Now you are a Guardian Angel. Rest in Peace Bill.
Bill you will be missed. Two 66 classmates who put in 38 years with Richland schools. We only had couple years in the same building, but managed to stay in touch thru the years and see the changes in the schools and in our lives.
Bill and I were close friends during High School. We did a lot of crazy things together. My thoughts and prayers go out to his wife and family.
Bill has remained an unforgotten person from when I first met him. I was a sophomore & he was the friend of a senior that I was dating at Col-High. My boyfriend went on a church trip for the summer after he & Bill graduated. I was, at the age of 15, heartbroken. Bill was right there for me. I was too young to drive, so he would take me down to the river to swim off the docks, & on similar innocent & happy adventures. My 1st motorcycle ride, too!! A song, "Sunny", came out that summer. Whenever I would feel down he would serenade me with that song. He gave me the nickname "Sunny". No one else ever called me that. But just the mention of the word, as in "it's going to be a sunny day today", brings back memories of a young man who was a true friend to me. I saw him off & on in Richland through the years. He always was kind. He'd be pleased to learn that I finally came to appreciate firearms! Thank you, Bill. I never forgot you, & I never will. God grant your family peace.
I competed against Bill at the local karate tournaments and he was a true gentleman. I will miss him.