FIND AN OBITUARY
Service information is posted on our website only with approval from the family.
If you are seeking information not listed below, please contact us.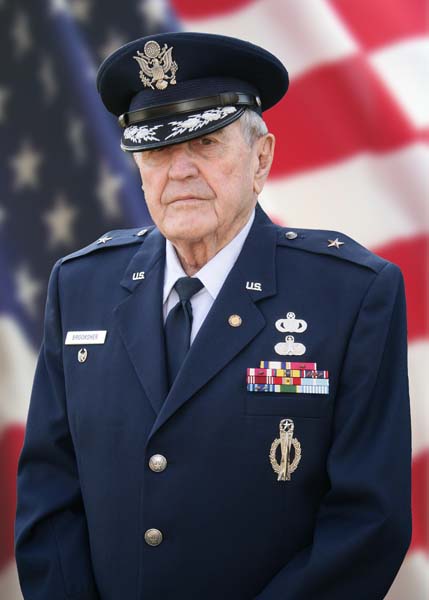 William Brooksher
02/10/1930 — 05/23/2017
New to Livestream? Watch the tutorial.
William Brooksher
Brigadier General William R. Brooksher, February 10th, 1930 – May 23rd, 2017
A Man of Kindness and Honor
A person of genuine warmth and kindness, William R. Brooksher always had a friendly smile and welcoming handshake for strangers. A well-known figure in his community, he was often approached unexpectedly in public by people who knew him or knew of him. In such instances he was always the picture of graciousness, never too busy or distracted to hear their thoughts and always mindful to make sure they knew he appreciated the friendly exchange. He made a special effort to get to know people's names and perhaps a bit of their story. Whether they were a cashier at the grocery store, a waitress at the café,  a teller at the bank, or just a stranger with a friendly smile, he was the exemplification of civility to others and kindness to strangers. Whenever possible he called them by name. They simply and respectfully called him, "The General".
Humble Beginnings
William R. Brooksher came into the world February 10th, 1930, on an old iron frame bed in a little dirt floor cabin in the Ozark Mountains of Arkansas and gently passed on May 23rd, 2017.
Always the achiever, in 1948 William graduated top of his class and Class President from Yellville High School in Arkansas. He went on to receive his bachelor's degree from the University of Colorado in 1958 and his master's degree in business administration from the University of Missouri in 1970. He was also a graduate of the Air Command and Staff College and National War College in Washington DC.
He lost his oldest sister, Juanita, when he was only 2 years old and his father at the tender age of 11. Along with his only surviving sibling, younger sister Nita, he worked alongside his mother scraping out a humble living on their small farm along Crooked Creek, Marion County, Arkansas, in a tiny hamlet called Turkey that consisted of a small store with a post office and a nearby church.
Upon graduating from high school, William wasn't entirely sure what he wanted to do with his life–having never been further than a few miles from the farm. At the time, all he really knew was he wanted to marry the love of his life, Avil Davenport, and raise a family. He and Avil enjoyed a loving 67-year marriage and raised 3 children.
Military Career
Enlisting in the United States Air Force in January 1950, William Brooksher began his military career the usual way, at the very bottom of the boot camp pecking order–but you can't keep a good man down and he rose through the ranks quickly upon entering active duty.
In March of 1953 he entered Officer Candidate School (OCS) and was commissioned USAF second lieutenant September that same year. He enthusiastically embraced his new role as a USAF officer in what he called 'the game' and went on to play the game like a master. His first assignment as an officer was to the 75th Air Installation Squadron, Chinhae, Korea, as adjutant. He later assumed command of that unit, his first command as an officer.
Excelling at every new challenge and assignment, he advanced rapidly and served on numerous USAF bases around the contiguous United States. In May of 1961 he entered the Strategic Air Command (SAC) which he referred to as 'the missile business'.
His missile career began with the 851st Strategic Missile Squadron at Beale, AFB, Ca., as a Titan 1 missile combat crew commander. At the height of Cuban Missile Crisis he sat deep in a missile silo with only his 'bird' and crew, fully prepared to do his duty if so ordered. Being keenly aware of the catastrophic consequences of a full-out atomic confrontation he wondered if he'd ever see his family or his world again. He never forgot the weight of that experience or the sound of President Kennedy's calm, reassuring voice over the loudspeaker as the president personally addressed those loyal missileers sitting on the frontline of harm and history.
In September 1966, he was assigned to the 351st Strategic Missile Wing, Whiteman, AFB, Mo., where he served as a Minuteman missile combat crew commander; instructor crew commander; standardization crew commander; chief, Standardization Division; and assistant deputy commander of operations.
In June 1970 he became the director of operations for the 17th Strategic Aerospace Division. At the critical milestone of seeking promotion from lieutenant colonel to (full) colonel, a point where many careers fizzle and fade, he was promoted a year below officially entering the eligibility zone, a noteworthy achievement that deservedly got the attention of closely observing superiors.
Assigned to the 341st Strategic Missile Wing, the largest nuclear missile wing in the United States, initially as vice commander, he assumed full command of that missile wing in June of 1975. In doing so he became the first 'non-flyer' ever to become a SAC Missile Wing Commander. As commander of the 341st his wing won both the Lee R. Williams Trophy and the Blanchard Trophy. The latter was awarded upon the victorious completion of the "Olympic Arena" competition, a yearly competition devised to rigorously test the competency and combat readiness of the nation's missile wings. Upon returning to Malmstrom, AFB, the home base of the 341st, he made top of the front page news of the Great Falls (MT) Tribune. The photo was of him deplaning from the military aircraft, paused at the top of the ramp with Blanchard Trophy held high. The quote read, "We brought home the bacon!" He was always a country boy at heart.
In recognition of his exemplary leadership and command skills he was subsequently asked to accept command of the 91st Missile Wing in Minot, N.D., July, 1976. It is very unusual for anyone to command two different missile wings. At that time the 91st was a wing in serious disarray and the USAF thought he was the best man for the job of restoring the troubled wing to full readiness, which he effectually achieved in his 14 month tenure. However, bigger things were still to come.
In May 1977, he was assigned as Chief of Security Police for the Air Force Strategic Air Command.  By act of the United States Congress, as is required in promotion of all flag officers (generals and admirals), he was promoted to the rank of Brigadier General June 1st, 1978.
In the Fall of 1978 he became Chief of Security Police for the United States Air Force. As such he was the "Top Cop" for the USAF worldwide with over 40,000 military and civilian security police and law enforcement personnel under his command. In accordance with such a high-level position he shouldered great responsibility. In tireless pursuit of his global mission to secure USAF bases and posts he met and collaborated with senior military officials and the politically elite all over the world.
On a personal level, he took special interest in mentoring and caring for the men and women under his command. He would routinely meet with the troops for breakfast in the mess halls and later at guard mount at the bases he visited. He would often show up unexpectedly at lonely guard posts in order to walk and talk one-on-one with those whose lives were on the line guarding USAF installations and assets. He wanted to hear directly from them as to their thoughts, needs and insights concerning their lives and duty. He called them, "His troops." They called him, "My general". Of all his many accomplishments and accolades it was perhaps that of which he was most proud.
His military decorations and awards include the Legion of Merit with oak leaf cluster, the Meritorious Service Medal with oak leaf cluster and the Air Force Commendation Medal with oak leaf cluster.
Though offered additional rank and prestige to remain in the USAF, "Top Cop" was the pinnacle of his career and he retired upon relinquishing that command, September 1st, 1981. With his USAF field grade service cap tipped slightly down on the right as was his preference, he last wore his uniform (pictured) just after his 81st birthday, February 13th, 2011. Certainly, he was a loyal and proud soldier until the day he died, May 23rd, 2017.
Upon retiring from the USAF William Brooksher, along with wife Avil, and daughter Rebecca, relocated to Richland, Washington. Applying the extensive management skills and in-depth knowledge of security he had acquired in the military to civilian endeavor, he accepted the position of Head of Security for Westinghouse, Hanford Company, in Richland, Wa., in 1981. Ultimately, he oversaw security for the entire Hanford Nuclear Reservation until his retirement.
Author 
Upon full retirement, he was finally able to pursue his lifelong ambition of becoming a published author. An avid reader since his youth, he had amassed an extensive personal library. Among the many subjects in which he was knowledgeable he had special affinity for and expertise in military history and tactics.
His key area of interest was the American Civil War, a subject for which he felt particularly connected via ancestral ties. The first William Riley Brooksher (his great, great grandfather) and others with whom he shared a family tree fought in the war. He became a well-known Civil War writer and historian, authoring three meticulously researched books published by Brassey's (still in print): "Glory at a Gallop: Tales of the Confederate Calvary" (co-written with David K. Snider, as were a number of articles published in Civil War publications); "Bloody Hill: The Civil War Battle of Wilson's Creek", and, "War Along the Bayous: The 1864 River Campaign in Louisiana".
A Life Well Lived
While he was friends with many, by choice, he had very few close friends, but chosen friends were treasures he held dearly. Friendship was not something he took lightly and accordingly embraced it as a solemn commitment for times both good bad, always reaching out, always actively supportive.
It's a long, long ways from a dirt floor cabin in the Ozark Mountains of Arkansas to Chief of Police for the United States Air Force, to Hanford Chief of Security, to Civil War author and historian. However, despite his many achievements and the boundless respect and admiration of all those with whom he associated, worked, commanded and so proudly served, family was always by far his top priority and greatest love. The love he felt and expressed for his family was matched only by the dedication and commitment he demonstrated every day of his adult life to his family's well-being and security, not just for the present, but for long after he would be gone.
No country could ask for a more loyal soldier. No wife could ask for a more loving husband. No child or grandchild could hope for a more dedicated father or grandfather. He will be missed. He will be mourned. Mostly, he will be remembered for the qualities of integrity, leadership, kindness and love of family that he so fully embodied. Truly, his spirit will live on and shine brightly from within the many hearts, minds and souls he touched so deeply.
William R. Brooksher is survived by his wife Avil Brooksher, his three children–William R. Brooksher Jr., Stephanie McLaurine and Rebecca Brooksher, four grandchildren–Jessica Brooksher, Sterling McLaurine, Brenton McLaurine, Trevor McLaurine and sons-in-law, Richard McLaurine and Brandon Pitt.
In Loving Memory and Admiration
I love you Dadder! We miss you so much. I can't wait to share a cup of coffee with you again.