FIND AN OBITUARY
Service information is posted on our website only with approval from the family.
If you are seeking information not listed below, please contact us.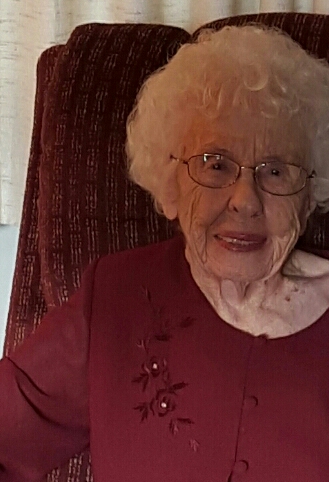 Eileen Scoggin
01/15/1916 — 06/16/2018
From Richland, WA | Born in Big Springs, NE
Eileen Scoggin
Eileen Burke Scoggin was born to Margaret Maier Burke on January 15, 1916, on a farm in Duel County, Nebraska. "Maggie" and Tom Burke's eighth child, Eileen never knew her father; he was struck by lightning on April 15, 1915, as he and Maggie were hauling water to the livestock. Maggie worked hard to keep the family together, moving to nearby Julesburg, Colorado, where she cooked in restaurants and operated a boarding house. Eileen went to school in Julesburg and was salutatorian of the class of 1934. A friend was valedictorian, which Eileen said she could have been, but she "had more fun." Fun meant dancing. That was the height of the Big Band era and Julesburg's unusual round dancehall hosted most of the big bands of the day. The Charleston was one of the popular dances of the time, and Eileen could demonstrate a mean Charleston years later! 
Eileen married the late James William Scoggin in 1934 right after graduation. In those depression days jobs were 'scarce as hen's teeth' in the rural parlance of the time, so when Jim--an outstanding baseball player--was offered a job in a Sinclair oil refinery (conditioned on his playing on the company baseball team) the young couple moved to Parco (now Sinclair), Wyoming. Five years later with the outbreak of WWII, the family moved to the northwest where Jim, now a journeyman welder and draft deferred defense worker living in Yakima, was employed in 1943 on the construction of B-Reactor. Other defense work involved more moving, next to California. At war's end it was back to Julesburg. In 1948 with the heating up of the Cold War the family returned, living in Richland. In 1950 Eileen went to work with General Electric. She read 'pencils' in Radiological Sciences, was a requisition clerk in the technical library, worked in 700 Area Catalog Files, and in Irradiation Processing Testing Operations. She had two 'firsts' in her career: she was the first woman employee to work in 105-DR and she was the first woman Metal Accountability Clerk of the Irradiation Processing Department. In the early 1970's Hanford's mission began to change and terminations were threatening many workers. When the job of a young male worker with a family was threatened, Eileen, whose job was secure by seniority, took a voluntary ROF (reduction of force), so her colleague could remain employed. Times were different. 
With retirement, Eileen became very active in the Richland Alliance Church. A deaconess at one time, she was a member of the Women's Missionary Group and helped lead a Bible Study Fellowship class. She also enjoyed the Pioneer Girls that she worked with, and remained in touch with some as they became women with daughters of their own. Always a dog lover, Eileen and Red, who gifted himself to her just as Jim died, were fixtures in the neighborhood as they kept each other active with daily walks. Eileen also made essential friendships in the church and in her neighborhood that endure to this day. As she aged and grew more and more infirm she often commented how blessed she was with friends and neighbors who helped her with so many aspects of her life. The generosity and care of so many of her acquaintances reflects in part just how enjoyable a personality she was. She was caring, interested in others and sympathetic to their needs and cares. And she had a fine sense of humor and liked to laugh. When son Garry finally finished his studies and got off the family dole, Jim and Eileen were able to purchase their own home! Jim was particularly pleased to have the little house on View Drive above the Yakima River. He asked Eileen, "Do you think maybe we should name it?" Eileen said, "Well, we could call it 'Scoggin's middle-aged spread.' Jim didn't mention the subject again, but that is how Eileen and Garry always referred to the homestead.
 Eileen is survived by her son Garry James Scoggin (Cynthia), Grandsons Gabriel David Scoggin (Kara) and Brendan Thomas Scoggin; and a Great Grandson, Maverick James Scoggin (Gabriel's and Kara's son), and nieces and nephews on both sides of her family.
The funeral service for Eileen will be held Thursday, June 21, 2018 at 11:00am at Einan's at Sunset Chapel, followed by her graveside service at Sunset Gardens in Richland.

In lieu of flowers please make donations to St. Judes Children's Research Hospital, the Union Gospel Mission in Pasco, or an animal shelter of your choice.