FIND AN OBITUARY
Service information is posted on our website only with approval from the family.
If you are seeking information not listed below, please contact us.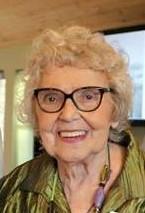 Shirley Miller
12/27/1929 — 09/21/2018
From Richland, Washington | Born in Coats, Kansas
Shirley Miller
Shirley Jean Shriver Miller passed away peacefully on September 21, 2018 in Richland.  In her last weeks, she was sustained and comforted by the loving company of her two sisters, her three children, all five of her grandchildren and many dear friends.  Shirley truly loved life and with her passing, we lost a compassionate woman who cared deeply for family, friends, and community, and who fought tirelessly against social injustice and suffering wherever she found it.  
Shirley Jean Shriver was born on December 27, 1929 to Jacob and Frances Shriver, wheat farmers in the little prairie town of Coats, Kansas. Shirley was the eldest of three girls, and treasured loving bonds with her two sisters Patty and Marilyn all of her life.  The three Shriver girls returned often to Coats, to enjoy the beauty of their golden wheat fields just before harvest and to share new memories and old with extended family and lifelong friends.   
Shirley had a keen intelligence and curiosity about the wider world, and left Coats at sixteen to attend Kansas University where she majored in biology, later earning a master's degree from Northwestern University at the age of twenty-one. At Northwestern she reconnected with fellow Jayhawk Norm Miller, leading to a whirlwind romance and a lifetime of mutual love, respect, and partnership.  They were married in Coats in 1951 and settled in Richland where Norm worked as a chemical engineer. Shirley and Norm had three children:  Andy, Jennifer, and Stanley.  She was a wonderful mother, fun-loving and involved, but most importantly took the time with each of her children, and later her grandchildren, to instill in them intellectual curiosity and the importance of empathy and service to others. 
Shirley was a role model to everyone she met.  As a seriously asthmatic child raised in the Dust Bowl era, she developed great empathy for anyone she saw suffering from pain, or prejudice, or poverty.  She was an early civil rights activist, marching under the threat of violence to protest racial discrimination, and later worked the fields with Hispanic farmworkers to raise awareness of working conditions.  Shirley believed passionately in the power of an engaged democracy and proved relentless in voter registration drives, first with the League of Woman Voters in the 1950's, in the fields with migrant workers in the late 1960's, in the 1970's with Register for Peace, and in recent decades at countless county fair booths, parades, and precinct canvasses.    
Shirley served her community in so many ways.  She was appointed to the Richland Human Rights Commission where she helped draft one of the state's first fair housing ordinances.  In the 1970s she helped organize the "Free to Be You and Me" series of events that challenged stereotypes and limitations facing women and girls.  Shirley was a life-long active member in the Democratic Party, and was elected a delegate to the 1976 National Democratic Convention.  She was a founding member of what ultimately became the Sexual Response Resource Center, providing counseling to young women who were victims of sexual assault, and advocacy well ahead of her time.  Later in life, she was very involved in the rights of the mentally ill and she and Norm were active in the local chapter of the National Association for the Mentally Ill. 

Shirley was an avid patron of theatre, music and art organizations throughout the Tri City community.  She, along with four other women, opened an independent bookstore, The Book Place, in 1973, which served as a cultural hub for the community for decades.  The Book Place offered a diverse range of books and a level of personalized customer service that led it to prosper against competition from big box stores and Amazon. Shirley and her college roommate Phyllis Bowersock ran the store as co-owners for much of its history, and Shirley retired as sole proprietor (along with her husband Norm) in 2003. 
What we will miss most about Shirley is her infectious laugh, her incisive commentary on issues big and small, and her deep love of family and friends.  She remained courageous, determined, caring and involved, marching just this past summer (yes in a wheelchair) against family separation, an issue that truly pained her. Each of us can honor her by working to remedy injustice we see in the world.
Shirley was preceded in death by her husband Norm in 2012.  She is survived by her two sisters, Patricia Meredith (Lawrence) of Stockton, CA and Marilyn Hansen of Dallas, TX, her children Andy Miller (Adele Connors) of Kennewick, Jennifer Miller Paci (Vic) of Boston, MA and Stanley Miller of Richland, her grandchildren Elizabeth Paci (David Rand), Dashiell Miller, James Paci, Madison Storm, and Sebastian Miller, her great-grandsons Isaac and Miles Rand, her life-long friend Phyllis Bowersock, and many loving nieces, nephews and friends.
A Celebration of Shirley's Life will be held at Events at Sunset (915 Bypass Highway, Richland) on Saturday, October 27th, 2018 at 2:00 pm. The family invites you to continue sharing stories of Shirley's life at the reception, immediately following the service. A Private Family Graveside Services has already taken place at Sunset Gardens.
In lieu of flowers you can remember Shirley by donating to Tri-Cities Immigrant Coaliton at 505 McMurray Street, Richland 99352 or to Circle of Hope (to support Mental Health and Drug Courts) at 8832 W Klamath ave, Kennewick, 99336. 
Andy we r so sorry for the loss of your Mom. What a exceptional human being that we all can be motivated by her life well spent. We are out of town this weekend but will be thinking of you & your family sharing the memories of your Mom ❤️
Patty and Marilyn,
Very sorry for you loss. Shirley was an amazing person.