FIND AN OBITUARY
Service information is posted on our website only with approval from the family.
If you are seeking information not listed below, please contact us.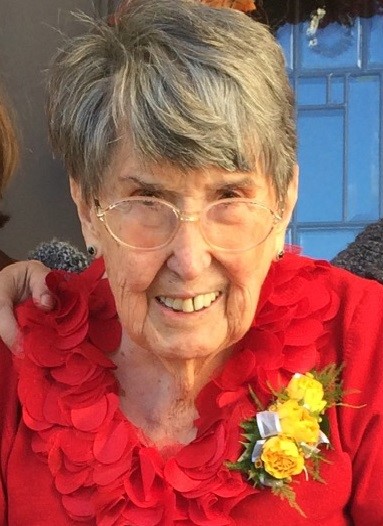 Frances Eunice Donohoe White
11/14/1919 — 04/16/2019
From Richland, WA | Born in Realitos, TX
Frances Eunice Donohoe White
Frances Eunice Donohoe White, a longtime resident of Richland, West Richland, and Spokane, Washington, died Tuesday, April 16, 2019, at Kadlec Regional Medical Center.  Her son Bryon, daughter Cheryl, and daughter-in-law Eileen were at her side.
Frances was born in Realitos, Texas, on November 4, 1919, to Raymond Dace and Evelyn Ruth Wittmann Donohoe, and was the elder sister to Marion Ruth, Robert Raymond, and Lillian Markee.  Frances, who had plans to be a career woman and never get married, was married to Norman Eugene White on February 18, 1949, in Kennewick, Washington.  Norman and Frances spent a loving life together until Norman's passing on February 24, 2010.  Three well-loved and loving children were born to this marriage:  Shawn Raymond (died May 5, 2000), Bryon Robert, and Cheryl Eunice.  Until the last month of her life, Frances lived at home with Cheryl.  Frances and Cheryl were, however, more than mother and daughter, they were devoted friends.  And Bryon lived to torment his mom, especially spinning her up by discussing politics.  She loved to tell the story of Bryon confessing in Sunday School that he was practicing to be a devil.  Firstborn Shawn was a never-ending source of joy for Frances.  He loved a good debate and, just for fun, would try to convince you the sky was not blue.  His death at age 47 broke her heart.
Frances loved to work.  After graduating from Falfurrias (Texas) High School in 1937, she began her long career as a secretary, working for the superintendent of schools.  In San Antonio, Texas, Frances worked at Kelly Field.  She was then convinced to leave Texas and join her family in Washington, where she worked for many years for the Atomic Energy Commission, Central United and Northwest United Protestant churches in Richland, at Spokane's Sacred Heart hospital in the kidney billing unit, and for other employers in Spokane as a "Kelly Girl."  She "retired" in her eighties, and in her nineties wished she could still work and could not imagine why anyone would want to retire.
It is extremely difficult to summarize the life of Frances White in just a few paragraphs.  She has been described as humble, good, stubborn, loyal, sweet and lovely, amazing, and an angel.  Those close to her know she could also be loving, funny, sarcastic, sentimental, impatient, and devoted to her family.  She was also smart and had a sharp mind, even in her final days.  Until her vision was impaired by macular degeneration, she loved to cook, read, play cards, and do puzzles of all sorts.  When she could no longer see, Cheryl would read to her and they worked word puzzles together.  Eileen took Frances to her first Bunco game many years ago – the monthly get-togethers will not be the same without Frances exclaiming her surprise at rolling the required three-of-a-kind.  Frances, compassionate and civic-minded, was a member of the Red Cross gallon club and was proud to have voted in every election held since she became eligible to vote.
Frances, an avid walker, gardened, traveled to Europe, and enjoyed yearly visits to Yachats, Oregon.  When she was no longer able to enjoy the outdoors as much and her vision failed, the television was tuned to CNN, Lester Holt on NBC News, 60 Minutes, Lawrence Welk reruns, and Sunday Morning on CBS.  Frances liked to keep up with current events and was always learning and teaching.
Frances was a tough Texan through and through and fought hard to stay with us to celebrate her centennial.  She worked hard to regain her strength at Richland Rehabilitation and vehemently demanded the doctors and nurses at Trios and Kadlec to treat her "aggressively."  In the end, multiple infections and trouble swallowing sapped her strength and her tired heart gave out.
Frances was so looking forward to celebrating her 100th birthday.  Preliminary plans for the birthday bash included snow cones, chocolate (hot or otherwise), and even a bounce house!  In addition to her children, attendees were to be daughters-in-law Eileen and Diane; grandchildren Kendal Langlois and James White; great grandchildren Caitlyn, Shawn, and Hayden Langlois; sister-in-law Eleanor Donohoe; her extended family of nieces and nephews from several generations; and her numerous friends.
There is so much more that can be said about a woman who lived nearly a century, so we invite you to share your thoughts and remembrances with us.  Flowers to honor the Texas flower that was Frances Eunice Donohoe White, memorials made in her name to your favorite charity, or even a smile while thinking of her are welcome.
A celebration of life will be held Friday, April 26, 2019, 1:00 p.m., at Northwest United Protestant Church, 1312 Sacramento Blvd., Richland, Washington.  A reception will follow at the church.   Graveside services and inurnment will be at Fairmount Memorial Park, West 5200 Wellesley, Spokane, Washington, on Saturday, April 27, 2019, at 12:30 p.m.
I'm sorry for your loss. She was a sweet lady. Love to you all!
Aunt Frances will be missed by all who knew her. Loved them a bunch.
What a fantastic lady. I always enjoyed laughing and talking with her and Norman. My thoughts and prayers are with the family during this diffi+cult time.
Love to all.
Oh, the stories being retold in heaven now with Frances joining her long time friends.
Thinking of you all in your time of sorrow. She was a wonderful lady and we are glad we were able to visit in 2014. She will be missed.
What a wonderful life! So happy I got to share part of it. Now reunited with her beloved Norm. Thinking of all of you.
I really enjoyed reading this, and learned a few more things I didn't know about Grandma. She was a sweet lady. I will always remember her asking for dessert.