FIND AN OBITUARY
Service information is posted on our website only with approval from the family.
If you are seeking information not listed below, please contact us.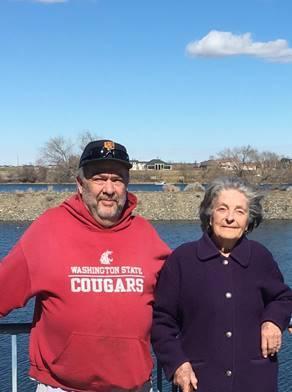 Kevin Sullivan
07/15/1956 — 09/23/2019
From Richland, WA | Born in Richland, WA
Kevin Sullivan
Kevin Francis Sullivan, 63, passed away on September 23rd, 2019, in Richland. He was born on July 15th, 1956 in Richland, WA to Maurice Francis and Sheila (Hamill) Sullivan.
Kevin grew up in Richland and graduated from Hanford High School in 1974. He served in the US Navy then attended Washington State University. He lived in St. Helens, OR for several years, where he painted houses for a living, before moving back to Richland.
He is survived by his mother, Sheila Sullivan, his siblings Ellen, John, Neal, Kathleen, and Brian, nieces Corinne, Danielle and Katherine and nephews Ryan, Mason, Riley, and Michael.
He was preceded in death by his father, Maurice Francis Sullivan.
Kevin loved telling stories, cooking, and sports. He had a green thumb and liked to laugh. In his younger days, he enjoyed water skiing, hunting with his family, and running events.
Most recently, Kevin assisted in the care of his mother and her home, after his father passed away. They enjoyed watching Jeopardy together and taking walks in the park by the river.
Arrangements are with Einan's Funeral Home, however, the family has elected to hold a private family service to honor Kevin's life.
I went all thru grade school with Kevin and often played dodgeball after school in your back yard on Harris. I'm Connie McCullugh and I shall surely miss Kevin. He was a terrific kid. Have faith that the pain will fade.
So sorry to hear. My earliest memory of Kevin was when I was in grade school. But I really knew Kevin in high school although we never hung out together until after college. Back in high school he was a distance runner and quite fit. Kevin sure liked to tell and hear good jokes. He liked to reminisce about his family and I think I heard some of the family stories many times over. The happiest I ever saw him was at one of the high school reunions where he was able to connect to some of his old teachers. He had a unique ability of remembering everyone's phone number for some reason – how he did that I don't know. Kevin was always good at keeping in touch over the years which I always appreciated and will always remember.
I was shocked and saddened when I say Kevin's obituary in the paper today. I guess I wasn't such a good neighbor as I had not checked in on him in quite a while. I never asked if he wanted to get his sprinklers going this year, I guess I figured he wanted to kill the lawn and start over in the spring. I always enjoyed the chili or lasagna he would bring over.
May eternal rest grant unto him, Oh Lord, and may perpetual light shine upon him.
Rest in Peace Buddy.
t
We were shocked to hear about Kevin's passing. He was full of life and wit the last time we visited. He was a good son and greatly helped his mother around her house. He will be missed. Our thoughts and prayers are with the family.