FIND AN OBITUARY
Service information is posted on our website only with approval from the family.
If you are seeking information not listed below, please contact us.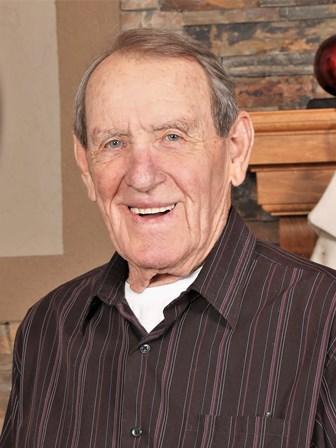 Benny Wilson Wyrick
02/01/1938 — 10/16/2019
From Pasco, WA | Born in Muskogee, OK
Celebration of Life
Starts:
Fri, November 1, 2019, 2:00 pm
Reception
Starts:
Fri, November 1, 2019, 3:00 pm
Benny Wilson Wyrick
Benny (Ben) Wyrick, 81, passed away at his home on October 16, 2019 surrounded by his family.
Ben was born to Mary and Elmer Wyrick in Muskogee, OK, the fourth of five children.  He lived in Muskogee until the age of 14 when his family moved to Richland.  Ben attended Richland High School and Columbia Basin College where he played baseball and football.
Ben married Glenda, his high school sweetheart and together they raised 4 daughters.  He had a 31-year career at Hanford and fully enjoyed 24 years of retirement.
Ben was an avid sports fan with a passion for baseball.  He played semi-pro baseball for the Richland Merchants until age 35.  For many years, he was a dedicated coach, positively impacting countless lives while sharing his knowledge and love of the game with players from Little League to semi-pro.
Ben had many hobbies including hunting, fishing and camping but he especially enjoyed spending time with family.  As the family grew, so did his heart, welcoming all new additions.  Ben had a quick wit and sense of humor that put everyone at ease.  His family is so blessed to have shared his life.
Ben is survived by Glenda, his wife of 62 years; his four daughters and their husbands: Merrie & Brad Schilperoort, Kami & Matt Covert, Sally & Bob Van Lear, Lisa & Keith Van Lear; eleven grandchildren: Reese, Robin, Kelly, Jessica, Hunter, Ryan, Nick, Daniel, Kevin, Levi and Ginger; twenty-two great-grandchildren; and numerous nieces and nephews.
Ben is preceded in death by his parents, two sisters and two brothers.  The family wishes to thank all those who cared for Ben during his illness and his final days.
A celebration of his life will be held on Friday, November 1, 2019 at 2:00 pm at Einan's Event Center with a reception to follow.
Memorial donations may be made to Chaplaincy Health Care, 1480 Fowler St. Richland, WA 99352.
I've been blessed to know Ben for some thirty years, He's known as a great Son, husband ,father, grand father
Great grand father,Father in law. coach , mentor and my friend forever.
Love you
I first met Ben at the age of 13 as my baseball coach. He taught me that with hard work and determination, a team of above average players could compete against anyone. He had a profound impact on my life by instilling the love of sports and its benefits to kids. A couple years ago, we managed to have a short conversation. Always the coach, he hoped that I was supporting my kids in any sport or hobby they choose. I often think of Ben when I watch my 13 year old son play lacrosse and my 16 year old daughter play volleyball.
Well done Ben, I hope you're having fun playing on the immaculate ball fields up in heaven.
/Users/sandychin/Pictures/Photos Library.photoslibrary/resources/derivatives/3/3ECC7921-DA2B-4151-A226-810AB1DC1C6A_1_105_c.jpeg
I had the privilege of having Mr. Wyrick coach me in baseball for three years when I was 13-16 years old. It was an impressionable time of life for me and Ben was such a positive influence in my life. He not only was an amazing baseball coach as we were annually among the best teams, but he taught all his players so much about life. He taught us the value of teamwork, not just with words but really teaching us to have each other's back no matter what. He taught us about winning and losing with grace; that if we went out on the field and played our best to accept whatever result of the game with our heads held high. Most importantly I would think is that Ben truly cared about his players beyond baseball. Ben really believed in us and helped teach all of us to believe in ourselves not only in baseball but in life. Given that we were adolescents and unsure about a lot of things in life and our place in it, Ben's positive influence on all his players was profound even to this day. He was one in a million and I am really, really going to miss him. My prayers go out to Ben's entire family.
Many fond memories are coming back to me as I recall all the wonderful times that Jack and I spent with Ben, Glenda and the girls. Ben and Jack worked together for years and enjoyed hunting and their love of baseball.
Ben was a wonderful husband, father, grand and great grandfather. He will be greatly missed.
When we were young, Benny and Glenda were neighbors and we enjoyed our time with them, at a time when like them were starting out our married life. We will miss the occasional visit and recalling the memories of long ago.
Go with God Benny!
Benny was my American Legion Coach. Spending almost every day with him for those two years of summer baseball were probably the most fun I ever had playing the game. He was the link that all young players need. He taught his players how to play the game the right way. He taught us how to play it with passion and have fun doing it. I will always remember Benny kneeling near the on deck circle as we waited for our at bat and always having something to say to us that usually made us laugh because it was almost always never about baseball. He had a knack for keeping us loose and ready to perform. He always coached from the first pitch to the last out. He was a huge influence on how I played and even more importantly how I coached . Throughout these last 30 years or so, I really enjoyed every time we met and caught up with each other. He was a great man and will be missed.
My thoughts go out to Glenda, his daughters and the rest of his extended family
Tim Ruane
Great battery mate in those merchant days. Will remember talking with you at Sterlings a few weeks back. Prayers for the family.
Grandpa Benny,
Some of my favorite memories as a kid are the times we had cruising up and down the Snake River on the boat. It was just you and I. We caught fish, you taught me how to ski, you shared your wealth of baseball knowledge. I had no idea back then that you were just being you. You were always the first one to crack a joke and make the room light up. You've made a huge impact on the Richland community and our big family.
So sorry for the loss of Benny. We will be over to help celebrate him.
A wonderful man that treated everyone as family.
I was glad to be part of Bens family for awhile. He was inspiration to me. He was always a great grandpa to my son Levi too. I'm going to miss him.
My thoughts and Prayers are with you all
Ben—-save me a spot in the lineup. RIP old friend
My condolences. Benny was a great man, friend and mentor and will be missed.
Played baseball with Benny, he was a awesome guy and a great athlete. Prayers for the family.