FIND AN OBITUARY
Service information is posted on our website only with approval from the family.
If you are seeking information not listed below, please contact us.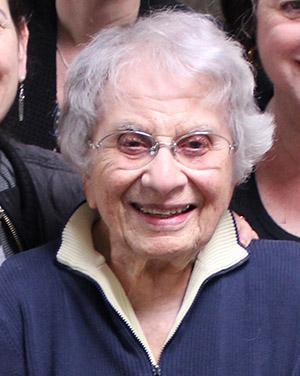 Doris Lewis
04/10/1914 — 10/18/2019
From Kennewick, WA | Born in Duluth, MN
Doris Lewis
Doris Paull Lewis passed away at 8 p.m. on Friday, October 18, 2019 at Kadlec Hospital in Richland, WA.  She left us in the loving embrace of family. Doris was interred at Gan Sholom in Sunset Memorial Gardens, Richland, on October 21. We are planning a memorial/celebration of life for next year, possibly around the time of her birthday.
Doris was born in Duluth, MN on April 10, 1914 to Nathan Mikhel "Mike" and Minnie Polinsky.  At the age of six, she was orphaned after the death of both of her parents, along with her eight year old brother, Bill.  They were separated, with Doris going to live with her aunt's family, David and Rose Bloom in Hibbing, MN.  She became fast and lifetime friends with Ted & Phil, the Bloom children.  After a year, she went to live with her great-aunt, Rose Levant, in Eveleth, MN. These towns were among a group of many small towns on the "Iron Range" where iron ore and taconite were and are mined in Minnesota.
In the care of her loving great-aunt, she became a part of the greater Levant family.  Though not without some adversity.  She was playing with a doll house and a candle caught her clothing on fire, which burned her arm.  She also had appendicitis and her appendix burst, which was very dangerous prior to the advent of antibiotics.  Nonetheless, she thrived and made strong friendships with her family, neighbors and classmates. She graduated from Eveleth High School and went to Eveleth Junior College, but did not graduate.  A bright student, her teachers urged her to continue her studies, but she didn't want to burden her family and chose to start working.
She worked for her second-cousin, Morris Greenberg in his law office, taking care of secretarial and other responsibilities.  She also worked for the Eveleth Savings & Loan.  She loved to type and sometimes when things were slow, she would retype articles.
After Rose Levant died, she made her way to Minneapolis, where she held several jobs, working continuously through the Great Depression.  She briefly worked for the State of Minnesota, but as a patronage job, she lost it when the other party won the election.  She worked for a number of years after that for the Saliterman law firm.  In Minneapolis, she lived with Judy Porter in her mother's boarding house, along with some other women.  She became life-long friends with Judy.
In about 1934, while attending Morris Greenberg's wedding to Rhana Lewis, she met Walt Lewis, Rhana's younger brother.  Legend has it that Walt was smitten, and he pursued her.  Doris, ever practical, was not interested in marrying someone without a stable job and income.  Walt was persistent, however and after leaving the Army Air Corps in 1943 to work at Hanford as a patrol photographer, she finally agreed to marry him.  They were engaged at his parents' 50th wedding anniversary in August and then she travelled to Richland and they married in Seattle in December of 1944, followed by a honeymoon in Vancouver, B.C.
Not having cooked much, she set to learning how to do so, as well as managing a household.  She was largely successful, however she did explode some potatoes once, thus learning you need to poke holes in them so the steam will escape.  After a short period of marital bliss, she heard that Dupont was in dire need of secretarial support and she applied and was hired.  She continued when General Electric took over and then to Battelle, finishing her career working in the personnel office as an executive secretary for Ernie Galbraith.  After retiring in 1979, she went back to work temping for Battelle, working for the top brass, including Bill Wiley.  She continued working into '80s, although as computers came in, her jobs became less prestigious, as she never really got the hang of them.
In 1950, she and Walt were founding members of the Richland Jewish Congregation, which later became Congregation Beth Sholom. She made many fast and long friends in the congregation and the sisterhood, in particular, and was an active member well into her late 90s. She was the last living founder.
After ten years of marriage without children, she and Walt figured they wouldn't have any, but surprise!  In 1955, they welcomed their son, Jerry, just eight days after she turned 41.  And then in 1958, Miriam was born.
Doris loved to travel and took trips to Europe, Russia, Turkey, Greece, Israel, at least.  She traveled with Walt and friends, and in later years with Paula Garland.  She spent a number of winters in Palm Springs with Paula, Rhoda Berg, and Norma Blazewitz.
After living in her house on Davison for nearly 50 years, she moved into Riverton (now Bonaventure of the Tri-Cities) at the age of 99½. Coincidentally, one of her frequent table-mates at dinner was also born in Duluth and raised in Buhl, MN, about 16 miles from Eveleth.
She was preceded in death by her husband, Walt. She is survived by her son Jerry and daughter Miriam and their spouses, Masae Lewis and Douglas Mandell and her grand-children, Sam and Sarah Lewis and Pan Mandell. She is also survived by many touched by her love and generous spirit locally and afar.
Donations in her memory may be made to Congregation Beth Sholom, PO Box 761, Richland 99352, Planned Parenthood, or a charity of your choice. For more information, including other charities, eulogies and pictures, see http://bit.ly/DorisLewis.