FIND AN OBITUARY
Service information is posted on our website only with approval from the family.
If you are seeking information not listed below, please contact us.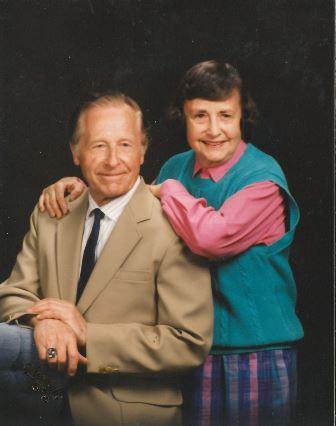 Eugene & Charlotte Clayton
03/20/1923 — 10/21/2019
From Richland, WA | Born in Ceder Creek, NE
Celebration of Life
Starts:
Thu, October 31, 2019, 1:00 pm
Eugene & Charlotte Clayton
Charlotte Elizabeth Clayton passed away on January 2, 2019, three days before her 94th birthday. She was born to Merrill and Laura Goodnow on January 5, 1925 in Seattle, WA. Eugene Duane Clayton passed away on October 21, 2019. He was born to Ernest and Ruth Clayton on March 20, 1923 in Cedar Creek, NE. He moved west with his parents when three years old to Snohomish WA where he grew up. Eugene enjoyed working on cars and playing tennis, but most of his focus was on academics. He served as the ASB President before graduating from Snohomish High School. He also served as a mine sweeper in the Navy during WWII. Charlotte had a passion for music and took piano lessons from her dad who only played cello. As she progressed they were able to find a piano teacher. Charlotte and Eugene met each other while attending Whitman College and fell in love. They both graduated with B.A. Degrees in the class of 1947. They married in August that summer and moved to Eugene, OR to attend the University of Oregon and graduate with a Ph.D. in Physics. They moved to Richland, WA in 1951 and remained there all their life. Eugene worked for General Electric, then Battelle until retirement. He accumulated 39 years of experience in the nuclear physics field at Hanford including Research in experimental reactor physics, criticality research and analysis, and nuclear criticality safety. He was the manager of Battelle's Plutonium Critical Mass Laboratory for 22 years where several thousand critical experiments were performed without incident or mishap and the majority of the world's data on nuclear criticality of plutonium solutions was obtained. He helped establish and reviewed criticality safety limits for major companies with nuclear projects. His occupation took him to different countries around the world.
Charlotte became a mother of three children and spent time raising them. As they got older she had more time for the piano and learned to play the organ. Her college degree in Biology from Whitman enabled her to find employment as receptionist for several eye Ophthalmology Clinics. She saved up and purchased a Pipe Organ. She gave some organ lessons at home. She was a church organist for 50 years until retiring when she was 80 years old. She also performed organ music for lots of weddings and also funerals. She was a blessing to many people.
Charlotte and Eugene are preceded in death by their son Charles and one of his sons Craig.
They are survived by their daughter Frances, their son Paul, their grandson Clint, their grandson Anthony, and their great granddaughter Alice.
We will miss them, but it was their time to depart. They are in the hands of the Lord.
The family would like to invite you for the Celebration of Charlotte and Eugene's lives on Thursday, October 31, 2019 at 1:00 pm at Events at Sunset, 915 ByPass Hwy in Richland with a reception to follow.
Charlotte was my Confirmation sponsor and she accompanied me at numerous weddings and funerals at Christ The King Parish in Richland. She was a tremendous blessing in my life and a faithful servant of God.
Frances and Paul
I've known both of your parents for more than 50 years. I was out of town for the Celebration Service and I am so sorry that I missed it.
I first knew Duane from working at the Lab beginning in 1965. I was simply awed by Duane and his knowledge. Little did I know that I would later be singing to the accompaniment of his bride — Charlotte. Charlotte and I made music together both at Christ the King, and for many weddings and funerals. I was stunned the first time I practiced at their home… to find a full-size pipe organ.
I will never forget when your dad bought the old Rolls Royce, and would get dressed up as a chauffeur and put Charlotte in the back, and simply drive around the Tri-Cities.
You should be proud of the accomplishments of both of your parents. In my book, they were both amazing.
My deepest sympathies.
Gary Petersen
To Eugene & Charlotte Clayton"s Family,
Our deepest sympathy on the passing of your dear parents. They are now safely home in heaven with God and all the angels enjoying eternal life with their loved ones. They will be greatly missed, but all their happy memories, joyful spirit, and loving friendships will always be with us who loved them. It was a great blessing to have Charlotte provide beautiful music during the celebration of the mass. May your deep faith and trust in God give you all the strength to cope in sorrow. Our thoughts, prayers, and God's blessing be with you all. May their departed souls rest in peace.
Love in Christ,
Bel & Tom Bander & Family
To the Clayton Family,
So many can join you in celebrating your parents' lives well lived. Those who enjoyed good music knew of your mother's skill at the organ. Your dad will be remembered by many of us for his many years of service heading up the criticality laboratory at Hanford and for his leadership of the visiting science speaker series for a considerable number of years. Your family has been a great asset in the community and you can add pride to your feelings of sadness at the passing of your parents.
Dear Clayton Family,
My wife Betty and I want to thank all of you for your wonderful parents Charlotte and Duane. I have known Charlotte for over 30 years as a Christ the King Church Cantor. She would help me with my songs and music notes and we enjoyed working together in our Music Vocation to Christ The King Church. Heaven is now full of Organ Music with Charlottes and Duane's help and love. God Bless all of you.
In Symmpathy and Love, Don & Betty Hammervold
I met Charlotte many years ago when I worked at Einan's . She and Donna Horstman were the musical team of choice at Christ the King. She was always so proper and kind each time I worked with her.
I knew Dr. and Mrs. Clayton through their son Chuck. They are two of the kindest, intelligent, most courteous people you could ever meet. Charlotte's musical talent and service to local Churches was a great gift. Duane's love of automobiles, his Buick, Rolls Royce and Cadillac were always spotless and beautiful. In celebration of two well lived lives, we now send you to your well earned eternal rest together.
The Claytons devoted many years to raising their grandsons Clint and Craig. They were tireless in their love and efforts for those boys. In my years working with the family at Hanford High School, I came to respect and admire them for their unconditional support for Clint and Craig. May they rest in peace after lives well lived.