FIND AN OBITUARY
Service information is posted on our website only with approval from the family.
If you are seeking information not listed below, please contact us.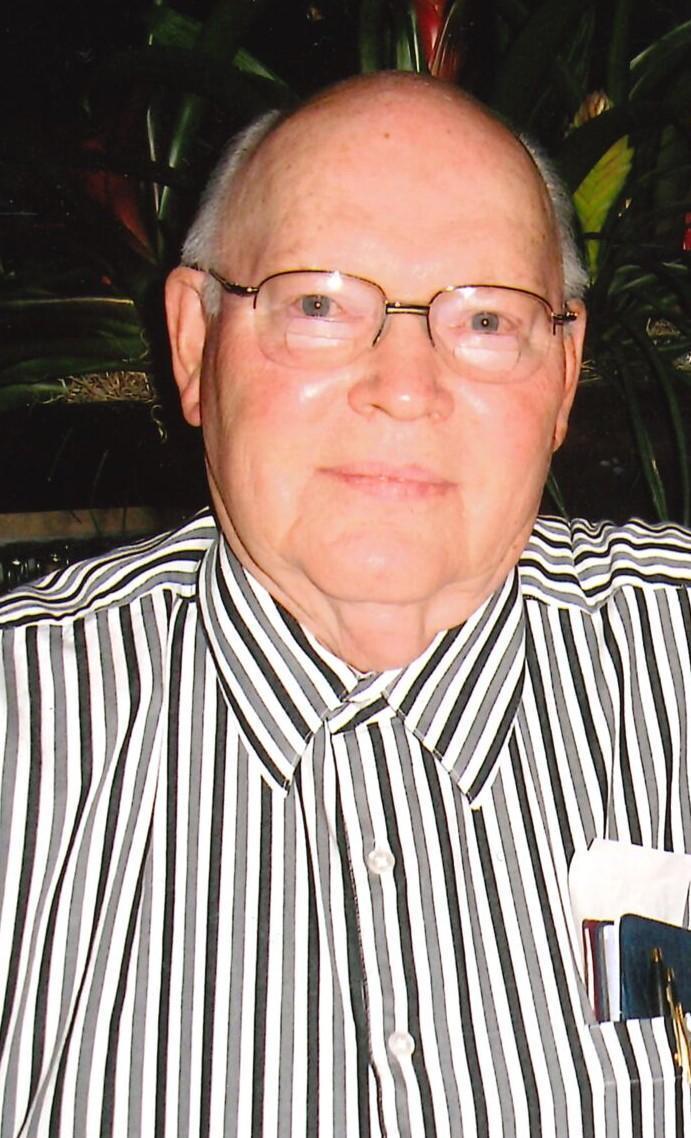 Clarence Strand
05/17/1927 — 03/13/2020
From Richland, WA | Born in Miles City, MT
Clarence Strand
Clarence Andrew Strand of Richland, Washington died on March 13, 2020 at Richland Rehabilitation Center. He was born to Andrew H. Strand, an immigrant from Sweden, and Gladys Adeline Peterson Strand on May 17, 1927 in Miles City Montana. Within four years, Clarence was joined by sisters, Mildred Marie and Eleanore Elaine. They grew up in Rock Springs and Custer County Montana before moving to Miles City for high school. Their father, Andrew, died when Clarence was six years old and their mother, Gladys, traveled to Jordan as a cartographer, while her father, Edward, and brother, Desmer, stayed with her small children. She was also Clarence's first grade teacher. Clarence graduated from Custer County high school in April of 1945 and joined the army that October, traveling to France and Germany after the end of the war. He returned in 1947 and began college in Bozeman at Montana State University in 1948 to earn his degree as a chemical engineer. He met Doris Lucille Douglas at a city-wide youth group in Miles City in 1948 and they married on June 23, 1949. Clarence graduated in 1951 and his first son, Bruce Allen, was born shortly after in Blackfoot, Idaho, where Clarence worked at Idaho Potato Starch Company. His daughter, Karen Ann, was born the next year. In 1955, the family moved to Richland, Washington, and his son, Douglas Andrew, and daughter, Marlene Marie were born. Clarence worked at Hanford as a nuclear engineer until he retired in 1992.
Since 1957, Clarence was a pillar of the First Baptist Church of Richland, joining his sister and husband, Mildred and Lloyd Thompson, who were also active members. He was Sunday School Superintendent and a deacon for many years, taking stints in many other roles, including working in the children's nursery and pre-school. He loved to tell endearing stories about the children's comments. The Strand family made many trips back to Miles City, Montana to visit his mother and his sister's family, Elaine and Bryce Richards, there. The Strands' took other vacations by camping around the Northwest including Oregon beaches. His stepfather, John Austinson, died in 1958. His mother, Gladys, died in 1998 at age 94.
He rejoiced in his grandchildren (in birth order), Karmelle, Luke (Karen), Jaime, Melissa (Bruce), Hailey and Jesse (Marlene), Kylie (Bruce) Ben (Karen), Andrew (Bruce), and Natalie (Doug). He was also able to meet many of their children, his ten great-grandchildren.
In 2002, Doris, his wife of 53 years, died and he married Shirley Szendre, also of Richland, on May 4, 2002. Her children and grandchildren enjoyed him for nearly eighteen years, during which the couple traveled, delighted in their great and great-great grandchildren, and supported one another. As Clarence declined in health, he relied on her daily love and support. His family was able to surround him during the last weeks of his life.
Everyone loved Clarence. Many benefitted from his generosity, compassion, and open heart. He called friends and acquaintances when traveling and reached out to help strangers as well as friends and family and the many ministries of his church for 65 years. The Lord blessed him with a long life and people who loved and cared for him. Clarence was preceded in death by his wife, Doris, his parents, his brother-in-law, Bryce Richards, and his Swedish aunts who helped care for him and his sisters.
When Clarence was four, his father saved him from a fire by throwing him into a snow bank, but his right hand was so severely burned that the doctors thought of amputation. Clarence wrote in 2005: "I thank the Lord for saving my right hand; it is a constant reminder to me of the Goodness and Grace of God." We rejoice that Clarence has entered into the presence of his Lord. A thoroughly good man, kind and generous to all, he loved life even when in great pain and discomfort. His spirit was strong; he fought to live until he could not do it anymore. Now he beholds our Lord Jesus Christ and is with all of us through the Holy Spirit, for love is stronger than death.
Although I did not know Clarence, I went to high school with his daughter Marlene, who I remember as a kind and gentle soul herself. Reading these remembrances I now know how she came to be such a wonderful person.
In the 1980s, I worked in the 308 Building at Westinghouse when Clarence worked there also. He was always pleasant and kind. He fixed a stained glass item for me; I remember he said he got burned in the process.
Karen and family
I'm looking forward to reading the responses here from friends and relatives. I have a notebook that I made for my mom that includes these along with pictures of all the family the flooded Richland with their love and presence when she died. Sadly, we have nothing like that for Dad. We were able to meet over the internet when he was being buried and commend him to the Lord and commit his body to the earth virtually. There was no manlike our dad, although his two sisters, Mildred and Elaine are from the same kind, loving, and fun loving — and wise cloth. Love is stronger than death. It's hard to imagine life here without him and I don't want to do so.
All that's been written is true and my dear uncle will be missed. I'd like to share 3 song titles that should be a comfort to his family and all that knew him: "It is well with my soul"; "Jesus Christ my living hope"; & "This is amazing grace". Peace be with you.
Clarence was a great guy. He was always very nice and kind to me. I remember many wonderful times over at his house with my aunt and cousins. I also was so happy he and my second mom, Shirley Szendre Strand we're able to find joy in their life together after the loss of their very special spouses. My heart goes out to Aunt Shirley, my cousins and all of both families today as Uncle Clarence is laid to rest. I'm sorry I cannot be there today or was able to bring my mother, Clarences sister to attend due to the Corona 19 pandemic. We will be there in spirit and will plan on visiting Richland later when travel is more safe.
Keith
What a beautiful life story! I was saddened to hear of Clarence's passing, but rejoicing in his eternal graduation. My grandmother, Elna Strand Haglof, was one of the "Swedish aunts". Our family so enjoyed the visits when Clarence and family would visit Eastern MT. May God bless each of you with peace and memories to make you smile. Praying for you today.
Sending prayers to all the family
One of the best men I have ever had the privilege of knowing. A wonderful Christian man that lived for the Lord.
I will miss visiting with Clarence. He was always welcoming and fun. He and my mother, Marian Shaw, enjoyed sharing their Scandinavian heritage and foods. He was the last person I knew who knew what lefsa, rosettes and lutefisk were.
Just remembering our visits makes me smile.
My heartfelt condolences to Karen and the Strand family! May God's grace and love cover all of you during this difficult time of mourning the passing of your dad/grandfather! Thank God for the hope we have of being reunited with our loved ones one day! Sincerely, Carmeli Silva