FIND AN OBITUARY
Service information is posted on our website only with approval from the family.
If you are seeking information not listed below, please contact us.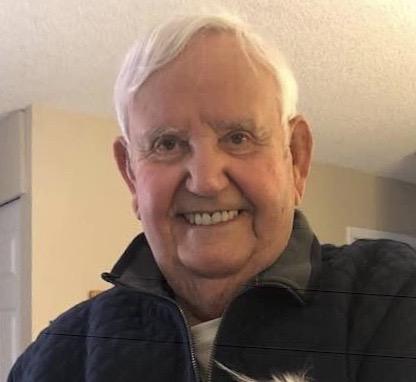 Kenneth Donald Russell
04/21/1926 — 04/29/2020
From Monroe, WA | Born in Dayton, WA
Kenneth Donald Russell
Ken spent his early childhood in Dayton, WA, graduating in 1944 from Dayton High.  When Ken was eight years old, he began delivering the Walla Walla papers morning and evening.  He did this until he was 16.  Ken played tennis, football and basketball in high school.  Because WW2 was going on, laborers were scarce, so kids would get up early and pick asparagus.  During summers Ken worked in the pea and wheat harvests, as well as working for his dad, who was a painting contractor.  Ken was driving a truck, hauling pea vines in June 1944, when he was called into the Navy.
In the Navy, Ken's division commissioned the APA 146, the Collingsworth in February 1945.  His division was never asked to send our marines to invade, but they visited most of the places where others had already secured.  While on shore on Ulithi ATOL, Ken saw Bill Davis, his home town buddy, who invited him to see his ship, the Indianapolis.  He told me that the ship had made a hurried trip from San Francisco to deliver a package for the army, whose contents were secret.  Before he could go aboard, Ken saw a message during the night that said "Indianapolis sunk, All Hands Lost!".  Ken did not know that there were survivors until many years later.
At the moment the A-Bomb was dropped, his ship was getting underway, as the lead group to invade Japan.  Boy was Ken ever glad that the ship was pulled back. The ship that took the Collingsworth's berth at Okinawa, was the last ship to be destroyed in WW2.
After the war ended, the ship went to Hong Kong, China, where they picked up Nationalist troops, which were delivered to Korea.  They then came home loaded with army soldiers and marines.  They left them in Tacoma, WA, and proceeded through the Panama Canal to the East Coast, where they decommissioned the ship on the James River.  Ken then went to Seattle and was assigned another APA, and spent 1946 travelling between Honolulu and San Francisco.  Ken then returned to Seattle and home, in Dayton.  Two weeks later, he enrolled at North Idaho College of Education in Lewiston, ID. NICE! Later the school was named as a state college.
After NICE, Ken taught High School at Deary ID, where he coached the baseball team to an undefeated season.  Ken then came to Richland in 1951 and spent 30 years teaching grades 6 through 12 in the Richland School District.  He was the lead math teacher at both Chief Joseph Junior High (now a middle school) and Hanford High School teaching 7th grade pre-algebra, 9th grade Geometry, and Advanced Algebra, Trigonometry, and Calculus in high school.  He took summer school for several years, including summer 1961 in San Jose CA, and received a Master's degree in Teaching and Eastern Washington State College (now EWU) in 1966.
Through the years, Ken attended West Side Church, serving as a deacon, elder, Sunday school teacher, Elder and coffee maker.  In 1995, Ken moved to the Richland Seventh Day Adventist church, where he served as a deacon, Sabbath School Teacher and head deacon.
Also of note, Ken spent a lot of time, during his early retirement years, taking care of his father, Don Russell, who passed away in 1994, shortly after his 91st birthday.  In addition Ken and his family took several very long road trips in the early summers in the 60's and 70's.  In 1967 the family drove across Canada and attended Expo 67.  In 1972 the family drove through Texas and Florida.  Each of the three coast to coast trips, also one in 1969, included a visit to both Washington DC and Vandalia MO, where Gene's family was laid to rest.  Earlier in the 1960s trips were taken to Springfield MO, where Gene's mother was residing at the time.  In addition, many trips were taken to Sunland, CA in order to visit Gene's sister.
Ken took up the wonderful sport of golf, the year after receiving his master's degree in 1967.  He was the golf coach at both Chief Joseph and Hanford High schools.  For 39 years into retirement, yes until this January at 93, Ken played golf with a gang some, nearly every day.  At age 93, Ken found some friends to allow him to play along and tell him where he hit the ball.  This allowed him to keep playing until this January, like I mentioned.
Ken's special mate, after his wife Oregene passed away in 2009, is Lois Mudd.  He is also very proud of his son Vern, his wife Cecille, and grandchildren Josh and wife Christine, Mechelle, and Andrew and his daughter Laurie Jackson and husband Steve.  Lois's family has done a great job taking care of Ken during his last years, and he is very grateful for their love and care.
Ken passed away on April 29, 2020, about a week past his 94th birthday.
Mr. Russell was my geometry teacher at Hanford HS. He was one of those teachers that left a positive impression on me, so much so that he was always a teacher I'd mention when reminiscing about my high school years. May he Rest In Peace.
Condolences to Vern and Family! Ken Russell was a kind and jovial friend with whom I taught at Chief Joseph and Hanford. After our retirements, when we met by chance at Safeway, we always chatted, but I did not know the fascinating story of Ken's life until I read it on this website. Thank you to the author(s) — Lois? Vern? Love to all!
So sorry for your loss. I worked with Ken as a mathematics teacher at Hanford Secondary School from 1978 until he retired. He was a great colleague. I saw him numerous times around town since then and we always enjoyed catching up with each other. I'll always remember his great sense of humor and his wonderful laugh.
So sorry for your loss, Vern and Laurie. In 1971, your dad and others from West Side Church voluntarily stepped up to help my family complete our house remodel project left idle when my dad passed away. I will never forget how those guys demonstrated their handyman skills, willingness, kindness, guidance, security; an example of Christ to this 14 year old…the very things a young man normally looks to his father to provide. Thank you, Ken and Gene (sp) for being such great Haupt Street neighbors.
Ken Russell was my Algebra and Geometry teacher in 8th and 9th grade at Chief Jo. He was so kind and patient, always smiling. Whe he went on to teach at Hanford Middle/High School, I had the good fortune to teach with him. I saw him here in Richland over the years, most recently this past fall. Again, always smiling and remembering exactly who I was. He certainly made a mark on kids, and I am grateful I am one of those "kids."
Mr. Russell was my 8th grade homeroom teacher, 1957-58. What a good man. Thank you for sharing his life story—none of which I knew when he was such a central influence in my life. I discovered our paths may have crossed in the summer of 1967 on the Trans-Canada Highway. After graduating USAF plot training, my wife (Lyndy Wheeler,also a 1962 Col-Hi grad) & I drove from AL to EXPO67, then the Trans-Canada back to Richland.
Also thanks to his family for sharing him with us students. I'm sorry I never had the initiative to find him and thank him personally.
Wayne Myers
Mr. Russell, Coach Russell, and Ken were all great people. I had Mr. Russell as my advanced math teacher at Chief Jo and taught me very well such that it carried on to Col High. Thanks. And, I had Coach Russell as my golf coach at Chief Jo that instilled fun in the game that continues to this day. And, when I became an "adult" I played golf at Sham Na Pum Golf Course and had fun playing with Ken on occasion. Ken was a great guy that touched everyone's lives. Real good memories for all. Family and friends take care. Jim
Sorry for your loss. My Dad Erenst Unruh and Ken were good friends through the years. Condolences from the Unruh family.
Mr. Russell was the only math teacher I ever liked. He was a great teacher and person. We will all miss him.