FIND AN OBITUARY
Service information is posted on our website only with approval from the family.
If you are seeking information not listed below, please contact us.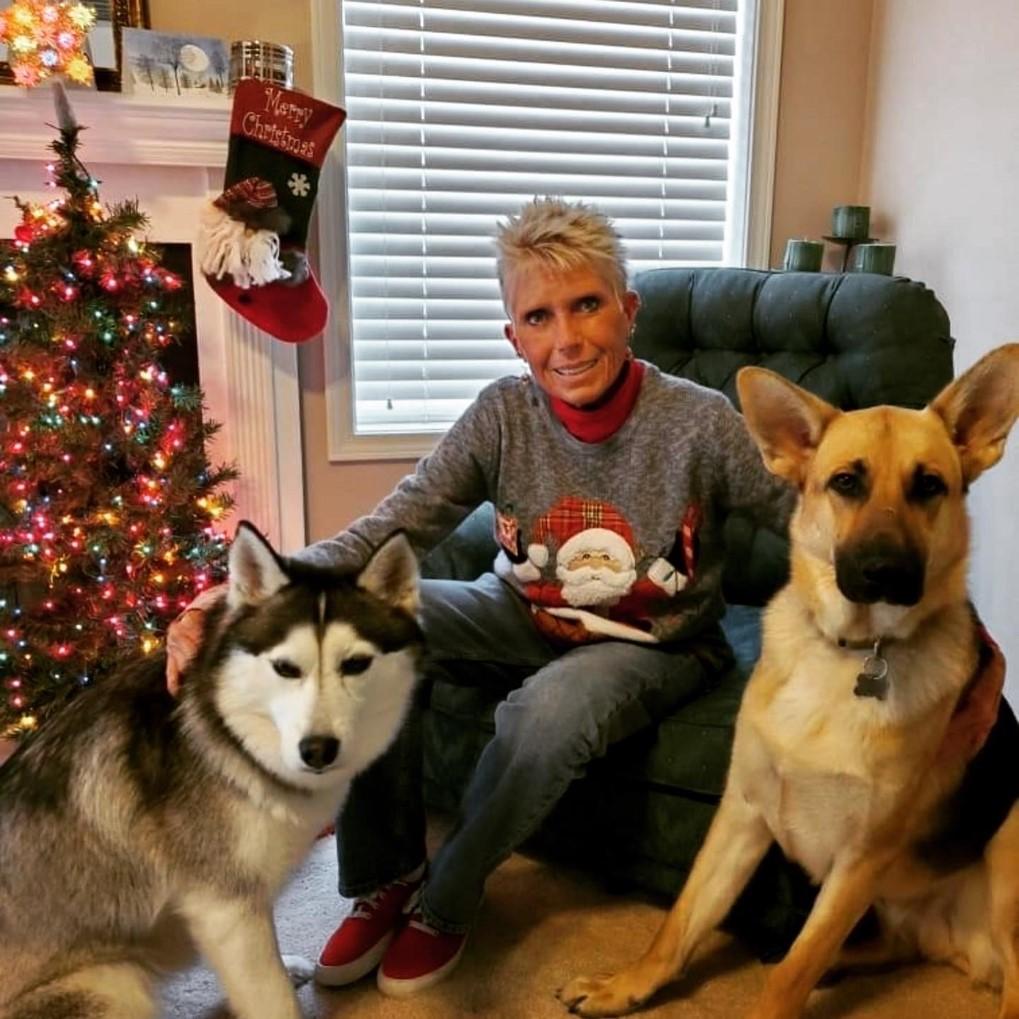 Susan Jio
10/26/1961 — 05/22/2020
From Richland, WA | Born in Richland, WA
Susan Jio
Susan Helton Jio passed away May 22, 2020 in Yakima, Washington.  She was born October 26, 1961 to Jim and Juanita Helton at Kadlec Hospital.  Her father Jim, who worked for General Electric, was relocated for a short time to Mississippi, California and Minnesota but the family returned to Richland where she attended Spaulding Elementary School then Hanford High School from sixth through twelfth grades, graduating in 1979.  She attended Eastern Washington University and graduated with a bachelor's degree in education.  Her first teaching job was in White Swan; she then taught at Auburn High School for 11 years and finished her career at Richland High School, where she retired in 2019.  Susan was a "Critical Thinker", reasoning she conveyed to family and students, alike.  She met Norman in 1985 and they were married July 26, 1986.  Sons, Joshua and Zachary completed their family.  Susan loved the "boys" in her family and although she was the only female in the house, she was never outnumbered and the boys knew their place.
Susan loved to garden, golf, and was an ardent runner until her knees would no longer tolerate that form of exercise.  But she didn't let that stop her—she replaced the knees and replaced the running with lower-impact workouts at a local gym.  She also enjoyed cooking and loved making Norman try her new recipes.  She and Norman, who also retired in 2019, had just begun to travel with visits last summer and fall to Alabama and Virginia.  They had planned to pursue more travel adventures once the Covid-19 restrictions were lifted.
Susan is survived by her husband Norman, sons Joshua and Zachary, sister Shannon (Guy) Adams and their children Chase and Charlee, and many friends.  She was preceded in death by her parents and her nephew Bryce Adams.
In lieu of flowers, to honor Susan's memory please make checks payable to Bomber Boosters, in the memo section: Susan Jio Scholarship Fund. Mail checks to: Richland Bomber Boosters, PO Box 1651, Richland WA 99352.
A celebration of Susan's life will be planned at a later date.
Susan,
I will try one more time and hopefully your husband won't delete me from your guess book as he has from his and your sons life. On the anniversary of our Mothers death, I miss you more as each day passes. It didn't matter what was happening, I always knew my big sis was there for support and advice. I truly feel alone.
Norm:
I am without words after learning of Susan's passing. She 'adopted' me at Auburn High School after scrutinizing my abilities at my first job interview for the district. We went on to become team teachers in the Social Studies Department where our Global Issues classes were infamous for fun and intellectual stimulation. Susan challenged me to be a better teacher and a better person and became my good friend. What a force of nature! She was my role model for negotiating the politics of public education in order to focus on working with students. We are all a little diminished by her passing.
Dear Norman, Joshua and Zachary,
I was very saddened to hear that Susan has passed away. It only took one conversation with Susan, during the year Josh was in our 5th grade class at Badger Mountain School, for her to leave such an admirable and inspiring impression on me. I have never forgotten her beautiful smile and endearing, enthusiastic spirit for her family and students. I send my thoughts and prayers to each of you.
No words can express the sadness I feel at Susan's passing. It's been nearly a month and I still feel somewhat in denial, made easier by the fact that we cannot gather to honor her memory during this time. I also feel angry—Susan didn't get a chance to enjoy her retirement years, and she and Norman had plans. Plus we were supposed to grow into feisty old ladies together (some who know us may think we already had). Not everyone is fortunate to have a life-long friend, someone who shared the awkwardness of the upper elementary and junior high years, the adventures of high school, the freedoms of college, the excitement of weddings, the challenges of parenthood, and the tears of losing a parent. I was lucky to call Susan such a friend. I'm also lucky to have many reminders of Susan in my home and garden: frogs. My memory is a little fuzzy on how it all started—sometime on a drill team trip in high school, I believe—but we started exchanging frogs and through the years we gave each other all sorts of decorations (my cookie jar is my favorite). I think for the rest of my days whenever I see a frog I will think of Susan and smile.
Susan,
Today is the last day of school. Before you retired we would cheer, laugh, and get Tumbleweeds. Then make plans to go to the farmers market. You loved the sun, fresh fruit, and fun snacks. Being in the history hall with you was so much fun. Thanks for delivering fruits to me in class this past year. It meant so much to see you back at school. The students always loved and respected you. You definitely left your mark and will not be forgotten. Miss you.
I will never forget you, Susan! You were one of the few teachers who made me feel welcome when I first came to RHS. I loved being you classroom neighbor and all the fun discussions we had in the hall during passing periods with our little crew at the end of the hall. I loved all the graduations and trips to Sam's afterwards with nachos and beer, out Tumbleweeds and Graze runs on the days when we had longer lunch periods, and all the vents and laughs we had over the years. Thank you for always making me feel like a special friend with your flowers, cards, goodies, and funny texts. I miss you terribly and wish we could've hit up Foodies for lunch and another Bloody Mary!
I love reading all the posts from former students!! You will never be forgotten and have had a huge impact on all of us. Rest In Peace, my friend!
Such a bright light has been extinguished. I was just getting to know Susan. My deepest sympathy to her family. Shirley Larson
Norman, Joshua, and Zachary,
I am so so sorry for your loss! Susan has left a hole in all our hearts, and will be missed every day! She was a blessing for us all; and as I read all the heartfelt messages left here, she touched so many leaving her love, wisdom, and inspiration to carry on her memory.
Susan,
Although you cannot physically read this, I know you are looking down on us all, and feeling all the love rising up to you in God's care now. I will always cherish the fun times we had at EWU, and beyond. I wish we had made the time, like we said we would, to connect again to have more adventures together. I will miss you every day!
Susan was a student of mine at Hanford High School in the late 70's. I wa so happy and proud when I learned that she had become a teacher, and an excellent one! I was able to see her now and then over the years as a fellow educator, and I remained very proud of her and her career. So sad that she has left us at such a young age.
Norm,
We were shocked to here of Susan's passing.
There are no words to tell you the sorrow we feel for your loss.
She has touched many lives and will be missed.
You were one of the most upbeat teachers I had and loved coming to your class. I always walked into class knowing you would make us laugh. You made it so easy for everyone to enjoy everyday with you. Thank you for everything, you will be missed by all💕
Susan was loved by her students and admired by her colleagues. She will be missed. My sympathies to her family and friends. May her memory be a blessing.
Mrs. Jio,
You were one of the most influential teachers I ever had. So much so that I made a point of visiting you at school whenever I came back home. You taught me so much and I hold those lessons very close to my heart. You said "get a job!" so I did and I've found myself in a successful place professionally. Thank you so much.
I loved walking into Mrs. Jio's class every day my senior year—she was an amazing teacher and such an incredible woman. I will never forget some of the good times spent in her classroom or talking with her in the hallway. She will be missed by many. ❤️
You were one of our most dear customers. I loved getting to know you over the years. It was a privilege to mail your baked goods to your sons. You always talked so highly of them and you were so so proud. And while you were baking things for your kids, you'd always bake some for us. ❤️ My favorite cookies were the coconut and butterscotch. You will be greatly missed.
Mrs. Jio,
You were one of the most amazing teachers I had. Seeing this absolutely crushed my heart. Thank you for always being understanding and always being there for me. You will be missed greatly 💔
Thank you for making an amazing impact on my life 💔❤️
Mrs. Jio was one of my favorite teachers. She taught my world economics class. And would start off each class with a discussion of that day's newspaper headline. It was such a healthy exercise. To have a group of young people engage in a lively discussion of ideas. I appreciated her enthusiasm and humor. Thanks for all your hard work and contributions in teaching. You will be missed. My condolences to her family and loved ones. Sorry for your loss.
Mrs. Jio was one of the teachers whose classes my daughters enjoyed attending because they were relevant, interesting, and inspired them to think about the world and their place in it. Thank you for helping instill a love for lifetime learning. My heart goes out to your family.
I didn't have Mrs. Jio as a teacher but I can say she did love every single student at Richland. She would order valograms from the choir department every year for each of her classes and supported her students the best that she could. The bomber family will miss you!
I'm sad to hear this Norm. You and the boys will be in my thoughts and prayers.
May God give her eternal rest. We are truly sorry to hear of the loss of your mother. Please accept our condolences and may our prayers help comfort you and your family. May God give her eternal rest and the family the strength to bear the great pain.
By far one of the most unforgettable people I've ever met. You made learning fun and you will be missed.
Mrs. Jio, I cannot thank you enough for being such a positive impact each and every day. Teachers like you are the reason I was able to succeed! I appreciate your dedication to me, and so many others, that were lucky enough to have met you!
I'm so sorry Norm. My thoughts and prayers with you and your family❤️
Love you so much and thinking of your family
Mrs. Jio was the best teacher I ever had. She was so nice, and fun, and just a wonderful person. I still think about her to this day, she had such a huge positive impact on my life and I will never forget her. I am so saddened by her loss. Rest in peace my friend 💗💗
love you forever mrs jio!💛
Mrs. Jio was always, and forever will be, one of my favorite teachers. She impacted my life greatly with her humor and willingness to listen. Mrs. Jio was always so full of energy and smiled all the time. I miss her greatly.
The best teacher ever 💔 we love you mrs.jio !!
She is the reason I search for credible news, stay updated on current events, and always question/analyze what news I'm taking in. She helped me and many others to be a better member of society
Susan was a wonderful person. She will be missed by all her neighbors.
Too damn young. You will be missed
You were such a beautiful human being inside and out. I loved going to your class because I knew I was guaranteed a smile on my face. Heaven definitely gained another extraordinary angel. Rest in Paradise, Mrs. Jio. ❤
Truly saddened to hear of Susan's passing. We met many years ago as our parents were close friends and grew up together. Always a sweet gal with a quick smile. It was always a pleasure to see her out with her Mother as they both were important parts of my family. Rest in peace and thank you for making a positive impact in so many lives.
We will miss you! ❤
An analytical and perceptive mind. A critical thinker. An ability to communicate to the world. Our world is greatly diminished by the loss of Susan Jio.
Susan had perception that pierced to the heart of the problem and was able to clearly communicate this understanding. I will miss our talks to solve the world's issues, and the love she showed to the whole family.
Susan would stop into Subway nearly every morning for a breakfast sandwich, usually my first customer of the day. She was so kind & funny. We would talk about teenagers & although she never knew my troubled teen she would give me advice & I looked forward to seeing her every day. She was looking forward to retirement & it saddens me she didn't get to enjoy it as long as she should have. My sincerest condolences to her family. May they have peace in knowing what an amazing woman she was & how she improved the lives of so many, even a simple sandwich artist. ♥️
Mrs. Jio was an outstanding debate teacher, never picking sides in her classroom but instead encouraged each side to dig a little deeper. She gave us all so many tools that we will use the rest of our lives. My heart goes out to her Family and loved ones.
Mrs. Jim was an amazing woman. The best history teacher to teach at Richland High. She always greeted me with a smile and we would share laughter in passing by. As I turned into an adult and would visit the high school, she was the first teacher I'd stop by to say hi to. Her years spent influencing the young men and women who attended her classes will forever be remembered. My deepest condolences and prayers go out to her two sons, husband, other family members and friends.
She was one of the coolest teachers I ever had. Will never forget her dim lamps in her classroom! We all loved them. Taught me to always play devils advocate with any situation, and taught me the best side of politics is right in the middle. She loved debating, and I loved to debate in her class! She made me the debater I am still to this day. She will be missed by her former students, my condolences to friends/family at this hard time. Gone but never forgotten, Mrs. Gio.
Mom,
You mean the world to me, and you changed the lives of so many others. You're such an inspiration to us all. You'll never be forgotten and you will be missed deeply everyday. You made me into the man I am today, and I know that you're proud of all of us. I wish you could watch us navigate through the rest of this life, but I know you'll be there to guide us every step of the way now. I love you so much ma, I hope you dance.
Your loving son,
Zach.
Mrs. Jio was a great teacher. I remember looking forward to her class each day and admiring her spunky attitude. I graduated in 2014 and I remember our class talking her into giving a speech at our graduation! She meant a lot to many students and she will be missed dearly.
Because of Ms. Jio I graduated and I appreciated her so much for the help. You were one funny and beautiful lady, I will never forget you❤️. Such a beautiful soul..
Norm, I will forever be grateful for the time we spent together in Yakima 2 years ago. The memory of that day grows even more precious with this news. Sending love and peace to you and your boys.
One of the best teachers I've ever had. My condolences to the family.
Goodbye My Love. We'll be together again someday.
i graduated with Susan from Hanford High in 1979. I remember Susan asked me to the dance in 9th grade. We had a great time. She had guts! My mom was good friends with Susan's parents and used to see Susan from time to time and keep me posted. I was very saddened to hear the news. My deepest condolences to the Jio family.
An amazing teacher, mother, and above all an amazing woman. One of the few teachers who actually makes a genuine connection with her students. Loved our conversations—politics and all. Was a pleasure to be one of your students in your final year of teaching.Mrs. Jio you will forever be remembered in our memories.
Mrs. Jio was one of the teachers that made high school tolerable. Even though government wasn't really my favorite subject, Mrs. Jio made me want to show up every day. She will be missed. Thank you for being the teacher we all needed.
I graduated from RHS in 2003. I had the honor of being one of her students. Our community has lost the presence of an amazing human being who contributed so much kindness and knowledge. My prayers and condolences to her family.
Mrs. Jio was one of the best teachers I have ever had. I am so saddened by the news. Sending my sincerest condolences to her family.
She was the best teacher I've ever had. I miss her so much.
So deeply saddened by this news. Sending our love and prayers to Norm and family.
Love,
The Highs
Carin, Howard, Sam and Kate
Heartfelt condolences from the Hofferber family
I will never forget Mrs. Jio, she was a light that brightened my day. Even if I didn't see her, just thinking of one of the many fun moments with her, was enough to make me smile. She had a beautiful soul, she is missed dearly. Wishing the best for her family, through this terrible loss.
Susan's passing is a profound loss of a cherished friend. I have kept all of the cards she has sent me over the years and I display them above my desk at school. Each card is a snarky sentiment that allowed me to laugh in the middle of the craziness of education. She possessed a wicked sense of humor and a caring heart – the perfect paradox. I am sending my sincere prayers to your family and will gladly donate to the Bomber Boosters in her name.
I always looked forward to her class! She was a great teacher and someone I felt like I could talk to if I needed to. My heart goes out to the family. She will be missed by so many!
I always looked forward to walking into Mrs. Jio's classroom everyday. She had and energy about her that could make you smile on the worst day. She will be greatly missed by all
My friend, I will miss our coffee dates and catching up with our lives. I will see you again. Thanks for blessing our kids at school.
Xoxo
Melissa Alvarado Bradford
I am so sad to hear this news. I couldn't wait each day to get to my Geography class with Mrs. Jio. She was truly born to teach. My heart goes out to her family.
Mrs Jio was one of my favorite teachers at RHS! She taught me a lot, not just about geography, but a lot about being a considerate person. She truly always had a smile on her face and made me feel good about myself, even if I wasn't doing good in her class. She will be missed!