FIND AN OBITUARY
Service information is posted on our website only with approval from the family.
If you are seeking information not listed below, please contact us.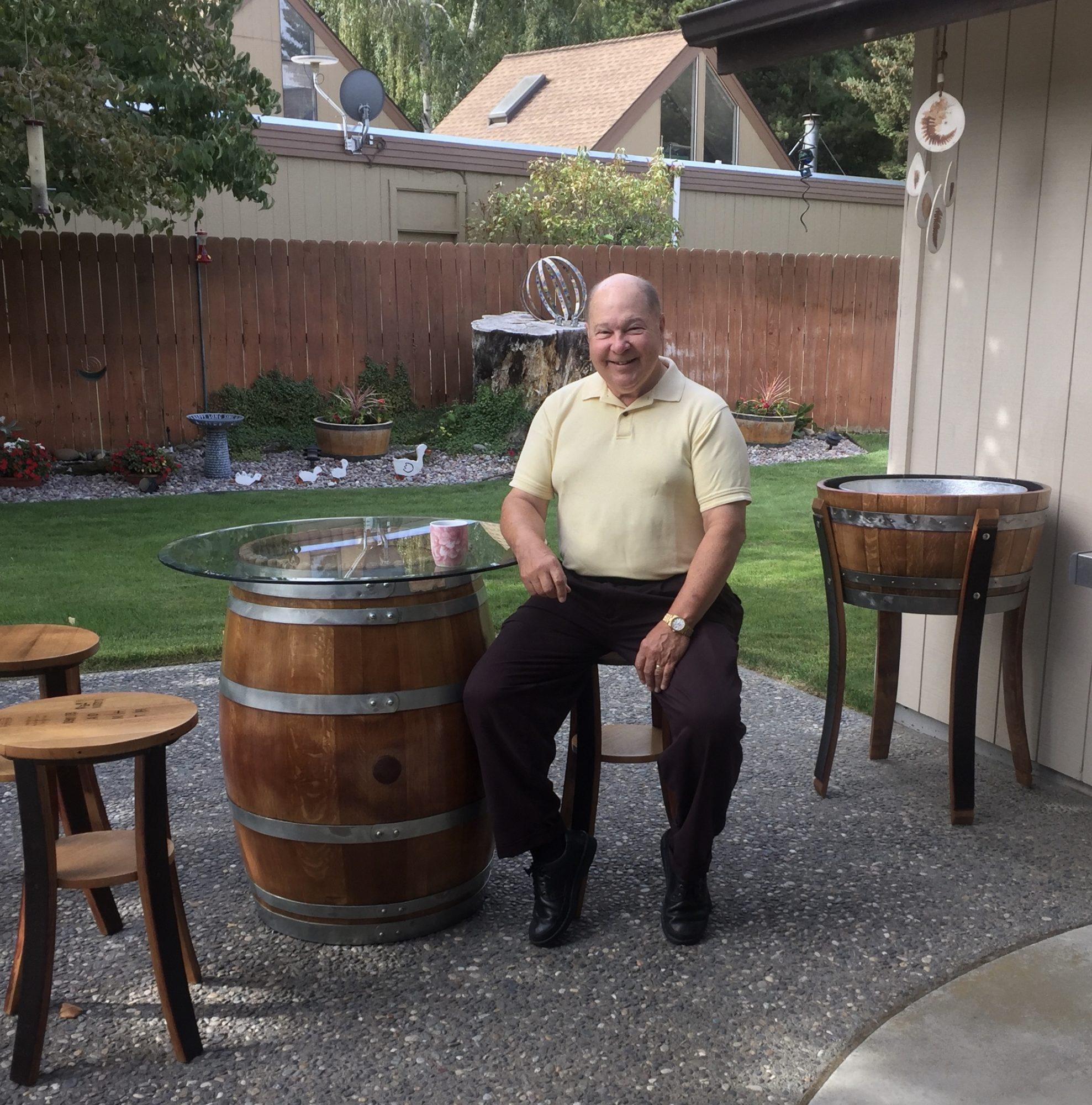 George Jackson
09/01/1946 — 07/20/2020
From Richland, WA | Born in Teaneck, NJ
George Jackson
George W Jackson, 73, of Richland, Washington passed away on Monday, July 20, 2020. He was born on September 1, 1946, at Holy Names Hospital in Teaneck, New Jersey, the first child born to George R and Stella Jackson of Hasbrouck Heights, New Jersey. George grew up in Hasbrouck Heights with his brothers Arthur and Robert. He enjoyed playing little league baseball, becoming a great pool player, and spending time working on and racing cars, while working at Danford Cleaners. Upon graduating high school, he attended and graduated from Iowa Wesleyan College in Mount Pleasant, Iowa, with a degree in Physics in 1968.
While home in the summer during college in 1966, he had his first date with the love of his life, Linda Brandeal. They married on April 12, 1969. Upon marriage, George and Linda moved to Long Island where George started his career as an engineer at LitCom. George and Linda had two sons, George born in 1971, and Brian born in 1973, when George and Linda moved back to Hasbrouck Heights to raise their family around our large extended clan.
George was always a hard worker, and he earned his MBA from Fordham in Ney York City in 1976 by going to night school and continued his career ascent at Burns & Roe in New Jersey. While he had a high work ethic, he always had time for family, which meant everything to him. Many weekends were spent on fishing trips in New Jersey, snowmobiling trips to Upstate New York, and annual vacations to places like Hawaii, Montreal, Hershey Park, Lake George, Disneyworld, and many weekends at the pool with family and friends in Hasbrouck Heights. George also found time to be on the Board of Education and the President of Junior Football. In 1982, George moved his family to Richland, Washington, where with the exception of a 10 month period in 1985 spent back in New Jersey, he spent the remainder of his life in his second love, the Tri-Cities.
George excelled in his career, ascending to an executive vice president position with Fluor Corporation, meeting and exceeding his lofty career goals he set for himself, officially retiring in 2009 but working part-time as a consultant until his death. He was well-respected in his field for his business abilities and leadership, and he treated all levels of his employees the same. He was very much the common man despite the executive positions that the held, and everyone knew it.
George was also a very compassionate and generous man, who always did anything he could to help and support family members and friends when they needed him. He always put those relationships first at all times. He truly gave much more than he received in life, without ever seeking recognition for it.
Living in Richland allowed George to pursue his passion of fishing, and he particularly enjoyed trips to the Grand Ronde River for steelhead. He also enjoyed boating on the Columbia, bird hunting, golfing, going to Wildhorse Casino and Las Vegas with Linda, and any chance to eat a good meal and drink good wine. He absolutely lived life to the fullest and enjoyed whatever he did.
George had the pleasure of being a grandfather four times, with grandsons Tyler, Owen, and Logan, and his granddaughter Allie. He could not get enough of watching them play soccer and basketball, perform at dance competitions, spending time with them at family events, and soaking them in as much as possible. He always lit up in their presence. They meant everything to him.
George and Linda were married happily for 51 years. They were always together and were completely devoted to each other's happiness and well-being. George would be the first to proclaim how wonderful Linda was to him, and how well they raised their family together. Their marriage is a true example of how good it can be, and they will be forever linked in love and adoration for each other.
On October 19, 2018, George sent a text to his sons: "Sitting on the back patio listening to oldies, smoking a stogie, and thinking about what a great life I've had. Just wanted to tell you both that you played a big part in that and I'm incredibly proud of you. My only wish is that when you're in your seventies you can forward this to your kids and say 'me too'". While his quick and unexpected passing is tragic, this encapsulates how good of a life he felt he had, family always first. He also said that when he passed, he wanted us to celebrate his life and focus on being happy and creating memories. He sure did that himself.
George is survived by his wife of 51 years, Linda, two sons, George and Brian (Janel) of Richland, and four grandchildren Tyler, Owen, Logan, and Alexandra, all of Richland. George is also survived by brother Arthur of Hasbrouck Heights, New Jersey, and Robert of Parkland, Washington.
Donations can be made to Seattle Children's Hospital. Due to the COVID-19 pandemic, a private family celebration of life will be held.
Rest In Peace George. We were so sorry to hear of your passing. Our prayers are with you, Linda and the boys,
Just learned off the passing of one of the finest persons we have known in our lifetime. We worked for George at B&R during construction of WNP-2. He was never a 'boss' but more a mentor and a wonderful friend. Many camping trips, Super Bowl get togethers and poker games where fun was had by all by being around George. Our heartfelt condolences to Linda, George, Brian and their families.
What a wonderful tribute to George and the life he led. I have many family memories of George (and Linda) from growing up in NJ. His life was well-lived and he was loved by many. RIP George. You are missed.
George was a good boss and a good friend. Those of us who had the privilege to know him will miss him.
So sorry to hear of the loss of George. He was a cheerful and funny presence in the neighborhood ever since we moved there in 1987. My thoughts go out to Linda, George Jr, and Brian. The neighborhood won't be the same without him.
I'm so sorry to hear of George's passing. He was such a fun-loving guy. I have many memories growing up going over to the "Jackson's" home and was welcomed with open arms. My thoughts and prayers go out to all of you. Live in the memories and the knowledge that he lived a beautiful life. What he left behind is proof.
I've had the fortune to know George for many years, both through many work assignments, and through the Hanford school system where my two daughters (Michele and Nicole) attended with George's two sons.
We have lost a really good man. My sympathies to Linda, George and Brian.
Please accept my most sincere condolences for your loss.
Dear Linda and Family,
We share your grief at George's sudden passing. Putting it mildly, we always admired George for being not only a common man, but a leader, and a friend, all at the same time. George was fair to all and he was honest. He will be missed by many, starting with us. Thank you, George, for just being you.
Sincerely,
John and Kathy Umbarger
Richland, WA
Linda and I both worked for George during the BWIP days. In fact, Linda quit her old boss one day and George hired her the next…..that's how Linda and I met so many years ago. That was a crazy time for us, and George was sure a part of it. He was certainly bigger than life. What fond memories of those days and George.
A favorite story among many….. At work one day, George was upset at one of his reports, and proclaimed to Linda " get that @#**! in my office right now, I'm going to fire him". Linda replied "George, you know you can't do that". George then stated "I know, but I bet I can sure scare the @#**! out of him, at least"….. and he did just that.
Linda and I worked for many managers at Hanford, over the years. George was certainly a memorable one. We were so sad to hear of his passing. To Linda and the rest of the family, we send our condolences and prayers.
I was George's secretary while he was the Vice-President of the Plutonium Plant at Hanford during the early 2000's. I have always enjoyed working for George. He had high expectations for a job well done. He always took time from his very busy schedule to talk to anyone knocking on his door with a question or problem. He was kind to everyone. George was quite a man and will be missed by all. My condolences, love and prayers to Linda and his family.
Barb and I are deeply saddened by the passing of our dear friend, George. He`s been a longtime friend and work partner who will be dearly missed. His outgoing, kind, compassionate demeanor was always displayed. We`ve interracted with George, Linda and family many times over the decades. They were always warm and inviting to us on every occasion in the Tri-Cities. We also have fond memories of a number of trips we took with Linda and George to the Wildhorse Casino as well as meetups in Las Vegas. He and his wonderful family will always be in our thoughts and prayers.
Rest in peace, dear friend.
Very well said. George was a great man who led a life that I truly seek to emulate.
I will miss you George. Not just at this moment but for the rest of my life.
I am so sorry for your loss. George was a great person to work with, and I will always remember his great advice and smile. He brought a lot of joy and good spirits with him, and he will be missed. Wishing all of his family and friends well during this tough time.
karenamcginnis@gmail.com
I began working with George when we were on BWIP almost 35 years ago. George was a hard charging inspirational leader and he earned the respect of the workforce. I so admired his honesty and courage to stand his ground for what he believed in. Sometimes his career paid a high price but George always worked his way out of the penalty box and always came out better off. What I admired even more about George was his love and devotion to Linda and his sons.
George – So sorry to hear of the sudden loss of your loving father. I will be praying for you as you have to comfort the rest of your family. Take care friend.
So sad. I owe a lot to George's mentoring early in my 30+ year career at Hanford. My thoughts and prayers are with the Jackson family.
My family and I have known known the Jackson Family for nearly 40 years . We worked together, played together had fun together. For about 10 years we lived across the street from each other. The shock of George's passing overwhelmed us with shock and grief. Being probably one of the last to comment on his passing there isn't much I can say that has not already been said. George was a Good Man. He loved his family and his friends. HE was generous and kind. We lost a good friend and a good person. My condolences to his family. Sorry we could not be there for them. We love you Linda, George and Bryan. May you all live a long long time to remember him. With love and sorrow Ari and Janice Krasopoulos
A huge loss. I pray for the Jackson family – may you all find comfort in celebration of his exceptional life.
What a wonderful tribute to our friend George.
Linda, George, Brian and grandkids – we have been thinking of all of you since we heard.
George and Linda have been wonderful neighbors to our family for over 30 years. George's passing has weighed heavy on our hearts. I will miss his cheerful smile and greeting each time I pull up in the car, usually while he was happily woodworking in the driveway, or while he and Linda worked in their beautiful yard. He has a very special place in the hearts of our kids; they really loved chatting with him across the yard and he has always been so kind to them. Our sincere condolences.
Linda, George, Brian and entire Jackson Family. I am so sorry for your loss. I have such fond memories of George from a brief visit I had with your family back in 1991. Linda and George were so incredibly friendly and welcoming and fun (officially "cool parents", to my 18 year old mind). It was a memory I truly cherish, and an example of a loving marriage and family that I carried with me into my adult life. Sending you my love and prayers.
There was only one George and feel blessed to have known him. Seeing the love George and Linda shared, made me realize that happily ever after is indeed possible. My condolences to Linda and the family. Rest in peace George. Blessings on his family.
Wonderful obituary capturing George's personality and accomplishments. He distinguished himself as a top notch executive overcoming very challenging management and technical issues in ways that earned the respect of both his employees and customer. As a golfing buddy and partner doing consulting work following his retirement, he continued to impress me with his wit, wisdom, insights and family values. His smile and laughter remain very vivid, and I still can't believe he's no longer with us in person. Rest in peace my friend and congratulations on a life well lived and thank you for all the help, memories and seeds you have left behind.
Met George at work and got to know him as a loving dad and grandad and much loved husband to Linda. Family was everything to him. I will always remember his sweet "glad to see you" greeting with a kiss on the cheek.💕
What an eloquent tribute to a man so accomplished in love and life. I only met George once but know him through his two sons who were clearly raised by exceptional people. We are truly sorry for your loss and wish you peace and comfort.
Truly one of the best mentors, leaders and friends in the business. You will be missed but never forgotten. Rest well my friend.
I was deeply saddened to hear of George's passing, my prayers to Linda, George, Brian and the rest of the family. George was a huge positive impact on my life and career. I will be forever grateful for him. "Hope is not a management strategy" and "Marky Maypo" are forever locked in my memory. So many great memories, I can so clearly see his smiling face, and that other one too – when I knew I was in trouble. He taught me so much. Rest In Peace good man.
a love so great
a life so large
a family so adored
A contagious smile, bright, but just a prelude to a big heart and an embracing personality. We were so very privileged to know you.
Cheers to all you taught us about wine
and Rest in Peace.
Love to the entire Jackson Family.
Always enjoyed my time with George. He was generous, humorous and you could tell he truly enjoyed the people around him. He will be missed.
Thoughts and prayers are with your family. George was (is) definitely a class act!
My prayers are with you George and your family.
George was a great mentor and more importantly a great professional and personal friend. Always generous with his time, advice, and perspective, he will be missed in our community. This is a nice obituary and highlights a life well-lived.
The obituary couldn't be more accurate. George, my husband's classmate and Linda, my best friend and classmate, will forever hold a special place in our hearts. Even though they married the day before us and grabbed the time slot we wanted and the reservation at the Fiesta that we wanted, we still love them. My husband is angry because he won't be able to reciprocate by taking Linda and George out to dinner since he payed the bill when we last were together out to dinner. We'll just have to take Linda out two times. A gentleman's gentleman, an avid woodworker, a great classmate and friend – he will be missed.
My boss. My mentor. My friend. You are missed beyond words.
Can't believe you're gone but will never be forgotten. You were a great boss and I adored you for your humor, compassion and goodness. You will be missed, Georgie. God be with you all.
With respect and friendship,
Marilyn strankman
You were always there for me, and always will be.
George was one of best, thoughtful, kind. I thank you for your gift of friendship.
You are missed, special friend.
George's bio written here truly depicts the kind of man he was and the kind of life he led. Family was everything to him. I consider myself lucky to have witnessed his love of life and family and to have known his generosity of spirit. God bless.
George was a wonderful family man and friend. He will truly be missed by all. Especially when we all gathered at Artie's and they came out from Washington. We always had a wonderful time with him and Linda and his family. God bless and Rest In Peace George.
Will miss you terribly, what keeps me going is that you were the best and greatest Brother anyone could ever had hoped for !
Your loving Brother
Arthur