FIND AN OBITUARY
Service information is posted on our website only with approval from the family.
If you are seeking information not listed below, please contact us.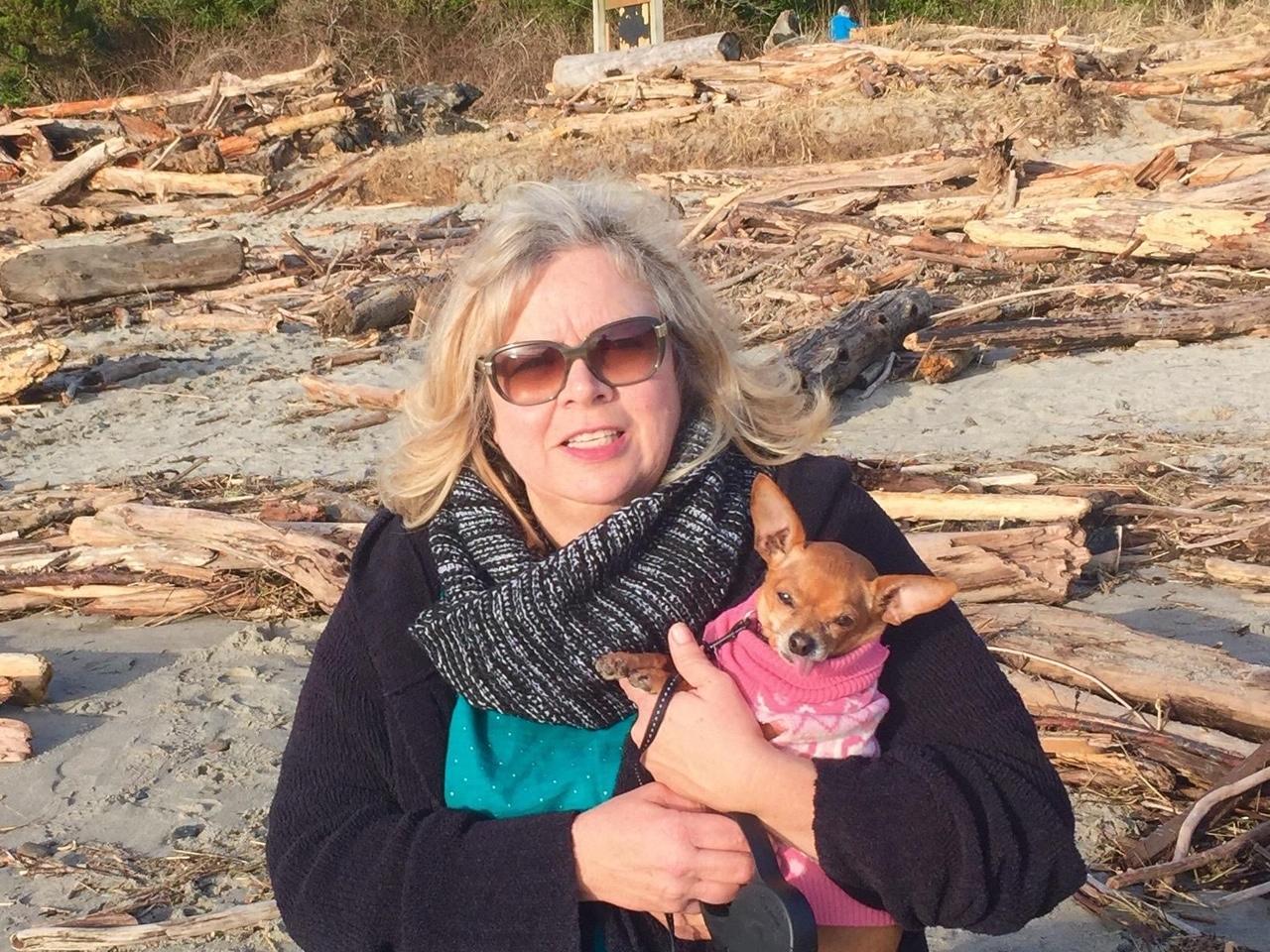 Kim Jaye Ford
07/10/1957 — 08/27/2020
From Kennewick, WA | Born in Cushing, OK
Kim Jaye Ford
Kim Jaye Ford, 63, of Kennewick, WA, passed away on August 27, 2020 after sudden cardiac arrest.
Kim was born on July 10th, 1957, to parents Gloria Davis and Jack Jelsma in Cushing, OK. Kim graduated as a varsity cheerleader from Fritch High School, Fritch, TX, class of 1975.
In 1976, she met Michael Miles Ford at a Disco in Amarillo, TX. They wed on January 13th, 1981, going on to raise three children, Audra, Danae, and Michael.
Kim had a successful career managing/teaching aerobics at Gold's Gym for several years. Kim later decided to return to college to become a dental hygienist, and was a member of the first Dental Hygiene graduating class of Columbia Basin College. She retired from the work that she loved in 2016, yet maintained education credits to keep her license active.
Kim dedicated her life to being a fantastic, wonderful mother, grandmother, and great grandmother, and she was always so proud of their individual talents and accomplishments. Kim extended her love and care to several of her own children's friends, treating them as one of her own and welcoming them into her home. Kim was "Mom" and friend to many. She was known for her warm Texas accent and beautiful smile. It was difficult to go anywhere without running into a former gym member, former patient, or family acquaintance, and Kim was always ready to catch up on recent events in their family. Her genuine kindness, warmth, and easy manner endeared her to many. She is greatly missed by all.
Kim Ford was preceded in death by her parents Jack Jelsma and Gloria Davis. Her husband Michael Miles Ford, and her son Michael Miles Ford II.
She is survived by her daughters Audra (Doug) Hanson, Bremerton, WA; and Danae (Seth) Hamaker, Kennewick, WA; grandchildren who lovingly called her "Grandma Kim" Brandon Jon Harding, Danielle Jaye Harding-Hanson, Dylan Douglas Hanson, Aspen Audra Allan, and Mason Key Hamaker; great grandchildren Leonardo Jaye Harding and Joelene Jaye Harding; sister Lisa Johnson, Amarillo, TX; brother Jan (Carol) Davis, Peoria, AZ; nephews Robbie Negrin, Trevor Ford, Max Ford, Carey Davis, Brett Davis, and Michael Davis; and nieces Kelly Fleek and Jill Johnson.
The family requests that all flowers and notes be sent to Einan's at Sunset. 915 Bypass Hwy, Building H, Richland, WA 99352. Due to Covid-19 restrictions, there will be a private Celebration of Life for Kim on Sunday, September 13th, 2020. There will be a viewing at Einan's from 2-4 on Saturday, September 12th. If you wish to view the online celebration of life for Kim, please visit the following website:
https://admin.oneroomstreaming.com/email/forward/179a9715f1
Enter your name and email address to get the invitation details.
Watched this again and I'm both sad and happy. Sad for her family but happy for Mike and Kim. Not sure what's out there when a person's like ends but hopefully they're together on the Oregon Coast. There's a void in my heart for them both. Good friends of mine.
Your life was hard these past years since Mike passed away and then your son. Peace now Kim. Tell Mike I can still throw a fastball 2 mph faster than he did. I miss you both. Hopefully I'll see you guys again. RIP my friends.
Love you Kim! Thank you for always being so sweet to me and being there for me! I'll keep Danae entertained for you 🙂 Love you so much Danae & Audra and I'm always here for you guys.
I love you sister. We need to be strong for Kim so that her soul may reach the Holy Kingdom and she may Rest In Peace. Continued prayers ❤️
Kim,
You ARE still full of life now more than ever before. I will always cherish the memories we created together with others over the years .. your smile, the laughter and epic moments will always live on in my heart. Thank you Kim for sharing fun, the real conversations, your beautiful family and your life with me. Keep spreading your energy and love for life out to the universe. You'll be missed but I will always feel your spirit.
I love you Kim 💜🙏🏽
I will miss your sparkling personality and your beautiful smile . My comfort in your passing is knowing that you are with Mike and Michael . I see you in your daughters , and know you are at peace . Blessed to have shared a part of this journey with you .
Kim, I am so thankful that you came to visit me just a few short weeks before God took you home. I never would have imangined that it would be our last here on this earth. We didn't keep in close touch over all those years, but regardless, you definitely left a mark on my heart. Always so upbeat with a beautiful smile. We discussed the similarities of the losses we had endured over the years of the wonderful husbands and children who were chosen to go before us. And of the our strenghts of pushing through despite these losses and our own personal chronic illnesses. You were always like a ray of sunshine when you would enter a room. Thank you God for Kim and allowing this very special visit. I will see you again one day sweet friend. Until then, fly high with the angels.
We first met in high school and became best friends and remained best friends through all these years. We would talk about our cheerleading days, fun times and bad times. We were always there for each other. There is an emptiness in my heart that will be replaced with these good memories and the happiness we shared. We were all blessed to have her in our lives. I know she is wrapped in the arms of the Lord. I pray all her family will continue to grow and be strong for her. I was proud to call her my friend. I will always miss her and always love her.
My heart just breaks. She was so fun and so sweet. I will miss her. I pray her family finds comfort in Christ our Lord.
Kim was Texas sweet and kind hearted. She always was smiling and easy to make laugh. She'll be missed.
Love from the Miller's …
Prayers for family and friends,We meet Kim and Mike years ago threw are good friend Tamsen, we had the best time such wonderful memories! When we first meet to our great surprise we were related her granddaughter Aspen is my grandkids the 2sets of twins are Cousin's💖 We Alway enjoy talking about are kids Grandbabies! We will miss her terribly,but we know she is with Mike her Son all her loved ones. Take Care to everyone we will all be together again In Jesus Name Amen🙏Love
Hello to all Family and Friends. My Sister was a truly original person. She had such love and happiness in her heart. We will all miss her and our hearts are much more sad and lonely without her.
Kim was an inspiration to me. She was such an upbeat woman! She could inspire you to be a better person too.
I recall several times that there would be a family outing and I might not want to go and I had other things I wanted to do. Kim would say, and I quote, "Jan you need to go and it will be good for you". Lol That's all it took and even though I might not want to go 9 times out of ten that I went
I enjoyed going and being there.
She was a wonderful human being and had a magical way of convincing you that better days were ahead.
Kim was a naturally happy go lucky type woman. But when she lost "her Mike" she was devastated. We all tried to console her as best we could.
My Sister's heartbreak turned into physical ailments that were serious. She struggled and went through so many procedures and hospital stays and never complained to me. I admire her for her courage. After her husband Mike had passed, she was trying to get her physical problems under control. She suffered horribly and we almost lost her several times. Then my nephew, her Son Micheal suddenly died and we were all in disbelief.
Kim was beside herself with grief. Many friends of Kim asked me what had happened.
The last time I talked to Kim she was really upbeat. She told me she was getting closer to God and felt really genuinely good about her faith. She was getting better and seemed her old self again.
So when Lisa called and told me that Kim had passed away, we were totally in shock, grief and disbelief.
Kim I love you forever and I will miss our talks on the phone. I could tell you anything and I knew you wouldn't judge me. You were one of the only people on this earth that I could share my all.
We will love and miss you till the end of our days!! Your Big Brother, Jan
Many fond memories of summer time on you boat and camping, always lots of laughter. Kim you were loved and will be missed. Stewart and Rhyll Sharpe