FIND AN OBITUARY
Service information is posted on our website only with approval from the family.
If you are seeking information not listed below, please contact us.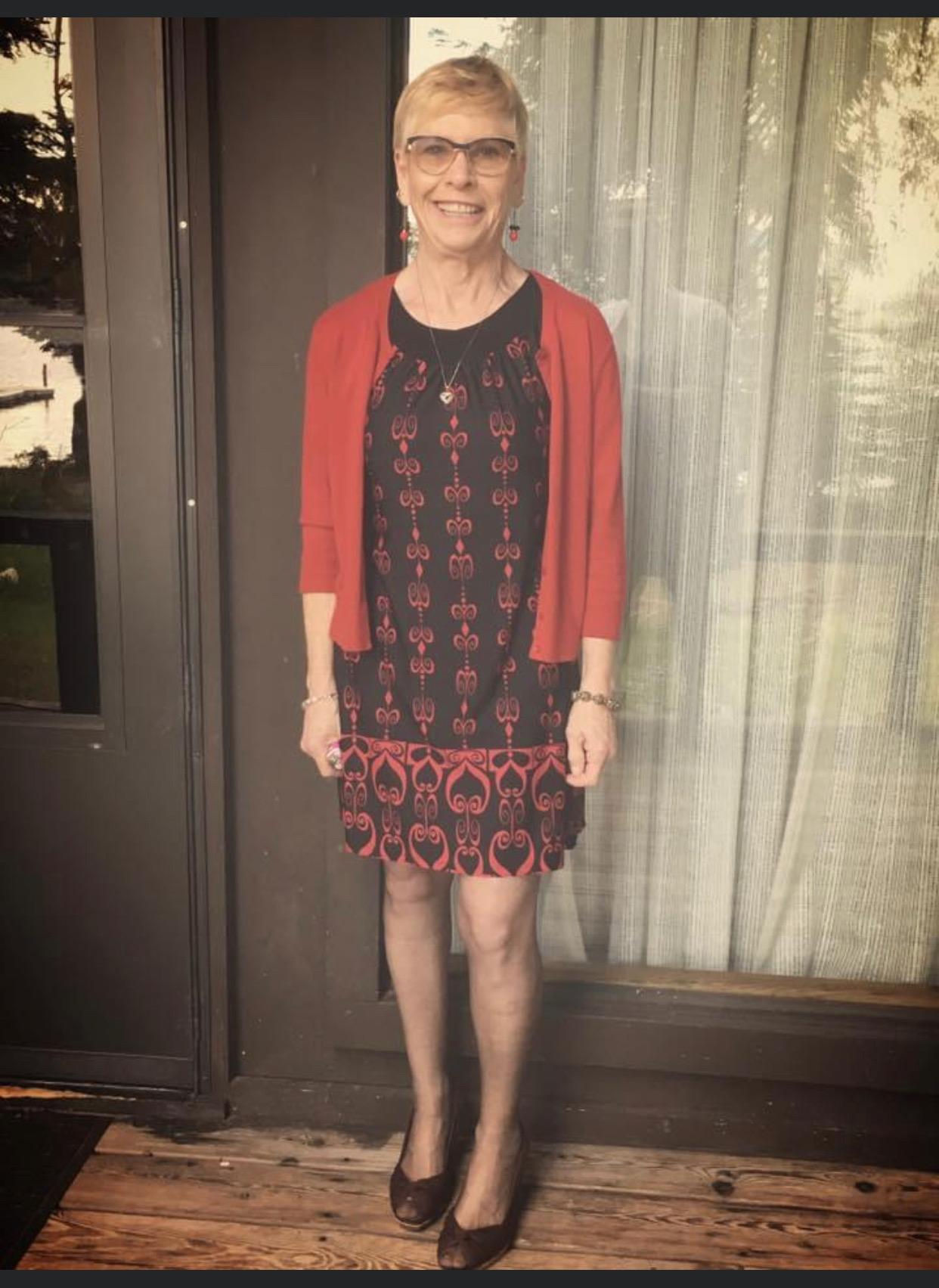 Barbara Ham
11/17/1953 — 09/27/2020
From Richland, WA | Born in Anaconda, MT
Graveside
Starts:
Sat, October 24, 2020, 1:00 pm
Ends:
Sat, October 24, 2020, 2:00 pm
Location:
Sunset Gardens
915 Bypass Highway, Richland, WA 99352

Barbara Ham
Barbara Ham
"What Do You Mean I'm Dead?"
Barbara Ham, 66, passed away unexpectedly September 27, 2020 with her daughters by her side and finally joining her love Danny. She leaves behind a lifetime of hilarious stories, quotes, confusing text messages, Facebook posts, and a plethora of various Holiday themed earrings that will be passed down for generations.
The third of seven children, the inimitable Barbara was born on November 17th, 1953 in Anaconda, MT to Bob and Elly Hogan. The family moved to Richland, WA when Barb was in 3rd grade where she attended school at Christ the King and "Col" High (now known as Richland High School). It was at RHS where she met Danny Ham, the love of her life, who would become her high school sweetheart, husband, and second half of the "fun couple". Barbara and Danny graduated with the class of '72. Many a lifelong friend was made during this time, and she kept in touch with many of them over the years. Barb looked fondly on her high school years and was always quick with a story about pretty much any of her classmates.
Danny and Barb married on October 4th, 1975 and made their home in Richland, WA where they lived together until Danny's death in 2005. Barbara worked for WPPS until daughters Angela and Molly were born. Barbara was never one to sit still for long, and once the girls entered school, Barb went to work in for the school district in what came to be known in the family as Lunch Lady Land. Barbara's tenure as a lunch lady first took her to Jason Lee, and then, to her favorite place on Earth, Richland High School where she worked until her retirement in 2017. Barbara took great pride in getting to know just about every student, by both name and ID number. Barbara was herself remembered by what must be thousands of Richland students who made their way through her kitchen over the decades to get free cookies and snacks.
Barb had a life-long love of softball and played with her team Wilbur Ellis and treated her teammates as family. She instilled her love of softball in her girls. Barbara was happiest when watching and coaching Angie and Molly and all their teammates whom she loved and cared for as if they were her own children. A passerby a mile away would know Barb was at the fields as she was always cheering or yelling the loudest. "Quit Dippin'!" was a common phrase shouted to her girls while up to bat.
After retiring in 2017, Barbara devoted herself to caring for the second loves of her life, her grandchildren. She was always there to pick up or take them to school and to cheer them on during any T-ball, soccer, or flag football games. Always there for her grandchildren, Barb was a fixture in the stands at any school concert or play and took great pleasure in spoiling them rotten with Slurpees and snacks even though she was threatened many times by their parents not to.
Barb lived a life full of love. Love for her family, her friends, and the life she built in our community. Barbara leaves behind daughters Angela (Sean) Gehlen, and Molly (Erik) Formo, honorary son Evan Cope, Granddaughters Audrey Gehlen and Iris Formo and Grandsons Jacob Gehlen and Kaleb Formo. Six brothers and sisters, Pat (Sandy) Hogan, Mike (Lori) Hogan, Brian (Rae) Hogan, Jim (Sue) Hogan, Shannon (Randy) Hickman, and Heidi (John) Gottschalk. Her family from Danny's side: Julie (Steve) Froehlich and Jack (Priscilla) Ham. Numerous nieces and nephews (who she treated like her own children), special friend Harold Haptonstall and the entire Bomber family.
She was preceded in death by her loving husband Danny and her parents Bob and Elly Hogan.
I'm still at a loss for words. I worked with Barb at RHS for over 20 years. No one day was ever the same!!! My thoughts and prayers go out to the Hogan Ham families.
So many memories of Barb over the years as our daughters played softball. Many thoughts and prayers go out to the family.
Barb was our neighbor for many years, we would talk weekly about nothing and everything. Even after we moved away we would still stay in contact through social media. Barb is proof that greatness & success have nothing to do trips, houses, bank accounts, power, or influence. Barb was great, Barb was successful, Barb was valued, because she valued people. Our family will miss you Barb.
I was so surprised to hear the news of Barb's passing. Maybe because she seemed so timeless to me. Barb was a regular presence in my life when I was a kid — good friends with my parents when they were younger, and someone I always remembered and thought of fondly. I last saw her a few years ago and her genuine warmth, strong embrace and wildly memorable laugh were the same as I remembered from my childhood. See? Timeless.
Sending much love and healing to Barb's family. x
Dear Sister, as I read all these wonderful comments and stories, it totally reflects what a great life you lived and how much of an impact you had on so many people.
Thinking of our life together, I couldn't have chosen a better big sister, you were always there for me in that big noisy family. I remember when my bunny died and it was you I yelled for to help me. You always came through. I will miss your stories ( they changed and grew more animated over the years lol), our sister times together, we're the best and we made outstanding memories, and I'll miss most not having my big sister to be there. I love you and miss you so much. I know you're tittle tattling to mom and dad about everything. Thank you for being my sister
What an absolutely lovely tribute to a truly remarkable woman. Barb was one of the most loyal people I have ever met. Fiercely loyal to her family, she was just as loyal to her friends. Our mothers were best friends. Barb constantly watched over my mother after we kids flew the coop, following Elly's example. "Go check on Jeanie!" was the command heard by the Hogan children from their mom and dad. After mom and Bob passed away, I would stop and see Elly whenever I made it to Richland. Just a quick phone call and Barb was there in a jiffy. We talked about softball, siblings, and kids. I am sure she and Danny are holding court, and I think I hear that laugh of hers even now. Your whole family is incredible, and you will hold and care for each other as your mom and dad taught you. Well done, Barb. Your legacy is a beautiful thing to behold. It will have to do until we see each other again. With love, Maureen Sullivan-Fleischman
When you say Barb Ham you smile and when you think of Barb Ham you think of Danny and the party that must be going on in heaven. God be with all the many family and friends that are going to miss them. Party on Barb and Danny.
My condolences to the Hogan and Ham families. Remembering both Barb and Danny from the old Exxon days … always the life of the party. Although she will be missed by so many, no doubt she and Danny are smiling and laughing together again!
Hogan and Ham families, so sorry for your loss. Barb had a smile and personality that we will remember forever. Alway such a bright light when you were in her presents. We will miss her.
Our thoughts and prayers are with all of you. We will never forget her smile and her sense of humor. Barbara will be truly missed.
I love the opening line of your Mom's obituary….. Made me smile and did a great job of capturing her sense of humor and great attitude.
Until we meet again, sweet and happy Bomber Lunch Lady!!
Big hugs to her entire family…. especially Angela, Molly and Evan.
Barbra was a great neighbor to my parents and always upbeat. Could not help wanting to be around her. She will be dearly missed!
Really going to miss my wonderful sis-in-law . You always made every family or friends event interesting, from your "Deep dish deviled eggs" and coloring raw Easter eggs to the "Telephone-Telegraph-Tell-Barb" saying. Priscilla and I always had a lot of fun with you and Danny, whom I'm sure you're with now. You raised two great kids with wonderful Grandkids. As Danny would say "Love ya like a rock". Really gonna miss ya kid! "Go Bombers!"
I just learned of her passing and am saddened and shocked. I played softball with Barb for years in the women's softball league. She played first (occasionally catcher)'and for many years i played short stop. I can still hear her yelling at me "get it up" or "get it down" and i would tell her it was her first baseman's job to make me look good, and she did! So many great memories of that time in our lives. What good times and what a wonderfully fun and funny person she was! She had a big voice and a big heart. She will be missed.
My heartfelt condolences to ALL her family. ❤️❤️❤️
Barb was one spirited woman! She was devoted to her daughters and she loved the game of softball. Remembering her cheering in the bleachers brings a smile to my face. The joy Barb brought to others lives will not be forgotten. My sincere condolences to Angela and Molly and all of the family.
Although it's been many, many years since Barb sat in the stands supporting her daughters on the RHS softball field, I can still remember her constant smile, unmistakable voice, and spirit. My condolences to Angie, Molly, and the rest of Barb's family.
So very very sorry about the passing of Barb! What a great person! Even though she left this earth way to early, she will never be forgotten! My condolences and sympathy go out the entire Hogan family. RIP Barb! I miss you!
Barb was a wonderful woman and one of the first ppl in my family to hold my daughter after she was born. she was always running around like a chicken with her head cut off trying keeping a eye on my uncle harold, she was always making sure he didn't get in to much trouble, at least not with out her to tag along anyway…. I love you barb, finding out your gone tares my heart apart. of all ppl in my life you were last person I thought would be leaveing just yet! you were so full of life and love and compassion and fighting spirit. You could make anyone smile with just a simple hug!!!! rip now girl, you will be greatly missed until we see you again
love Megan Ryder and Cody
I called many games as an umpire for Angie and Molly and Barb was always letting me and other umpires know when she thought we missed a call. People in the stands would tell Barb she couldn't talk to the umpires that way and I told them Barb could say whatever she wanted but they could not. We loved hearing Barb yell at us at the games and looked forward to it. Everyone one was having a good time.
I've known Barb since grade school. We were from the same hood. Spent many summer days with Carol Hodgson and her at the big pool. Wonderful times and memories. We've gone years without seeing each other but it never mattered. When we finally did run into each other, our time was filled with tons of laughter and funny stories. I'm really gonna miss you Lady! Even in all this sadness of you leaving us, I can smile knowing you and Danny are together. Love you always.
My thoughts and prayers are with her family. God bless.
I first met Barb when I was a lanky and awkward 15 year old kid visiting the RHS kitchen early in the morning before my zero hour class. Barb quietly passed me a few fresh cookies with a wink and a nod. Just a small act of kindness, but something that has stuck with me for the last 20 years. Barb had a heart full of kindness and love and the world is duller without her presence.
Rest in peace to the most wonderful mother in law I could have ever hoped for. The Gehlens will all miss Barb deeply, but take comfort knowing she has been reunited with Dan. We will see her again someday on the other side.
I will always remember her smile and laugh. She was a true spirit to behold.
Our Thoughts and Prayers are with the family….
We will always remember Dan & Barb dressing up as Santa & Mrs. Claus at Exxon's Christmas Party….
Barb was a very special person. Your families will be in my prayers.
So sorry to hear of Barb's passing. After hearing she was gone I noticed I had a smile on my face thinking she was with Danny at last. No one need worry about her because she is in good hands and a good place. Her memories will live on forever and never be forgotten. RIP my old CK friend!
Rest in Barb,condolences to all the familys also.Barb was wonderful gal.
Dear Hogan and Ham families, we are at a loss for words. Flood of memories keep coming and we cherish every one. Our love to you all at this very difficult time.
Barb had such a zest for life. Lovely tribute written by your family. Your laugh and stories will be missed . No one could have known that you were not long for this world . Gone way too soon……
So sad to hear about Barb. She was one of a kind and will be missed by all who knew her. You always knew when she was around because of her loud happy voice! So sorry for your loss .
I am sorry to hear of Barbs passing but I'm sure Danny was there with open arms! I'm sure my husband Bill Johns was there to greet another "Bomber" Barb was a great person and the life of every party!
My heart is so sad to hear of Barb's death. I looked forward to walking into the cafe' at RHS and her greeting me from across the way yelling "Hello Nicole!" When she retired that Cafe did not have that same kind of greeting, or at least it was quieter :). She was so much fun, full of joy, and loved her family and grandkids very much. Please know we too feel your void. Love to the Ham and Hogan Family. – Nicole and Brad Anderson
Barb has been since high school one of the most wonderful people I've known in my lifetime. She always made everyone she knew feel valued and special to her. Rest In Peace Barb..
Barbara thank you for those great softball players! You did a fantastic job coaching your daughters in all aspects of life. We will miss you.
God Bless the Hogans and Hams. You're in my thoughts and prayers. What a beautiful testamony. Barb touched so many lives. I enjoyed FB posts and replies, reacquainting with the hood!!!RIP Barb
Damnit what a special, unique, funny, amazing person. I'm sure we can all hear that one of a kind voice, laugh, and "scoff" in our hearts. You always treated my brothers and I like your own kids. We will miss you. All our love to the family. Especially the girls. Your mom was quite the lady.
Jake, Shar, Dexter, Harper
To the Hogan/Ham Families – So sorry for your loss. Barb's laughter and warmth entered the room five steps before her.
Such a wonderful and friendly person. She will be missed. My condolences to the family.
Dear Ham/Hogan Family
Our thoughts and prayers are with you and your family. Barbara always had a smile for all kids going through the cafeteria😘🙏🏽
Our community has lost a great person. I first met Barb after high school again in 1971 – 1972 after some of us got out of the service. We called ourselves the North Dawes Street Pirates, and Barb would join us for "No Belly Buttons Over The Net" volleyball. She coined the term. We all loved her attitude and fun spirit. She went to work for the Supply System around 1975 after some convincing that she could do the job of Keypunching all the computer programs for WPPS. She was amazing, smart, and made everyone's job better just because her fun, can-do attitude was present. RIP, Barb …… Your family will always remember the Good Times !!!!
Oh barb so many great memories with the diamond magic team you were the reason everything always ran so smooth? Loved you sweet smile and laugh you truly will be missed . Girls we love you very much and are always here
Oh Barb! You were such an amazing sister to me. You loved unconditionally and were so generous with your love and kindness for others. It's no wonder you had so many friends. You truly never knew a stranger. Our world will certainly be a little more boring without you in it. I will definitely miss your "You remember her. She was the one with the thing. Julie! Yes you do!" I will always hear your voice in my head and in my heart. Love you Barb. Hugs to Danny and all those who now get to enjoy your company. Until we meet again
Hey Ham, you left us all too soon. My dearest thoughts go out to the Hogan family, the Ham family, and also the Hapstonstall family. Barb touched so many lives without even realizing what an impact she had on each of us. You were there for all as you loved all. The Heavens opened up for the brightest, glimmering star. Barb, you are a true friend who I'll greatly miss through the future RHS Class of `72 reunions; you were part of the glue that bound us. Soar high and loud above; let us know your everlasting presence. You are a legend.
Barb, you will be missed by hungry kids everywhere! You always looked out for my life skills crew and I know the kids all had special places in your heart! Rest In Peace ♥️
So sorry for everyone's loss. Barb you have always been a true friend and it's hard to comprehend you are not here. You will be missed and remembered by many! From the RHS class of '72……"
Dear Hogan & Ham families – we are so sad for the loss of Barb! She lit up the room and will be dearly missed. Sending our love & prayers- Roger & Lisa Chambers🙏❤️
Love you Barb! You are a mom to many, you will be missed, we love your family and we are here for your daughters. Angie and Molly, love you guys! Thank you for everything growing up on the fields with you guys!
So sorry for this huge loss. Barb was one of a kind. She was always laughing and was a friend to everyone. Patty Morrell
Barb, I'm still trying to wrap my head around your passing! I will always cherish the memories of the Tri-Cities Heat Summer softball team and games that we shared with our girls Angie and Stephanie playing together. Those days were the best! Your laugh, your enthusiasm and cheer, I will never forget! The jokes (for the lack of a better word) that we giggled about being buried in the same area at Sunset Gardens and we'd be Friends Forever! Gone to soon my Friend! You are missed! love ya! Sandy Hogan
My thoughts and prayers go out to the families. Rest in peace Barb you will be missed.
Sadness and heartache flooded my mind reading of Barbs passing, for her family. I remember her and the Ham family living two blocks away from Katie and I when we were little girls. I am so deeply sorry for your family's loss.
My condolences to the Ham & Hogan families. I knew her when she was a baby and probably haven't seen her for fifty years. She was one of the neat Hogan kids and always had a place in my heart.
May she Rest In Peace.
I'm scheduled for a complete knee replacement on the 22nd and I'm saddened to say I won't be able to make the service
Sounds like she was a neat lady (I was on FB with her )
What can anyone say about Barb? Anything and everything. Barb, you loved with your whole heart and lived like tomorrow was not a guarantee, because you knew it was not. I met you working in the kitchen at Richland High and you became one of my favorite people. No BS, and friendship for a lifetime. You are already missed immensely.
Angie and Molly, your mother loved you more than life itself and her grand babies were the center of her heart. But you already know that. Heaven has certainly gained an Angel. May your new journey continue to build memories that will surely continue to make her one proud Momma.
Love to you all ❤️
Rest in peace barb. You will be missed ! Lots of prayers for the family
Barb, you always gave me the adult size bowl of chili and the best cinnamon roll when I visited Marcus Whitman to have lunch with my daughters. All the kids loved you and you fit the role of lunch lady perfectly! You were always so friendly to me and my girls and we have many fond memories because of you!
This is a beautiful obituary. I worked with Barb at WPPSS and she was always such a delight and so much energy I'm so sad for her passing. She was special in my life even though we didn't see each other a lot. RIP! Barb
So shocked and surprised you are gone! Miss you already, you always made me laugh! Feel so blessed that you and your family have been a part of our lives!
Love you always,
Going to miss her laugh, crazy conversations, kisses hello and goodbye.
She was wasn't one in a million, she was one of a kind and hard to believe she passed on.
Aunt Barb, godmother, neighbor, and family, I love you and will miss you.
Going to softball games will never be the same for me. I will forever miss your smiling face, sense of humor, and complete lack of filters. I love straight shooters. Rest easy, we've got you covered.
Oh barb…. my lovely godmother, and the life of the party! Always with a hilarious story, warm hug, and huge larger than life personality. We miss you so much and weren't ready to let you go…. the hogan get together's will be far to quiet without you. Rest easy. We love and miss you.
Barb, you will always be remembered by everyone who met you.
Richland will not be the same without you Barb! You have always made us laugh with your crazy antics and stories. Your flare for life will continue on in your family- who were so very lucky to have you as theirs.
We will miss you! – – until we meet again!
Linda & Joe FastaQuinn
(and Jack)
Thoughts for your family. So sorry it ended so fast. You'll be missed by friends and family. Rest peacefully.
You will be missed!
Lady of Spain on my accordion Barb! Rest In Peace! Oh and we won the fireworks contest on Torbett! Love you and all your family! Mark, Jodie, Jadon, Jake and Jerrod.
Sending Prayer, Peace and Love to the Hogan and Ham family . I will miss you Barb and all your goofy funny quotes. May you RIP with your family in heaven.💌
I keep waiting for a text message that I can't understand, or a stop by to drop off something for the kids. I can't believe I'll never hug you again or hear you cheering from the stands or telling me "Way to miss that ball honey!" I love you so much. Hug daddy and the grandparents, watch over all the kids, and rest easy. We'll be ok.
Barb, you were truly one of a kind. I will remember all the softball road trips and hearing you cheering on the Diamond Magic Girls to state and regionals. I always enjoyed walking through the lunch line and seeing you each day. Rest Easy.
Love you always mommy❤️
Dearest "sister", your bright smile and fun personality will be terribly missed! Rest in peace with all of your family, up there. Love you, Lori
😘
She was a special person. She is now with the love of her life, Danny.
Barb was one in a million. Prayers and condolences your way..
What a gal. So many friends. She lived a great life.
The World is missing a Spark!
When I hear rolling thunder, I will crack a smile & think of you, Rest In Peace my friend😢
My love to all the Hogan and Ham families during this time of loss. Barb was a great and giving person and she will be missed by many!
Barb, will surely be missed by the multitudes of those she touched with her friendship and her heart.
Those were the days! I'll miss you crazy lady! Rest in peace with your love!