FIND AN OBITUARY
Service information is posted on our website only with approval from the family.
If you are seeking information not listed below, please contact us.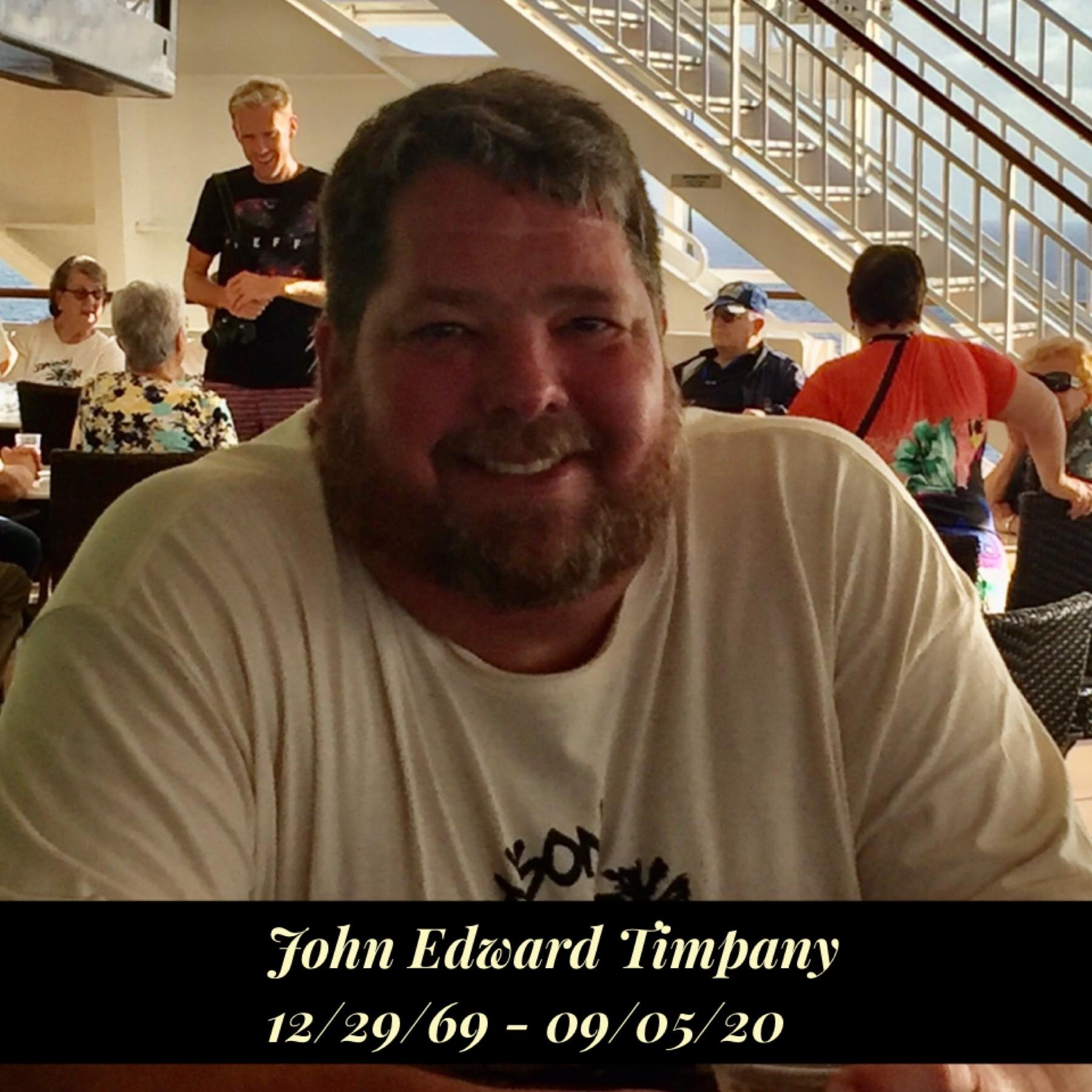 John Timpany
12/29/1969 — 09/05/2020
From West Richland, WA | Born in Janesville, WI
John Timpany
John Edward Timpany, 50, of West Richland, WA died Saturday, September 5th at home. John was born December 29, 1969 in Janesville, WI.
John is survived by his wife, Brenda Timpany, of West Richland, son Ethan Lincoln of West Richland, daughters Natalie and Rebekah Lincoln of Richland, WA; granddaughters MaKenna, Destini, Carisma, Acaysia, and Abby. He is also survived by his mother Jean Dudley of Pasco, numerous nieces and nephews and his best buddy/brother Donald Johnson of Richland. John was proceeded in death by his siblings Rosanne, Dana and Melody.
John was an avid NASCAR fan, he loved camping and just about anything outdoors (as long as it wasn't too hot), he could fill a room with his contagious laughter, he gave the best bear hugs ever, and although we tried to free him of it many times, he remained the Broncos only fan.
As the family gathered together the last few days the message was clear, John was everyone's "go to" guy, he would do anything for the people he loved.
Einan's Funeral Home, Richland, is in charge of arrangements. A private internment will be held at a later date. The family asks, in lieu of flowers, that donations in John's name be made to Bethlehem Lutheran Church, 2505 W. 27th Avenue, Kennewick, WA 99337.
Thank you for all of the best BBQs, cookouts, and 4th of Julys. You were such an awesome guy, the girls and us, we loved being part of your family. Thank you for being you. We are thankful we were blessed to have gotten to know you. We only wish we would have taken advantage of more football Sundays.
John,
You did more for me and our family than anyone else ever has. Most importantly you taught me how to be man and a good person. The world won't be the same without you, but I'll use your lessons to help the best I can. Thank you for being my father and by far the best father any son could ask for. I love and miss you dad, and I promise to make you proud.
My John, My Heart,the last of my four children, has left me in total shock and dismay. We loved each other totally and I expected to have many more years with him since I had only come to WA to stay four years ago. Well, I know where he is and I will join him when I am called Home.You know how much I love you son. We never said a goodbye without the I Love You. It's the same now.
Your Mom
I am so sorry for your loss Brenda. Thoughts and prayers to you and your family.
Brenda and Family:
I am so sorry for your loss. I'm thinking and praying for you.
I love you so much John…you were litterally a gift sent us from God…You saved us all in more ways then one…I knew from the first time we met you were gonna be in my life forever and as much as tested that you did nothing but show me I was right…You by far exceeded the Best Dad In The World Reward…you were so much more…you were my dad, my best friend, my teacher, my rock, and now my guardian angel…I would give anything to give you 1 last hug and tell you I love you again…I am just so happy that was the last thing I did the day I saw you…It helps give me peace…I love you John (dad) Love Nat
P.s. Please give mom a sign that shes going to be alright and help her stop worrying…she really misses you and needs you right now.
I cannot find the words to say how incredibly sorry I am for your loss Brenda…John was an incredible person who always knew how to make people smile…you are in my thoughts
I don't have the words to express how sorry I am. John was such a great guy. Sending love to you all. We're here for you.
I'm so sorry for your loss. My prayers for you and your family. If you need anything at all don't hesitate to call me.
I'm so sorry for your loss Brenda. I am praying you and your family. I'm here if you need anything.
Brenda, you and the family are in our thoughts and prayers. We love you all. Even though we are so far apart, the distance cannot stop the love and prayers❤❤❤
Brenda and family…We are so sorry to hear of John's passing. It must be hard on all of you. We only met John that one weekend, but he was a fun-loving, energetic guy that loved to dance and have a good time. Hang on to and remember all the fun times you had and know he will always be watching over you. Please know that you are in our thoughts and prayers.
I can't find the words buddy, i know you know how 💔 i am that you had to leave so soon. I'll see you again my favorite outlaw. I love you.