FIND AN OBITUARY
Service information is posted on our website only with approval from the family.
If you are seeking information not listed below, please contact us.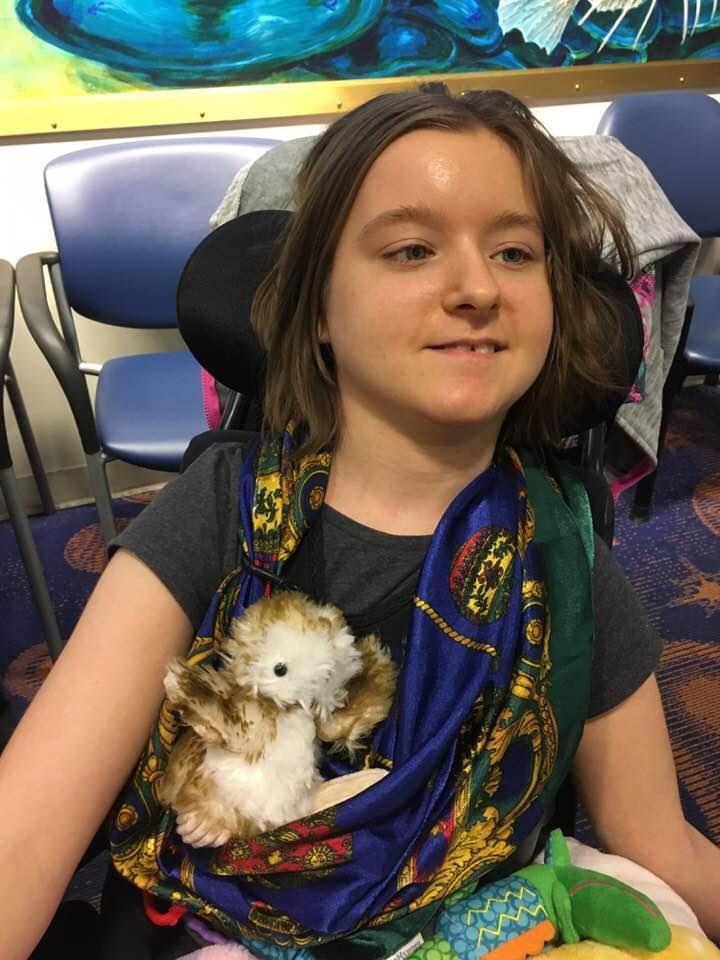 Lucyann Carver
09/23/2005 — 11/24/2020
From Kennewick, WA | Born in Richland, WA
Lucyann Carver
Lucyann Kathryn Carver, born in Richland, WA on September 23, 2005 to her parents Kelly and Olivia Carver, passed away on November 24, 2020.
Lucy was a shining light. Despite her physical challenges, Lucy seemed to almost always be happy. She stole the hearts of everyone who met her. She brought so much joy to us all.
Lucy enjoyed music, movies, and books. She enjoyed being taken out for walks, and spending time in her swimming pool. She enjoyed the company of others, and especially enjoyed school, when she was able to attend. She was blessed to have some amazing teachers, therapists, and aides throughout her school years.
Lucyann had amazing caregivers, Amanda Newcomb and Barbara Marsh-Simpkin; along with her teachers, Kelly Dean, Sandi Howland and Nichelle Alfaro (deceased).
She had most recently been introduced to the life stories of Helen Keller, and Steven Hawking. She enjoyed hearing about their lives.
It's hard to put down in words all the joy Lucy brought into our lives.
Lucyann is survived by her parents, siblings, Kaylene Gourley (Kaylene's kids, Trinity Paulson, Layton Paulson and Penelope Gourley); Bethany Carver (her significant other, David Baker), Kaiya Hardesty and Greyson Carver. She is also survived by her grandparents, Donald and Deborah Carver, Phil Mullen and Debby Mullen; her aunts and uncles, Jeremy and Betsy Saldate (Kids: Lucca and Alba Saldate); Colin Carver and Stephanie Doan (Kids: Anders and Leif Doan-Carver); Kyle Carver; Jason and Crystal Mullen (Kids: Zander and Inara Mullen); Alexa Mullen and Erik and Krista Thornton.
Our hearts are broken by the sudden loss of our baby girl.
I may not have known this beautiful girl, but I do know that she was precious to many especially to the creator. As she sleeps in death the memory of her will not be lost or forgotten. She will be awakened in the resurrection and the promises in Revelation 21:3,4 "With that I heard a loud voice from the throne say: "Look! The tent of God is with mankind, and he will reside with them, and they will be his people. And God himself will be with them. 4 And he will wipe out every tear from their eyes, and death will be no more, neither will mourning nor outcry nor pain be anymore. The former things have passed away."
Payers to the family .
Fly free angel girl. I wish I had known you better, and I'm sorry that I didn't. I can picture you and Aleia running around in the grass and smelling the flowers. Sending so much love. My heart is with you family 💜
Lucy, I could feel the liveliness of your soul when I first met you several years ago. My have you grown little one! I know you are now running free and running fast in Heaven. You are doing all of the things your body did not allow you to do here. You stayed for as long as you could to be with your loving family. Your mom loves you so much. You were the light of the household, the most exciting. I remember how much you loved dogs and I hope you are running with them right now. Little lady, I will never forget your laugh and it remains in my memory as clear as day. Rest in peace baby girl.
Sincerest sympathy to all who were touched by Lucy and in life and now grieve her passing.
I will remember Lucyann's smile and especially her laugh. My thoughts and prayers are with you. One of her therapists.
Kelly, Olivia, and family,
My sincere condolences to you all. I'm truly blessed to have met Lucy and have an opportunity to see her bright spirit. My prayers are with you always.