FIND AN OBITUARY
Service information is posted on our website only with approval from the family.
If you are seeking information not listed below, please contact us.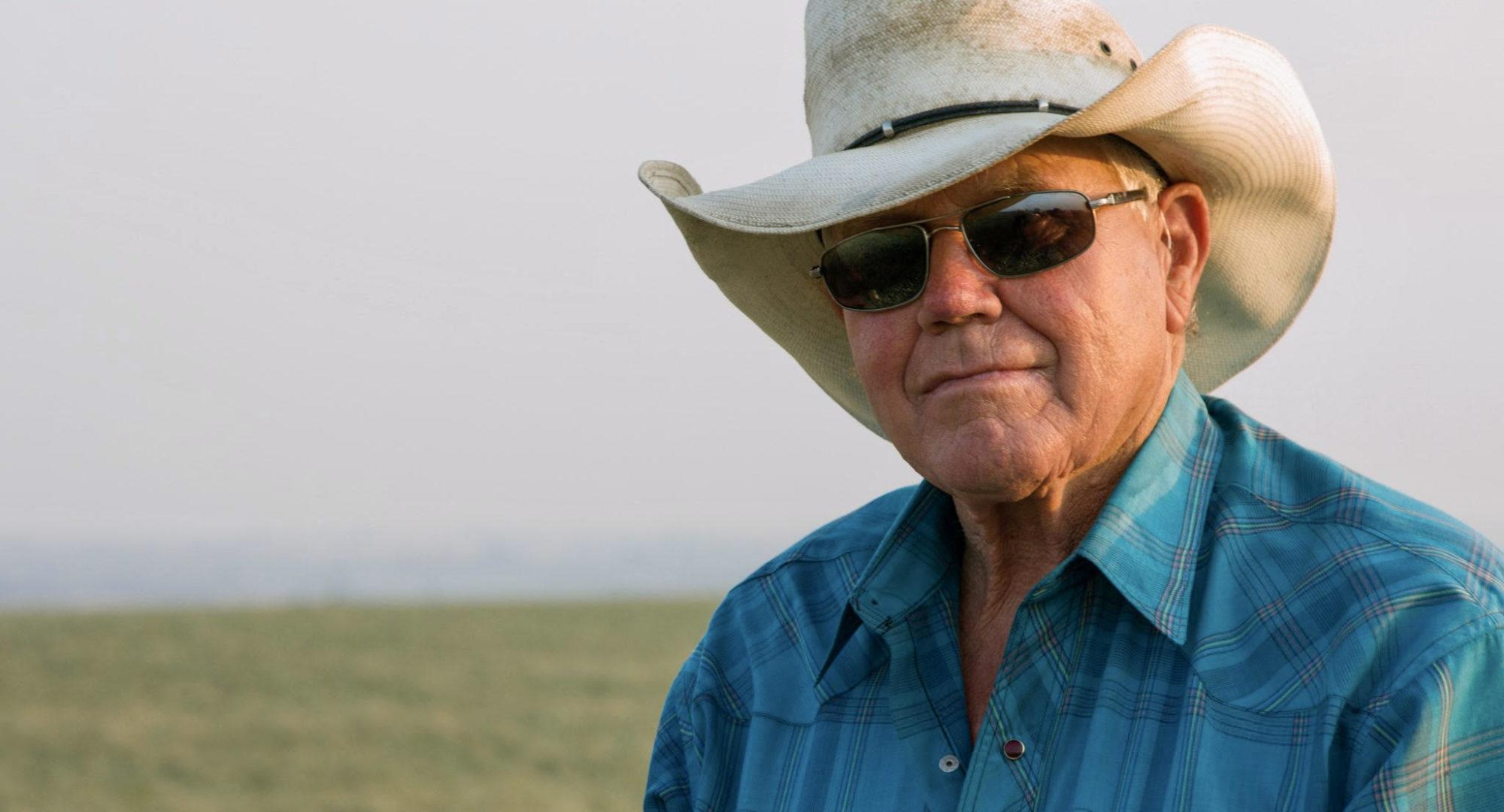 Gale Allen Easterday
03/13/1941 — 12/10/2020
From Basin City, WA | Born in Parma, ID
Visitation
Starts:
Fri, December 18, 2020, 11:00 am
Ends:
Fri, December 18, 2020, 7:00 pm
Location:
Einan's At Sunset Funeral Home
915 Bypass Highway Bldg. H Richland, WA 99352
Gale Allen Easterday
Gale Allen Easterday, 79, died on December 10 in a tragic car accident.  He was born to Ervin and Elsie Easterday on March 13, 1941, in a homesteading shack with a dirt floor near Parma, Idaho.  He attended Ten Davis community country school until the 8th grade and graduated from Parma High School.
It's hard to define a man like Gale Easterday.
He was part old-school farmer and part new-school innovator, a man in a cowboy hat who could hold the attention of corporate CEOs, spend hours with a mechanic tinkering with a new piece of equipment to perfect its operation, and be mistaken for a janitor at his own business by an unknowing visitor.  Gale enjoyed all those scenarios and more, bringing his keen intellect and sense of humor to each. He knew agriculture – and if your onion rows and talk were not straight, he would call you out.
He was an adventurous man, jumping on a plane at a moment's notice to travel to Japan to meet with customers and trying any food they put in front of him. If his family was doing something, he wanted to join – whether meeting for a beer or lunch at his daughter's restaurant or helping with a pig roast at the WSU tailgate parties. Material things did not hold any value for Gale, he just needed a pickup, a loaded gun and little cash in his pocket to take on the day.
The two loves of his life were family and farming.  Partnering with his family he grew a 300 acre farm started by his father in 1958 to a large diversified farming operation in three states that in addition to crops include produce packing houses, feedlots and a dairy.
Taking risks came naturally as Gale's dad Ervin took his own chance on a sandy piece of land in 1958 that would be part of the Columbia Basin Project, transforming a desert into some of the most productive and valuable farmland in the world. As a young man he spent countless hours as a cat skinner leveling and preparing fields for the incoming irrigation on farms in Basin City and Othello. He also worked as a heavy equipment operator building roads in Alaska – returning to the farm after convincing Karen, the beautiful blonde that caught his eye changing irrigation pipe in the Basin, to marry him in North Pole, Alaska, in 1963.
Gale was the king of one-liners and wise-cracks, a wealth of wisdom and got a real kick out of funny people. If you spent any time with Gale, you learned something from him. Being a mentor was one of his greatest joys.
Gale and Karen raised five children on the family farm, teaching them the value of hard work from an early age. As adults, he partnered with his children in business ventures, always willing to take a risk and never second-guessing the decisions. To him, it was all an adventure.
When grandkids came, Gale developed a special relationship with each one, often having one of them in the pickup with him while he made his rounds to the farms and packinghouses. He affectionately dubbed the five grandsons "The Weiner Club" and was a fixture on the sidelines of all his grandchildren's activities, from sports of all kinds to fairs and livestock shows.
Gale is survived by his wife of 57 years Karen Easterday, daughter Jody and her husband Andrew Wills, daughter Kim and her husband Scott English, daughter Cindy and her husband Brian Goulet, son Cully and wife Shani Easterday, son Cody and wife Debby Easterday, 11 grandkids, 2 brothers and 2 sisters and numerous nieces and nephews.
His most enjoyable time was spent on the farms, feedlots and in the packinghouses.  He loved the dirt, the equipment and joy of working with others that shared his enthusiasm.  You would often find him on Sundays driving the John Deere 770A road grader on the farms – so Dad get on that piece of iron and get to work – because we are all going to need smoother roads ahead. You have been clearing the path for us our whole life and you can't stop now.
His legacy will live on in a fund being created to provide under-served youth the opportunity to participate in livestock projects at area fairs and other ag-related activities.
In lieu of flowers, donations can be made to the Gale Easterday Fund at any Numerica Credit Union branch or by calling (800) 433-1837 or mailed to c/o Gale Easterday Fund, 1970 Keene Road, Richland, WA 99352.
Gale Allen Easterday – (Spanish Version)
Gale Allen Easterday, de 79 años, murió el 10 de diciembre en un trágico accidente automovilístico. El nació el 13 de marzo de 1941 a padres Ervin y Elsie Easterday, en una cabaña con piso de tierra cerca de Parma, Idaho. Asistió a la escuela rural comunitaria Ten Davis hasta el octavo grado y se graduó de Parma High School.
Es difícil definir a un hombre como Gale Easterday.
Era, en parte, granjero de la vieja escuela y en parte innovador de la nueva escuela; un hombre con sombrero de vaquero que podía llamar la atención de los directores ejecutivos corporativos, pasar horas con un mecánico retocando una máquina nueva para perfeccionar su funcionamiento y ser confundido por un portero en su propio negocio por un visitante desconocido. Gale disfrutó de todos esos escenarios y más, aportando su agudo intelecto y sentido del humor a cada uno. Él conocía la agricultura, y si sus filas de cebollas y sus conversaciones no eran claras, le llamaría a la huelga.
Era un hombre aventurero, se subía a un avión en cualquier momento para viajar a Japón para reunirse con clientes y probar cualquier comida que le pusieran delante. Si su familia estaba haciendo algo, él quería estar allí, ya sea para tomar una cerveza, almorzar en el restaurante de su hija o ayudar con un asado de cerdo en las fiestas de portones en WSU. Las cosas materiales no tenían ningún valor para Gale, solo necesitaba una camioneta, una pistola cargada y un poco de dinero en efectivo en el bolsillo para afrontar el día.
Los dos amores de su vida fueron su familia y la agricultura. En asociación con su familia, cultivó una granja de 300 acres iniciada por su padre en 1958 y la convirtió en una gran operación agrícola, diversificada en tres estados que, además de los cultivos, incluyen plantas empacadoras de productos, corrales de engorde y una lechería.
Tomar riesgos fue algo natural cuando el padre de Gale, Ervin, se arriesgó en un terreno arenoso en 1958 que sería parte del Proyecto de la Columbia Basin; transformando un desierto a una de las tierras de cultivo más productivas y valiosas del mundo. De joven pasó incontables horas nivelando y preparando los campos para el riego entrante en granjas en Basin City y Othello. También trabajó como operador de maquinaria pesada construyendo carreteras en Alaska. Regresó a la granja después de convencerle a Karen, la hermosa pelo rubia que le llamó la atención cambiando la tubería de riego en la Basin, a que se casara con él en North Pole, Alaska, en 1963.
Gale era el rey de las bromas y frases chistosas. Poseó una gran sabiduría y disfrutaba mucho estar con gente divertida. Si pasó algún tiempo con Gale, aprendió algo de él. Ser mentor fue una de sus mayores alegrías.
Gale y Karen criaron a cinco hijos en la granja familiar, enseñándoles el valor del trabajo duro desde una edad temprana. De adulto, se asoció con sus hijos en empresas comerciales, siempre dispuesto a correr riesgos y nunca cuestionando las decisiones. Para él, todo fue una aventura.
Cuando llegaron los nietos, Gale desarrolló una relación especial con cada uno, y a menudo tenía a uno de ellos en la camioneta con él mientras hacía sus rondas por las granjas y las empacadoras. Él apodó cariñosamente a los cinco nietos "The Weiner Club" y fue un elemento fijo en todas las actividades de sus nietos, incluyendo deportes de todo tipo, ferias y exhibiciones de ganado.
A Gale le sobreviven su esposa de 57 años Karen Easterday, su hija Jody y su esposo Andrew Wills, su hija Kim y su esposo Scott English, su hija Cindy y su esposo Brian Goulet, su hijo Cully y su esposa Shani Easterday, su hijo Cody y su esposa Debby Easterday, 11 nietos, 2 hermanos, 2 hermanas y numerosos sobrinos y sobrinas.
Su tiempo más agradable lo pasó en las granjas, los corrales de engorde y las empacadoras. Le encantaba la tierra, la maquinaria y la alegría de trabajar con otros que compartían su entusiasmo. A menudo lo encontraba los domingos conduciendo la niveladora de carreteras, John Deere 770A, en las granjas.  Así que, papá, súbete a esa máquina y ponte a trabajar, porque todos vamos a necesitar carreteras más suaves por delante. Nos has estado despejando el camino toda nuestra vida y no puedas detenerte ahora.
Sorry for your loss. Still remember the first day I met Gale. I was spreading lime, he came out and asked me lots of questions, like how do you calibrate your machine, etc. well I must of passed his test because he let me get back to work. He said I knew what I was doing. He was a great guy and will be missed.
So very sorry for your loss. Another good man taken too soon. He will be missed. So thankful you all have many happy memories
Praying for peace and healing. Love, Janis Ross
I remember Gale when I went to work on their farm back in the 1970's I was just a city girl. I was afraid of him when I first met him. He was hard on me, and to this day I thank him for it. I learned a lot from him and everyone else I had the good fortune of working with. My prayers go out to his family. I am so sorry for your loss.
Uncle Gale will be missed by so many – our condolences to the entire family – you are all in our thoughts and prayers
My condolences to the Easterday family. I will miss seeing Gale at all,the livestock shows. A life well lived and the value of family is what I will remember about him. The Easterday family has been very good to me for many years.
Very sorry for your loss Easterday family. Our condolences to all.
Asher Petrinolis would like to offer his. Condolences to the Easterday family on the sad loss and passing of Gale Easterday .. son of Celeste Easterday. And grandson of Clark Easterday may he RIP..
Uncle Gale – You will be so sadly missed. I remember the first time I came back to Mesa from Australia when I was 19 years old. You and Grandpa drove me around the farms and took me in as one of your own. Once, I came bouncing across the road to your office from Grandpa's house and barged straight into your office and realized I had disrupted a business meeting with Grandpa. You didn't bat an eyelid – instead, you welcomed me in and offered me a coffee. All through the years, I have loved coming home to the farms. A few years ago, when I brought Steven home to meet everyone, from the moment we arrived in Pasco, you were there! We went to Cindy's restaurant, and Steve and I turned around, and you joined us for lunch. Next we drove to Kim's, and as we came through the door, there you were coming in after us. And the entire next day, you took Steven and I on a tour of the farms and feedlots. I chuckle to this day of a memory – Steven asked you what that large pile was, and you looked at the pile of manure and said – "that's liquid gold, son". You were the best, Uncle Gale. You showed us all the warmth and love that everyone who came into contact with you were shown. Rest In Peace, Gale. I think you might be having a beer with Sabina. Love Sabra Easterday-Baum (daughter of Clark and Brenda Easterday)
The bond I built with Gale was so special to me. I was very honored that I was given the opportunity to be his personal trainer and more than anything, his friend. He was like a Dad to me at times. If it weren't for Cody's intention, I wouldn't have gotten to experience such incredible moments that inspired personal growth. My heart is full and I will cherish all the memories we created. Heaven has gained one UNIQUE Angel that will heal every single heart he has touched…and we know there are plenty! Much love, respect and healing to each and every one of you.
To the Easterday family,
We are sorry for your loss. Sending prayers for all.
Love Norene (Easterday). Fretwell, Denny Fretwell and wife Janece
To Gales Family,
I am so sorry for your pain and suffering, Gale was a one of a kind man who always put family first. I was blessed to know him and watch as he made so many people laugh.
One day, in Heaven you will all be together again.
To the Easterday Family:
I was so sorry to hear about Gales
death there are no words to describe your loss Karen,Cody &Family.
My the Lord be with you in this tragic time .
I have admired Gales vision of the family farm he has taken that vision so much farther . Farmers across America should learn from Gales vision .
He was a leader in all aspects of the agriculture world.
The Easterday family has farmed our farm for the last 11 years they are the best farmers I've ever had since the land was put in production.
Ervin Easterday in fact was the one that got our water contract for the farm.
I would always say to my wife when I would see Gale on the road if he's wearing his black hat it's not a good day but if he's wearing his white hat it's a good day.
My prayers will be with your family .
Thankyou Easterday Family for sharing your Husband, Father , Brother, Grandfather with us all.
Sincerely,
Jay Michel Family
Easterday Family,
We are so sorry for your loss and are praying that you will be blessed with peace and comfort. We are grateful for everything Gale did for our community and the wonderful legacy he leaves behind.
Karen and Family,
Terry and I are deeply sorry about the loss of Gale. Wishing you all peace and comfort during this difficult time. Please know you all are in our thoughts, in our hearts and in our prayers. May God give you strength at this difficult time. God Bless!
Gale took me to see his feedlot the first time my wife, Sabra (Easterday) and I came to visit. It was an experience I'll never forget. He took the time to explain the operation and had a chuckle knowing I had no idea how a steak arrived on our table. He was a kind and clearly generous man. His legacy lives on through his family and friends that he loved so dearly.
Our heartfelt condolences offered to all members of the Easterday family,first and foremost to Karen and his children Jody ,Kim,Cindy,Cully and Cody.
The suddenness and manner in which it happened saddened our whole family deeply.
As a student and member of the family household, later employee and personal start-up operator, Gale was like a second father to me and among the foremost mentors in my life growing up and learning about american agriculture and life in general.
Later his role expanded to include second grandfather to our children Christopher,Cody and Richard.
We all will always cherrish the many memories we have of Gale and the impact he had on all our lives over the last 45 years.
Thank you!
RIP
My thoughts go out to the whole Easterday Family!! I was extremely sadden to heard and read the terrible new!! He was an amazing person and always will be!! I had the joy of working for & knowing this kind, loving and funny man who will always be grandpa Gale to me!!! The community lost an AMAZING PERSON!!!
Our sincere condolences to Karen and all the Easterday family. Gale was very entertaining, his wit and humour will be missed by all.
We always looked forward to seeing Gale and Karen when we came to Pasco and will miss that he will not be there the next time.
We greatly enjoyed his company when he came to NZ many years back with other members of the Easterday clan, we had a lot of fun with him and enjoyed showing him parts of New Zealand.
We mourn with you and are thinking of you all at this extremely difficult time.
Martin and Debbie Wills
Gary and joy Easterday
I remember when one summer I came to the farm to visit . The next thing I was painting the outside of the house. That's when I learned you never sit on your hands when Gale was around. I never worked so hard. But loved every minute.
Dear family Easterday,
What a really bad news. My deepest condeolances.
I heard the news on Friday 11 December 2020 at 10 am from Alex Verbruggen. He has sent me the police report. Terrible to hear and also the way how – against one of his own trucks.
The time by the family Easterday was the best time of my life. In 1967, 1968 and 1972 and in 2005 my son Coen stayed with Jody and Gale. And the visit to my home. Jody, Bill and Cindy stayed for a longer period with me and Jeanet. She died in 2014, way to young.
Well I wish you all a lot of strength. Gale and Karin were a second mom and dad to me.
Goodbye for now my friend,
Words can not express my sorrow. You and your joke of the day will be truly missed Dancing King.
Love you
Friday
Condolences to the entire Easterday family. Prayers to you all during this time. God bless you and keep you all in his comforting arms.
Sorry to hear about Gale's accident. A few years ago he stopped at our house and we had such a good visit. We live on my Grandfathers place, John Easterday. Sending thoughts and prayers to all the family. I'm sure he will be missed.
Sincerly,
We were shocked on this side of the ocean when we were notified about the sudden loss of your beloved husband, father, grandfather, father in law Gale Easterday. I personally have know Gale and the Easterday family for almost 25 years. Our condolences and prayers go out to the whole Easterday family. And wish that you may experience the Lord's comfort in this time of grief.
Dear Cody & Family : My heart and condolences go out to you at this time on the loss of your Dad, Father-in-law and Grandfather. I had the pleasure of meeting your Dad and visiting with him many years ago when he was up in Alberta. His presence and knowledge will be missed by all of you.
Sincerely,
Harvey Dann
Our Thoughts, Prayers and love go out the entire Easterday Family, May God bless and comfort you all during this grieving time.
My condolences to the Easterday Family. I had the pleasure of speaking to him a few years ago at the produce convention in LA. He made me feel like I was the most important person in the room. I am sure he will be missed by all.
My condolences to the whole family. What a tragedy. Wish you all the strength to carry on what this man build up.
K.R.
Mr. E, I will miss your smile and the twinkle in your eyes. My heartfelt condolences to your family, who I know will continue to make you proud.
Our heartfelt condolences to the Easterday family. What a wonderful man! I am going to miss our chats at the Fresh Summit conferences.
What a mark he left on this earth!
Heaven sure gained a great man. Mr. Easterday was such a huge impact to the produce community and I will forever be grateful knowing him and working with his family. We are sure going to miss him and please know our thoughts and prayers go out to you all. From Nicole and I if we are so sorry for your loss. Your dad was one of a kind and was such a great influence to us all.
We knew him through those who worked for him, Andrew and Jody. Hard working, honest, fair and straightforward. As a customer of this big family for 22 years, our family in Stockton reaches out our condolences, we appreciate his influence on each of you and we say thank you Lord for blessing us all with a leader of generations to come. May God hold you in His psalm and give you valued time to grieve.
I have worked with Easterday Produce for years. I can say that Easterday is a model company for anyone in the industry. I offer my sincerest regards to Gale and his family and his family at Easterday Produce.
Our hearts are heavy for the Easterday family. Gale Easterday and his wife Karen created a family that is a tower of strength in our community. Thank you for that and for setting an example for years to come. We send our most heartfelt condolences. We love you guys,
Raul and Jessica Garcia
Heartfelt condolences to Karen and family! What a loss! It has been a long time since we have seen you all, but we have many happy memories of Gale and family.
Our thoughts and prayers are with the Easterday Family. We are so thankful for all the work Gale did. From producing food for so many people to eat to providing jobs to thousands of people he made our communities better places to live.
To oor sister-in-law, Karen, and Jody, Kim, Cindy, Cully, Cody and families.. Such a tragic end to a well-lived life. The memories will never be forgotten. Though so far away, our family are there with you in spirit at this saddest of times. Rest peacefully little brother.
RIPGale
So very sorry to hear about the loss of a great man, definitely always a pleasure to visit with. So very easy to visit with. We send our deepest condolences to the family, love and peace to all. Connie and Felix, RIP Gale.
I am so sad , what a great man , makes me cry. He reminds me of Bruce Ratchford, just the basic fundamentals of life. We only have one child but that is what we have taught him too. Just hard work and money is not important.love you to Jodi and Cyndi and all of you
Dear Karen , Jody, Kim, Cindy, Cully, Cody,
Our hearts are filled with sadness and I would like to pass our sincerest condolences at the passing of my uncle Gale.
While distance has separated us over the years, I hold dear in my memories my last visit from Gale at the birth of my daughter Charlotte. He was proud to have another Easterday joining the world and he was also
His love for family and passion for life and business adventure are something I will remember fondly. He asked me a question when I started out in my career as a junior geologist working for a mining company "Wouldn't you like to run your own mining company one day?" That question was something that sparked my interest to follow that path in life.
Gale was a leader and a loved brother of my father Clarke and we will all miss him dearly.
From the Easterday family in Perth Western Australia
Christian, my wife Ingrid, our daughter Charlotte and our son Hudson
Years ago, Gale and I were 2 of a group of 4 or 5 friends/acqaintences"shooting the breeze". When one of the participants made an insensitive remark regarding a friend of Gale's, he instantly and fiercely defended both his friend, and the concept of decent behavior. Though I had previously thought well of Gale, that incident greatly increased my regard and respect for him. Though it seems like a small thing, it was a great life lesson for me as a teenager, and the memory of it is still vivid 60 years later. We extend our heartfelt condolences.
Thoughts and prayers are with you all. This man made a difference everyday . He will be missed.
Greg and Sherri Brandhorst
Karen, our thoughts and prayers to you and your family. He truly was a one of a kind. One of the good guys. I remember visiting with him when we were neighbors up on the hill. Always upbeat and fun to listen to.
did not know him but my good friend Kelly did she thought he was great so that's good enough for me god rest his soul amen
We are so sorry your loss. He was really one of a kind! I'm afraid guys like him are few and far between. He will be live in your hearts forever.
Drank a few with him listening to some great stories
dlheiman@ charter.net
So very very sorry for your loss. What a great man he was for a great family
We are so sorry for your loss. Thinking of your family and keeping you all in our prayers. Sending you hugs. 💕
With our deepest sympathy,
Brad & Rhonda Quinton
So very sorry for your loss. Gale was a great man that will be missed for sure. I will miss standing around at Bookers Auction talking about all the equipment up for sale and picking his brain about anything and everything. God bless our thoughts & prayers are with you all.
So sorry for your loss Cindy and Brian! Your dad was an amazing man. Sending prayers to you and your family!
So very sorry for your loss, I had the breath taken out of me when I heard of this, I will say I always loved talking wit Gale when I worked on his airplane, he was a very smart and funny man. I would even see him on a weekend when I was hanging out at the shop and we would just talk about life, he was always super proud of his family and enjoyed telling me about his grandchildren. He will be missed dearly by myself and many others around the world. I am sending you all a big hug and lots of prayers. Rest In Peace my friend
Michel Pelletier
So sorry for your loss, he was a very respected man.
Jody & families,
So very sorry for your loss.
My heart felt condolences to the Easterday family. I will be praying for all. If he was from Parma he must have been a good man as my father was and from Parma also. Never met Gale although he sounded like a very honorable man and had a heart of gold. My prayers. 🙏🏻🙏🏻🙏🏻🙏🏻
I never met this special man or Karen but the unselfish .help and love his children showed for my family when our Todd was ill with cancer and had to leave us comes from parents who gave them love and taught them well. I will never forget what they did for us and now my heart breaks for all of you.
RIP Mr. Easterday. I never met you but have had the privilege of working with your grand daughter Kody Dee, for a little over a year. By reading about your life, I understand the tenacity, grit and determination your family is known for. Your legacy is in good hands.
Karen-
So sad to hear about Gale. What a shock it has been for your family that his death occurred at this time and in this way.
A few years ago, Gale picked us up at sister Linda & Gerard's place at 8oclock in the morning, we drove to all their feedlots & farms, packing plants, orchards in Washington & Oregon, arrived at his daughter's restaurant & ate lunch with his wife Kern at 4oclock that afternoon. What a Wonderful Day!! Thank You Gale❤️😢🤠
My brother Scott and my self have such good memories of gong to the Fairs, showing pigs and spending time with the Easterday Family. From a youth in grade school 4-H club and then in high school FFA program. Your Dad and Mom were always involved and not just supporting their own Kids but all the kids in the club! Your Dad was a great Man who will be missed by many. His leadership and sharing heart will live on in all of us that had the privileged to know him.
What a beautiful soul. God bless the you kind Sir.
The first time I met Gale, I knew he was just a "good ole boy" , comfortable to talk with and the smile of a guy you could trust forever-prayers for the family-
My condolences, I big hug from Puerto Rico, we know is hard but now he is with God
Father & Son Sales
Prayers and love to the Easterday Family, God bless you at this difficult time,
Eric and Heather Benson and Family
His absence will be felt at every family gathering, but his presence will always be in our heart. May the Lord give you strength and though there are tears, May his memory always bring smile.
I don't think I ever had an interaction with Gale where I didn't come away feeling better about myself. He had a down home way about him, and a demeanor that just made you feel important. I remember when I was just a kid of maybe 14 or 15 and for some reason I was helping them harvest corn. The combine broke down and we were all standing around trying to figure out what happened, and I remember it as if it was yesterday. He looked me right in the eye and said, "Tom, what the hell to you think is going on here?". I had no idea, but even though I'm 100% sure he knew what was up, he wanted me to think about it and come up with a solution. That's the kind of guy is was.
I'm going to miss you Gale. Happy Trails!!
I really enjoyed my time spent with Mr. Easterday. Working with his children for the past 19 years allowed me access to a funny and honest person that I will miss but will always remember. Godspeed Mr. E.
The Ag community lost another great man who set the foundation & blueprint for generations to come!! The Middleton Family extends our thoughts & prayers to our "neighbor."
Condolences to the Easterday Family. Prayers and thoughts for you all during this difficult time.
We will miss you our dear friend! You lived life to the fullest and glad we could share our part of it with you. Until we meet again!
What a great man Gale was.
Gale was a great man. I enjoyed the 5 years I work for them in Basin City. Enjoyed his company.
Cheers to many blessings you've enjoyed in life. Have a beer with Todd for me🍻