FIND AN OBITUARY
Service information is posted on our website only with approval from the family.
If you are seeking information not listed below, please contact us.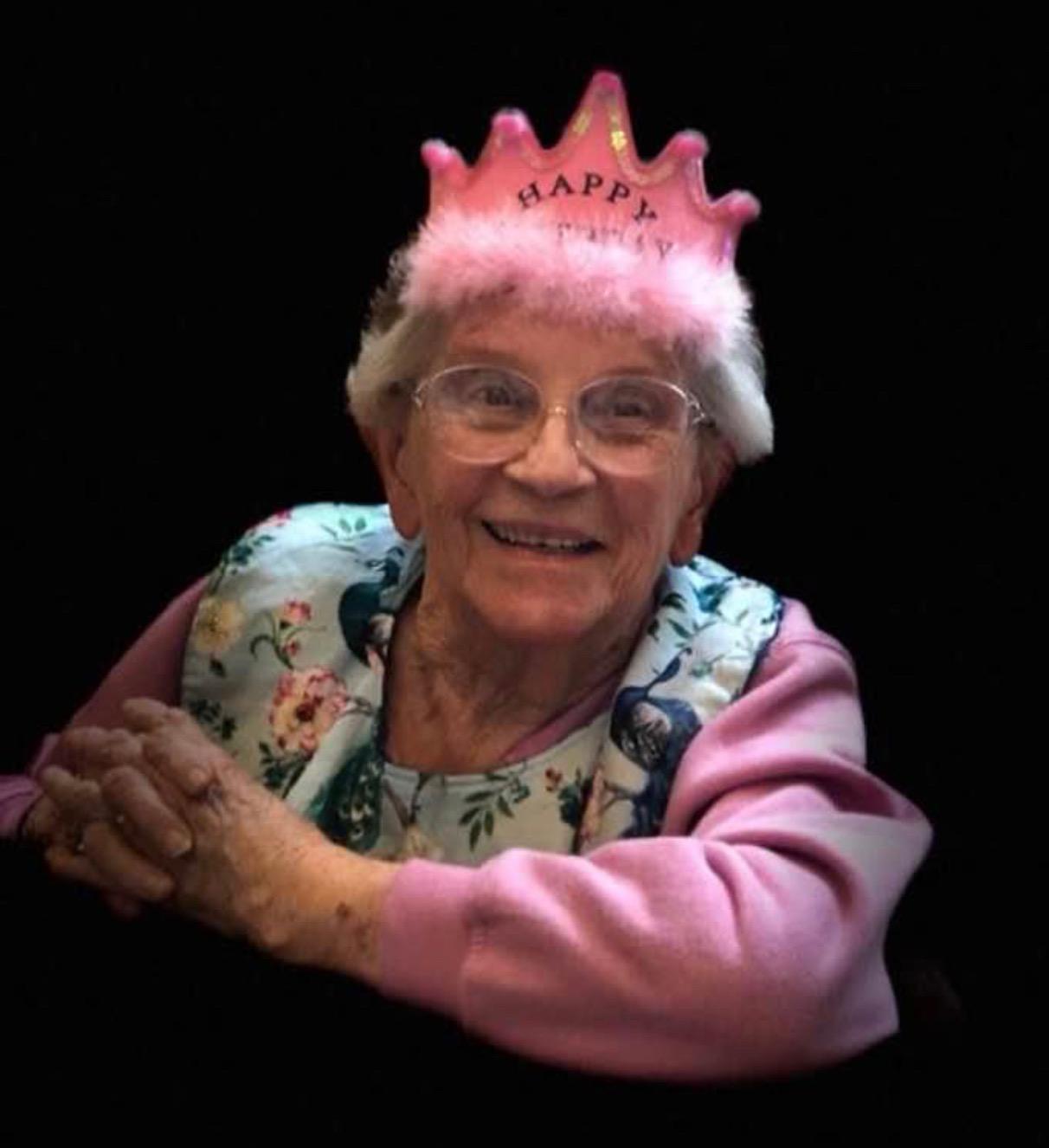 Dolores A Rizzo
09/17/1929 — 01/07/2021
Watch Service
Watch Graveside Service
New to Livestream? Watch the tutorial.
Celebration of life
Starts:
Sat, January 16, 2021, 12:00 pm
Ends:
Sat, January 16, 2021, 3:00 pm
Location:
Einan's At Sunset Funeral Home
915 Bypass Highway Bldg. H Richland, WA 99352
Dolores A Rizzo
Dolores Ann Rizzo, 91, of Richland, passed away on January 7, 2021.  She was surrounded by family.  She is survived by her seven sons and their wives – Michael (Robin), Gregory, Dominic (Lindy), Vincent (Barb), Alfred, Anthony (Mary), Phillip (Liane); her sister – Therese; 16 grandchildren and ten great grandchildren; and her extended family – Terry, Donna, Patti-Ann, Lisa and Mark Yehl.
Born Dolores Ann Baumann on September 17, 1929 in Milwaukee, WI, she grew up in Milwaukee, graduating from Messmer High School in 1947.  In 1952, she met Alfred (Al) Rizzo while working at Allis-Chalmers.  They were married in May of 1953.  Al's career as a United States Naval Officer (and later with the Department of Energy), presented them the opportunity to explore the country and the world, seeing England, Scotland, France, Italy and Japan throughout their travels.  After moving 11 times, they finally settled in Richland in 1976; where Al finished out his career at The Department of Energy's Richland office.
Dolores was a strong woman of her Catholic faith, a loving and devoted wife, mother, grand-mother, and great-grand mother.  She loved being the matriarch of a large, extended family and was renowned for hosting huge festive family gatherings centering around traditional holiday meals, homemade pizza, deli sandwiches, or the famous Rizzo McMuffins.
Loved ones left behind will forever remember her for telling family stories, her asking "if you have you heard this story before tell me", and her trademark "woo-hoo" call as she waved her hand to get your attention.  Many of her stories were rooted in her life experience of being a pit boss for her seven sons as they grew up, the many family travels taken, and countless vacations to the beach and relative's homes.
Dolores' love for stories extended well beyond simply telling them.  Dolores published three children's books that enlighten children near and far.  Her books – Bingo's Birthday Party, The Toy Story, and Nikki the Singing Dog emulate real-life experiences of her grandchildren.  She authored poems and short stories too numerous to count, loved squirrels, lighthouses, reading, and doing her daily devotional readings.
As a woman of faith with seven sons, she devoted one day of the week to pray for each one of them.  Her favorite holiday was Christmas and many of us were blessed to receive her annual Christmas gift of song, a personal serenading of Silent Night – her favorite.  The book of Proverbs, chapter 31:10-12, 15, 30-31 describes her best: "She is worth far more than rubies.  Her husband has full confidence in her and lacks nothing of value.  She brings him good, not harm, all the days of her life.  She gets up while it is still night; she provides food for her family.  Charm is deceptive, and beauty is fleeting; but a woman who fears the Lord is to be praised.  Honor her for all that her hands have done."
Dolores will be sorely missed.  We will forever cherish her stories, her love for her family, her faith, and heartfelt kindness and rest in the hope of knowing that they will one day be reunited with her in paradise.
A rosary service and viewing will be held at Sunset Gardens (Einan's) Funeral Home in Richland, on Saturday, January 16th, at 11 AM, followed by a graveside service.  A family reception will follow the graveside service, with a Celebration of Life scheduled for later in the year.
Donations can be made to the Tri-Cities Food Bank.
A greatly impeccable woman of many talents and a wholesome heart. A wonderful grandmother who I am so fortunate to have. From sharing stories, creating art, dancing to my piano music, coming to ballet recitals, to celebrating traditions at the Space Needle… the memories are infinite. Grandma Rizzo will be greatly missed, and I look forward to seeing her again someday.
We had a wonderful grandmother,
One who never really grew old;
Her smile was made of sunshine,
And her heart was solid gold;
Her eyes were as bright as shining stars,
And in her cheeks fair roses you see.
We had a wonderful grandmother,
And that's the way it will always be.
But take heed, because
She's still keeping an eye on all of us,
So let's make sure
She will like what she sees.
Aunt Dolores has been an inspiration throughout her life. As I was growing up l watched her and Uncle Al have an openly affectionate and loving relationship based on deep religious conviction. They were close enough to my age that I thought I could probably do that too if I was as fortunate as Uncle Al to meet and have a relationship with such a remarkable woman. I was that fortunate, and Aunt Dolores with Uncle Al have been inspirations for Joanne and me in our marriage throughout each stage of our life.
We are so very grateful for Aunt Dolores being in our life. And she remains in our life in memories and in prayer. From afar, we share the loss of a truly magnificent woman of God and family.
May Aunt Dolores rest in the well deserved peace of God united with Uncle Al and all of her loved ones.
With all our love, Sal, Joanne and the New England Rizzo's
What a beautiful gift from God she is… thoughts and prayers to the family. Blessings…
What a dear lady. Dolores kept us in stitches with her stories about raising 7 boys. I enjoyed her company very much.
We have lived across the street for over 40 years. We all moved here in the same year and have been through weddings, funerals, Al's deacon ordination, birthdays – all events to remember and celebrate. We are thinking of you all as you go through the next days. Dolores was a unique person who loved life and her family. We will miss her.
Sending our condolences to the Rizzo Family for the passing of your wonderful mother, Dolores. We always enjoyed the annual neighborhood potlucks when she arrived. Her stories of raising seven boys were funny and entertaining! I will always remember her spunky demeanor that was full of life.
"A sense of humor…is needed armor. Joy in one's heart and some laughter on one's lips is a sign that the person down deep has a pretty good grasp of life." Hugh Sidey
God bless Dolores and the Rizzo Family
Rob, Sidney, Sadie, and Zachary Newsom
Rest In Peace Aunt Dolores. Our thoughts and prayers are with you and your family. Love Jeanmarie and Denise
Heaven gained a loving wife, brave and wonderful mother who loved the Lord. Prayers for peace for all the family.
Dolores was an extremely kind and supportive person. She pulled and welded the Rizzo family team together. The focus of her life was her husband and their sons. She also pulled other families into her extended family. She was extremely creative and her books were well written and delightful expressions of her love and understandings of people. She was very humorous and told amusing stories about herself and her family. We will miss her. Our prayers are with the entire Rizzo family.
God Bless You, Dolores.
I don't think people that don't know can truest grasp how absolutely amazing Mrs Rizzo is.
She truly was an amazing story teller. She would lure you in with an amazing life antidote and keep you on the hook as hours pass with laughter, shock, sadness, and elation coming from each story.
Her stories were always more than just stories. They were life's lessons that you could carry on with you.
The food…ohh not a holiday passes I don't think of the Rizzo's holiday feasts. As a child the Rizzo's welcomed me to their holiday feasts as one of their own.
My heart goes out to the family. As much as it saddens my heart I think heaven may be a bit brighter and there is more laughter up there. As she is telling everyone up there a story or two. I think there must of been a procession of Angels and Saints waiting to greet Dolores.
I will miss her truly she was a ray of sunshine and marched to her own beat 🙏🏽
Aunt Dolores words cannot express how much you are loved and how much you'll be missed. I wish we could hear one more story, hear your beautiful voice singing "Silent Night", take one more trip to Shari's for eggs and pancakes…You are a cherished part of our family and will forever be in our hearts. We love you. Rest in peace.
Rest in peace Dolores. Our prayers and thoughts go out to all of your family.
Mom, as the old saying goes, "Life is a game that cannot be won, it can only be played. How you play it is how you will be remembered". Well played, you did an extraordinary job raising and caring for our family. The glorious verse Proverbs 27.17 avows, "As iron sharpens iron, one person sharpens another". It exemplifies your parental guidance and devoted love. I am blessed to have you as my mother. I love you and will profoundly miss you. – Anthony (#6)
I will miss you, Dori, my big sister. Thank you for carrying me to the nearby hospital when I was five years old, a really big kid with an appendix attack.
And I'm sorry for putting that big green button in your coffee cup making you think it was my turtle and making you mad.
Say hi to dad, mom, and gramps. Love you, Therese