FIND AN OBITUARY
Service information is posted on our website only with approval from the family.
If you are seeking information not listed below, please contact us.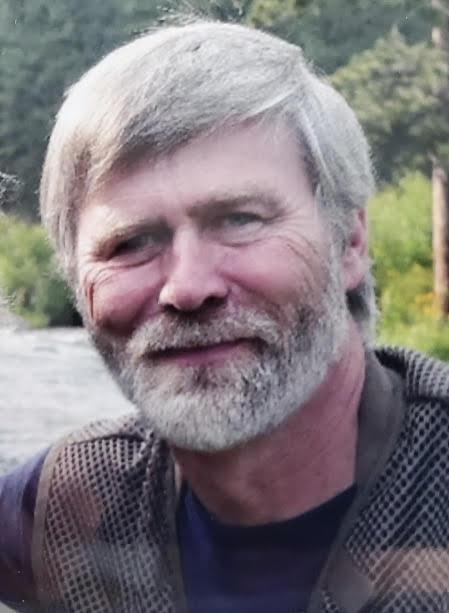 Roy Gephart
10/26/1949 — 02/11/2021
From Richland, Wa | Born in Dayton, OH
Watch Service
Funeral-Invitation Only
Starts:
Sat, February 20, 2021, 1:00 pm
Ends:
Sat, February 20, 2021, 2:00 pm
Roy Gephart
Roy Eugene Gephart was born October 26, 1949 in Dayton, Ohio, to Eugene Earl and Alma Marie Gephart. He died February 11, 2021 at the Chaplaincy Hospice House in Kennewick, Wash., with his wife Sheila and stepdaughter Jen at his side.
Roy graduated from Miamisburg High School in 1968, received a degree in geology from Miami University in Oxford, Ohio, and his masters' degree in hydrology from Wright State University. He then moved to Richland, Wash., in 1972 to work for Atlantic Richfield Hanford Company, later Rockwell Hanford Operations, as a senior hydrologist.
Roy had 40 years' experience in the environmental sciences and nuclear/hazardous waste industry. He was a sought-after expert about Hanford and U.S. Department of Energy environmental management issues. His career focused upon geohydrology, risk management, and science-policy linkages, writing, and lecturing. Roy presented at scientific conferences in Russia, Vienna, Prague, and across the U.S.
He managed numerous programs, projects, and line organizations spanning applied environmental technology to basic science. Roy authored 50 publications, including two award-winning books about Hanford. His best-known work is "Hanford: A Conversation about Nuclear Waste and Cleanup," published in 2003.
Roy joined the Pacific Northwest National Laboratory (PNNL) in 1987 after working as a field geohydrologist with the prime contractors on the Hanford Site. He retired in 2012 as a Chief Environmental Scientist addressing vadose zone characterization and remediation challenges facing the Hanford Site.
He was a respected manager and mentor throughout his career, beloved by his staff and coworkers, and he always supported them and had their backs.
Roy was also an avid amateur astronomer and wrote a popular column on astronomy for the Tri-City Herald for several years. He loved photographing the sky, and several of his photos were published in "Sky and Telescope" and "Astronomy" magazines. He was one of the founders of The Alliance for Advancement of Science Through Astronomy (AASTA) and led the site selection effort for an observatory and the 0.8-meter Cassegrain telescope formerly on Rattlesnake Mountain. He was gratified when the Pacific Northwest Regional Observatory was established in 2012 at the Wallula Gap in the Horse Heaven Hills between Walla Walla and the Tri-Cities.
Roy was passionate about his family and was a devoted husband, father, stepfather, and grandfather. He loved taking his kids and grandkids fishing, mushroom hunting, rock skipping, and milkweed gathering. Roy attended all performances, games, and activities they had, being notable as the "tall, bearded man" in the crowd. He was so proud of every one of them and took countless photos and videos. He also had a dry, wry wit and could leave a group in helpless laughter.
He was diagnosed with Lewy Body Dementia in 2019, which quickly progressed. It was hard for all who knew and loved him to see the struggle he endured from this insidious disease. To learn more about it, watch the documentary "Robin's Wish" about Robin Williams's struggle with LBD.
Roy is survived by his beloved wife Sheila, brother Brent (Sarah) Gephart, sons Alan (Aadi) and Ian Gephart, stepdaughter Jen (Mike) Rutz, stepsons Mark (Gayla) and Tim (Victoria) Zilar; grandchildren Sullivan Roy Gephart, Emmett Elton, Mady and Alli Zilar, and Leyna and Aria Rutz. He is also survived by his sons' mother, Julie Gephart Wiley (Steve), and a host of brothers- and sisters-in-laws, nephews, and nieces. He was preceded in death by his parents.
The service will be held at Einan's Event Center in Richland at 1:00 Saturday, February 20, by invitation only because of Covid restrictions. To watch the livestream of Roy's Celebration of Life, please visit www.sunsetgardenstricities.com, and click the "Watch Service" button near the top of Roy's page.
Roy will truly be missed by all who knew him. Sending prayers and thoughts of comfort to all his family, and especially dear Sheila.
Roy was an amazing and gifted person. He always had time to listen and teach. I had the pleasure of working for him for 7 years. He brought joy to those who knew him.
I can't remember my Aunt Sheila being so happy before meeting Roy. I am actually grateful to my Aunt for even introducing me to Roy. The love they shared for each other I could clearly see as an example of everlasting love.
I remember me and my Dad (Sheila's brother Michael) reminiscing many conversations which we had with Roy after trips up to Washington. I remember it like it was yesterday – Roy showing my Dad and myself an actual meteorite! As we held this extraterrestrial, magnificent object, he explained in great depth and detail how it was shaped and formed, only to then be inevitably held in our hands. Every word rolled off his tongue effortlessly, with flavor and beautiful articulation, yet somehow in a way that was easily digestible for a simple minded person such as myself.
Roy had reduced me to tears once, simply talking about his insatiable love of life and his family. I don't believe anything was more important to him. He always asked me if I needed anything, and it's beyond obvious that Roy truly cared. I can honestly say without a shadow of a doubt, Roy is the most humble person I have EVER met.
I am going to deeply miss Roy Gephart. Thank you Roy! For not only enhancing my life through laughter and wisdom, but showing me that it is possible to be the light in this world. Roy Gephart was a bright light on a hill for everyone, and he always will be.
If the true character and soul of a man is reflected in those whose lives he touched, Roy's character was the embodiment of love. Love of knowledge, love of art, love of language, love of nature, love of community, love of friends, and love of family. Roy lives on in the continuing reflection of that love.
The world is a better place because of the unconditional love you gave.
With much love and deepest condolences to the extended Gephart family.
All of our prayers are with you, he will be missed and as Emma said from the first time she remembered meeting him. He was one of the smartest and kindest people to know.
I would like to extend my condolences to the Gephart family for Roy,s passing. Roy and I have cross paths with our work at PNNL and his work to move the telescope from the top of Rattle Snake MT to the new location on the way to Walla Walla.
My thoughts to the Family!
Regards,
Khris Olsen
Dear Sheila Gephart and Family,
Our deepest sympathy on Roy's passing. He's now safely home in Heaven, enjoying eternal life. He'll be greatly missed, but all his happy memories will always be with us who enjoyed his friendship. May your deep faith and trust in God give you all the strength to cope in your sorrow.
Our thoughts, prayers, and God's blessing be with you all. Take care, we love you.
Dear Sheila Gephart and Family,
Our deepest sympathy on Roy's passing. He's now safely home in Heaven, enjoying eternal life. He'll be greatly missed, but all his happy memories will always be with us who enjoyed his friendship. May your deep faith and trust in God give you all the strength to cope in your sorrow.
Our thoughts, prayers, and God's blessing be with you all. Take care, we love you.
Bel & Tom Bander
Thinking of Roy and his family from a work friend, Carolyn A Jones, I was his secretary at Battelle for a couple years. He was a special individual with multiple interests. He will be missed.
Truly devastating news.
I offer my condolences and deepest sympathies to those whom Roy loved, and who loved him. A terrible loss.
I had the great privilege to have gotten to know Roy through my involvement with AASTA. I will always remember the many wondrous times we spent at the observatory on Rattlesnake Mountain, the hundreds of visitors we hosted throughout the years, the late-night observing sessions, the outreach activities in the community, with the schools, the astronomy club, the nearby colleges, PNNL, LIGO…. The list goes on and on, I suppose.
He was to me a friend, a mentor, a sounding board, a confidant, a role model, a dispenser of wisdom, of wit, and the occasional "fatherly advice". He did not introduce me to the stars; rather, through his exuberance and his passion, he showed me their life. And through his patience and kindness and support, he showed me mine. For that, I am deeply grateful.
I am truly sorry for your loss. I worked with Roy for many years at PNNL and always enjoyed our interactions. He was always a Gentleman, He will be missed. Sincerely, Moe Pease
The man with the resonant voice, always generous with his knowledge and advice.
Roy was such a wonderful person. RIP
My heart goes out to Sheila and all of the family. I have an enduring memory of Roy sitting in Christ the King church watching Sheila play—the profound joy and pride on his face every time. It was always my pleasure to encounter him and Sheila out in the community and enjoy his smile and kind words. My guess is he is enjoying Heaven, the stars and the angels in a very special way. May he Rest In Peace and joy.
I worked with Roy over a 40-year period: first, in the BWIP program and then later at PNNL What a great period of life, with all of the technical challenges associated with our professional/scientific involvements. I appreciated Roy as a co-worker/colleague for his keen mind and scientific expertise, but valued him even more for being a good friend. His sense of wonderment with the cosmos was infectious to all and he shared this freely with many. I will always cherish the time when he invited me over to his house in north Richland, ~40-years ago, for a late-night viewing of the rings of Saturn and moons and Red Spot/cloud bands of Jupiter. Those celestial images are still vivid in my memory.
Thank you, Roy, for being a good friend and for all the fond memories.
Roy Gephart inspired many people in this community to look up to the stars, planets and other night-sky wonders. He taught me a lot about amateur astronomy. His columns for the Herald reached a broader audience. Roy was a good friend of LIGO's education program and a reliably popular speaker at our Perseid Meteor viewing parties.
Roy was a down-to-earth gentle giant with a delightful, accessible personality. Kids loved him! My best memory of Roy is near the podium of LIGO's auditorium, showing kids his piece of meteorite. Yes, the man did own a piece of meteorite. Roy inspired us to keep looking up – a wonderful message for these dark times.
Thank you, Roy, for being so generous with your time. Thanks to Sheila and his family for sharing him with us.
Roy was very special. I remember having great talks with him about science. He was a great supporter of LIGO and was one of our "go to" speakers for outreach events for many years. I'll always remember him. He will be truly missed. Love to all the family, from Greg and Jeanette Mendell
Eternal rest be granted unto Roy …
We send our sincere thoughts and sympathy,
Dave & Laura True
Sheila and family,
So sorry for your loss. Roy was a wonderful man and will be great missed. We always loved his quiet but supportive presence at all the CK performances. May you find peace and comfort in all your wonderful memories together.
Love,
Fred, Julie, Allison, Teresa & Sarah Sijgers
Mrs. Gephart,
I am so sorry to hear of your loss. Mr. Gephart was always so kind and generous. I will never forget when I saw you after he proposed. (I wasn't supposed to be in the hallway at the time, but I still eavesdropped to hear the news!) It was the happiest I ever saw you, and such a moment of pure joy.
I hope you find comfort in the happy memories you shared with each other.
All my love,
Allison Sijgers
Roy was a good scientist, mentor —a true gentleman. I worked with Roy on several Hanford Reservation clean-up projects throughout his time at Hanford. I also attended a few of his "night sky gazing" evenings with my daughter. Roy was great at conveying the joys of star/sky gazing. Kids reacted well to his lectures and hands-on telescope viewing. I will miss Roy and offer my condolences to his immediate family
One of Roy's legacies is the establishment of Tri City Astronomy Club which he co-founded back in 1980. Our group continues 41 years later to carry forward his passion for astronomy and to share a view of the stars with the public ( when available again). Thank you Roy, for being the catalyst to attract those of us who often share a solitary love to the stars, and give us a home to share and grow in our knowledge of the stars.
Ann Hostetler
President Tri City Astronomy Club
Worked with Roy for 9 years at BWIP. Great coworker & friend, but the obit says it all. Rest In Peace, Roy, among the galaxies.
Mike and Bev Johnston send their love and affection to all of Roy's family. He will be missed by the multitude of friends, co-workers, and family. We loved him.
He was a great scientist and wonderful lecturer. He will be greatly missed.
I knew Roy from our years together at Pacific Northwest national laboratory, retiring about the same time after long careers there. He was always eager to share his bountiful knowledge of hanford site history with staff and clients. He leaves behind a small void but also fulfillment in having known him.
He is missed.
Our deepest sympathies to the families. He was one of the prominent figures of our laboratory. Our thoughts and love are with you at this time of great loss.
Roy the master at explaining the unexplained to so many. Always enjoyed those conversations , Will miss that towering body and those times with our former wives. No other way to put it friend.
I think Gerry said it best, so I can only add that I will miss his eye-piercing gaze and smile when I would run into him and Sheila at Wendy's (pre-COVID). It's hard to imagine the world without this gentle giant. My heart-felt condolences go out to everyone who knew him and is now grieving. 😥
Roy was one of the kindest, most decent people I ever knew. My relationship with him began when I was at I would turn to him for help with astronomy stories and he was always willing to talk to me, no matter how early in the morning I called him. When I was at PNNL my office was right across the hall from his and I spent a lot of time with him as he helped me understand the ways of the lab. I feel his loss deeply.
I had the pleasure of working with Roy in the mid to late 1980s and then off and on over our careers. My fondest memories of him were Roy as the story teller. At least for a time he became fascinated with Hanford history and there regional geology. As he learned new things he would find opportunities to tell the story to our team and you could see the joy in it. It was a blessing to him and to those of us he took the time to share the stories with. My sympathies to all that will miss him.
Roy was a wonderful man who loved his family fiercely. He was smart, funny and a good friend. He will be missed.
My early days in Richland, WA were so tough!! But Roy came along side me to mentor, encourage and provide regular pep talks. He gave me the strength to plant my feet down and find my way. He hosted regular star gazing events, my first opportunity to view so many beautiful stars and constellations outdoors and outside a planetarium. I continued my career and moved on to several other locations, including back to WDC. Returned to WA in 3013, and I am so eternally grateful to have worked with Roy one last time and enjoy his amazing knowledge of the Hanford area during a tour of the B Reactor!!! And over the moon grateful to all his family!! For sharing such an amazing gift with us!! Thank you from the bottom of my heart!! Knowing Roy always had my back gave me the strength and courage to remain in Richland, and excel at my work. Thank you all and may God's peace and comfort surround all of you!! My deepest condolences and heartfelt prayers!!
Goodbye old friend – you brought the stars to the community, knowledge to the world, and a calm and steady presence to your friends and colleagues. You will be missed.