FIND AN OBITUARY
Service information is posted on our website only with approval from the family.
If you are seeking information not listed below, please contact us.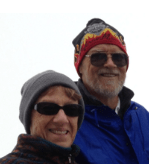 Barbara Lucille Boynton Gore
11/22/1940 — 03/27/2021
New to Livestream? Watch the tutorial.
Barbara Lucille Boynton Gore
Barb was born in Schenectady, New York to Margaret and Erwin Boynton on
November 22, 1940. She moved with the family to Indiana, Pennsylvania,
Kentucky, and finally to an apple farm outside of Tecumseh, Michigan, as her
Dad followed his work at General Electric and Tecumseh Products. She was
joined in the family by older brother Don, and younger sisters Dorie and Mary.
The family had many pets over the years including dogs, horses, and a rescued
owl.
While in New York State, Marge, Erwin, Don, Barb, and the Rauch family
developed a small ski area named Skiland. They cleared the slopes, designed
and built the lifts, built the lodge, cooked and served meals, and offered lessons
and first aid.
Barb enjoyed many family trips and activities, including tennis, hiking,
backpacking, horseback riding, canoeing, skiing, and lots of card games. She
also participated in the family "ping pong ladder" which included her maternal
grandparents and trivia time from the Cleveland Plain Dealer.
After completing undergraduate work at Albion College, Barb earned a Masters
in Library Science at the University of Michigan. She met the love of her life,
Bryan, while at U of M, and they were married in Dexter, MI in 1963. Daughter
Marcy was born in Ann Arbor, Michigan. Bry completed his Doctorate in Physics
at U of M, and they moved to Moscow, Idaho where Bry taught physics at the
local university. Son Russ was born in nearby Pullman, Washington. The family
relocated to several other university towns where Bry taught, and son Dave was
born in Cheverly, Maryland. In 1971 the family settled in Richland, Washington
where Bry taught at the WSU Graduate Center and worked for Pacific Northwest
National Laboratory. Bry's parents and later, Barb's parents, also eventually
relocated to Richland.
Barb stayed home until the kids were older, and later worked as a reference
librarian at many of the public libraries in the Tri Cities, and Columbia Basin
College (CBC).  She thrived on helping patrons find answers to a wide variety of
questions, and many of her co-workers became close friends.
Bry and her three children were the center of her life.  Weekends were typically
spent together, often in the outdoors hiking, jeeping, camping, and backpacking.
Winter weekends were filled with many skiing/snowboarding trips.  Barb loved
running with Bry, and completed a couple triathlons and the Portland half
marathon. She climbed multiple volcanoes and 14,000+ ft peaks with her family
and sisters including Mt Rainier, Long's Peak in Colorado, Mt Hood, Mt St
Helens, Alberta Peak in Colorado, and Mt Adams, and frequently hiked the local
Tri-Cities trails and hills.  Russ and Dave took SCUBA lessons in college,
and encouraged their parents to certify.  She enjoyed many diving trips with the
family including in the San Juan Islands and Venezuela.   Barb loved to kayak,
canoe, sail, wakesurf, and swim in the local rivers and in Portland. She
completed the Columbia Crossing swim a number of times. Barb participated
and competed in weekly tennis matches and frequently could be seen at the local
gym. Most of all, Barb loved sharing all kinds of outdoor activities with her family
and friends.
Bry and Barb loved to cook, bake, garden, and share the bounty with family,
neighbors, and friends. Family Thanksgivings at Barb and Bry's home were a
longstanding tradition. Barb enjoyed many genres of music and played piano, as
well as singing with several local groups. She read extensively, enjoyed writing
poetry and drawing, and played a mean game of cribbage. Barb was always
happy to accompany Bry while he learned aerobatic flying and competed in
contests around the Northwest.
Throughout her life Barb battled depression and anxiety, as well as many
challenging losses and life circumstances.  But Barb was a tough lady, and
managed to live a full and active life.  She gave and received much joy during her
80 years.   Barb's heart broke when her beloved husband and best friend Bry
died in 2018.  She was unable to find a way to overcome the gaping hole in her
life, and chose to end her own life.  Til the end, Barb spoke about how lucky she
felt to have had such a wonderful partnership, and shared memories of her life
and raising a family with Bry.
After her kids were grown, Barb cherished travels with family and friends to
Switzerland, Germany, Italy, France, Scotland, and a trip to London to watch
Wimbledon matches. Son Russ and grandson Bryan accompanied Barb on the
Via Ferrata course in Murren, Switzerland. When Bry joined a team performing
risk analysis and safe closure of the Chornobyl nuclear site, Barb joined him in
Slavutych, Ukraine for a year and a half.  She and Bry traveled many times to
visit her sisters and brothers-in-law in California and Colorado. She and Mary
attended the WSU game at the Alamo Bowl, and took a three week trip to
Portugal and Spain.
Barb stayed young at heart and kept her sense of humor. She is described by
those who knew her as 'game for anything' and is known by her family as loving,
accepting, and caring. Barb and Bry welcomed their kids' friends into their home,
took them boating, skiing, and hiking, and welcomed them as part of the family.
Barb was preceded in passing by her beloved husband Bry in 2018, after
celebrating 55 years of marriage. She is preceded in death by parents Erwin and
Margaret, brother Donald, parents-in-law Greenville and Mary, brother-in-law
John, and nephew Ruben.  She is survived by: sisters Mary, and Dorie (Brooks);
children Marcy (Francis), Russell (Teresa), and David (Maria); nephew Alfonso
(Amber); grandchildren Alexandria (Josh), Kelly (Jordan), Bryan, Rachael
(Taylor), Bradley, Alexander, and Isabella;  grand-nieces/nephews Trinity,
Nicholas, and Kyzaiah; great grandchildren Troy, Lucian, and Lykian; and many
of their kids' friends whom they considered to be part of the family.
A memorial will be planned at a later date.
If you wish to make donations in lieu of flowers, please contribute to your favorite
charity. Barb & Bryan supported a number of causes including Friends of Badger
Mountain, Public Broadcasting, National Public Radio, SIGN, homeless/wounded
Veterans, Native American causes, POPP, and the Humane Society,
Barbara and I were in the class of 1962 at Albion and it was a great privilege to have her as a friend. We visited Barb and Bry a few years later in Idaho and we went camping together there. I have two Russian wood dolls they brought back from Russia which I cherish. I am sorry for your loss.
Thanks to Mary, I have just listened to a phone message on my husband's cell phone sent a few weeks ago informing me of Barb's death back in March. She and I shared a room our Freshman year at Albion College in Michigan and maintained contact over the years. So shocked and so sorry to hear of her passing. Albion College reunions will never again be the joyful events of the past without Barbie Boynton (Gore) there. Sincerely, Nancy Hilts (Bohac)
My sincere condolences to the whole family, she is always in your heart.
I truly enjoyed the stories of the rock garden!
Warmest Regards,
Kim Galloway
I was lucky to have Barb come into my life when I was looking for just the right person to ride and take care of my horse, Chukar, when I moved away for two years. When Barb rode Chukar for the first time, I knew right away I could trust her with my beloved companion. With her quiet manner, soft voice and gentle hands, I had found the perfect friend for Chukar while I was away. That was all I needed to see to feel the true kindness of Barb's heart. She was someone I held in great esteem for all the years I knew her.
My deepest sympathy to the Gore family. Barb and Bryan were indeed very special people.
In Loving Memory of our good friends, Bryan & Barb Gore:
Bill & Judy Addis, Bryan & Barb Gore moved to Ellensburg, WA in 1970 where the guys were to teach Physics at Central Washington State College. We became fast friends with the Gores. In the winter we skied together; in the summer we went hiking and jeeping in the mountains. When Bill's visiting professorship ended after one year, we moved to Richland The Gores came here the next year after Bryan's assignment at Central ended. We participated in many Gore family outings. Marcie, Russ and Dave were good sports, and never seemed to mind having us come along. We had so much fun together – biking, skiing, hiking, attending concerts, enjoying meals together.
The four of us joined a group from the Tri-Cities in 1994 for a Caribbean Cruise. It was a special event because it was the first cruise for both of us. We loved seeing the sights and we scuba dived at most of the ports.
We went with Bryan and Barb to Hawaii two times, once to Maui and once to the Big Island. We remember scuba diving, luaus, surfing lessons, helicopter rides and exploring. It's doubtful that we would have enjoyed those trips nearly as much as we did without the enthusiasm they brought along.
When we think of favorite people we have shared lives with during our lifetime, Barb and Bryan Gore are certainly at the top of the list. We miss them both!
Bill and Judy Addis
To the family of Bryan and Barb. I was saddened to read of the passing of Barb. She was a wonderful, caring woman and a wonderful mother. I had only seen her a few times since Bryan's passing. Perhaps if I and others had been a little more sensitive to her state, we could have helped her to see that she still had much to live for. She raised a wonderful family and will be missed in the neighborhood.
God bless each of you as you move forward with many wonderful memories.
I so enjoyed all the years I knew Barbara since our children were in grade school and we played tennis in a foursome for many years. One evening she called me to go hiking with her on Badger Mtn. and we started doing that for many years in the mornings. When that became too much we started walking in the shelter belt once a week. We never ran out of things to talk about. I will miss her so much. I hope she is happy with Bry in Heaven.