FIND AN OBITUARY
Service information is posted on our website only with approval from the family.
If you are seeking information not listed below, please contact us.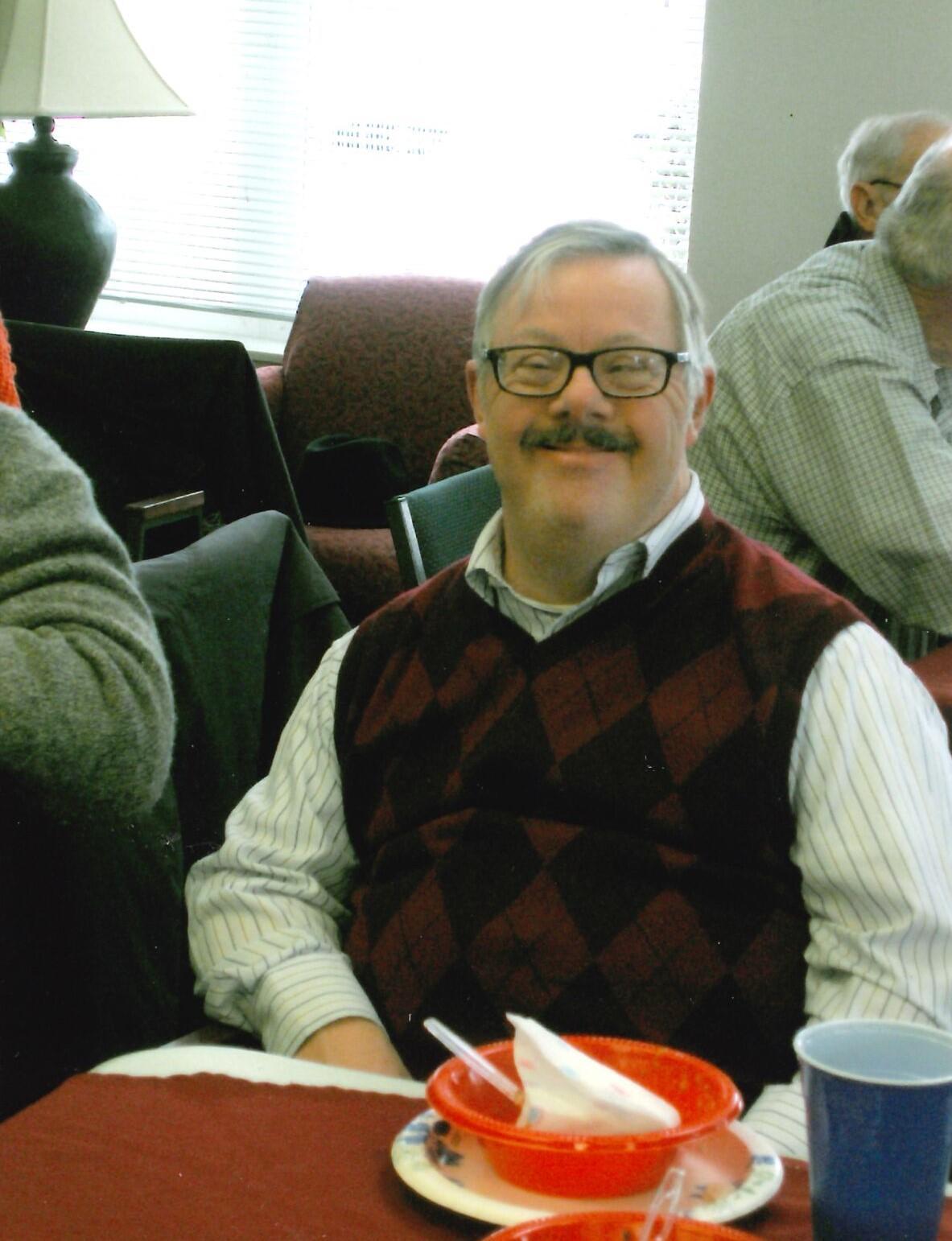 Jeffrey Simonis
08/02/1958 — 04/15/2021
From Kennewick, WA | Born in Richland, WA
New to Livestream? Watch the tutorial.
Graveside Inurnment
Starts:
Sat, April 24, 2021, 1:00 pm
Ends:
Sat, April 24, 2021, 2:00 pm
Location:
Sunset Gardens
915 Bypass Highway Richland, WA 99352
Gathering and Reception
Starts:
Sat, April 24, 2021, 2:30 pm
Ends:
Sat, April 24, 2021, 4:30 pm
Jeffrey Simonis
Jeffrey Craig Simonis
Jeffrey Craig Simonis passed away peacefully on 15 April, 2021 at Tri Cities Chaplaincy in Kennewick, WA after a brief battle with cancer.
Jeffrey was born 2 August 1958 to Richard and Helen Simonis and was a lifelong resident of the Tri Cities. He is survived by Mother Helen and Brothers, Roy (Rhonda) and Brad (Mary) and nieces and nephews.
Jeffrey was a child of "possibilities'. Jeffrey was born with Down Syndrome and in the beginning doctors told his parents that he would never be able to do the things other children could do and should be placed in an institution.
Through the ARC of Tri Cities, Special Education, Special Olympics and a loving family Jeff was able to work at Columbia Industries, and Manufacturing Service and Goodwill. He retired from Goodwill in 2015.
Jeffrey won ribbons and medals galore in the Special Olympics program that allowed him to participate in Swimming, Bowling, Field & Track, Basketball Softball, Golf and Snow Skiing and he competed in the 1995 Special Olympics World Games in Connecticut and won a Bronze medal in swimming for the 400 meter freestyle.
Jeffrey loved to go on road trips with ARC of tri Cities and enjoyed the dancing and dining with friends and family.
Jeffrey had friends everywhere and was always ready with a hug and a smile and his gentle nature was a joy to be around.
Jeffrey you will be forever missed
There will be a Graveside Inurnment at Sunset Gardens (915 ByPass Hwy) in Richland, WA on Saturday, April 24, 2021 at 1:30 pm followed by a gathering and reception at Einan's at Sunset.
The best hugger in the univrrse!
Jeff was a gentleman and a joy to be around. I loved seeing him independent in the community, taking the bus to work or with his friends at hockey games or dances. He always had a warm greeting and big hug when you hadn't seen him in a while. I will miss the numerous hours we spent together on trips and campouts. Helen and Dick did a wonderful job raising a true gentleman! God bless!
Oh Helen my heart goes out to you I wish I was closer to you . I have been around Jeff and your family for many years ,Jeff and I go back almost 39 years we worked together and went on many trips oh I will miss him dearly Helen I have at in hospital for almost 3 weeks and will be in for about 2 more weeks as soon as I get better I will stop by and again I am so sorry for loss he was a wonderful friend he will be missed
My condolences to the Simonis family. RIP Jeffrey
Jeff was such a sweet guy. Always smiling. He will be missed by everyone who knew and loved him. Hug's and prayers to you and your family Helen.
I remember Jeff & his wonderful hugs. He a was sure a dear & sweet person. Sending much love to Aunt Hellen & the rest of the family.
RIP untill we meet again Jeffery.
Helen I morned with you this day, because I know how hard it is to love someone for so many years! These special angels have filled our life with great joy. Kim now tells people she has Up syndrome! So wish we could be with you on Saturday. Our love.
Jeffery was a great man. I enjoyed swimming in Special Olympics with you. I will pray to Heavenly Father so your mother will feel comfort now you are in heaven.
Love Kimberly Gale
Helen,
He was a good swimmer and it was fun swimming with him and helping him be a better swimmer.
So sorry for your loss.
Miss you Jeff fly high
I well miss you my friend from my bike riding team and art
Dear Helen, our family always had a place next to you at ARC and Special Olympics. You are the most inspirational Down Syndrome mom that always sees the joy in everything. You showed us that anything is possible.
RIP Mr.Jeffrey. You were indeed an inspiration to all and loved by so many. You had the courage to do things that I know I would never have been able to tackle.
Love you Jeff.
Condolences to the family.
What a great life he lived. Sorry for you loss.
My thoughts and prayers have been with you and your family all week Helen. Jeff had a great life because of a loving, caring family. I liked his hugs and friendliness whether here or in Packwood. I know how empty your house and heart will be without him.
I met Jeffrey the first time when I was about 13 and he was about 6, and again when I was 19 and married his oldest brother. He was a sweet, happy little boy who loved Scoobie Doo. Jeffrey could give the best hugs ever. And I could always look forward to Almond Roca at Christmas and small angel figurines.
He had a wonderfully full, active life, and will be missed. Especially his laugh when he got tickled and his big, warm hugs.
In my thoughts…
We are sad that Jeffrey is gone. Know that we think of you! The obit is well written! Glad you included the remarks about Down Syndrome. A good friend of ours from New York has a Down child who is progressing well at Five.
Helen, I am so sorry. I love Jeff! He has been such a blessing in my life. He helped me feel welcomed at The Arc and made it a fun place to be. He will be missed by so many of us. Thank you for your belief in him and those around you. Your family made has made this community a wonderful place to be and live and Jeff was a key to making that happen.
Jeff u were a good friend and an awesome special Olympics athlete amber and I will definitely miss u buddy. Rest In Peace with Jesus Christ and continue to share ur love up in heaven