FIND AN OBITUARY
Service information is posted on our website only with approval from the family.
If you are seeking information not listed below, please contact us.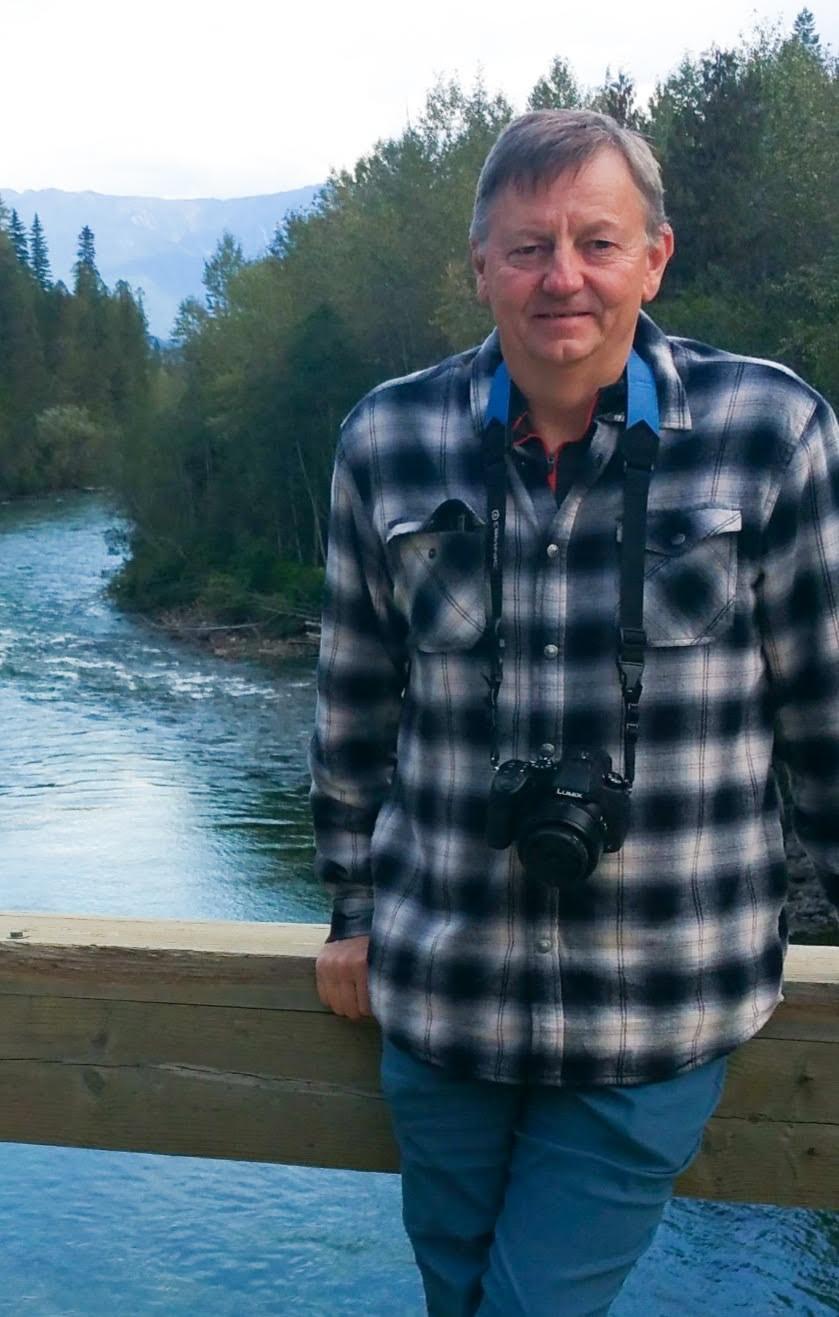 Gary Bert Olsen
03/18/1961 — 05/01/2021
From Pasco, WA | Born in Logan, UT
New to Livestream? Watch the tutorial.
Visitation at Einan's at Sunset Funeral Home
Starts:
Tue, May 11, 2021, 12:00 pm
Ends:
Tue, May 11, 2021, 4:00 pm
Gary Bert Olsen
Gary Bert Olsen, age 60, of Pasco Washington, passed away suddenly on May 1, 2021.
Gary is survived by his mother, Joyce; his children Jessica, Logan, and Trevor and their mother Leah; his grandchildren; his wife Tatiana and her children, Vsevolod and Yanina; and his siblings, Craig, Kathy, Debbie, and Jeff.
Gary was born in Logan, Utah on March 18th, 1961 to Don and Joyce Olsen. He spent his childhood nurturing his adventurous spirit and cultivating a desire to build a life surrounded by nature becoming adept in rock climbing, skiing and mountaineering. He graduated from the University of Utah with a Bachelor's degree in Chemical Engineering, and continued his education at the University of Kansas with a Master's degree in Environmental Engineering.
At the start of his career, Gary worked on remediation of superfund sites throughout the country and developed a deep commitment to protecting the environment and human health. This led to his appointment as environmental engineer at the Umatilla Chemical Depot, a U.S. Army installation in south-east Oregon, ensuring safe destruction of the live chemical weapons stored at this site and around the country. Gary placed large effort on the risk reduction of these dangerous operations and was proud of his contribution to the successful completion of this mission. His next professional endeavor was the cleanup of the U.S. Department of Energy Hanford site, which stores highly radioactive legacy nuclear waste. Gary was passionate about achieving the highest possible safety at the future Waste Treatment & Immobilization Plant.
Gary welcomed three beautiful children into the world. Gary was a beloved father who was greatly admired by his kids and family. He passed down his sense of adventure and passion for the outdoors to his kids. He loved to take his family skiing, camping, backpacking, and hiking, even if he had to bribe his young kids up the trail with beef jerky and lemon drops. His charisma and enthusiasm for the outdoors was contagious and it was clear to all that Gary was truly happy when he was in the mountains. He was an expert climber, skier, and mountaineer. He continuously challenged himself to climb higher and ski harder, leading to great feats throughout his life. He achieved numerous first ascents and loved to climb big walls including the Nose and the Salathe Wall on El Capitan in Yosemite, Angel's Landing in Zion and numerous spires in the desert of Southern Utah. He mentored many young climbers and skiers with a supportive and patient manner, helping them achieve their goals.
Gary met Leah in Utah in the mid eighties. They shared many happy outdoor adventures together in the Ozarks, Rockies, deserts of the Southwest and the Cascades. Gary was at his best on rock and in the mountains and it was a beautiful thing to witness and share.
Gary moved to the Tri-Cities in 2001 where he met his loving wife of 15 years, Tatiana. Gary and Tatiana shared their love for outdoors, and they spent as much of their free time as possible exploring the mountains and wilderness of the great Pacific Northwest and Utah. They valued their time together in secluded and remote locations where they camped in beautiful places. They also shared their interests in nuclear science having endless discussions at home on how to best solve Hanford challenges.
Gary's skills and knowledge in the outdoors were matched by his practicality and creativity in his personal life. He used these traits to design and build homes for his family and be self-sufficient in everyday life. His children, as well as anyone who spent time with him, could learn from him and benefit immensely from his knowledge and confidence.
Gary didn't have the ability to stay still for long – inevitably he would jump up with the urge to fix something in the yard, clean in the garage or make the next photo montage movie from his latest adventure. And the adventures were always there, with a guaranteed story from rocks, snow or ice. There was repelling into a crevasse with little Logan and Trevor, getting stranded unexpectedly overnight climbing on the side of a cliff, accidentally setting off an avalanche then hearing about it at an avalanche class that followed, or chasing off grizzlies from the campsite in British Columbia.
Gary was a gifted storyteller with a witty sense of humor and captured attention at any conversation. He was very personable, interested in people around him, he was a good listener, and easily made friends across the generations.
Gary will be deeply missed. His spirit remains in the mountains and deserts where he played. Please celebrate Gary during your next ski run, hike, camping trip, or outdoor adventure.
Gary, I think about you often and am thankful for our shared work experiences at the USACE-MRK. May your children be blessed with the warmest of joyous memories in the knowledge of a loving father who cared
Grateful I had the opportunity to work with Gary at UMCDF. He was a tremendous person and dedicated worker.
Gary was a pleasure to work with on the DOE WTP Project. His "spirit" for life will be remembered.
I was saddened to hear of Gary's passing. My association with Gary was always pleasant and he was a very kind and thoughtful person. He would periodically stop by and chat with me about things other than work. I was impressed with Gary's tenacity in striving for technical excellence in the work with which he was associated but he was also a very personable person who was interested in things other than work. I will miss Gary's upbeat personality and his smiling face.
In heaven the snow is always powder, the skies are always blue and the mountains are always steep. Take care and see you again someday soon.
Gary was one of the first people I worked with at Hanford starting in 2009. We shared an office with Wahed Abdul as the federal project directors for the WTP facilities. I was new to the Department of Energy and knew nothing about the project or Hanford processes. Both Gary and Wahed provided me with incredible support, and went out of their way to educate me and help me get through a big learning curve very quickly. Gary was a wonderful co-worker, friend, and inspiration to me and so many others both at work and in his amazing personal life. I will be forever grateful to him for his support and friendship. We will all miss him dearly.
It was a pleasure to have worked with Gary over the years at Hanford supporting Direct Feed LAW both at the Vitrification Plant and Tank Farms. As a 'Regulator' he was always very fair and always prepared to listen and understand. He always treated everyone with the greatest respect. He will be missed. David Houghton (Engineering Manager, WRPS)
Gary was so approachable, kind, and warm hearted. I thoroughly enjoyed working with him and he will be missed by all who were graced to know him. Rest in Peace Gary.
I was extremely fortunate to know Gary as a coworker and friend both in Oregon and again as part of the WTP team at Hanford. I will miss the talks we used to share.. Gary was a great man and his insights will stay with me forever. My condolences to his family.
I was privileged to work with Gary on the WTP for several years. I always appreciated his knowledge, energy to get things done, and his calmness during stressful times. His friendliness and sense of humor always made the day brighter. My thoughts and prayers are with his family.
Gary was a great person always ready with a friendly smile. I had the privilege to work with Gary over the last 12 years or so and I greatly enjoyed our conversations. He will be missed.
You will forever be in our hearts and memories. You were always supportive and a great mentor. You will be missed. God bless
Gary was a great guy! He would walk in to your office, pull up a chair and talk with you as if you had been friends forever. His gentleness and kindness will be missed.
I had the distinct privilege of working with Gary at the Office of River Protection. He was an extraordinary human being and fantastic co-worker and friend. His laugh was infectious as was his energy and passions for living every day to the max. You'll be missed G! Rest in eternal peace!
Gary, I was shocked and saddened to learn of your passing. You were a great guy! Truly are few in this world that were as genuinely kind and welcoming as you. I regret falling out of connection with you and Tatiana… and there is no way to make that up. Peace to you! Condolences to your family…
I first met Gary in about 1973, after our family moved into his South Salt Lake City neighborhood, which was literally at the base of the soaring Wasatch Range. We were about the same age, and instantly became fast friends, bonded around outdoor activities like backpacking, climbing and skiing. Gary was a great climbing partner, and always loved bold adventures. We roped up together for many ascents on Utah desert towers, Colorado's Long's Peak and Black Canyon, Idaho's Elephant's Perch, and loads of rock (and ice) climbing around SLC.
I feel a deep loss with the passing of Gary, and can't help but relive the many good times we had together. Rest in peace, brother.
I first met Gary around the mid 2005 time frame at the Office Of River Protection if I correct. We use to talk about the outdoors quite a lot. He always had good suggestions on where to travel for a good hike. I once took up his advise on going to Paradise on Mount Rainer. I been twice since the first trip and often think of him while I was there in mountains. He was a wonderful, nice and pleasant person. I would say we had a very good work relationship as well. He was quite knowledgeable about the work going on at Hanford at that time including many work projects. He will truly be missed. My condolences to Gary's Family. Rest in Peace Gary.
Gary is a person who reminds us how fragile life can actually be. He was always full of life and energy and very enthusiastic in every thing he did. My professional experiences and interactions with him within the U. S. Department of Energy were always positive and I appreciated the camaraderie with him. My thoughts and prayers go out to his loved ones during this difficult time.
Gary will be truly missed. I knew him through the past decade working at the Office of River Protection and always enjoyed when we got to work on projects together. One of my first memories of Gary was when I had the opportunity to support him on a meeting in Oregon. I was more than a little bit terrified that the long drive with someone I barely knew was going to be awkward, but by the time we stopped at the Conoco on the bypass (just a mile down the road) those fears were gone. His friendly, easy-going personality made the trip a breeze and I am truly grateful I had the opportunity to get to know him better.
It is difficult to describe what experiences and adventures we had together during high school, college and beyond. In those days, there was no internet and very little information on what caught our interest with climbing and skiing throughout the Western United States. Sometimes I look back and see that our naivety and dumb luck was on our side too many times.
Gary and I shared adventures with a great group of people through the decades; Gary was always my go-to-guy.
…So much fun and so much time together. Thank you Gary.
Rest in peace, Gary. I hope your family can find comfort during this difficult time.
I met Gary in 2009 when I came to work for DOE. Gary introduced himself to me and because of his genuine kindness, care for others, and smile I immediately felt welcomed. Gary will be missed, rest in peace.
Gary, I only knew of your work life with us here at the Office of River Protection — where you've left a legacy of friendly competence, principles, and professionalism. I missed out on all the other fascinating aspects of your life! You touched a lot of hearts! Your friends and family will remember you forever.
Gary was a kind, approachable and charismatic person who worked hard and tirelessly on the WTP project. He will be greatly missed. Our thoughts and prayers go out to his family and friends.
Gary – You will be forever missed by all of us who lucky enough to call you our friend. I will always remember and cherish your kindness and your knack for telling great stories! May you rest in peace.
I had the opportunity to work with Gary at ORP he was such a pleasure to work with he had such a great attitude and was always happy and smiling along with his uplifting sense of humor I will miss running in to him and getting caught up on all the adventures. RIP Gary prayers to your family and loved ones.
It was a pleasure working with Gary at ORP, he was a very nice and friendly person. He will be missed. My condolences to Gary's family; my thoughts and prayers are with you.
Gary – May God bless you and keep you safe. You will be in our memories always and thank you for your kindness and sacrifice.
Emily
I was sad to learn of Gary's passing. Prayers go out to all his loved ones. I always appreciated our little chats over the years when we would run into each other in the kitchen, at the copy machine, Dave's office for a quick cup of coffee. I will miss Gary's smile and overall joyfulness he put out there; he was genuinely a great guy all around.
I worked with Gary for a short period of time and enjoyed his leadership and sense of humor. RIP Gary. Prayers to the family.
Sad to hear of Gary's passing, I worked with him at the Office of River Protection. His smile and gentle soul is what I will remember the most. Gary was such a sweet man, prayers to the entire family.
I only me Gary a few years ago. He plopped down on one of my cubicle chairs and introduced himself and asked for my help. I immediately felt like a friend of Gary's. He had a way speaking that made people want to listen. Gary was the always the brightest light in the room.
I spoke to Gary about climbing mountains and he told me stories about skinning up Rainier with his sons. He is an inspiration and I hope to do some of the same things he did in life. Gary your stories will be missed but your passion for the outdoors drives others to enjoy them also, rest in peace.
I feel so fortunate to have met Gary. I would ask him for outdoor advice and surely learned several tips. I was fascinated by his stories and loved to see his pictures and videos of the mountains. I recall a vide0 of one of his sons skiing, absolutely expertly bombing, down Mt Adams, and some pictures of a ski trip on Mt Rainier. He will be in my thoughts when I visit those places, and when I finally climb Mt Rainier, I will smile knowing a great man was here before.
Rest in peace, Gary.
Gary,
I am blessed to work with you and will miss you greatly. Peace and comfort to your family for the huge lost and I will think of you when we are out camping this summer. Rest in peace Gary.
Mat
Many fond memories my cousin. You always made me giggle . You told me my first scary story. It was about a ghost with one black eye. Time spent together on grandpa's farm. The summer us girls stayed with you family in salt lake. You were loved and will be missed.
God Bless and Prayers to All!
May your many Precious Memories help you find Peace in the days ahead. To Live in the Hearts of Others is to Never Pass.
Our condolences to Gary's family. I fondly remember Gary when I worked at UMCDF. I'm sad that I didn't know until reading his obituary how similar our interests are for nature and the mountains. Our thoughts are with his family and hope you find peace in knowing he had a life well spent.
Uncle Gary,
I wish I'd had the opportunity to spend more time with you, and we could've met up when you were in Europe a few years back. You'll be missed, but this is only the beginning to the next part of your journey. Godspeed
Our hearts are heavy with the loss of Gary. We send you all love and strength through these difficult times.
Dear Gary Olsen's family,
I worked with Gary both at UMCDF & WTP. He had a set of standards and code of ethics everyone should strive to meet. I will forever hold him in high regard. Gary will be missed greatly! May you all have strength during this difficult time.
Gary I only knew you for a short time but your humor, can-do spirit, and professionalism were things that I can attest to. You will be missed and I am sorry I didn't get a chance to see you when you recently returned to work.
Peace brother,
Larry Earley
I have fond memories of spending time with him as kids. We were cousins and didn't get to see each other often but I do recall having a blast hiking up into the foothills of Salt Lake and camping.
You will be so missed by so many dear cousin. I loved to hear you tell funny stories when we were kids. You always made me laugh! I will always remember you helping me hike up to Twin Peaks and the snake on the trail coming down! Great times. Rest in peace.
Gary; Rest in peace – You will be missed by many.
Can't imagine you're gone. Not an easy thing to get my head around. I'll think of you everything I ski or hike
Life is often short for the most gifted. Our sympathies and compassion extends to all his family.
We love you Gary!