FIND AN OBITUARY
Service information is posted on our website only with approval from the family.
If you are seeking information not listed below, please contact us.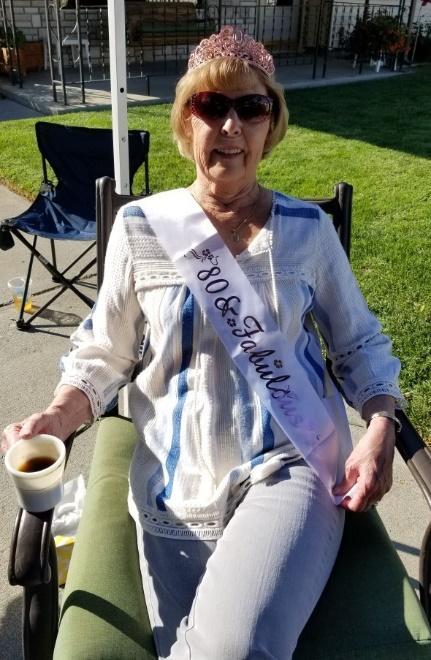 M. Denice "Dee" Chappelle
08/29/1940 — 06/05/2021
From Richland, WA
Watch Service
Funeral Service
Starts:
Fri, June 18, 2021, 1:00 pm
Ends:
Fri, June 18, 2021, 2:00 pm
Reception
Starts:
Fri, June 18, 2021, 2:30 pm
Ends:
Fri, June 18, 2021, 4:30 pm
M. Denice "Dee" Chappelle
Denice (Dee) Chappelle lost her fight with cancer on Saturday, June 5, 2021 surrounded by her loving family. Daughter of Andrew and Pearl Gord, she was born in Salt Lake City, UT on August 29, 1940 and moved with her family to the Tri-Cities in 1946. She graduated from Columbia High in June 1958 and shortly thereafter married her high school sweetie, Howard Chappelle. After they were married, they were transferred to Castle Air Force Base in Merced, CA where their first two daughters, Cathy and Tami, were born. During Howard's eight years in the service, they were also stationed in Sault Ste. Marie, Michigan but then Howard went to Iceland, and Dee and kids went to Salt Lake to live with her mom while Howard was gone.
Howard and Dee moved back to the Tri-Cities in July 1965, and in 1969 along came third daughter, Vikki. Dee worked several years at Payless, later at Lorne Bangert Ford, several local banks and finally retired from Chicago Title in 2004. For fun she was known for her bowling skills, neighborhood parties and her love of camping. Although cooking skills were somewhat limited (sorry mom!) she always found a way to keep food on the table for her family.
After retirement, both Dee and Howard enjoyed camping together but most importantly, started traveling the country with Howard's sister and husband, Don. They made life-long friends through the PT Cruiser Club, folks that became increasingly important to both Howard and Dee as they went through later life struggles.
After Howard passed in 2009, Dee remained a devoted mother and grandmother. GG Dee always welcomed new and extended grandkids with open arms and love. Her family was her pride and joy. She made every attempt to attend each grandchild and great grandchild's special events. She also continued her membership with the PT Cruiser Club and took many special trips with them – her most memorable was the cruise to Alaska with the Club and one of her daughters.
Dee was preceded in death by her parents, her husband Howard, her Husband's parents, her sister-in law and brother- in-law Cathryn and Don Hodgin, and sister-in-law, Sally Gord. Dee is survived by her little brother Curt Gord and by her daughters Cathy Adkisson (Doug), Tami Tayamen (Steve) and Vikki Chappelle. Grandchildren Kristen Rider (Colby), Kelsey Couch, Kelsey Adkisson (Patrick Mirick), Lindsey Adkisson (Michael Weinerman), Hailey Adkisson (Derek Dizney), John Tayamen, Gina Tayamen, Haylee Tayamen (Thane Cope), Josh Tayamen, Donny Ballew (Jasmyne), and 11 great grand children as well as nephews Shane (Michelle), Chad (Pam), and Justin Gord.
Mom always showed great strength and courage which continued through her cancer journey. We wouldn't be the women we are today without her love, strength and compassion (not to mention the endless bowls of candy always available.) Rest in Peace Mama.
In lieu of flowers, donations may be made to a charity of your choice in Dee's name. Services will be held Friday, June 18th at Einan's at Sunset Gardens Event Center (915 Bypass Highway, Richland) at 1:00 p.m; Reception following. The family invites you to sign their online guestbook at https://www.sunsetgardenstricities.com/einans-funeral-home/
Note: both the Service and Reception will be livestreamed for those unable to attend. https://www.sunsetgardenstricities.com/obituaries/
To the 3 girls I am sending my
Love to you as I am unable to
attend. Your mom wil be missed by us all.
Love Sandy & Don
Sdarling5221@charter. Net
Dee will be sorely me , she was always a bright spot. Birthday wishes Christmas greetings always felt close to her.
Dee will be sorry me , she was always a bright spot. Birthday wishes Christmas greetings always felt close to her.
Dee was one of our favorite people to visit. We always felt welcomed in her home and appreciated. She loved God and was always considerate of the blessings he had so abundantly bestowed upon her and her family. The family was always the center of her and Howard's life. She will definitely be greatly missed.
Now, as we get to know their daughters, we are well aware they have inherited many of their parents magical ways. What a wonderful, compassionate family.
We had the pleasure of enjoying he friendship we have had with Dee, Howard, Cathryn and Don. We called them the fab 4. So many fun trips and memories with the PT Cruiser group. See always remembered all of our birthdays and Christmas wishes, long after the group parted. She will be sourly missed by all.
Cathy, Tami, Vikki – I am so sorry for your family's loss. Dee was welcoming, loving, and kind. She always treated me like family, as I'm sure she did with most everyone she met. Her family was her joy and she was so proud of all of you. Love and condolences.
Thinking about you and your family. I am so sorry for your loss. Take care of each other
We are so very sorry for your loss. You are in our thoughts and we are wishing you peace.
I just want to say I'm so sorry for your loss. Prayers to you and your family.
I met Dee as a young woman, very impressionable. She was dressed so pretty and professional, and she worked with money. I like money. I looked up to her since I first met her.
Dee finding her cancer was hard, she was so advanced. And we had that in common, lung cancer. She will be greatly missed. Thank you so much for the afternoon snacks, inspiration of a change of social stature, and housekeeping goals.
So very sorry for your loss. Thinking of your family.
Vikki and family – sincere condolences on your mother's passing. May your many wonderful memories and the love and support of family and friends comfort you at this time.
My sincere condolences. Dee was a beautiful woman and now she is an Angel , she will be missed at our H0'0laulea, and bash. She is now experiencing pure joy with Jesus.
God bless her family and friends.
Much love and hugs .
I will remember her laugh. Growing up she was my other mom. I think I spent as much time at your house as I did at mine. She always made me feel welcome. So many lovely memories. I will keep her in my heart always. She raised 3 strong women who will make it through this loss with grace! I love you like sisters, Vickie and Tami. Cathy there are no words to encapsulate the many years except I love you! My condolences to you all. You are in my thoughts and prayers!! 💕
Thanks for the memories, dear friend. You will be truly missed in the future. Rest In Peace.
Pat & Bob Ramsey
All my love and prayers to the Chappelle girls and entire family. I am blessed to have had her in my life (my other Mom). She always welcomed me and treated me as one of the girls. It will be hard to not honk when I drive by and I will always think of her when I have a worthers candy. Rest In Peace
Dee You will be missed by many.
My heartfelt condolences go out to the family.
Love and prayers
Cindy and Tayler Warner
Sorry for your family's loss. My thoughts and prayers are with all of you at this time.
Rest In Peace with Howard.
Floyd Melton
I'm so saddened by the news of your mother's passing. May the lifetime of memories help ease your grief. My memories bring a smile, it was so long ago and so much fun when we visited. Grandma and grandpa so loved your family. Hugs to you all.
Cathy, Tami and Vikki, thoughts and prayers to you and your families. Your mother was a great woman who raised three great women and is now having a great time with your dad looking down on all of you.
Dee,
Thank you for always making me feel like a loved family member. You were so thoughtful and generous. Sending warm and loving cards to the mail each holiday was so sweet.
This World is going to be a different place without you here in person. As far back as I can remember, you have always been there; birthdays, graduations, our wedding and so much more. So many wonderful memories I will cherish forever. Our heartfelt condolences to the Family. Until we meet again.