FIND AN OBITUARY
Service information is posted on our website only with approval from the family.
If you are seeking information not listed below, please contact us.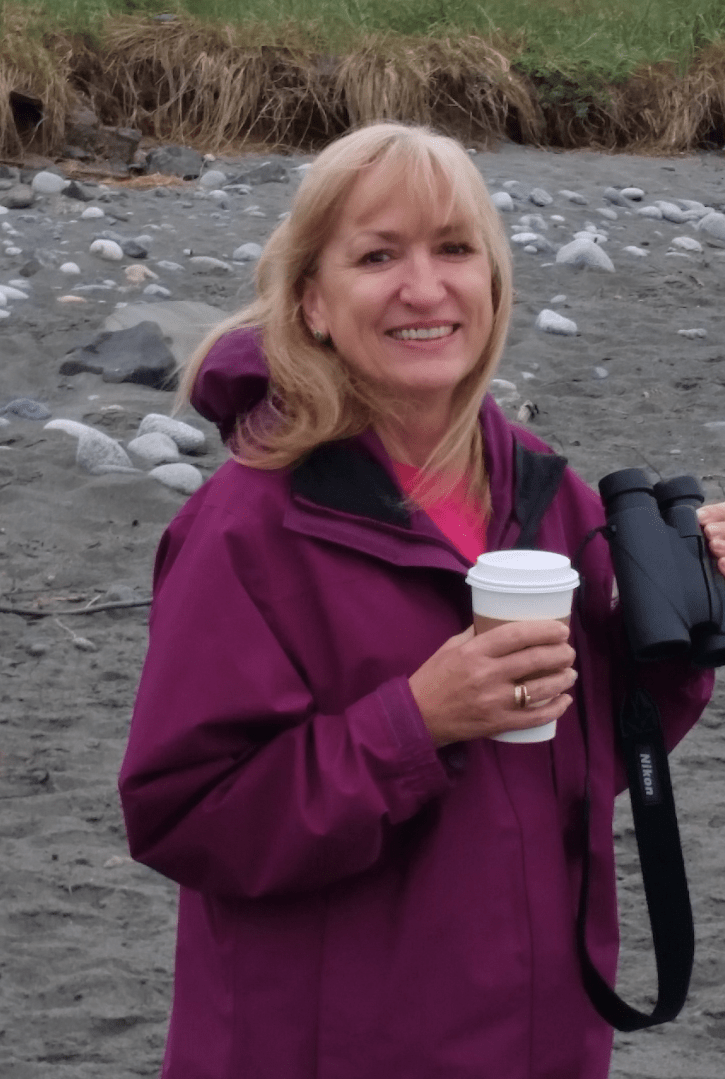 Laura (Babe) Warwick-Robertson
07/14/1959 — 07/08/2021
From Richland, WA | Born in El Paso, TX
New to Livestream? Watch the tutorial.
Laura (Babe) Warwick-Robertson
Laura (Babe) Warwick-Robertson passed away peacefully on July 8, 2021 after a battle with glioblastoma. She was born on July 14, 1959, to James E. and Yvonne Warwick in El Paso, Texas.  Laura was married to Dan Robertson, and they shared 34 wonderful years together.  Laura and Dan have one daughter, Lauren Pena, and a grandson Sebastian Pena. Laura had many passions during her life including teaching, tennis, wine, and whale watching. She loved making science fun and interesting during her years at Chief Joseph Middle School in Richland, Washington and she truly made a positive impact on her students' lives. Laura was also a determined and avid tennis player and she credited the sport with helping her become a part of every community she lived in. After moving to the Tri-Cities some 20 years ago, Laura became a wonderful winery tour guide for visiting family and friends, and the whale watching trips which were often a highlight of those visits never ceased to bring her joy and delight. Laura managed to live her life in a way that positively impacted the lives of those she interacted with, whether they were students, friends, or family. We will forever miss her and the light she brought to our lives. Laura is survived by her husband Dan, daughter Lauren, and grandson Sebastian; as well as her brother Dan Warwick, and four sisters, Marylee Warwick Jurecky, Suzanne Warwick, Ellen Warwick, and Joan Warwick-Brooker.  She is also survived by a number of nieces and nephews. The family will have a private memorial service. In lieu of flowers, please consider a donation to the American Brain Tumor Association, www.abta.org, or the Center for Whale Research, www.whaleresearch.com.
I was a student of hers when I was in 6th grade, I will truly miss the time she took to make school fun. RIP
Babealou u were the best we met at the Jr high I was in love u not so much I wore u down and I'll never forget your mom and sonny your mom fed me everyday and twice on Sunday remember album park how about Suez pool u had the best tan and everything that went with it swear I thanked God everyday thought u were out of my league u were the one that got away it was fun growing up together I'll always have a special place for u babealou
Laura was such a kind and gentle woman. I worked for a few years cleaning her classroom at Chief Joseph. She always said hi to me and we chatted often. Very sad to hear she has passed but I know she no longer suffers. God Bless you Laura. RIP.
May you Rest In Peace
I will miss you so much grandma Rip
So sorry to to hear of Laura's passing. I have fun memories of teaching with her at Chief Jo. As I was moving out and retiring she literally took science goodies out of my trunk in the parking lot. Glad to have them go to such a dedicated teacher. I subbed for her several times. Her passing is a loss to future students. She will be missed. Her smile will be a cherished memory for many. My sincere sympathy to Dan and her family.
Laura and I worked together at Chief Joseph Middle School and we became fairly close as co-workers. This picture of her with her Starbucks in hand is exactly as I remember her. She was a teacher beloved by all her students as she made learning fun and meaningful and worked to help all students succeed. My son was in her class many years ago and she used to delight in the fact that he "got" all of her jokes that often times went over the other students' heads. She and Matthew would share a look and a smile at that frequent occurrence.
She was fiercely dedicated to her daughter Lauren and grandson, Sebastian. I remember hearing her talk about them constantly as she recounted the latest adventures they were having or future plans they were working on. The joy on her face was evident of the love she had for them.
A bittersweet reminder of the fighter that Laura was remains on the wall at CBRC where she loved to play tennis and work out. It is a picture of Laura with her personal trainer who helped her get back in shape after her knee surgery. I remember Laura hobbling through the hallways with her bad knees, but refusing to give up the sport she loved. To me, this is the essence of Laura. She would fight to the end to do what she loved and to defend those dear to her. May her soul rest in peace. She will be greatly missed by y'all who knew her.
I knew you since grade school. I am so sorry you are gone and I hope and pray for your family to find peace. You were a wonderful person. God bless.
So very sorry to hear of Babe's passing. She was my best buddy in high school and college, and we shared many a special memory. She brightened the lives of everyone she touched. My love and prayers of comfort and sympathy go out to her family.
Babe was such a bright light yet she always found a way to let everyone else shine. I'll always remember her sense of humor and laugh. Blessing up for Babe and her family tonight . Peace be with you.
Babe, you always brought laughter and fun wherever you were. We had many good times back in El Paso! RIP dear friend. My prayers and sympathy go out to your family!
Babe will be dearly missed by all. She was a dear friend for many years through and beyond our High School years. I will cherish all my memories of her.
My sincere condolences to her husband, daughter, grandson and the entire Warwick family. Rest In Peace my friend.🙏
Babe you were always special…we knew each other from our cheerleading days in Junior high through first years of college. I can still hear your voice in my head and it makes me smile…
May you eat in beautiful peace, beautiful Babe.
My heart goes out to your family, may the Lord give you strength and peace in this time ~
My condolences to the Warwick family. Babe was a lovely friend. Fond memories of high school Pom Pons activities. She brightened up our squad with her smile.
Very fond Eastwood High School memories of Babe. Rest In Peace. God bless.
Babe I have such fond memories of you! I've known you since middle school. You were such a sweet and caring person. My deepest sympathies to your family and friends. A beautiful light has left this world… 😢💔
Laura was such an amazing woman to work with. She had an uncanny ability to connect with her students in such a positive manner…I enjoyed getting to know her and enjoyed our conversations that we had. My one lasting memory, and it's one I saw quite often, was of her and her best friend Pam walking down the hallway together with their coffees in hand enjoying working together….The halls of Chief Joseph have lost a great one, but her presence will be felt for a long, long time…
I am so very sorry for your loss. Laura was a passionate educator with an infectious smile. Prayers to her family and friends.
I'm so very sorry for your loss. She was a kind girl and woman. May she Rest in Peace and God Bless her family.
Condolences,
Linda Cantrell-Salvato
Great memories of a beautiful, fun friend.
My heart is in my throat right now. I'm glad I got to know you. You were truly one of a kind.
You will be truly missed -Gods speed
Godspeed sweet Babe. I have nothing but fond memories of you my Trooper friend.
You my dear Babe will be dearly missed!❤️