FIND AN OBITUARY
Service information is posted on our website only with approval from the family.
If you are seeking information not listed below, please contact us.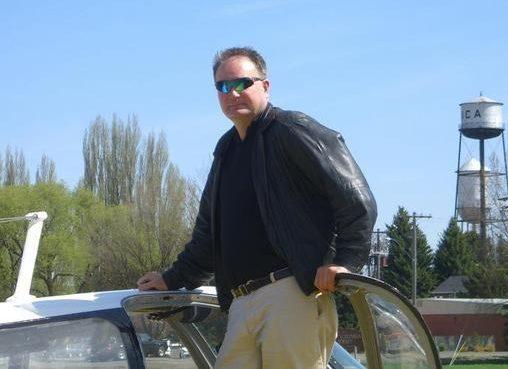 Laurin Arthur Rogers
11/24/1959 — 02/10/2022
From Kennewick, WA | Born in Yakima, WA
Watch Service
Watch Graveside Service
New to Livestream? Watch the tutorial.
Graveside Service
Starts:
Fri, February 25, 2022, 1:00 pm
Location:
Terrace Heights Cemetery
3001 Terrace Heights Drive Yakima ,WA 98901
Celebration of Life
Starts:
Sat, February 26, 2022, 2:00 pm
Laurin Arthur Rogers
Like his unique name, Laurin Arthur Rogers was one of a kind!
He was born November 24, 1959 at Yakima, WA to Lyndon A. and Bette E. (Schlagel) Rogers.  His sister Janet Lynn joined the family in 1962.  He spent his childhood in Spokane, WA.
He passed away February 10, 2022 in Richland, WA.  Laurin was kind and good to so many, a true Christian!   He recently stated he had "lived a blessed life."
Laurin always loved learning but not necessarily schoolwork.  As a child he read the World Book Encyclopedia for entertainment, then quizzed the family about what he learned.  His parents report he could take things apart since he was a toddler.
He followed his Daddy around and had his own set of tools.  He learned to do household repairs, fix cars, motorcycles and engines.  At the prompting of the Popular Mechanics Magazine he attempted to recharge some batteries on Mom's kitchen stove, resulting in batteries exploding all over the ceiling and floor.  When they both quit laughing, Mom helped him clean up the mess.
Laurin volunteered with the local TV repair shop to sweep the floor if he could hang out at the workbench.  This was particularly handy when Dad took away TV privileges by removing the tube from the TV.  Ever the clever he found a replacement tube at the repair shop and snuck it home so he could watch his favorite show, Gilligan's Island, while Dad was at work.
The family moved to Kansas City Missouri in 1977.  Laurin studied electronics in high school and his first fulltime employment was with a two-way radio and avionics repair shop where he worked as a bench technician repairing aircraft, business band and public safety radios.  It came so naturally for him, he also did Professional Consulting for attorneys in cases involving RF Communication systems.
His firefighting career began when he was in high school and he volunteered for the South Platte Fire Protection District (Parkville, MO) in 1977.  He worked as a dispatcher as he completed Fire Science and EMT programs at Penn Valley College.
Laurin's resume is long as he pursued adventures and occupations that interested him.  He followed in his Dad's footsteps, when at age 21 he chose to drive semi-trucks.  He was pulling loads coast to coast, having the time of his life.  He then drove  for Trans World Airlines (TWA), hauling jet engines and parts to all major cities.
Tiring of the road, in 1995 he was hired as a fulltime Firefighter II/Fire Apparatus Operator/EMT at South Platte Fire District.  His duties included education, prevention and fire suppression along with being a certified Building/Fire inspector for over 20 years.
His next adventure was with American Tower where he was responsible for maintaining hundreds of broadcast, cellular and other wireless communication towers.  He was certified for all tower lighting and strobe system repairs.  
Laurin's passion was aviation. He began flight training in high school and continued it at the downtown Kansas City airport.  He finished flight training in Washington state and soon purchased a vintage Bonanza V-tail plane #N3705N.   
After his move back to the Pacific Northwest Laurin earned Airframe and Power Plant degrees as well as an Associate's degree in Applied Science Aviation at Big Bend College in Moses Lake.  Laurin really enjoyed working for Viper Jet in Pasco where he was responsible for designing wiring harnesses, engineering and testing of electrical systems.  This came in handy when he flew to Santa Rosa and his Bonanza suffered engine failure.  He landed, overhauled and returned home safely.  He earned an Associates in Applied Science Business Administration at Columbia Basin College in 2009. He was working towards his Bachelor of Arts in Applied Management when he was hired by the FAA. 
For 12 years Laurin has been employed by the Federal Aviation Administration as an Airway Transportation System Specialist. He maintained, improved and certified national airspace equipment. As Electronics Technician he serviced RF Communication Radios, 2nd & 3rd Gen VOR/DME, lighting systems (MALS, MALSR, ODALS), PAP1, VA1 and HVAC. Specialists are the backbone of the national airspace and ensure we and our loved ones can fly safely to our destinations.  
Laurin was a business man as much as he was a dedicated employee and adventure seeker.  He created Bright Lights Aviation, LLC in 2005.  He managed his successful helicopter cherry-drying business as recent as last spring.  He never stopped day-dreaming of his next project.  His latest dream was starting H3 Helicopter to provide flight training, tours & photography in TriCities.  
Laurin enjoyed helping his Grandpa Gordon Schlagel on the Apple Ranch in East Selah.  In his youth he enjoyed water skiing on Priest Lake in Idaho and camping at La Wis Wis campground.  
He traveled to Costa Rica in 2020, having the time of his life exploring beaches, small towns, and spent a day driving up and into the jungle of volcano Orosi. His deep-sea fishing trip, sunset catamaran, and snorkeling were good times he talked about long after. 
Laurin will be immensely missed by wife Kathryn "Katie" Carter-Rogers of Kennewick, his parents Lyndon and Bette Rogers of Yakima, sister Jan Rogers-Jorgenson of Selah, WA, daughter Hannah, adopted children Nicole Rogers-Dubois (Anthony) and Del Rogers, step-daughters Alysha Carter and Courtney Hodgson (Toby) of Richland, step-grandchildren Aviana Carter and Jayce Adams, Aunt Lorna Jones,  niece Jen (Harrison) Burke, niece Marina (Dan) Beetz and two great nieces, Penny Burke and Estelle Beetz.  Also cousins Doug (Penny) Jones, Deni Jones and Jeff (Laurie) Jones.  
He was preceded in death by his grandparents, Glenn and Irma Rogers and Gordon and Hazel Schlagel.
After 45 years of professional hard work he fought stomach cancer with such courage.  End of flight:  10 February 2022 at Richland, Benton County, WA.  He awaits the resurrection flight.
A graveside service will be held on February 25, 2022 at 1 p.m. at Terrace Heights Memorial Park at Yakima, WA. A Celebration of Life will be held on Saturday, February 26th, 2022 at 2 p.m. at Einan's at Sunset Event Center, 915 Bypass Hwy, Richland, WA. 
Memorial contributions in Laurin Rogers' name can be made to his high school where he started flight lessons in 1976:
Upper Columbia Academy – Foundation One
PO Box 744
Post Falls, ID 83877
Foundationoneuca.org
(509) 939-1716
Linda.klinger@foundationoneuca.org
You are in our thoughts and prayers. Wish we could be there with you. 🙏
Becky, Gina and family
Laurin 2/26/22
I met Laurin through work some time back in 2012 when I was relatively new to the FAA. I had only been with FAA for about 8-months at the time before moving to the Tricities. He had been with the FAA for about 2-years longer than me.
Laurin took me under his wing right away and got me up to speed on basic FAA tasks. I spent the next two years working closely with Laurin as his side kick while I was getting qualified to do my job. I quickly recognized that he had a talent for restoring broken equipment, and also that he had no fear of working around electricity. I would often warn him to be careful, but the more I did, the more he ignored me. Every once and a while he would admit that he got zapped, but he still never learned his lesson. I was very concerned about that.
Many of our work sites are spread out in at least a 70 mile radius around the Tricities. It took me quite awhile to remember how to get to each of the sites. It didn't help that Laurin would take a back route every chance he got. I can't recall a time when Laurin took the main route to wherever we were going. It was always an adventure with Laurin whenever we would travel from site to site. It was normally a route that had no cellular service and where livestock out numbered people.
Laurin was what some would call a social butterfly. He could stop and have a conversation with just about anyone. It was a gift of his that he could make friends with just about everyone he bumped into. I'm certain he knew just about every gas station attendant within a 70 mile radius of the Tricities.
It was a daily routine of his to stop at a gas station at least once whether he needed gas or not. I don't know if it was just more of an opportunity for him to socialize or because he had to have his daily snacks, or a combination of the two. Snickers bars, M&Ms, and fiery Cheetos/funion rings were his favorite gas station treat.
I would tease, saying how can you afford to buy snacks everyday and I would call him a rich bulbologist (light bulb changer). He would tease me back about Yellow number 5 and Red number 40 while offering me one of his snacks. "Want some yellow number 5," he would say with a big smile on his face. I made the mistake of telling him that I was trying to avoid foods that had food coloring in it. Literally at least once a week for the past decade I would hear him slip into conversation yellow #5 or red #40. I know that if he were still around today he would still be teasing me up until retirement about that. He always got a laugh out of me when he brought it up.
It really was a pleasure to work with Laurin. He was a guy I really enjoyed being around. It never felt like work when he was around. I will certainly miss talking about drones, world events and politics, and even about food coloring, but even more than that, I will miss my good friend Mr. Laurin's warm voice and his pleasant smile.
-Peter Mazzara
My dearest Katie. There are no words to describe your strength and perseverance. I cannot begin to imagine how u feel but if it's any peace for you at all know I looked up to Laurin not only as a friend, but as someone who always had my back. He was amazing at fixing things but even more so with fixing broken people. His words were always kind and comforting. His eyes would look into mine and provide peace and encouragement. His understanding of what everyone goes through in life was so consoling. He always just new what to say. Laurin was an exceptional human being. I loved him so much. Thank u Katie for sharing laurin with the world. He cam over once and fixed my parents dryer. He had to run around and find parts took hours. But he was determined. He wouldn't even take a dime in payment for his help. All he wanted was a hug. My mom dished it out. She was crying she was so happy. Laurin was so honored. Amazing man. He always called to be sure I was ok. I was going through a rough patch there. He selflessly reached out over and over to ensure my safety and happiness. He was such a true friend. He did a lot in his career not to be overlooked but he did even more-much more for his friends. It was an honor and pleasure to be his friend. For that I will be forever great full. Dearest Katie please reach out if I can help. I am always here. I love u with all my heart. Laurin dance with the angels. And save a song for me for when I someday join u. We will meet again. All my love to everyone. Sherri
To The Rogers Family,
I met you in College Place on 6th street back when all us kids and the Jones Family kids were young. We lived across the street from Oma and Papa Rogers and Grandma Fewell. What fun we had playing all over the neighborhood until way after dark. I am sure that we kept many awake with our baseball games, wild hide and seek through the orchard and all the way back to our sheep barn.
Laurin is my big brother of my heart. I looked up to him, he was verrry tall compared to my shortness, when we were kids. He would walk us back with the Jones kids and between all the boys, Laurin, Doug and Jeff, I felt totally safe.
Laurin and I had many long, deep and profoundly meaningful talks through the years. Many of those talks were about growing up in Seventh Day Adventist homes with strict rules that neither one of us wanted to follow, which I am sure tried the patience of our parents as we each in our own ways pushed the boundaries of our families foundations and church rules. But we survived, we each went our separate ways and grew into adults who still had a friendship that will last both of our lives and into heaven.
I pray that each of you; Lyndon, Bette, Jan, Hannah, Katie and family, Jen and family, Marina and family, Doug, Jeff and Denni (sorry if I spelled names wrong) will stay close to God in your own ways and that we will all be reunited in heaven on a huge cloud and have Laurin and Doug take us on a universe tour in the only way they know how, fast and full of adventure!!!
Love,
Karoline Huenergardt
I love you Dad and I am going to miss you so much. I'll miss your wit and cleverness but I'll carry it with me in my heart. Because of you Dad jokes are my favorite! You taught me love and patience and kindness, I'll never forget our time together. Fly high Dad. I love you
Laurin lived an amazing life and gave it his all to beat his cancer and Covid!!! We can't wait for heaven-no more illness! Sending love and prayers to all the family!
CAVU Laurin. (Ceiling and visibility unlimited)!!!