FIND AN OBITUARY
Service information is posted on our website only with approval from the family.
If you are seeking information not listed below, please contact us.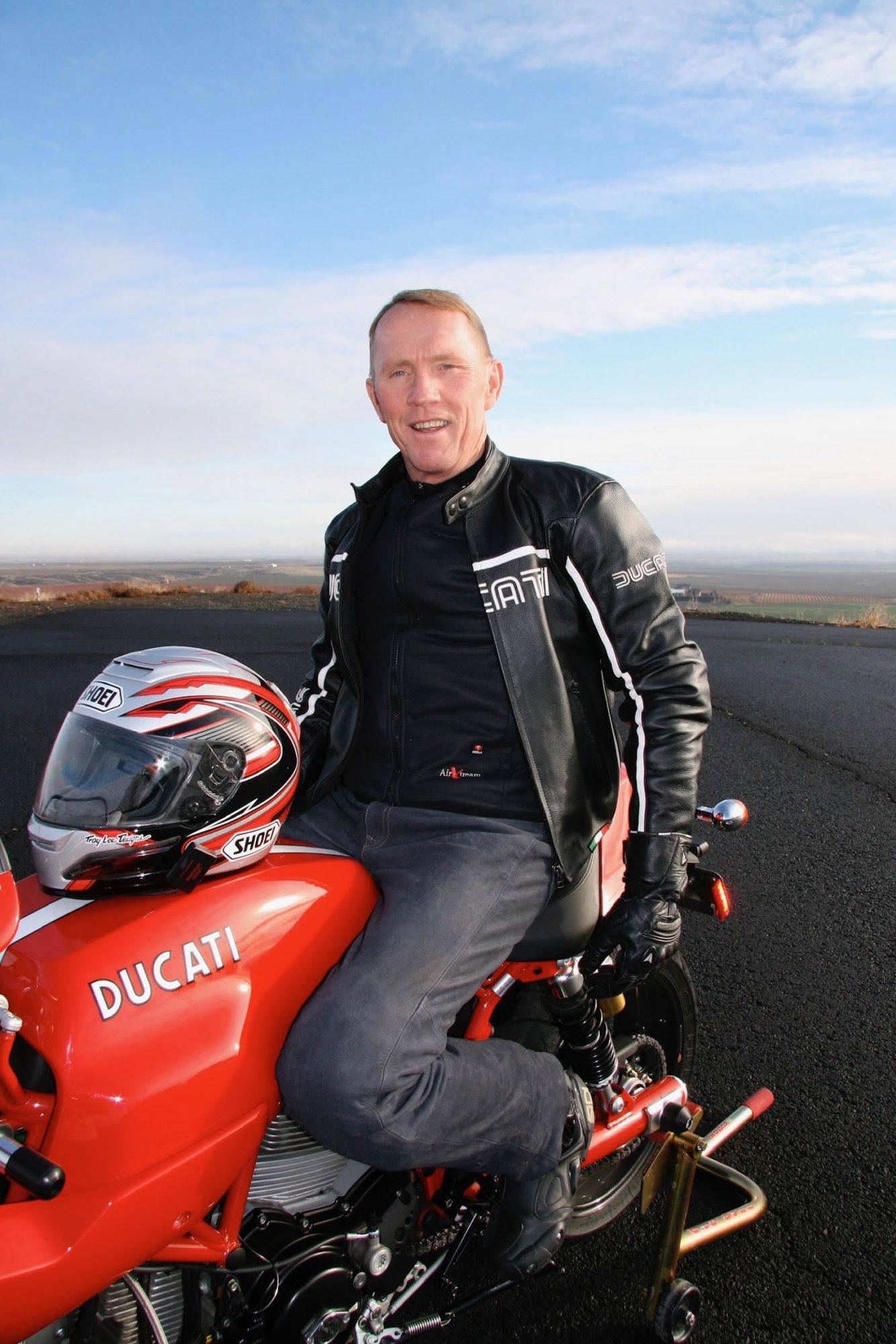 Richard Beightol
08/17/1949 — 03/19/2022
From Prosser, WA
Watch Service
New to Livestream? Watch the tutorial.
Celebration of Life
Starts:
Thu, April 7, 2022, 1:00 pm
Location:
Prosser Bethel Church
270 N. Gap Rd, Prosser, WA 99350

Reception
Starts:
Thu, April 7, 2022, 2:00 pm
Location:
Vermulm Barn
22236 N Hinzerling Rd Prosser ,WA 99350
Richard Beightol
Richard (Dick) Thomas Beightol was born on August 17, 1949, in Pasco, Washington. Dick passed away peacefully, with his family and friends by his side, on March 19, 2022 in Kennewick, Washington.
From a young age, Dick learned how to work hard on the family wheat farm and played hard in his free time on any motorcycle he could find. As he got older, his obsession with motors and going fast spread to cars, go-karting with his sons and obtaining his pilot's license.
Throughout his professional career, Dick found himself in multiple roles at Mercer Ranches, including irrigation, farming operations and in the carrot packaging facility. He was extremely proud and thankful for the opportunity provided by Bud Mercer and the rest of the Mercer family.
In 1998, Dick started his own family operation, Phinny Hill Vineyards. Using the skills he learned working at Mercer Ranches, Dick built what is considered by many as one of the top wine grape vineyards across Washington State. Today, Phinny Hill Vineyards is how his legacy will live on, as his sons continue the work he started to produce top-quality grapes for world-renowned wineries in Washington Wine Country.
As when he was a child working on the wheat farm, Dick continued to work hard on the vineyard, but could also be found playing hard and going fast eventually becoming the engine himself when he began bicycle racing. He dedicated much of his free time to training and becoming a well-oiled machine atop his bicycle.
This love of bicycling continued up until the last weeks of his life, where he would pedal away while sitting in his lounge chair.
He was preceded in death by his parents, Robert Beightol and Gerilee Cruz and his brother, Steven Beightol.
He is survived by a loving family: his wife of nearly 50 years Cheryl and their two sons Will (Amy) and Brandon (Kim), his brothers Roger (Florence), Robert (Ronda), and Sharon, his in-laws Patricia Hall, Linda (Ed) Bordwell, and Shawn Schaneman. Dick especially prized his four grandchildren Taylor, Ryan, Mia, and Liana.                        
A Celebration of  Life will be held at Prosser Bethel Church 270 N. Gap Rd. Prosser on Thursday, Apri 7, 2022 at 1:00 pm. Reception to  follow at the Vermulm Barn at 22236 N Hinzerling Rd in Prosser. In lieu of flowers, the family requests donations be made to the Washington Wine Foundation Albert Don Memorial Scholarship.
Heartfelt condolences and prayers to the Beightol family. I consider myself truly blessed to have been friends with Dick. Dick entered my life as a customer at the bike shop, but quickly evolved into such a cherished friendship shared over many years. Truly one of the greatest men I have ever known. Cheers to you Dick, see you on the other side! Love ya
Cheryl
The service was such a beautiful tribute to Dick; what an amazing man. I sure wish I had had the opportunity to meet him. I pray that the Lord will give you great comfort in the days ahead and bring to you precious memories.
The Beightol family were my neighbors starting sometime in the early 60's. Dick was 2-3 grades above me but his younger brother, Steve, and I were friends and ran around together through junior high. Even at a young age Dick was becoming a local legend to our neighborhood. We used to go to a gas station that Dick worked at to watch him do wheelies on his Honda 50 in the parking lot. He modified the exhaust and it sounded fantastic. We all got the dirt bike bug. In the mid 70's I began to know Dick as a friend and we spent years racing motocross at local tracks in Mabton and Kiona Benton. Dick always won his class. He was the most talented natural rider that I've known, He looked good just sitting on a motorcycle. I later bought one of his racing karts and he and I made several rides on our "crotch rockets". One trip we made was to Mt. Adams and back in an afternoon over several mountain roads and most of the time we were around 100mph and more. He loved speed! Never told him in person, but he was a hero. A great person who will be missed. God bless the family.
Cheryl and family I am so sorry for your loss. You have many wonderful memories to keep him close in your heart forever.
I have a special place in my heart for Dick.
Dick pioneered irrigation with the Mercer family. If I was having problems with a circle I could count on Dick for information and sometimes opening up Mercer's shop to lend me a part even on a Sunday. Dick worked hard helping the Mercer's to change the Horse Heaven Hills desert to fruitful farmland and developing his own family vineyard.
Beightol Family-My heart is saddened for your loss and I pray you will find peace and comfort in the Lord.
Dick was a bicycling friend of mine for well over a decade. We rode together hundreds of times and often traveled together to ride in exotic locales around the Northwest. Dick usually drove us and those were guaranteed to be the most exciting parts of the trips as he took speed limit signs and yellow lines only as general suggestions, always pushing his little Fit to the max. But he always pushed to the max on the bicycle too! For some reason, bicycling friends relish in hurting each other on the bike. And though Dick was 17 years older than me, he could pretty much hurt me any time he wanted. He was subtle about it too. We'd be pedaling along, chatting, him cruising ahead of me with his beautiful and seemingly effortless pedal stroke, me breathing through my eyeballs and just barely holding on to his rear wheel. Then it would happen, always unnoticeable until it was too late: the sly little grin, the slightly increased cadence, the whoosh! He'd be off the front and I'd have to kill myself just to keep him in sight. At some point he'd stop to wait for me and greet me with, "That was fun." It sure was!
Off the bikes, Dick was the kindest person I know. He was always checking in with me to see what I was up to, where I was riding, how my family was doing… And to invite me to his house for the greatest tuna sandwiches I've ever eaten. He was the best! I miss him.
Cheryl, you were the love of his life and your love will live on in your children and grandchildren and his legacy of his zest for life. My love and prayers are with you.
For Richard,
Surely as he approached the pearly gates, the heavens resounded with Dick's cycling rally cry: HALLELUJAH BROTHER!!! And his beautiful mind hit REFRESH!
Looking forward to our group riding together on the other side…🚵🚵🚵
Our prayers and condolence goes to Cheryl,Will, Brandon n families during this time of grief. May you all find comfort in the beautiful memories you had with Richard. May his beautiful soul Rest In Peace🙏 Lita Cabreira n family
Dear Beightol family,
Our thoughts and prayers are with you. We will miss Dick!
Lots of love to you all.
May you rest in eternal peace in heaven, Richard🙏
I am honored & blessed to have known your family. Sending love, comfort & prayers to Cheryl & the Beightol family.
Dick was always in a good mood. His smile was infectious with everyone around him. I enjoyed riding bicycles with Dick. His tenacity, attitude and strong will in life made him shine at everything he done and inspired others around him to succeed. Dick will be greatly missed. My deepest condolences to all of the family.
Our thoughts and prayers are with you and your family.
Godspeed Dick. I am gonna miss our chats and your macchiatos.
Our deepest condolences to Cheryl and all of the Beightol family. We love you.
Such a beautiful person: " Rest In Peace Dick "
Dick and my family have known each other for over 45 years. He was a good friend and neighbor to our family and will be greatly missed . He and I had some common ground of being very mechanical. I always enjoyed visiting with my friend Dick
To the BEIGHTOL family,
Our heart felt condolences. We will remember Dick's smile, hospitality, coffee, and kindness. We feel fortunate to have spent some time with him at your home and during his birthday.
Our thoughts are with you,
David, Tess, and Lucky Mullarkey
We Treasure the Friendship we shared with Dick from childhood through out our lives. He holds a very special place in our Hearts. He will always be missed!! Our Love and Prayers for his Family!!❤❤😪🙏
Eternal Rest grant unto Richard, O Lord. May He Rest In Peace.
Our deepest sympathy to the family.
What a sunshine to my day! You will be missed! Enjoy riding in the hills of heaven my dear friend! New adventure awaits you!
Rest in paradise Dick, Thank you for being such an important part of my life for the past year. Most of all thank you for being so patient with me specially when I asked you to do something that you didn't want to do. Thank you for allowing me to be part of your extraordinary family.
Oh man! we sure had a year of ups and downs, however I would do all over again if I could without a doubt. I will miss your hugs, smile and our interesting conversations my friend, until we meet again.
Dear Will & Family,
From farming in fields and vineyards, to racing motorcycles, bikes and even flying planes, is seems that your father left quite the legacy behind. May his memory bring you love, laughter, joy and ultimately peace.
Our condolences you, your mother, brother and families during this time.
Sending my deepest sympathy and prayers to Cheryl, Brandon, Will, their families and extended families.
We watched Dick grow from a hard working young man to a loving husband and father to a valuable Mercer Ranch employee to ,finally< a talented grape grower. We will always value the friendship of our "Horse Heaven" neighbor and friend. Gods Speed Dick.
I didn't get the privilege of knowing Dick before his Dementia set in, only after. But I could still tell what a wonderful man he was. How generous and loved. His family are just the same. I'm so thankful to have had the privilege of getting to know them all when I did and becoming part of their beautiful and loving family.
Gosh, Dick & I go way back to our grade school days. Many movies together, model car building, &, driving my go-cart. Dick had his 1st red honda 50 when we entered 6th grade. We had a blast riding that & in junior high I got my 1st yamaha. In our class we were some the very 1st motorcycle riders. IN 1962 Dick went with my family to see the Seattle Worlds Fair. He had a pet orange cat he loved. In junior we remained good friends. We were still in Patrol Boys taking down the Ameran Flag each afternoon. Dick's brother Roger showed him how to repair hondas & in highschool Dick helped me plus others work on our motorcycles. He was one heck of a motorycle rider. He would wheelie all the way around a track. Dick played offensive left tight end in junior high while I played offensive left tackle. Reaching high school Dick arrived to school on day with a 57 Chev. This one was very special. It came from the factory with a fuel injection 283 v-8 engine the corvett also came with. Ofcourse, Dick made it faster installing a 327 v-8 365 horspower. That car did not ride like the typical old chev. It was very solid & really fast. I always appreciated Dick's friendship. He was sort of the boy next door growing into a fine man. Always had an infection smile, always such a happy fellow up for fun. Sorry for his familys loss.
Our condolences go to the family. We will be out of town then. Sincerely, Bob and Cathy Stevens
Our thoughts and prayers are with your family.