FIND AN OBITUARY
Service information is posted on our website only with approval from the family.
If you are seeking information not listed below, please contact us.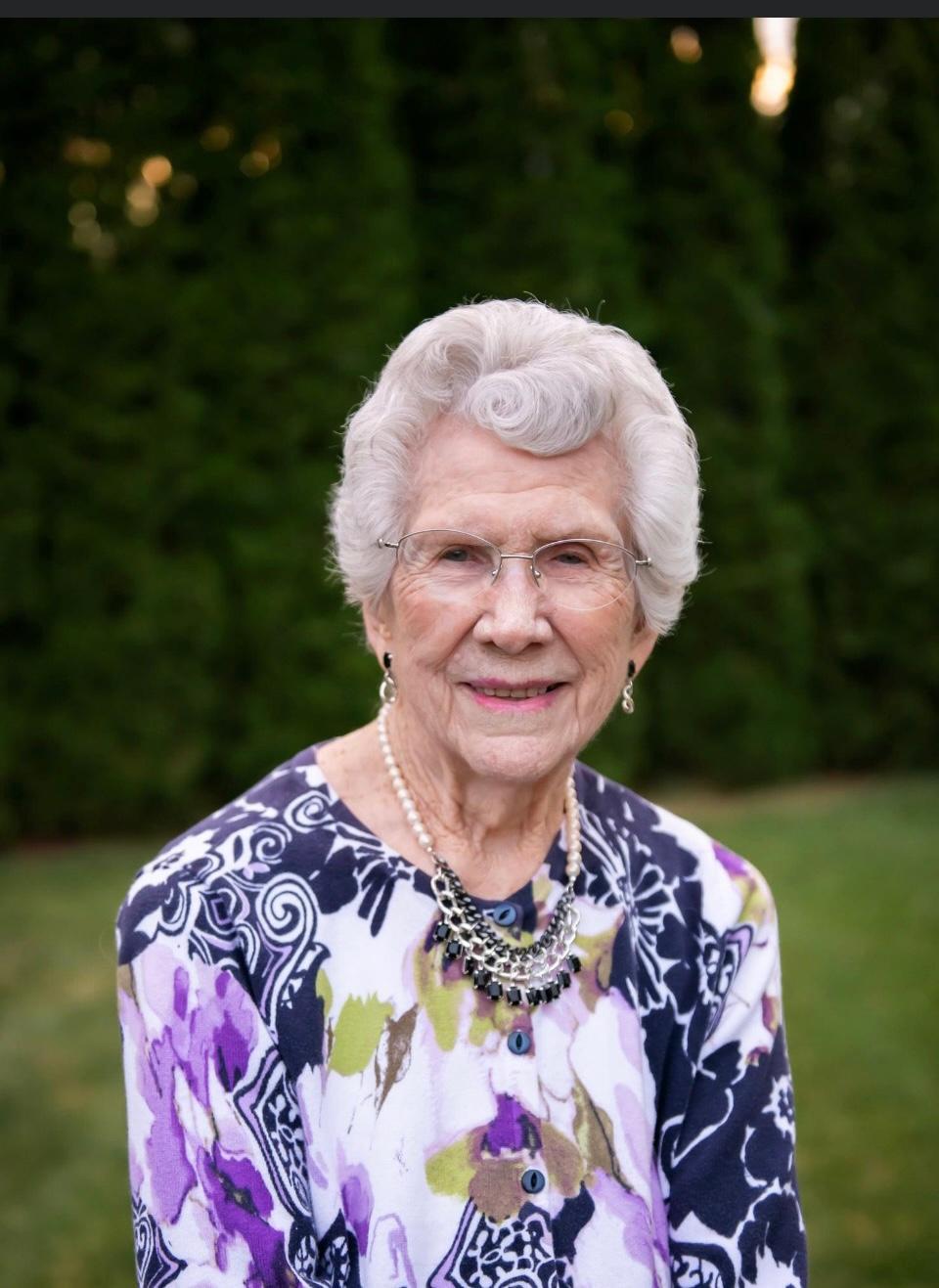 Leora Belliston
06/06/1922 — 05/05/2022
From West Richland, WA | Born in Santaquin, Utah
Watch Service
Watch Graveside Service
New to Livestream? Watch the tutorial.
Viewing
Starts:
Fri, May 13, 2022, 6:00 pm
Ends:
Fri, May 13, 2022, 8:00 pm
Location:
Einan's At Sunset Funeral Home
915 Bypass Highway Bldg. H Richland, WA 99352
Viewing
Starts:
Sat, May 14, 2022, 12:45 pm
Ends:
Sat, May 14, 2022, 1:45 pm
Location:
The Church of Jesus Christ of Latter-Day Saints, Paradise Chapel
4500 Maple Lane
West Richland, WA 99353
Celebration of life
Starts:
Sat, May 14, 2022, 2:00 pm
Ends:
Sat, May 14, 2022, 3:00 pm
Location:
The Church of Jesus Christ of Latter-Day Saints, Paradise Chapel
4500 Maple Lane
West Richland, WA 99353
Interment
Starts:
Sat, May 14, 2022, 3:00 pm
Ends:
Sat, May 14, 2022, 4:00 pm
Location:
Sunset Gardens
915 Bypass Highway, Richland, WA 99352

Leora Belliston
Edna Leora Topham Belliston completed her mortal journey on Thursday, May 5, 2022, surrounded by members of her loving family, just 32 days before her 100th birthday.  Her life was characterized by love, service, warmth, faith and steadfastness. Throughout her life she continually thought first of the comfort and well-being of others before herself.  Her husband and their posterity were her greatest joy and they always knew by her words and actions that they were loved and cherished.
She was born June 6, 1922, in Santaquin, Utah, to Mretta Jameson and John Wesley Topham.  She was raised on a farm where she learned to work hard.  She graduated from Payson High School in 1940.  As a faithful member of The Church of Jesus Christ of Latter-day Saints, she faithfully served as a stake young women president, ward Relief Society president, and in many other callings which enabled her to use her talents to help, love and serve others.  She was a long-time member of Daughters of Utah Pioneers.
Leora had many talents and abilities which she continually developed and added upon, which enriched her life and the lives of many.  One of those talents was developed by taking an art class in her early 60s which resulted in many beautiful paintings.  Also in her 60s she went to aerobics 3 times per week until age 92.  She frequently said, "You have to keep moving!"
It was in Nephi, Utah, that she met Vernon Milton Belliston, who became her eternal sweetheart when they married on July 31, 1940, in the Manti Utah Temple of The Church of Jesus Christ of Latter-day Saints. They lived in Salt Lake City, where their first child was born while Vern worked for Remington Arms, until 1943 when Vern was recruited to work on the Manhattan Project at Hanford, Washington.  They settled in Richland, Washington, where they were blessed with five more children.  Their children were raised with love, affection and memorable traditions which fostered close family ties.  After their children were grown, she and Vern served a mission in the Alabama Birmingham Mission.  They were married for 73 years before he passed away the day after their anniversary in 2013.
Leora is survived by her devoted children:  Erlynn Lofthouse (Merrill), West Jordan, UT; Linda Boehning (Dick), Richland, WA; Joan Eyre, West Richland, WA; David Belliston (Keiko), West Richland, WA; Debra Hatch (Clay), West Valley City, UT; and Brian Belliston, Richland, WA.  Also survived by 19 grandchildren, 27 great-grandchildren, 3 great-great-grandchildren, several step-grandchildren/great-grandchildren, and numerous nieces and nephews.  Preceded in death by parents; all 10 siblings; an infant granddaughter, Lacey Belliston; and a son-in-law, Larry Eyre.
Funeral services will be held Saturday, May 14, 2:00 pm, Paradise Chapel, 4500 Maple Lane, West Richland, WA.  A viewing will be held Friday, May 13, 6-8 pm at Einan's at Sunset Funeral Home, 915 Bypass Hwy, Richland WA, and again at the church prior to the funeral service, at 12:45 pm.
In lieu of flowers, please make contributions to The Church of Jesus Christ of Latter-day Saints Humanitarian Fund or Missionary Fund.
My grandma was such a kind, generous and loving person and was very strong in her faith. She was such a great example to me. So many good memories growing up going to Grandma and Grandpa's house. I miss those days! Grandma was the best cook! She made the best homemade rolls and jam. I loved her sense of humor and her wonderful laugh! I will miss our phone calls! I really wish I got to see her one last time before she passed but I know I will see her again. I'm sure she had a wonderful reunion yesterday with my grandpa, my sister, her parents, siblings and all her other relatives and friends. I will miss her so much! Until we meet again! ❤️
What a lovely, valiant, wonderful person she was. She will be missed.
Loved viewing the funeral service for my Aunt Leora! What a marvelous person! So very grateful for her life, and for Uncle Vern, and for my Belliston cousins! Our thoughts and prayers are with you!
Aunt Leora was one of a kind for sure. I have many fond memories of our younger lives when our families spent quite a bit of quality time together. Although I'm not able to attend the service today, I am there in spirit. Rest in peace Leora.
Love this Aunt such a beautiful lady she will be missed ❤️
What an amazing life of nearly 100 years and what an inspiring spirit to paint and still do aerobics weekly in her 90's, a wonderful example of life long learning and determination to keep moving.
Best wishes to all Leora's family and friends, remember the life that lived and follow her good example.
Hang on to your wonderful memories and know you will be together again one day! Our thoughts, prayers and love are with you!
My thoughts are with the family.
Carolyn Richards, Ara's daughter (Leora's niece)
Our thoughts and hugs are with you
Our sympathy and lots of love from our family to yours. May you always feel her close by and the love she gave. It is just the beginning not the end. Thank goodness for the knowledge of Eternal lives and living. Lots of love.
Kent and Virginia Warren
Grandma Belliston was always bright, charming and incredibly kind. Her house was a gathering place, where the family would come together.
One of the things that always stuck out to me was… the incredible volume of canned food in her basement. I've always been impressed with self-sufficiency skills, like canning. I'd love to be able to do that, but alas, I do not have that skill.
I always wanted her to head down to the basement with me and tell me about how all of that food got there. I'd love to know about what she canned, why she canned it, and the processes she went through in order to get it done. We never got that opportunity though, she was always too busy.
She was socializing with her family, making sure the conversation was convivial and lively in the common room and making sure dinner came out right.
Grandma was in charge.
I wish I knew her better and I wish my boys knew her better, but I will satisfy myself with being grateful for the time we had together.
Godspeed, Grandma! May you find that exercise class in the sky!
Oh how I love Aunt Leora! What s great example she has always been in every way. I remember fun times when they stayed in our home in Boise and Fresno California and when we stayed in her beautiful home; making us feel so welcome with her wonderful cooking. She was always so proud of her family and always had a positive outlook on life! How sad we are that we are unable to attend her funeral but we will be there by Zoom!
Sending much love to her wonderful family!
Nancy and Ron Whetman
I think about the reunion she had in heaven it was probably amazing being there with her mom and dad and her siblings
She was such a sweet lady and shared her love and family with me! I appreciate the gospel that was shared by Leora and her family shared with me! Such an good example she was to everyone and especially me! All my love
We sure wished, we we could attend Aunt Leora's funeral. We are happy that we were able to attend her 99th Birthday Celebration. What a special memory that will always be to us.
We are so thankful that we are apart of this great "Eternal" Family!
We send our thoughts and prayer's , and especially our Love,
Terel & Ellen (Belliston) Grimley
We sure wish that we could be there, due to the distance I'm afraid that we won't be able to. Know that we love ❤️ you all very much, think of you all often. Hugs to you all with sweet affection.
Love,
Lorrie & Rod
And family