FIND AN OBITUARY
Service information is posted on our website only with approval from the family.
If you are seeking information not listed below, please contact us.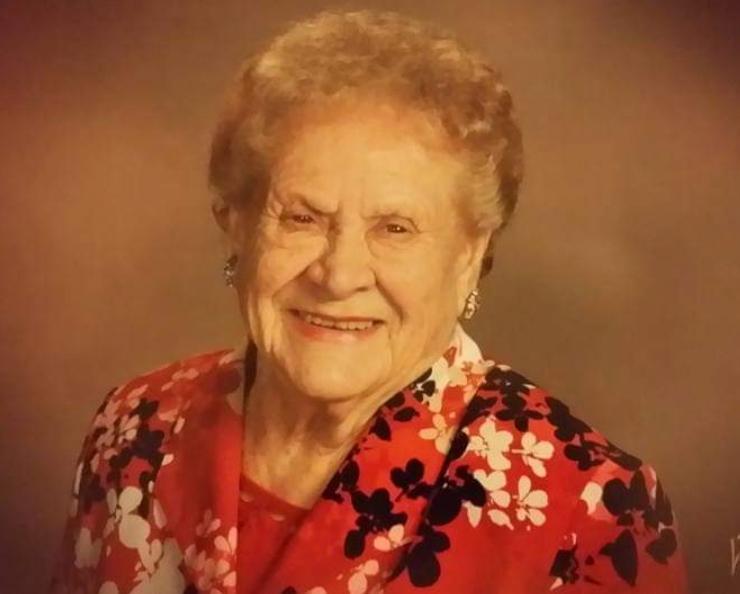 Sigrid Christine Preston
07/15/1925 — 05/15/2022
From Richland, WA | Born in Big Timber, MT
Watch Service
Watch Graveside Service
New to Livestream? Watch the tutorial.
Public Viewing
Starts:
Thu, May 26, 2022, 10:00 am
Location:
Einan's Event Center
915 Bypass Highway Richland ,WA 99352
Celebration of Life
Starts:
Fri, May 27, 2022, 11:00 am
Location:
Einan's Event Center
915 Bypass Highway Richland ,WA 99352
Graveside Interment/inurnment
Starts:
Fri, May 27, 2022, 12:00 pm
Reception
Starts:
Fri, May 27, 2022, 1:00 pm
Location:
Einan's Event Center
915 Bypass Highway Richland ,WA 99352
Sigrid Christine Preston
Sigrid (Sig) Preston, passed away after a fierce battle to overcome a stroke. She was born on July 15, 1925, to Josie and Chris Boe in Big Timber, MT.  She was the oldest of 9 children (7 who lived to adulthood) raised on the Boe Homestead 12 miles north of Springdale in the foothills of the Crazy Mountains.
Sig attended one-room schoolhouses for grades 1 through 8.  She lived with grandparents and attended Rapstad School for 1st grade.  The next 7 yrs were spent at Sioux Crossing School.  After 8th grade graduation, she boarded in Big Timber and attended Sweet Grass County High School (SGHS).  After completing her junior year, she and classmate Alice Clouse rode the train to Washington, D.C.  In D.C., she worked for the War Department.
In 1944, Sig returned to Big Timber to complete her senior year at SGHS.  She worked at the Farmers Service while attending school.  She graduated from SGHS in 1945, and after graduation, Sig moved to Helena and went to work at Fort Harrison.  In 1947 she moved to Livingston to work for the Montana State Employment Service.
Sig married Harry Preston on September 1, 1948.  In November 1951, they moved to Richland, WA, where Harry had accepted employment at the Hanford Project.  In March 1952, Sig was employed by the Atomic Energy Commission (AEC).
Sig and Harry adopted two children, Mark and Linnea.  Sig was a homemaker for 10 yrs.  When the children were in school, she worked part time at the Benton Franklin Health Department.  In 1965, Sig returned to work fulltime for AEC.  She retired on April 1, 1988.
Sig was active in Richland Lutheran Church since 1952.  She was a member of the Veterans of Foreign Wars Auxiliary, Beta Sigma Phi Sorority, the Moose Auxiliary, the Eagles Auxiliary, and the National Active and Retired Federal Employees Association (NARFE).  She did more than her fair share of volunteer work over the years—selling poppies, taking shifts in booths, or baking the best-tasting goodies ever!
Sig loved entertaining.  She could whip up dinner for 4 or 14 without giving it a thought.  Food is how she showed you she loved you.  She especially enjoyed making Norwegian dumplings and lefse—a lot of work, but thoroughly loved by family.
Sig wintered in Arizona for several years with her partner John Edgar, and they enjoyed golfing, fishing, and taking trips to see family or to his navy reunions.  She also enjoyed traveling the world including Australia, Thailand, Nepal, several continental European countries, the British Isles, and visiting family in Norway.
She was preceded in death by her parents, Josie and Chris Boe, 4 brothers:  Jim, George, Raymond, and Walter; 3 sisters:  Betty, Edna, and Hilda; husband of 38 yrs, Harry Preston; partner of 30 yrs, John (JV) Edgar, and son Mark Preston, Pasco, WA.
She is survived by her daughter Linnea Preston, Shoreline, WA; sister Cora Baldwin, Missoula, MT; brother-in-law Gene Preston, Richland, WA, John Edgar's children Jevin Edgar and Sheri Sipe, and several beloved nieces and nephews.
Viewing will be Thursday, May 26,2022, from 10:00 a.m. to 2:00 p.m. at the Einan's at Sunset Event Center. Celebration of Life for both Sig and her son Mark will be held at 11:00 a.m. on Friday, May 27, 2022, at the Event Center followed by burial services onsite. Family and friends are welcome to enjoy a luncheon celebration at the Event Center following services.
In lieu of flowers, memorial contributions may be made to Chaplaincy Health Care (1480 Fowler St, Richland, WA 99352) or the charity of your choice.
What a beautiful tribute -she clearly was an amazing woman❤️❤️❤️. So sorry that she is gone.
Sig,
Thank you for sharing your love of life, your words of wisdom, and your wonderful sense of humor. I will always remember sharing laughter with you.
You will be missed!
With love,
Janelle Jackson
Many wonderful memories living across the street from the Preston family for so many years with our kids growing up together. We are saddened to hear of the loss of both Sig and Mark. Much support to Linnea
I received Linnea's message regarding the loss of her beloved mother with great sadness. And I was honored to read the incredible tribute she put together and posted here for Sig.
Sig was a beautiful human being and her departure will be forever felt by many people, including myself. She was a highly intelligent, mindful, kind and thoughtful person who worked hard to be the best person she could be each and every day of her life.
Since I never had the privilege of actually meeting Sig, you might ask how I know all these truths about her. That is an easy question to answer since like so many others, I know and love Sig's daughter, Linnea. Thus, I have grown to know and love Sig over the years of our friendship.
Distance will prevent my attending the events later this week to celebrate Sig and her son, Mark's, lives. However, I will be there in thought and prayer.
In memory of Sig. She had a wonderful life. Thoughts and prayers for family and friends.
Goodbye, Sig. You were truly a nice person, full of energy, and always on the move. Though you had an amazingly long and productive life, and one that was full of adventure and good times, I hated to see you go. Love, Sherry
Dear Linnea:
Words inadequate. Another loss so soon. My heart is heavy for you and your family.
I am unable to attend, my many hugs, thoughts and prayers are with u always.
Mom's are so special. Linnea my thoughts are with you. You always spoke so highly and affectionately of your mother. Over time may your sadness lessen and may you be comforted by many happy memories.
I was always in awe of Sig! She is one of my older cousins, she and my Dad, Ben Raisland, ran around together while they were younger. Josie would only let Sig and Cora ride to town with my Dad and he told me several times that he told the girls if they rode to town with him he was taking them home or he would take them again. I just think he would have been in big trouble with his sister, Josie, and her husband if he didn't watch them carefully. She and Mark will be missed!!!!
What a lovely tribute to your mom, Linnea. I feel like I know her after reading this! She will be missed by so many—her passing clearly leaves a hole in this world. Holding you in love and light.