FIND AN OBITUARY
Service information is posted on our website only with approval from the family.
If you are seeking information not listed below, please contact us.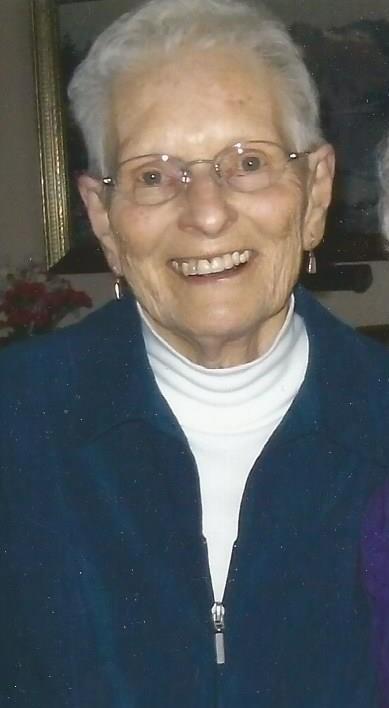 Arvada "Vada" McVicker
10/18/1927 — 06/28/2022
From Richland, WA | Born in Portland, OR
Celebration of Life
Starts:
Fri, July 22, 2022, 4:00 pm
Ends:
Fri, July 22, 2022, 5:00 pm
Location:
Central United Protestant Church
1124 Stevens Drive, Richland, WA 99352
Arvada "Vada" McVicker
Please click the YouTube link below to watch Vada's service live
Vada McVicker, Richland, WA died on June 28, 2022.  As she went to sleep for the last time, she was surrounded by family expressing their love.
Arvada Louise Swain was born to Ethel and Guy Swain in Portland, Oregon, on October 18, 1927. Arriving 30 days early, her mother barely made it to the hospital, so she was born in the hospital elevator.  Her eldest sibling Dorothy Olson (Oscar) was married with sons Eldon and Calvin Andrews whom she grew up with.  Her eldest brother John died in a work accident before she was born.  Her closest brother Robert Swain, seven years her elder, served in WWII where he met his wife Dorothy and they had two children Mark Swain and Carrie Turansky (Scott).  Her favorite childhood activity, Sunday family picnics at the beach, imprinted a love for family, sharing good food together, and the beach.  During WWII, she worked at Manning's Cafeteria six hours a day and attended school four hours per day.  She graduated from Portland's Franklin High School and then attended Oregon State College.  She married Johnny McGilvra in August 1946.  Johnny died unexpectedly the following year due to complications of tuberculosis.  She continued her education at Willamette College and then moved to The Dalles, Oregon to live with the Burdette family who attended The Dalles Methodist Church. There she met the McVicker family including eldest son and returning WWII serviceman, Don McVicker.  Vada volunteered at the hospital, where Don was hospitalized.  She often read to Don and discovered shared interests especially in God's Word.  Upon return to his studies, their relationship continued with letters.  They were married on June 26, 1949, at The Dalles Methodist Church.  Vada and Don studied together at Wheaton College; she ended her studies in 1951 to work at the post office in order to send funds to their parents.
Four children were born to this marriage:  Carolyn Ruth, David Lars, Sandra Lynn, and Mary Kay.  As the family grew, Vada participated in many communities as they followed Don's studies at Fuller Theological Seminary in Pasadena, CA and pastorates across Washington state:  Napavine, Cosmopolis, Ridgefield, Bellingham, and LaCrosse.
In 1968, she and Don moved to Richland, WA where Don pursued his passion as pastor of Christian education at Central United Protestant Church (CUP), and the place Vada called home and loved being part of the "Central family."  In the 1970s alongside Don, she was part of Life in the Spirit seminars, helped guide a CUP trip to Israel and the summer intern program; and for decades, she co-hosted the weekly CUP Booktable.  Her tuna noodle casserole and blueberry buckle coffee cake were staples at church potlucks.  She found great fulfillment in being beside Don in ministry until his death from lymphoma on May 16, 1979.  In 1980, she began work at Fabricland in Uptown and for 12 years enjoyed the comradery and creativity.  She served for many years on the CUP Missions Committee.  Her love for and involvement at Central Church remained steadfast and one of her favorite activities was Bible study.  In 2002, she beat death and lived another two decades at Wynwood/Alterra/Brookdale where she served on multiple committees and found delight by encouraging fellow residents and staff.  Among her fondest memories were annual beach outings with the McVicker siblings (Raleigh & Nancy, Margaret & Ned, and Mary) and a surprise 90th birthday celebration filled with the joy of her children, grandchildren and great-grandchildren.
Vada was preceded in death by her parents and siblings, by her husband Johnny McGilvra in 1947, and by her husband Don McVicker in 1979.  She is survived by daughter Carolyn McVicker Hanson (Gary), son David McVicker (Shanna), daughter Sandi Rasmussen (Bob), daughter Mary McVicker Camp (David), 9 grandchildren, 18 great-grandchildren and 1 great-great-granddaughter and another on the way, 3 sisters-in-law, and many nieces and nephews.
A memorial service will be held at Central Church, 1124 Stevens Drive, Richland on Friday, July 22, 2022, at 4:00 p.m.  Private family service will be held earlier in the day at Einan's at Sunset, where her ashes will be placed next to her husband, Don McVicker.  Memorials may be given to Central Church: Missions or Wind of the Spirit Ministries Northwest (Silverdale).
Oh man I am so sorry to read this about Vada! She was a kind hearted woman and will be missed. My condolences to the family.
I thank God for the steadfast friendship of Vada. She was a quiet counselor . She listened and I am sure she then prayed for me to hear God for guidance. She gave sound advise. I knew I could trust her, because Vada loved people enough to speak correction when it was needed. 42 years I considered Vada a friend. Even when I left CUP she and I continued or friendship ending with many years of the good night calls where we shared our days and Jesus blessing in our lives. I am a better follower of Jesus because of her life.
You are greatly missed. Thanks for being a prayer support and strength to us.
We will see you later.
Blessings.
Foueti, Keasi, Tupou & Karuna
I only got to meet Vada 1 time and that was on Memorial day this year, when she came to visit her husband's site. I have thought about that day since I met her. There was something so special about her. She was just so sweet, caring, gentle and just plain special. Thank you for allowing me to help you that day and for giving me that moment that I will remember and share.
There is something about you Vada I will never forget.
We are celebrating Grandma's life and remembering her with you all in Richland.
She 'fought the good fight', she 'finished the race', she 'kept the faith.' 'Now there is in store for her a crown of righteousness, which the Lord, the righteous judge will award to her on that day!'
We miss you and anticipate seeing you when we are reunited with the Lord in paradise!
Grateful for the faithful love and intercession of Vada for me and so many others who worked in India with Mary. What an incredible heritage and inheritance. Prayers for the whole family as you mourn and celebrate her wonderful life.
Dave,
Sorry for your loss. Been years since I've seen your mother, but she was always so kind and thoughtful. Take care of yourself.
Mike Davis
John and I were very blessed by Vada's love and support of our ministries
for several years. She was a true and faithful blessing to us.
Vada's love for Jesus and people is an inspiration to me. I appreciate her faithful prayers for me and many of us working in India with Mary. She has a kind heart and loves to serve. She has a big heart for people. I was so blessed to have met her. She holds a special place in my heart.
Greetings dear friends and family. I loved reading about Aunt Vada's life. I learned some new things to appreciate about her. I didn't know we attended the same high school and college. She has left us all a wonderful legacy of love and faith! I will always remember her kindness and gentle spirit. She was dearly loved by my dad and mom, Bob and Dorothy Swain. Vada's faith had a great impact on them, and she helped my mom come to faith in Christ. I am so grateful to have known her. We send our love to all the family . We will keep you in our prayers as you get together to comfort each other and honor her life. Love, Carrie and Scott