FIND AN OBITUARY
Service information is posted on our website only with approval from the family.
If you are seeking information not listed below, please contact us.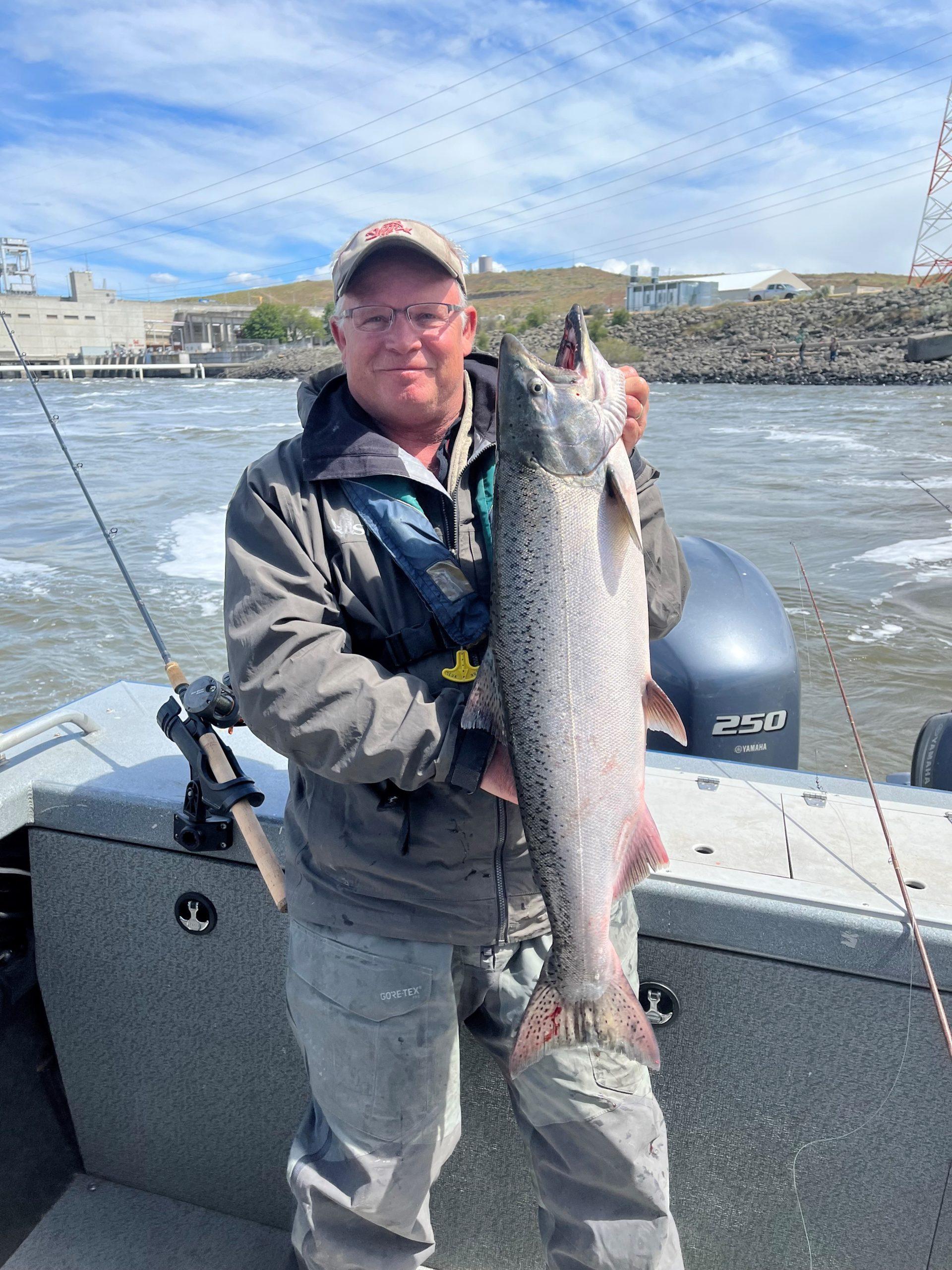 Brett Leland Tiller
07/24/1967 — 06/19/2022
From Richland, WA | Born in Idaho Falls, ID
Watch Service
New to Livestream? Watch the tutorial.
Celebration of Life
Starts:
Fri, September 9, 2022, 5:00 pm
Ends:
Fri, September 9, 2022, 6:00 pm
Brett Leland Tiller
Beloved husband, father, son, brother, and friend Brett Tiller passed away on June 19, 2022, in Richland, WA at the age of fifty-four. He was born in Idaho Falls, ID to Robert (Bob) E and Darlene Tiller, the youngest of four children. As a youth, he was an excellent hockey player (goalie) and skier and spent much of his time hunting geese, elk, deer, and upland game as well as camping with family and friends. He graduated from Idaho Falls High School in 1985. He went on to earn his Bachelor of Science (BS) in Wildlife Biology from the University of Idaho in 1990, and his Master of Science (MS) in Environmental Science from Washington State University in 1996.
Brett met his future wife, business partner and love of his life, Robin their first weekend on campus at University of Idaho in 1985. They have been together ever since, marrying on June 17, 1989, on Coeur d' Alene Lake in Idaho.
After graduating, both Brett and Robin accepted positions at Pacific Northwest National Laboratory (PNNL) and moved to the Tri-Cities, WA. They joyfully welcomed sons Clay and Quin into the family in 1993 and 1996, respectively. Brett loved his sons deeply. Nothing made him happier than experiencing "epic" fishing trips with them. The family spent many happy years together fishing, hunting, SCUBA diving, and raising many canine family members. They loved spending time at their property on the Yakima River and their place at Telegraph Cove on Vancouver Island, BC.
After fifteen years at PNNL, Brett became the CEO, Founder, and Principal Scientist at Environmental Assessment Services, LLC (EAS). Brett was passionate about his work in environmental consulting. Because of his ability to keep track of everything that was going on, from a new multimillion dollar proposal to a minor repair needed on one of the company boats, he somehow kept all the balls in the air. After sixteen years at EAS, he left to work part-time as a Senior Environmental Consultant and Senior Advisor to the Washington State Department of Ecology.
Brett was a consummate outdoorsman. Whether his activities included hunting upland game and chasing salmon and every other kind of fish on local rivers or jigging for halibut and ling cod off the coast of British Columbia. Brett was generous with both his time and with his catch. A favorite boat, "The Finder," was a regular feature on local waters, often with a handful of family members and friends on board. He added a jet boat to his fleet to prowl the Yakima River a few years back.
Brett had a tender heart for animals. In addition to raising generations of Brittanies, a small scamp mutt he saved from drowning in the Yakima River recently became a part of the family. He was also deeply concerned about the environment and spent countless hours restoring and maintaining the native shrub-steppe vegetation on the family's land on the Yakima River. Music was also a passion, and he was willing to distance drive or hop a plane to enjoy a concert with family and good friends.
To know him was to love him. He made friends everywhere he went, many of them were life-long. He was loved and respected by them all. He could relate to people from all walks of life and could get along with just about anyone.  He was also very ambitious and had high expectations of himself and of life.  He was adventurous and opportunistic, never shying away from a chance to experience life to the fullest. He pulled many of us along the way for the ride and always made sure that everyone was having the time of their lives. He will be deeply missed by so many.
Brett is survived by his wife Robin; sons Clay and Quin; his parents Bob and Darlene, and his brother Chris (Debbie) Tiller, and sisters Robyn Tiller, and Julie (Cary) Neilson as well as eight nieces and nephews.
Donations may be made to Brett's favorite charity, the American Society for the Prevention of Cruelty to Animals (ASPCA).
Robin,
My heart breaks for you. Keep the good memories close.
Such a kind and humble family. My heart is with you all.
Brett shared with us some of the salmon they caught. Always saw him with a cheerful, friendly demeanor, and heard of what a great dad and husband he was as he enjoyed being active with and cooking for his family. His accomplishments, energy, and kindness are admirable.
Sending our love and condolences across the miles. We wish we could be there with you during this difficult time. We have been continually praying for you all and you are never far from our thoughts. We love you so much!!
Brett was a special person and a great friend. He will be missed by a lot of people. I will keep all those great memories in my heart. Safe travel my friend 🌈
Simply put, my friendship with Brett over nearly thirty years has made my life rich. I'm so sad he's gone and extend sincere, heartfelt sympathy to Robin and their fine sons.
Rest in peace Cinnamon, Sage, and my dear sweet brother!!!
I also was 6 years old when Brett was born. In the 60's Pioneer Day was a big deal in Idaho Falls, it was more popular than the 4th of July! There was a parade and the Blue Angels even performed. My family made me believe it was all for me. When I heard Darlene had a boy on MY birthday, it was like finding out Santa isn't real! The Tiller's told Brett the same thing when he was young.
My dad (Earvin Loop) and Bob were colleges, as well as hunting and fishing buddies. A lot of my childhood memories involved the Tiller's. The best memories are camping trips. We camped often at Coffee Pot in Island Park & the "African Queen". We floated from Mack's Inn to the campground. Brett was too young, but I hope the rest of you remember.
Our family moved to Maryland in the early 70's. My dad returned to Idaho after retirement. He and the Tiller's continued their love for camping, hunting and fishing. Brett is 2 years older than my sister Paula. There is a story of a fishing trip to Canada. Paula and Brett caught the biggest fish! They were maybe 12 &10.
The Tiller family holds a special place in my heart. It saddens me that we lost the youngest of our siblings first.
Bob, Darlene, Robyn, Chris, & Julie, I send my sincere condolences. I know the pain of losing a sibling.
With Love, Laura Lewis (Loop) 🙂
I'm grateful to have met Brett while he was working at PNNL and sharing his passion for and knowledge of wildlife and arid lands ecology. Over the years my husband Bob and I kept in touch with Brett, crossing paths professionally and running into each other around E WA. We always felt renewed after seeing Brett, infused with his positive energy. He will be missed greatly, our hearts go out to Robyn & the boys.
I was so very sad to hear of Brett's passing. I had the pleasure of spending time with him while he worked on sampling for PNNL and helped with river inspections. He was a fun and gentle guy I learned a lot from.
I always felt welcome on his boat, he treated me with respected as an equal (a trait that sometimes is lacking in male scientists or outdoorsmen).
I was looking forward to getting back into the Ecology office and having the opportunity to work with him and know him better.
I am so sorry for your loss but know that you'll carry on his joy in the outdoors and stewardship.
Just reading this brakes my heart. I met Brett and his better half when they purchased a house in south Kennewick. I guess I will never understand why the Lord always takes the great ones. Though its been decades since I seen everyone, we will see each other again.
I've fished around Brett for years and got to know him as one of my all time favorite people. He always brought a smile to my face when I saw him, on or off the water. I was so happy to fish around him for springers and sockeye this year and see the joy it brought him.
I'll never drop the anchor for salmon without thinking of Brett.
And this year I'll break out my mooching rod just so I can remember him fishing with those goofy things 🙂
I met Brett when he was working on the shoreline sampling project at Hanford. He and I worked together on additional sampling efforts at the 100-N Area. Brett was the kind of guy you couldn't help but enjoy working with; he was so knowledgeable, professional and thorough. But most importantly he was fun to work with. His attitude of making sure everything got done and was done well, ensured anything he worked on was successful. I thoroughly enjoyed working with him on the 100-N project and knew from the start he and I would be friends. Every time I saw him after that, he was so happy to see me and I was happy to see him. He had an infectious smile that would make you want to smile too.
I was so happy when I met him at the Ecology offices the day he was picking up his computer. He told me he was coming to work with us and I was thrilled. Brett was perfect to help us out with Environmental and Climate issues. I was so looking forward to getting back into the office and getting to see him more often. It isn't often you meet a scientist like Brett; his depth of knowledge and application of that knowledge made him a one-in-a-million scientist. To say I will miss never getting to see him and to work with him again, is an understatement. I will consider him my friend forever, and I will miss him dearly.
To his family, loved ones and friends, I wish you peace and give my sincerest condolences. I know his loss is hard for you and I will keep you all in my thoughts and prayers. Godspeed Brett – you will be missed by so many!
You will be missed by many my friend. Your passion and drive helped many whether it be the outdoor world of fishing and hunting or the working world of utmost success.
Love you brother
Brett was my friend, party pal, goose and pheasant hunting buddy and fishing mentor. Loved him like a brother and will miss his smiling face holding fish on his boat pictures …. God speed brother fish on!!!
My heart felt condolences to the Tiller family.
I met Brett at the University of Idaho in 1986. We had a great group of friends and had many years of memorable fun. Brett was always a nice guy, well liked and highly respected by anyone that knew him.
I worked with Brett at PNNL and then for him at EAS. He was the Yoda of ecology. The absolute master. Taught me so much. I got to turn his hand written field logs books on the ALE Elk into Excel sheets one summer. I would sit in his office asking about a particular collar one second and then we would be laughing and talking about his love for the Pat Metheny Band the next. Brett was a true renaissance man, but he would laugh if he heard me call him that. He was the best mentor an ecology student could ever ask for. And man he was as smart as a whip. That brain of his was always crunching data in some capacity. We talked about everything because it seemed like he just knew everything. Seriously. Love u man; always will remember you and your specific vernacular. You are the one most gnar people I have ever known. An amazing human being. Thank you for believing in me. Gonna miss you my friend. RIP.
Robin and boys; I am so very sorry for your loss. I know I don't have the words….so I will say a prayer. God Bless. ✝️
To Robin and family. God be with you. He left too soon.
I didn't know Brett long, but was so shocked and sad to learn of his passing. I worked with him while he was a Senior Advisor to the WA Department of Ecology. When I told a co-worker that I'd be working with Brett on various projects, his reply was "Brett Tiller of THE Hulstrom and Tiller report?" – Brett authored so many reports and was involved in so many studies at Hanford that he was quite famous among a select (and nerdy) crowd. We joked about getting his autograph on THE Hulstrom and Tiller report. Brett was incredibly knowledgeable, wonderful to work with, and I'll miss him.
Brett, you were always so nice, caring and kind to me.
When I would come to clean you always put a smile on my face! I will always remember you this way!
Will always remember Brett and his love for elk hunting. Many yrs ago we gave a All about elk presentation at the fingernail in Richland. I was able to borrow a friends full mount 6×6 and Brett wanted it so bad. We gave information from what elk sounds mean to habitat. Will also remember ,Brett and Robin being there for me through a rough time in my life. May you be chasing elk in the meadows above dear friend.
Yes, to know him was to love him. Fly high my friend, you will be missed.
Robin & Family,
My boys will always remember their first fishes with Brett, and how he fueled their curiosity for nature. (Dissecting fish, crawdad hunting) Our time to celebrate his life will truly be cherished.
I was 6 years old when my baby brother Brett was born. Although I really wanted a new puppy instead of a brother, he eventually won me over and stole my and all of our hearts. I still remember Chris whooping and doing a big flip onto the couch when we all heard the announcement "it's a boy"! Brett was happy, kind, funny, thoughtful, intelligent, entertaining, interested, engaging…..I could just keep going. I love him so much and like everyone who knew him, will miss him deeply. Julie
Robin, Clay and Quin, when I remember Brett I think of the blond boy raising pigeons and learning to hunt with Toby- the first of many brits. Chris was too shy to dance with me at our wedding reception so Brett danced with me. He was 15 yrs old. Brett was a good and kind man. We all wish for more days…love you all, Aunt Deb