FIND AN OBITUARY
Service information is posted on our website only with approval from the family.
If you are seeking information not listed below, please contact us.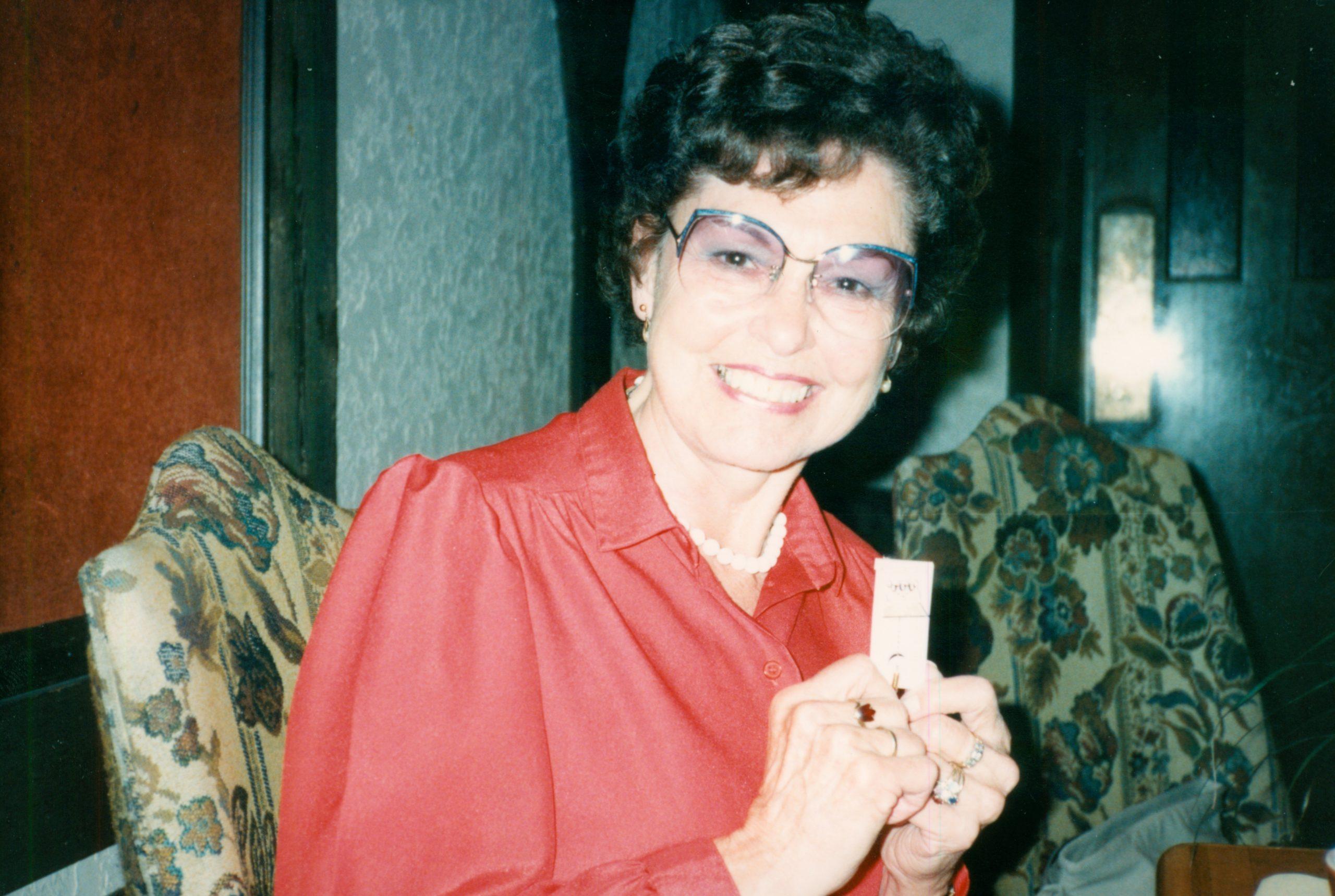 Opal Doris Bacon DeVine
01/27/1921 — 08/01/2022
From Richland, WA | Born in Terry, MT
Rosary
Starts:
Mon, August 15, 2022, 7:00 pm
Funeral Mass
Starts:
Tue, August 16, 2022, 11:00 am
Opal Doris Bacon DeVine
Our sweet Mom, Grandma, and Great-Grandma slipped peacefully into Heaven and the arms of her family on August 1, 2022, with her son Denny and daughter Teresa by her side.  Opal Doris Bacon DeVine was born on January 27, 1921, on a small ranch east of Terry, Montana.  For the rest of her life she considered Terry "home."  For many years after she came to Washington, Opal would pursue any and all cars with Montana license plates, and could identify any Montana county by the number on the plate.
Growing up poor as the youngest of nine children, she nevertheless was able to graduate from Terry High School in 1938.  She and her husband Frank returned to Terry for many years for their high school reunions.  After high school, she worked at various jobs, until she and two girlfriends decided to travel around the US, including St. Louis, Missouri; Ft. Lewis, Washington; and California.  Returning to Terry, she reconnected with Frank DeVine—also born and raised in Terry—and they were married in Scobey, Montana on May 30, 1946.  They settled in Terry, built a house, and welcomed Teresa in 1947 and Kenny in 1949.  In 1952, they left for Vancouver, Washington, and in March 1954 came to Richland , where they made their home, found work, enjoyed friends, and welcomed son Denny in 1959.
Opal was a skilled secretary and worked first for Blaw-Knox and then for 30 years for J.A. Jones Construction Company in the personnel department.  She loved her work and enjoyed all the friends she made there.  For 20 years, she organized and hosted an annual picnic for J.A. Jones employees, old and young.
In the mid-sixties Opal discovered bowling and became one of the top women bowlers in the Tri-Cities, holding records for high 3-game series (850), and high game (258).  She bowled in 2-3 leagues per week – mainly the Women's Scratch and the Women's Majors.  In her mid-70s, she amazingly still had one of the highest averages in her league.  Along with her bowling buddies, she traveled to numerous tournaments – Seattle, Spokane, Portland, Phoenix, Tucson, Reno, Las Vegas, and Orlando.  She was an active bowler until the age of 79, when she injured her wrist in Reno – while gambling of course!
Opal never met a slot machine that she couldn't beat. Her family was always left playing with quarters as she used $20 bills to win jackpot after jackpot.  She always said, "You can't play with scared money!"  Somehow it worked for her. On her many trips to Legends, Wildhorse, and Northern Quest Casinos, she insisted we get there early to secure her favorite machine. In retirement, she and Frank travelled the US and enjoyed many trips to Reno and Las Vegas, where she gambled, and he would pursue a comped Oly.
She was the ultimate Mom and Grandma, always finding a way to provide everything her family needed. When we returned from any kind of trip, we always found a gallon of milk, provided by her "just in case."  Besides teaching us all to play cribbage, pinochle, and many other board games, she taught us to cook and bake—her macaroni and cheese, fudge, banana bread, peach pies and chocolate chip cookies were family favorites.  Until a few years ago, she was the only one allowed to make the Thanksgiving gravy.
Grandma Opal was lucky to be involved in the day-to-day lives of her grandkids – she attended many of their sporting events and school functions.  She also watched her grandkids often – during the day while their parents were at work, and on numerous sleepover weekends.  And if she happened to be double booked with watching her grandson and bowling, that didn't stop her – Jason has great memories of his toddler years hanging out at the bowling alley with Grandma Opal. She repeatedly tried to teach Jalen her backup ball, but all he could concentrate on was the beer frame.  While she showed Jared how to make chocolate chip cookies, he ate all the chocolate chips during the prep stage, so he  now just knows how to make straight up cookies.  While Danae was in college, Opal corresponded with her frequently, sending thoughtful letters along with Winco gift cards, unknowingly supporting Danae's weekend "beverage" budget.  Jocelyn's love of cooking originated at the age of 11 when she called her grandma on the phone and asked her how to boil water, a request Opal never let her live down.
Opal enjoyed a famous love for spoiled dachsunds, beginning with Koko, and including Kokomo, Cindy, Nicky, Trixie, Keno, and finally Hank.  Her family has inherited her love of dachshunds with their own herd.
Tough and determined does not even do her justice—from her difficult childhood to her many painful lifetime losses, and during her last few years at Guardian Angel, she remained centered, smiling, and focused on others.
When Frank passed away in 2007, her independent spirit really kicked in. She took over yard work, house maintenance, and all manner of projects.  She discovered a love of gardening, growing tomatoes and enormous Hubbard squash that she literally had to roll into her house.
In March of 2019, she moved into Guardian Angel Homes in Richland, where she found loving care and companionship.  She remained a faithful parishioner of Christ the King Catholic Church, where the family had joined in 1954.
Opal is preceded in death by her much loved husband of 61 years, Frank; dear son Kenny, cherished daughter Tana Marie, beloved son-in-law Bill, as well as her parents and siblings.
Left behind to cherish her memory are daughter Teresa Knirck, son Denny and Jennie DeVine; and her adored grandchildren Jason (Mari) Knirck, Jocelyn (Nat) Roe, Danae, Jalen and Jared DeVine.  She was blessed with great-grandchildren, who were fortunate to know her: Lila, Derrek and Dylan Roe and Jillian Knirck. The kids always looked forward to seeing Grandma Opal!  She also leaves behind many nieces, nephews and treasured friends.
Our heartfelt thanks go out to the wonderful caregivers at Guardian Angel Home, Dr. Zuroske and staff, Dr. Merkley, Deacon Jocson, and Tri-Cities Chaplaincy Hospice staff.
Memorials for Opal may be made to HHS Falcon Boosters 450 Hanford Street, Richland, WA 99354; or Tri-Cities Chaplaincy Hospice.  Think about putting a few quarters in the "American" machine next time you are at Legends—you'll probably win!
Her funeral services will be at Christ the King, with a Rosary recitation at 7:00 pm on Monday, August 15th and a funeral mass at 11:00 am on Tuesday, August 16th.
Life is but a stopping place,
A pause in what's to be.
A resting place along the road
To sweet eternity.
We all have different journeys,
Different paths along the way.
We all were meant to learn some things,
But never meant to stay.
Our destination is a place
Far greater than we know.
For some the journey's quicker,
For some the journey's slow.
And when the journey finally ends,
We'll claim a great reward,
And find an everlasting peace
Together with the Lord.
A beautiful lady that we felt was part of our extended family, along with the Knircks. She was a treasure and we loved Opal and Frank.
What a wonderful, caring lady Opal was. She was the epitome of class. It was such an honor to have her in my life. I am sorry for your loss.
O my goodness!
T
Your smile lit up a room. You always had a hug for us. You loved to share pictures and memories. You will be missed everyday. We loved to visit with you every chance we got. You were the best aunt to mom and the best great aunt to us . May you rest in peace, Opie. We love you.
Joanne, Tim, Jackee, Kari, Therese,John, Courtney,Cole, Chelsea,Hannah,Cody.
Our deepest sympathies to the Devine family:
from The Worcester family
We have lost a great matriarch in our family. I have many fun and wonderful memories of my great aunt Op. Rest in heavenly peace…
I met Opal while working at JA Jones. She was a wonderful resource for many things, was kind with great sense of humor. Quite the role model for doing a job well and enjoying it.
Rest In Peace Opal. My sympathy to Denny and family.
One of my favorite people ever. I will miss you Op.
Your loving great nephew, Jack D. Cloud
She was an incredibly generous person that cared for people with kindness and consideration.
She will be missed by many.