FIND AN OBITUARY
Service information is posted on our website only with approval from the family.
If you are seeking information not listed below, please contact us.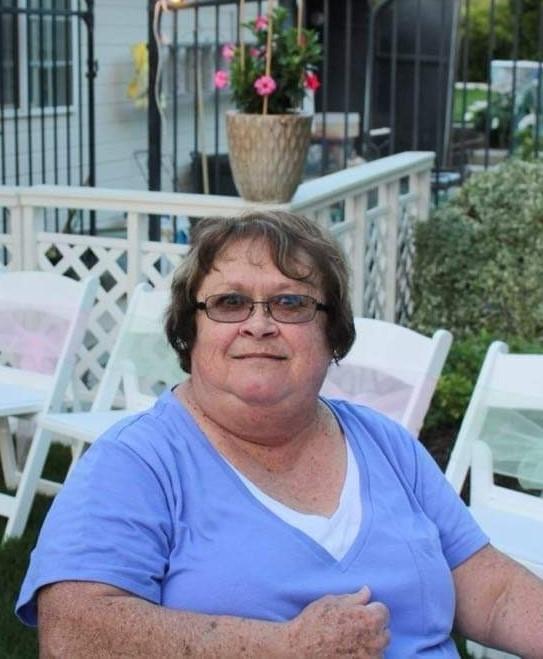 Pat "Gramsie" Amidan
05/04/1946 — 09/01/2022
From West Richland, WA | Born in Ogden, UT
Watch Service
New to Livestream? Watch the tutorial.
Celebration of Life
Starts:
Tue, September 6, 2022, 12:00 pm
Ends:
Tue, September 6, 2022, 1:00 pm
Location:
Einan's At Sunset Funeral Home
915 Bypass Highway Bldg. H Richland, WA 99352
Graveside Service
Starts:
Tue, September 6, 2022, 1:00 pm
Ends:
Tue, September 6, 2022, 2:00 pm
Location:
Sunset Gardens
915 Bypass Highway, Richland, WA 99352

Pat "Gramsie" Amidan
Patrica Sparrow Amidan, 76, died September 1, 2022 at the Richland Rehabilitation Center.
Pat was born on May 4, 1946 in Ogden, UT to Clyde Dee Sparrow and Beatrice Joyce Pingree. She grew up in the area with her three sisters and two brothers playing pinochle and working at the family furniture store. At a young age of 8 she was baptized into the Church of Jesus Christ of Latter Day Saints where she would faithfully serve and worship her entire life. Pat graduated from Weber High School in 1964 and went on to study at Weber State College.
Pat married Garry Lynn Amidan on September 8, 1966 in the Salt Lake City Temple. The two were blessed with four children: Brett, Kirk, April, and Leisha. They made their home in Richland, WA and loved the community and people there. Pat was a very compassionate and caregiving mother who kept her kids busy taking care of their home.
Pat worked in many different capacities throughout her life. She spent a summer as a housekeeper at the Canyon Village in Yellowstone National Park. She was a tax examiner for the IRS, worked at multiple nurseries in Richland, and was a secretary for the Richland High School LDS Seminary. Pat and Garry also spent many years decorating for weddings throughout the community. Pat had a great eye for decor and created beautiful receptions for countless couples. She had a passion for photography and captured many of these weddings and family gatherings. Pat was an avid gardener with two green thumbs and loved to work on her garden and landscaping projects. She was always keeping Garry busy with her beautiful yard and gardens. Pat could also be found helping mend many family members' clothes, reading fantasy novels, and playing cards with grandchildren.
Pat served in the Church her entire life. Her favorite calling was being the Librarian. Pat was a Stake and Ward Librarian for many years. She also served as a primary president. Pat and Garry served together in the Columbia River Temple baptistry.
Pat is survived by her children Brett (Gina), Kirk, April (Justin) Rhineheart, and Leisha (Eric) Sievers. 13 Grandchildren: Jessica (Ryan) Baxter, Lexi (Manny) Canales, Nikki Rhineheart, Kambria (Corban) Lunt, AJ Rhineheart, Kaden Sievers, Kayla Rhineheart, Shane (wife to be Angelica), Carson, Treven, Shanna Sievers, Brooklyn Sievers, and Briggs Sievers. Her 5 siblings: Janet Sinclair, Deanna Kleyn, Richard Sparrow, Marilyn Sadler, and James Sparrow.
Pat will be especially remembered for all her Sunday family get-togethers, her spunky personality, her ability to make anyone feel like family, and warm bear hugs. Her sense of humor was one of a kind, often leaving her children and grandchildren erupting with laughter. She will be very missed by all who were blessed to know and love her.
Family members would like to thank all of Pat's nurses at Kadlec Regional Medical Center and Richland Rehabilitation Center.
A graveside memorial will be held on Tuesday, September 6 at Sunset Memorial Gardens in Richland.
Pat was wonderful and kind hearted. My wife Marlene and our little dog loved spending time with Her. God bless Her.
Your mom always had the best stocked cereal shelf in the neighborhood. Her house had a fun, welcoming vibe. Having a testimony of the Plan of Salvation and the Atonement of our Savior, Jesus Christ, sure helps with the passing of a parent, but I still miss my mom. So glad Garry and Larry are pals. Thinking of you guys.
May God bless all you family members! I enjoyed the funeral for my cousin! I hope Pat will say hello to my mom and dad, James and Joann Pingree.
Sincerely,
Nancy Pingree Pence
Pat and I used to love to laugh whenever we got together. I will miss her.
Sorry to hear about Pat's passing. She was a very caring woman and always seemed to be looking for ways to serve others.
Garry – It's been a wonderful privilege for us to get to know your family for the past several years. You have been a spectacular caregiver to Pat, especially since her stroke 3-years ago, as you tirelessly looked after your sweetheart. You have been her strongest advocate and her most trusted friend. You have raised the bar for kindness and support to one's spouse.
I particularly enjoyed your rule about moving yard plants sr your home a maximum of three times … and I know Pat moved them to this 'limit' more times than not. : )
We love your entire family and hope you will find comfort in the Lord and His gospel.
Please know of our love and support.
Melanie & Rusty Walker
Pat had basically retired from decorating at wedding receptions when we met. But I had heard what an amazing gift she had for decorating so I decided to ask her if she would be willing to decorate for our youngest daughters reception. At first she was reluctant to do it. It's a big job and she had not been feeling the best, but as we talked about it I could see the creative juices flowing, her eyes started to sparkle and she became very enthusiastic about it.
Pat lived up to her reputation , and then some!! Our daughters reception was absolutely Beautiful! My memories of Pat are always of a good, spunky, giving person. She battled with her health as long as I knew her but she was a determined, strong woman that I greatly admired. Our love and prayers for Gary, who is also a very talented and special person. You both made Paul and I feel very welcome when we moved to Richland. We love you
My condolences to Garry and Pat's family. Pat was the cousin that was the oldest, and one I looked up to. Fond memories of our cousin time!
Sandra Pingree Cooke
I forgot to tell her family that my heart goes out to all of them. She was an awesome mom and found so much joy and happiness in her family. Whenever I talked to her she was excited to tell me all about them. She truly loved her children, etc. My love goes out to all of you. You were awesome and always made her happy. Love you all. Barbara and Collin Bryner
Pat was a dear friend and I loved her. Every year she would help me pick my flowers and plants for my yard. We always had a fun time together. Since I don't live in Richland anymore, we talk on the phone a lot. I will miss her but am happy she is out of her pain. Love that special lady and friend!
Garry,
Brett, April, Kirk, Leisha
It is with a flood of memories that I remember my sister, Pat. I've known her since June 19, 1948, when I recognized and acknowledged her as my older sister. I watched her closely for clues to become cool like her. She sewed most of her classy school outfits and always looked good. I remember once, sneaking a skirt out of her closet so I could look classy too. I never did that again. Boy, was I in trouble.
Pat was a little shy and quiet until she married Garry. She left Utah to see the bigger picture. They lived in No. California and then moved to Richland where they were happy and put down roots. She became so busy, extroverted, and gregarious. I knew that marriage with Garry and raising their children was the perfect life for her. She and Garry raised children who are beautiful people. She did her job well. Garry provided her a stable and secure life. She had little to worry about because Garry took his responsibility as husband and father, seriously. Garry, you can rest in the truth of your faithful love and caring for Pat.
When I got the news of Pat's passing, the first thing that came to me was her squeals of joy when she saw mom, dad, and that whole crazy Pingree bunch. What a party! Im sure the Sparrows were there, too. But, they were never as feisty as moms gang.
I'm right behind you, Pat, and looking forward to the party.
XOXO
Janet Sparrow-Sinclair
We extend our sympathy to you Gary and all of your family. We'll always remember Pat for her advice and discussions about flowers.
Love you guys!! Best friends forever.
Pat was always my sweet big sister. I was 10 years younger than her and always looked up to her. I remember her and all us girls dancing to American Bandstand in the living room. They taught me to twist, swim, the walk, the jerk. So much fun. The whole family went to Yellowstone to visit Pat the summer she spent working there. I was so impressed that she had learned how to play the guitar while there. I loved being a flower girl at her reception when she and Garry married. When I turned 12 years old Brett was born, making me an Aunt. I spent a day at her house helping her with the baby. I remember her teaching me how to fold towels just the right way. She was always supportive of me and always a positive influence in my life. She was a great Mom and raised four wonderful children. Hers was a life well lived. I love her dearly and will miss her greatly. Love you Pat.
We will all miss Pat because of early passing but she is at peace with her mother and dad. She was blessed to have family and friends that loved her. She's doing what she wants and that's looking over her family and friends with out the daylong pain We're all sorry for your loss, love you guys.